When someone searches for "veterinarian near me" or "best vet clinic near me" you want to be the first thing that shows up on that person's search results page. If you're looking for ways how to improve your rank on search engines, this blog is for you! Here, we'll share with you some tips on how to do SEO for Veterinarians!
What is Search Engine Optimization?
Search Engine Optimization (SEO) is the process of doing several techniques to improve the rank and performance of your veterinary website. Its purpose is to bring in more clicks and convert page visitors as one into your clients.
SEO has three main types which are On-page SEO, Off-page SEO, and Technical SEO.
On-page SEO refers to the process of optimizing the performance of your website based on factors that are within your control (e.g. writing blog posts, adding internal links, optimizing images, etc.). Off-page SEO refers to the process that you do outside your website (e.g. posting on forums, social media marketing, guest posting, backlinks, etc.) Lastly, Technical SEO is when you improve the technical aspects of your veterinary website to improve your rank on search engines.
Why SEO for veterinarians?
There are lots of reasons why you should do SEO.
First, it boosts your brand's credibility. It takes time to build the trust of your target audience especially if you're just starting out. But when people see that your brand provides relevant information to solve concerns about their pets (e.g. blog posts or informative videos), it'll leave a positive impression about your brand which eventually makes them want to trust you.
Aside from that, if they see that you have an established online presence not just on social media platforms but also on Google Maps, it makes your brand legit. Which leaves no room for them to question the reliability of your veterinary practice.
When done right, SEO for Veterinarians will increase your volume of traffic. If you're using the keywords that your target audience is also using, it will attract more people who are already interested in the services you are offering. For example, if your veterinary website has useful content that addresses the common problems faced by pet owners, they are more likely to spend more time consuming your content which may eventually lead to conversions.
Search Engine Optimization also helps improve your rank on search engines. Although it may take some time before you see results, as long as you are using the right strategies and staying updated with the latest algorithms all of your efforts will be worth it. Remember, the higher your rank in search results, the more qualified visitors your site gets. So, if you haven't started implementing SEO strategies on your veterinary website, you're probably missing out on a lot of potential clients in your clinic!
Interested in how SEO for veterinarians works?
How to do SEO for Veterinarians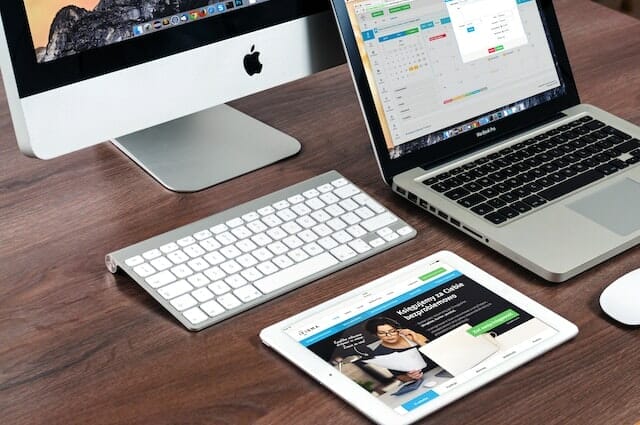 Now that you have an idea of how SEO works, the next step is to start implementing strategies to improve your site's ranking. In this section, we'll share with you 15 tips on how to do SEO for your veterinary website.
1. Keyword research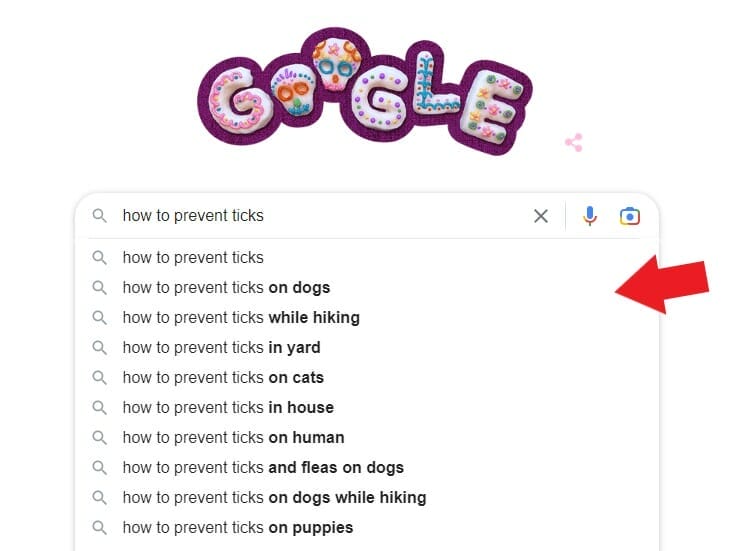 Before creating content for your veterinary practice like blog posts or videos you have to make sure to do keyword research. This will help you identify which keywords are more likely to be used by your target audience and in return, you get to come up with ideas on the type of content you should create so that you show up on relevant search queries.
Some factors you'll see while doing keyword research are search volume, competition (keyword difficulty), and user intent.
Search volume refers to the estimated number of times a keyword is searched on a specific location. Browser extensions like Keyword Surfer can help you find the right keywords for your veterinary practice.
Keyword competition is a key metric that tells you how difficult it is to rank for your chosen keyword. If you already have an existing Google Ads account, you can see the keyword competition on your Google Ads Keyword Planner.
User intent refers to the intention of your target audience when looking up something online. It could be because he/she wanted to learn something (informational intent), looking for a specific product or service (transactional intent), or looking for a specific website (navigational intent).
Tips when doing keyword research:
Check out Google's Search Engine Results Page

Analyze what are the results all about. Are most of it long-form articles, top 10 best lists, etc.?
Look at auto-complete suggestions
Scroll down to the bottom of the results page to see the other related search terms

Look what other people are also looking for

If you think that the information you get from Google's SERP is not enough, you could also see more questions that are relevant to your target keyword using the Answer the Public keyword research tool. There you can see the "who", "what", "why", "how", and "which" questions that most people search for.

Use other variations of your chosen keyword.

When implementing keywords throughout your article, don't forget to use the LSIs or other variations of your chosen keyword. For example, if you are going for the keyword "veterinary clinic" you also might want to try "vet clinic", "pet clinic", or "animal care clinic." This will help you avoid stuffing your content with the same keyword and also rank on search queries that are almost the same as your chosen keyword.
2. Link Building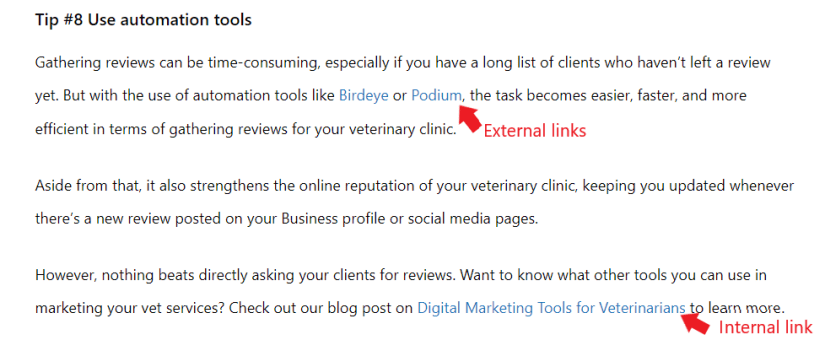 Link building involves the process of adding relevant links from your website (internal links) or other websites to one of your web pages (external links). It's one of the important factors in determining the rank of your website so you have to make sure that you're only using high-quality and relevant links.
Here are some tips on how you get authoritative websites to link to one of the pages from your veterinary website:
Come up with content that's worth linking to
Try out guest blogging
Reach out to brands you've mentioned in your content
Analyze the strategies used by your competitors
Use keyword anchor texts instead of "click here" or "this post"
Use at least 3 internal links
When using external links, make sure it's from a reliable source that has high-quality content
Make sure that external links open to a new window
3. Get listed on business listings
Since online directories were made to help consumers find business establishments in a specific area, getting listed in local directories like Google My Business and Yelp gives your vet practice a chance to show on top of search results. Not only will it make your business credible, but it will also increase your brand's exposure whenever someone looks for "veterinary clinics near me" or "best vet clinic in [name of your city].
Tips on how to optimize your business listings for SEO:
Update your listing if there are changes to your phone number, location, or business hours.
Add actual photos of your veterinary clinic/ facilities
Answer questions raised in your listing
Want to know how to claim your listing on Google? Check out our blog post on Google My Business for Veterinarians to learn more.
4. Optimize title tags and meta description
A title tag is an HTML tag that tells search engines as well as your target audience what your page is all about. It can be seen in search results or on your browser's title bar.
Tips for optimizing your title tags:
Don't stuff your title with too many keywords
Write a unique page title for each page on your veterinary website
Add keyword modifiers to your title (this will help you rank for long-tail keywords)
On the other hand, Meta descriptions serve as a brief summary of what your page is all about.
Tips for optimizing your meta description:
make sure to include your target keyword in your meta description
use active voice
phrase it in a way that your target audience can't help but click on your content
keep it under 155 characters
5. Optimize landing pages
Landing pages are where your page visitors end up after clicking on a Google Advertisement, CTA button, or link from other sources. Its purpose is to collect information from your page visitors in exchange for something valuable.
Tips for optimizing your landing pages:
Make sure to customize the URLs for each landing page
Check your page loading speed through Page Speed Insights
Strategically place your target keywords (e.g. Title tags, meta description, alt tags)
Use straightforward call-to-actions
Keep your page design simple yet full of impact
Use contrasting colors so that texts don't get buried in the background
Need help creating landing pages for your veterinary website?
6. Use a good web hosting platform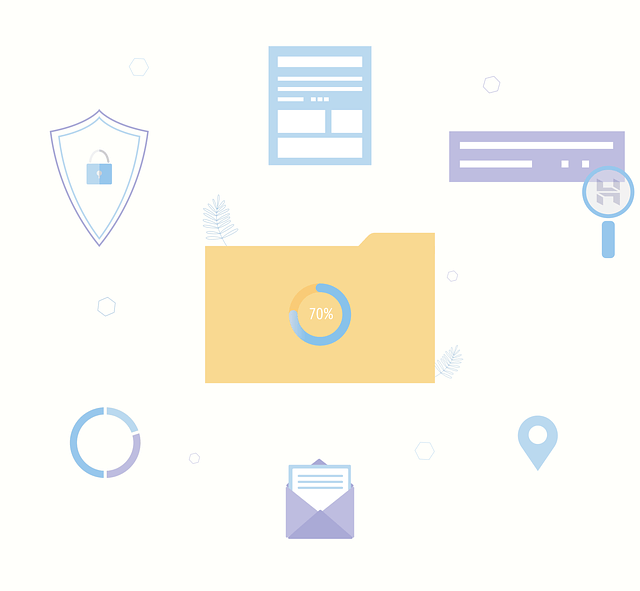 You don't want your prospective clients to experience server errors or page time-outs. That's why you're going to need an SEO-friendly web hosting platform like WPX.
Here are a few tips that will help you in choosing the best hosting platform for your veterinary website:
It should offer 24/7 customer service support
Gives you a free SSL certificate (or installs them for you)
Guarantees at least 99.9% uptime
Offers automatic back-ups for your website
7.  Content marketing
Content marketing is when you share valuable insights about the veterinary industry with your target audience. This could be in the form of blog posts, infographics, podcasts, or videos. Its purpose is to attract a new audience, establish your brand's authority in the industry, and keep your existing audience engaged.
Tips in content marketing for SEO:
provide high-quality relevant content to your target audience
regularly update your content
use keywords (and keyword variations)on your headings
share your content on social media
create a checklist so you don't miss out on certain aspects in every blog you publish
After publishing your content, to make sure that it's ranking on search engines, make sure to request indexing on Google Search Console. Once your content starts ranking or if it detects issues on some of your pages it'll send you an email notification if action needs to be taken.
After giving some time for your content (blog post) to rank and you can't see it ranking that high on search results, try using Page Optimizer Pro to optimize the content you've already written. This will give you suggestions on what aspects of your content needs to be improved such as the number of keyword variations to use, the number of images that need to be used, formatting, etc.
Interested in how to market your veterinary practice through videos? Check out our blog post on Video marketing for veterinarians to learn more.
8. Optimized images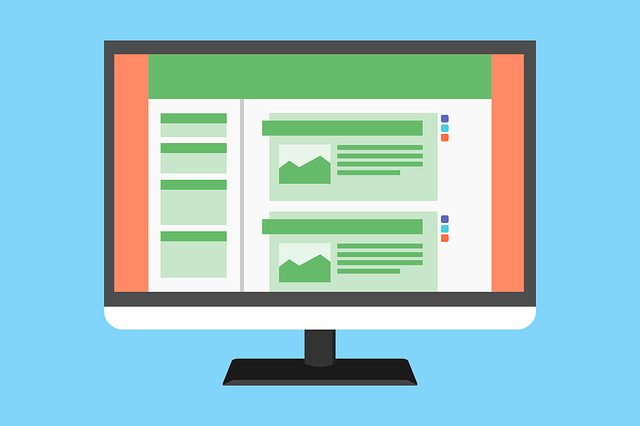 Images play an important role in user experience. Not only does it make your content digestible for your page visitors but it also helps draw attention to specific parts of your veterinary website.
Tips for optimizing images for SEO:
Use your own photos or stock photos
Compress images 

Bigger file sizes take forever before it fully loads. So, before uploading your preferred image on your website, compress images using tools like CompressNow where you get to adjust the compression level of your images.

Image file name

Start your filename with your target keyword.

Use proper alt-tags

Use alt tags to add context to your photos (relate the description to what your content is all about)
Be specific when describing images that are used in your website.
Don't stuff your alt tags with keywords
9. Social media marketing
Although social media doesn't directly influence your vet clinic's rank on search engines, it goes well with your SEO strategies.
One of them is when acquiring backlinks. When people get valuable information from the content you post on social media, there is a high chance of them sharing it with their family or friends, and when the people whom they shared the content with think that someone they know will also find your content useful, they will also share it to them, and the cycle goes on.
Tips on how to optimize your social media profiles/posts:
Make sure to use the recommended aspect ratio for images and videos for each platform
If there are changes in your location, contact numbers, or business hours, update your audience
Figure out the best time to post
Polish your social media bio
10. Gather lots of reviews
Reviews matter. Not just for your potential clients but even on search engines. Having lots of reviews from your previous clients gives search engines an idea of how trustworthy your brand is.
So, if you have received good reviews on your social media pages or business listing, you can display them on your veterinary website, or when responding to client reviews, mention the type of service offered to the client who left a review on your listing. For example, "Thank you [name of the client] for choosing our veterinary clinic in treating your doggo's ear disease." This will give search engines as well as your prospective clients the services offered in your clinic.
11. Participate in online forums
[Source]
 Quora and Reddit are some of the online platforms where people raise questions about their pets. May it be about preventive measures or at-home remedies. As a veterinarian, you can use this opportunity to share your knowledge, and establish your expertise in treating common problems that pet owners encounter, and if you have a blog post that further explains the topic raised, you can add a link where people can learn more about it.
12. Make your veterinary website mobile-friendly
Since more than half of the web traffic comes from phones, you have to make sure that your veterinary website is mobile-friendly. When we say mobile-friendly, it means that your page visitors have a seamless user experience while navigating your veterinary website on their phones.
How to make your vet website mobile-friendly?
Make sure that the layout of your veterinary website scales itself depending on the device used.
Your page works well for both desktop and mobile users.
If using pop-ups, check if the exit buttons are working.
Remove the clutter in your website by moving the rest of the elements that are not that important in a hamburger menu.
13. URL Slugs
URL slugs can be seen in the last portion of your web address (after your domain name).
For example, the URL of this blog post is https://yoyofumedia.com/seo-for-veterinarians. The slug is "seo-for-veterinarians." Its purpose is to help search engines understand what your webpage is all about.
Best practices for URL slugs:
should contain your main keyword
make sure the words used is relevant to your page
should be reader-friendly
separate keywords using hyphens
don't use unsafe characters
each page on your veterinary website should have a unique URL slug
recommended length: 3-5 words
use lowercase letters
14. Stay on top of Google Algorithm changes
Google's algorithm changes from time to time. It's because they want to make sure that they provide relevant and high-quality information to their users. To give you an idea of the previous updates made by Google, here's a list of Search ranking updates that you can refer to.
How to stay updated whenever there are changes in Google's algorithm:
Follow credible SEO experts
Follow hashtags or discussions about Google Algorithm
Don't make huge changes right away (because small changes might lead to a huge impact on your website)
Review the quality of your backlinks
15. Regularly check the performance of your website
Once you've done all of the tips we've mentioned earlier, make sure to check the performance of your website regularly. Not only will it help you pinpoint areas that need to be improved but you also get to handle issues before it gets worse. Tools like Google Analytics can help you analyze the traffic you're getting on your veterinary website, the behavior of your page visitors, and a lot more!
Want to know how to set up Google Analytics for your veterinary website? Check out our blog post on Google Analytics for Veterinarians to learn more.
Want to start SEO for your veterinary website but don't have time to do it?
Key takeaway
If you are looking for a long-term strategy for your veterinary practice, SEO for Veterinarians is the way to go! Not only will it bring tons of benefits to your website but it will also help establish the trust of your target audience, resulting in more new clients to your clinic. Just follow the tips we've mentioned earlier, and you'll see results in the long run.