No matter what kind of industry you are working for, keywords play a very important role in your physical therapy clinic's SEO. In this article, we'll tell you the importance of using the right physical therapy keywords and also share with you the ways how to do keyword research that will surely help you get more relevant traffic to your site!
But before that, we'll give you a short background about keywords and keyword research.
What are keywords?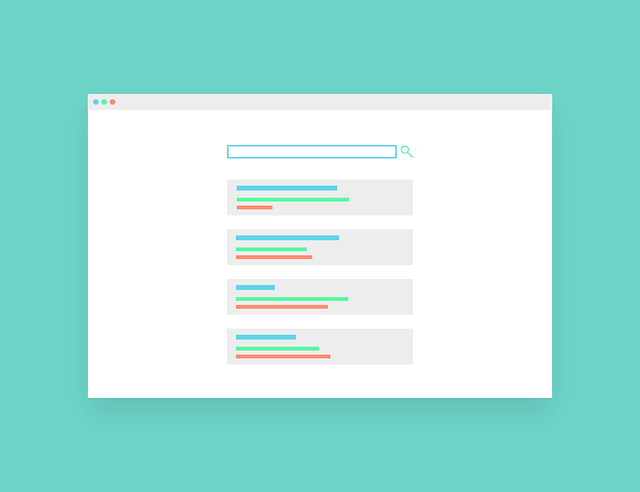 Keywords refer to the phrase that a person uses when searching for certain products or services on search engines like Google, Bing, and Yahoo. On the other hand, keyword research is the process of exploring all of the relevant terms that your target patients use when looking for a specific product or service. For example, if a person wants to look for the best physical therapist in Florida, that person will type in "physical therapist near me" or "best physical therapist in Florida" and Google will show all of the PT clinics in that area.
Interested in finding the right keywords for your physical therapy website but don't have enough time to manage it?
Why do physical therapists need to do keyword research?
Keyword research helps you identify the search terms that match your target audience. As a physical therapist, for you to gain more clicks, impressions, and patients to your clinic, you have to use the right keywords on your physical therapist's website.
1. Increased traffic
It would be impossible to get a huge volume of traffic if you are using the type of keywords that people don't really search for. That's why prior to creating content to publish on your physical therapy website, you should conduct keyword research.
When you know which type of keywords your prospective patients are more likely to search for, it increases the chances of your physical therapy content being found and getting a steady flow of traffic.
2. Improved search rankings
When choosing the right keywords, there are three things that you should remember: relevance, search volume, and authority.
Relevant – One of Google's criteria in ranking pages is how relevant your content is to one's search intent. The more relevant information you provide, the higher your rank will be on Google's SERP.
High Search Volume – A keyword's search volume is defined based on the number of times it is searched on a monthly basis. Make sure that the keywords that you'll be using throughout your physical therapy pages are the ones that most people search for.
Authority – To increase the chances of ranking high on search engines, make sure that when publishing content about physical therapy, it should provide a comprehensive and in-depth explanation about a certain topic.
Learn more about how to do effective marketing as a PT.
3. Understand search intent
Conducting comprehensive keyword research is a must before you implement random keywords on your physical therapy website. It's because having an idea of what kind of search terms people use based on their intentions could be helpful in driving more traffic to your PT website. There are four types of searcher intent:
Informational – These kinds of search terms are coming from people who want to know more about a specific product or service. It usually starts with:

"how to…"
"the best way to…"
"why…"

Transactional – These are the ones who are in the middle of wanting to learn more about a product or service and actually buying/scheduling an appointment. Here are some examples of transactional keywords:

"name-of-your-physical-therapy-clinic + reviews"
"best physical therapy clinic"
"top 10 physical therapy clinics"

Navigational – These search terms come from individuals who already know what they are looking for. It's either they prefer searching through a search engine instead of typing the entire URL of the website or are unsure of the exact URL.
Commercial or High intent – These are coming from users who are on the verge of actually scheduling an appointment with your physical therapy clinic and are more likely to become your customers. Com
merical search terms may have the following terms in them:

"physical therapist near me"
"top physical therapist in Florida"
Want to understand how to analyze search intent? Check out this beginner's guide about search intent to learn more.
Interested in doing in-depth keyword research for your physical therapist's website?
Schedule A Free Strategy Session
How to find keywords manually
You'll be able to understand what your customers are actually looking for by doing keyword research manually or with the use of keyword research tools. Here are two of the easiest ways to manually find your keyword competition:
1. Using Google Keyword Planner
The Keyword Planner can help you explore new keywords and find relevant ones to your physical therapy practice. To know the search volume and competition of the keyword you want to use for your physical therapy website, here are the steps that you could do while using your Google Ads account.
Your Google Ads account should be in Expert Mode
Go to "Tools and Settings"
Under planning, select "Keyword Planner"
It will give you two options: Discover new keywords or Get search volume and forecasts
If you want to get search volume and forecasts, type the phrase you want to use.

In this example, we used the keywords "physical therapist" and "physical therapy." In the first column, you'll see a list of all the relevant keywords that go along with "physical therapist" and "physical therapy" such as the name of the brands and specific types of services that people commonly search for. From there, you'll get an idea of what keyword you should go for.

If you want to discover new keywords, enter phrases that are relevant to physical therapy (e.g. orthopedic, geriatric, pediatric physical therapy). Then enter the domain of your physical therapist's website so that Google will exclude terms that are not relevant to your practice. After that, click "get results."
Haven't tried Google Ads before? Read our step-by-step guide on Google Ads for Physical Therapists to learn more about it.
Need help in using Google Keyword Planner for your physical therapist's website?
2. Using Google's auto-suggestion
Another way of doing keyword research for physical therapists is by using Google's auto-suggestion or related searches. To use its autocomplete suggestions, here's what you can do:
Use the Incognito or Guest mode of your browser. This way it won't affect Google's prediction when it comes to the keyword you are planning to use.
If your target audience is in a different location from yours, use a VPN to find relevant search terms based on your target location.
Change the language according to what your target audience is more likely to use.
Start typing the keyword that you are planning to use.

In this example, we used the keyword "physical therapist for" to look at the most common medical conditions that people looking for a physical therapist are also searching for.
To see the related search terms, scroll down to the bottom of the search engine page and it'll show you what people are also searching for like this: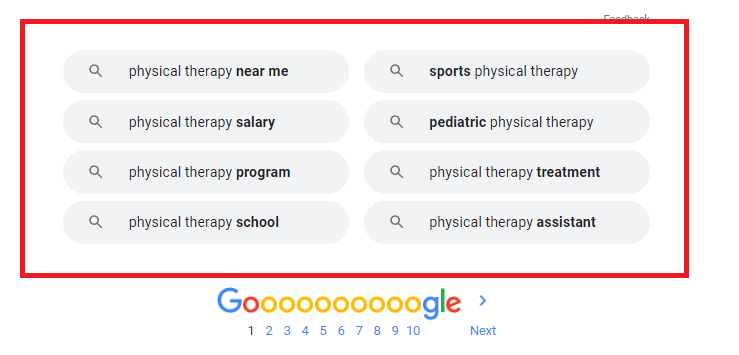 Where to use keywords on your physical therapist's website
Once you are done making a list of the most relevant keywords to physical therapy. You have to make sure to implement them on your website. But, where exactly?
1. Use physical therapy keywords on your URLs
Having relevant keywords to your PT website helps search engines and your prospective patients get a clear idea of where they'll be redirected once they click on your site.
Although adding keywords in your URL doesn't really affect your rankings on Google, it's one way of improving your user's browsing experience. Just remember to not stuff your URL with keywords as it may impact your ranking as well as the number of clicks you might get.
2. Use physical therapy keywords on your title tag
The way you implement your physical therapy keywords to your title tags can significantly impact your SEO. The reason is that page titles are one of the first few things that people see when they are looking for something using search engines. It gives them a gist of what to expect when they click your physical therapist's website and also helps you set a good first impression on your site visitors.
Tip: Start the title with the exact keyword that you are aiming to rank for. The closer the keyword is at the beginning of the page title, the more discoverable it becomes.
3. Use physical therapy keywords on your meta descriptions
Meta descriptions tell users what your page is all about. To get Google used to it, you should include your focus keyword and give an assurance that clicking your site will answer the searcher's intent. For higher chances of getting more clicks, try phrasing it in a way that people will want to read more.
4. Use keyword variations throughout your content
The quality of the content affects your SEO. For example, you are writing a blog post about the "Top 10 marketing tools for physical therapists." Instead of constantly using the term "physical therapists" throughout your content, use synonyms, LSIs, or other terms for physical therapists like "PTs," "Physiotherapy" or "Physiotherapists." So when page visitors read your content, it would appear naturally.
If you need any help with blog content, check out our guide for physical therapists.
Additional tips in choosing the right keywords for PTs
While creating a list of your keywords, think as if you are the person who is looking for physical therapy services. What would be the possible search terms that you would use if you're looking for the nearest PT clinic?

You could also ask your friends or colleagues about the phrases that they are more likely to use if they are also searching for a physical therapist.

Check the keywords that your competitors are using. This could help you get an idea of the keywords that are working well for them and identify the gap or the keyword that they missed out on to your site's advantage.
Use long-tail keywords on your title page. Long-tail keywords are phrases that typically consist of 3-5 words that are less competitive but more specific based on a customer's perspective. It is mainly used to provide more relevant and focused traffic to your site.

For example, it's impossible to rank the term "therapist" since the keyword is too broad but it would be a lot easier to rank the specific term "physical therapist Florida"

Refer to Google's "People Also Ask" section for ideas.

Let's say you are creating a frequently asked question page on your physical therapy website and you have no idea what topics people also search for. You could try looking at Google's "People Also Ask section" and it'll show you potential questions that customers frequently ask about physical therapy.
Key takeaway
Ranking on top of search engines can be challenging. But if you do thorough keyword research, and implement the right keywords on your physical therapy website, it'll surely bring you more opportunities such as increased exposure, growth in site traffic, and revenue.