Where would parents start their search for a pediatric dentist? Well, this will most likely be on the Internet. That is why it is important to have a great pediatric dentist website design.
Our goal at YoYoFuMedia is to help you start on the right foot with the parents of your potential patients. And the key is to get them interested the moment they land on your website.
Pediatric Dentist Website
A lot of parents review local pediatric dental websites before they even make an appointment. In a survey involving more than a thousand Americans between 18 and 65, it was found that 43% look for dentists on Google and by looking up reviews. I bet you do this too and google for a qualified professional.
You probably have a preference for a friendly dentist with a strong online reputation. They should have a welcoming office environment. In the case of pediatric dentists, they should show on their website that they are good with children.
Do you want to give your Pediatric Dentist Website Design an upgrade?
Pediatric Dentist Website Design
As a pediatric dentist, you can rise above the competition by conveying those qualities through digital marketing. Create pediatric dental websites that would make your personality stand out. You can do this by including information about you, your hobbies, and demonstrating your expertise to motivate parents to schedule an appointment.
What Should a Pediatric Dental Website Have
Since a lot of people are going online for information, your dental practice could benefit a lot from a stunning pediatric website design. What should be included on a dental website design?
1. Your website should be Convenient and Secure
User experience is important for a successful website. You should make your website as convenient and as secure as possible to entice potential patients.
Being HIPAA Compliant is a MUST
HIPAA stands for Health Insurance Portability and Accountability Act of 1996. HIPAA compliance is a big deal in the healthcare community, including dentists.
How does this have anything to do with pediatric dentist websites? You have to make sure that the information of your patients and potential patients are kept safe and secure. Even if they provide this information on your online forms or online payment options they should be kept protected.
So what does it take for pediatric dentist websites to be HIPAA compliant?
To be HIPAA compliant, you have to make sure that all of the information your website receives is encrypted and secure. One way to keep information secure on your website is through an SSL certificate. An SSL certificate is a code used on a web server that provides security for online communications.
It is highly recommended for all pediatric dentist websites but especially for healthcare providers such as dentists like you.
Online Scheduling is the current TREND
Almost everyone nowadays, especially during the current global situation, prefers to book appointments online. Online booking is almost always expected. Making sure you have online scheduling allows everyone, both potential clients and old clients, to book appointments at any time.
Easy booking means easy money for you. You won't need to hire staff to simply answer phone calls. Trust us, patients will love you for the convenient process!
Also, consider using online ads such as Facebook Ads for a dental practice to get more bookings!
Welcome New Patients EFFECTIVELY
Patients appreciate that their doctors know and remember them. After all, how can you trust someone who doesn't seem to know the care you need. Online forms for new patients can help you with this. A new patient should ideally be able to fill out and submit the forms online. PDF forms that can be printed and filled out are more convenient than paper forms.
However, digital forms win the game. When new patients submit their forms online, a file is automatically created for them, saving your team time and streamlining operations.
Make Lead Generation a PRIORITY
It is critical to keep the submissions from these forms organized. What good is a request for an appointment if it falls through the cracks and is never scheduled? Yikes. That's a sure way to turn them off. Using a CRM tool like HubSpot to create your forms ensures that no message goes unread again and allows you to manage messages and leads in real-time.
2. Create Different Pages and Provide Easy Navigation
Having a properly optimized page for each service gives you an enormous SEO advantage. Not to mention you are making it easy for your site visitors.
Navigation can make or break your pediatric dentist website. Making your navigation as simple as you can let potential patients find what they need easily. It is a smart move to create a navigation bar to easily navigate to your site's main pages.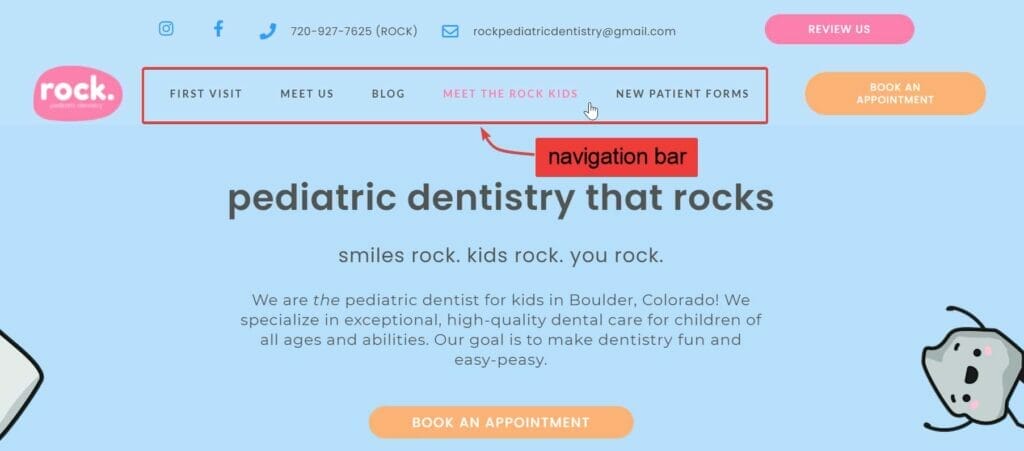 Service Pages
A navigation bar for the different services is especially helpful. People will know your specializations, products, and other services you offer. Make sure to use easy-to-understand tabs that users will understand.
For example, if someone searches "dental fillings in (your area)", your service page has a better chance of showing up in search results. Your audience might also type in "pediatric dentist near me." The more people that find you on search results means more potential patients for you.
Create Location Pages if You Have Practices in Different Locations
It's smart to create pages for each location your practice has. It is just like creating different Service pages for different treatments you provide.
For instance, if your practice is in Irvine you can also optimize your pediatric website for Mission Viejo or Lake Forest. This greatly increases the chances that potential patients in these cities will find you when they look for local pediatric dentists.
Create a Page to Introduce your team
Make yourself more relatable to your potential clients. You can do this by creating a page with your dentist's bios. This helps establish trust with potential patients because they know who will be treating them, they'll feel more at ease trusting you with something as important as their children's oral health.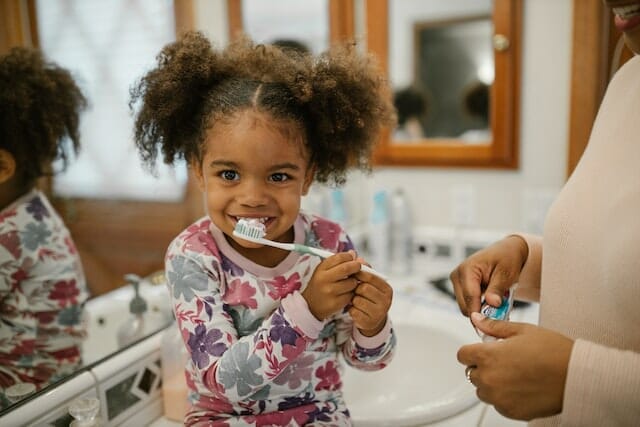 Make sure to include credentials and fun photos of your dentists and your team.
3. Add Informative Videos and Images
One good way to build trust with your patients is to be informative and transparent. Let the parents know what to expect when they go through your doors.
You can do this through videos, pictures, and infographics.
Videos and Office Tours
Lots of pediatric website designs make use of animation nowadays. It can be really helpful for both parents and children. One interactive technique is to provide virtual office tours. Doing this with professionally filmed videos of your practice can help new patients get an inside look at your practice.
Procedure videos
Create videos to explain the procedure to potential patients. These are ideal to include on your individual treatment pages and can help nervous parents be more comfortable and sure about the procedure their kids will have.
You as their dentist can explain everything from root canals to simple cleanings and exams. It is just another way to build trust and demonstrate your expertise.
Before and After Galleries
Show off how good you are with the help of before and after photos. Having before and after photo galleries on your pediatric dentist's website design displays the results of your treatment. This lets the parents know that you can give their kids the same great results.
Just make sure to obtain written permission from your patients before using their photos for your site.
Build Online Reputation Through Online Reviews
Building your online reputation through online reviews is by far the most effective strategy for any pediatric website. Yes, people check Yelp or Google reviews, but including the great reviews on your pediatric website design makes it easier for potential patients to notice.
A lot of people trust online reviews as much as they do a recommendation from someone they know. Yes, word of mouth is a big deal, so is pasting great reviews in plain view on your website. You can also put in software programs that allow you to automate review requests. Here are more ways you can improve your patient referral program as a dental practice.
4. Capture your leads and create engagements
When you're done dolling up your website, it is time to make sure it achieves your business goals.
Add Call To Action Buttons
What exactly is a call to action (CTA)? A CTA is usually on a website that encourages site visitors to perform a particular action. You'd want this action to be scheduling an appointment.
CTA buttons are one of the important elements in digital marketing. Some websites have highlighted texts (which can be a bit boring), an exciting CTA button, web links (still a bit boring), or big clickable banners.
Install Call Tracking
After all of the effort you put into your website, you have to have a way to know if things are going the way you want them to. Call tracking allows you to see where the incoming calls to your pediatric practice are coming from.
This assists you in understanding the ROI of your marketing campaigns. This helps you know if you should keep doing what you are doing or do something better.
Setting up call tracking on your website is simple, but it does require some technical knowledge. If you are unsure about this kind of stuff, you can find an expert who can help you.
Do you need help with Digital Marketing?
Talk to a Digital Marketing Expert!
Include Social Media Icons in the Footer or as sidebars
Adding social media icons in your website footer allows patients to easily find and follow you on their preferred platform.
Being in a digital age, social media has become integral in connecting people all over the world. If you think your pediatric dental practice can benefit from it, you can start implementing social media into your marketing strategy.
Building an online community lets you create a space to share your dental practice's story. You get to show what you can offer to prospective patients. This lets you build relationships with potential patients as well as establish yourself as an authority.
If you are using social media ads to promote your dental practice, you can retarget those who revisit your dental website by reading our guide.
The Best Pediatric Dental Websites Of 2022
Marketing your dental practice can be difficult, but it is necessary if you want to increase traffic. As pediatric dentists, your marketing strategies must frequently focus on portraying your practice to parents and children alike as kid-friendly, compassionate, understanding, and dependable.
How do I promote my pediatric dentist practice?
Pediatric dentists can distinguish themselves from their competitors by communicating their goals and qualifications through a website, displaying their personality, and demonstrating expertise.
Here are some of the best pediatric dental websites to inspire you to improve your own.
1. Bean Tree Pediatric Dentistry
Bean Tree Pediatric Dentistry is located in Jacksonville, FL. First of all, it's clear that they have a cute name and brand. They are also able to provide parents with a clear reason why they're the best choice. Not to mention, they provide teledentistry services emphasized at the top part of the website.
The CTA is very visible at the top of the homepage. They also describe what children can expect at their first appointment.
What they did right:
Provided clear calls to action
Clearly showed what makes them special
Explains to parents what you can expect at their child's appointment
2. Children's Dental Center
The jungle-themed Children's Dental Center does an excellent job of showcasing what they have to offer. This includes their specializations in space maintainers and after-hours dental emergencies.
Children's Dental Center website makes use of their own pictures. Aside from that, you can find engaging images to showcase the work they've done. They make things convenient for potential patients by accepting online reservations.
What they did right:
Clearly outlines services
Provides online booking to interested visitors
Uses original photos
3. Falmouth Pediatric Dentistry
Falmouth Pediatric Dentistry successfully establishes trust with parents on a children's dental website. They accomplish this by displaying testimonials from patients.
On the website, they describe how long the practice has been around in the community. They also set the right expectations with parents during their first visit. Anyone can get the gist of the website without having to scroll down.
Falmouth Pediatric Dentistry created pages dedicated to various services. But by far the most amusing character of the site is their logo. Look at that playful font and walrus mascot!
What they did right:
Establishes trust with parents through customer reviews
Everything is visible at first glance
Fun and Adorable brand
4. Acorn Dentistry for Kids
The website that Acorn Dentistry For Kids is highly animated. The pediatric website design transforms the scenic forests of Oregon into a welcoming and awe-inspiring image.
This practice used an animated video made to soothe children's —and parents'— worries. This lets them provide a safe, warm environment for children in need of dental care. You can see a lot of friendly, animated characters and woodland-themed critters.
Acorn Dentistry For Kids uses warm brown tones, vibrant greens, and other natural elements to visually entertain and educate others. You can't possibly ignore their squirrel mascot.
What they did right:
Soothes the worries of parents and potential children patients with fun video animation
Fun squirrel mascot
Clear CTA and Navigation bars
5. Hilgers Pediatric Dentistry
Hilgers Pediatric Dentistry is a fun southern-themed practice. They're complete with friendly cartoon gators and other wildlife.
This pediatric website design uses fun images with a bright color scheme of purple and green. This gives visitors an engaging and interactive world for the nervous kids. Although might be too much and a bit confusing, the navigation bar at the top is visible enough to guide visitors.
While providing children with an education and a fun way to practice their dental care, hyperlinks and action buttons help to further engage parents throughout.
What they did right:
Lots of movement in the website
Fun alligator mascot
Buttons are big enough to notice from the other designs
6. Tiny Teeth Pediatric Dentistry
Tiny Teeth Pediatric Dentistry focuses on putting parents at ease. Rather than directing their design elements toward children, the website focuses on educational aspects that empower parents.
They use deep blues and ocean-themed decorations in bringing a more elegant disposition to the pediatric website design. They do a great job of reassuring parents of their expertise in providing pediatric dental care. Its design elements, such as thin headers, hyperlinks, and transition images, contribute to a seamless experience for any site visitor.
What they did right:
Focuses on getting the parents interested
The website is crisp and cool to the eyes
7. Rock Pediatric Dentistry
With its visually appealing pediatric website design, Rock Pediatric Dentistry demonstrates its distinct brand by using an adorable visual motif of life-like teeth. This gives parents and kids a glimpse inside its fun personality.
Aside from the visual elements, the website has clear CTAs, original content, wonderful testimonials, and an explanation of what your child can expect during their first visit all contribute to an engaging pediatric website design that fosters trust. What's not to love about this?
What they did right:
Presents the audience a distinct brand
Uses clear CTAs
Shows the audience engaging testimonials
8. Children's Dentistry of Charlottesville
Children's Dentistry of Charlottesville employs their brand's blue and purple colors to create a distinct visual style for their pediatric dentist website design. They also use original photography from their practice.
Their Original content explains their services clearly, provides information to parents, and makes it simple to schedule an appointment. It also incorporates keyword research to help their specialized pages rank for the services they want to promote.
What they did right:
Uses clear CTAs
Provides original content to site visitors
Conducts effective Keyword research
9. Camp Little Tooth
Camp Little Tooth "camp" decor makes a really good first impression. They also feature original photos and videos on their pediatric dentist website design is the real star of the show.
The photography used throughout the pediatric website design provides parents with an inside look at their unique office environment and what to expect during an appointment.
They also clearly state what distinguishes them early on in their homepage, have extensive service pages outlining common procedures, and display client testimonials.
What they did right:
The website uses original photography and videography
Uses a distinct brand
Is able to show site visitors what makes them different from other practices
10. SF Pediatric Dentistry
To engage parents and the community, SF Pediatric Dentistry uses a creative and minimalistic logo and brand. They use a visually appealing and consistent design across the site.
This pediatric dentist website design also includes an FAQ page that answers patient questions. introduces team members, and allows for online booking. They also have convenient online booking.
What they did right:
Website uses a striking logo and brand
Very informative and answers potential patient questions
Offers online scheduling
11. Salt Lake Pediatric Dentistry
When you visit Salt Lake Pediatric Dentistry website, the first thing you'll notice is their original video. The video gives you a virtual tour of their office, doctors, staff, patients, and more.
Informative videos like this makes a great first impression. This pediatric dentist website design also does an excellent job of showcasing their doctors. This will make anyone feel as if you've met them simply by visiting the website.
Perhaps the best thing about this pediatric dentist website is the simple navigation bar. This lets site visitors quickly decide where they want to go to learn more about the practice.
What they did right:
Original videography and photography
Very informative
Simple and easy-to-use navigation bar
12. Sunshine Smiles Pediatric Dentistry
The most important aspect of Sunshine Smiles Pediatric Dentistry website design is that it can anyone who visits the site can learn what the practice offers within seconds.
Their pediatric dentist website design also includes unique service pages. This give parents an idea of the care they offer and how each treatment can help their children.
What they did right:
Informational service pages
Establishes trust with parents through customer reviews
Information is clear without having to scroll through for a long time
13. Kids Dental Specialists
The Kids Dental Specialists pediatric website design is themed around nostalgia and childhood innocence. It uses beautiful watercolor art which greets visitors throughout this pediatric dentist website design. They are able to provide a soothing and whimsical atmosphere from the start.
The site is designed with light blues, sage greens, and light grays providing a neutral palette for parents to establish trust in their expertise.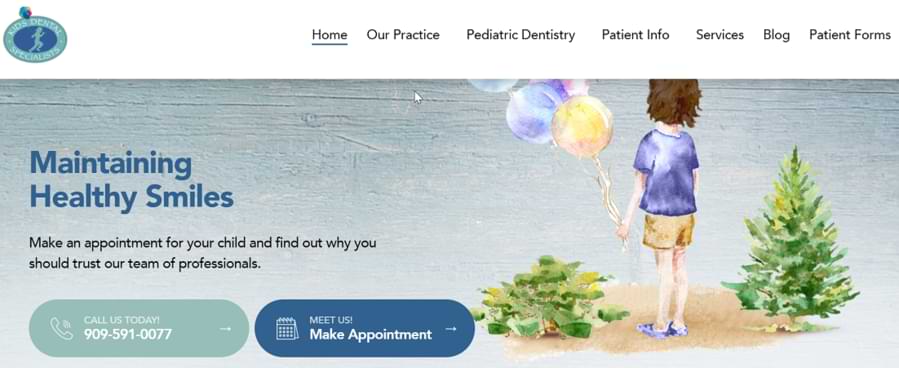 The navigation bar is made visible even when you scroll down through the home page as well. You can't miss the subtle but clear CTA as well.
What they did right:
Clear CTA
Stunning yet crisp design
Simple and straightforward navigation bar
14. Kids 360 Pediatric Dentistry
Delicate pinks, robin egg blues, and mint greens accent Kids 360 Pediatric Dentistry to create a visually pure and enticing pediatric dentist website design. This practice focuses on making parents comfortable with the help of transition slides. They also have a clear call-to-action buttons and background images.
But nothing compares to how effective it is that they educate parents about the role of pediatric dentists. The website also made sure site visitors can see their great customer reviews.
What they did right:
User-friendly website
Design is colorful and attractive
Customer reviews are in plain view for visitors
15. Smiling Kids Pediatric Dentistry
Smiling Kids Pediatric Dentistry uses light blues and yellows with cloud-like imagery. The pediatric website used icons and photography to create a clean and crisp space for information.
Images on the pediatric dentist website design help direct viewers to their services. They also provide parents with important information for their children's dental care.
What they did right:
Very informative
Simple but attractive design
Customer reviews are in plain view for visitors
16. Children's Dentistry And Orthodontics
Children's Dentistry And Orthodontics uses an oceanic-themed kid-friendly design. This pediatric dentist website design uses energizing colors and fun interactive icons. This engages both children and parents.
The navigation bar is clear enough for any parent to navigate. They also made sure that their site visitors would know their credentials.
What they did right:
Attractive icons with lots of movement
Engaging design
Credentials are in plain site of site visitors
Digital Marketing for Your Pediatric Dentist Website
Thank you for reading our post on pediatric dentist website design. A well-made pediatric dental website can convert new visitors to patients.
Do you want to get more visitors to your Pediatric Dentist Website?
Let the experts take the lead!
YoyoFu Media can help you build a stunning pediatric dental website from scratch. We'll make sure to optimize it for both mobile and desktop browsers too. We can create beautiful, custom-branded pediatric dentist website designs that can put a spotlight on your practice.