If you are running a dry cleaning business and looking for ways how to reach out to your potential customers online, you came to the right page! In this blog, we'll share tips on how digital marketing for dry cleaners works to get you more new customers!
What is Digital Marketing?
Digital marketing is the process of promoting your dry cleaning services to your target audience on digital platforms like your website, through email, social media, and search platforms. This type of marketing strategy makes it easier for business owners like you who want to stay on top of the minds of your target audience.
Why Digital Marketing for Dry Cleaners?
Other than publishing your marketing campaigns in real-time, other benefits that you'll gain with digital marketing includes expanding your reach, various types of content to use, being cost-effective, and giving you measurable results. 
Expands your reach
With over 5 billion people using the internet around the world, digital marketing makes it easy for your dry cleaning business to reach your target audience. You just have to optimize your posts based on the platform you're using and choose the right keywords, set your target audience, and location, and make sure to stay updated with the latest algorithms. Since most people are spending their time online, this will be a great opportunity for you to promote your dry cleaning services.
Different types of content to use
Another thing about digital marketing is that it gives you a wide range of options to choose from when it comes to promoting your dry cleaning business. You can write blogs, post educational videos, send email newsletters, share customer testimonials, and a lot more! It gives you more room for creativity which can be helpful in keeping your customers engaged.
It's cost-effective
Digital marketing is cost-effective. Most strategies (e.g. social media, content marketing, and SEO) won't cost you that much to start to market your dry cleaning services compared to traditional TV/Radio ads. With digital marketing, it's possible for you to reach not just potential customers around your neighborhood but even those who show interest in the services you provide in just a few clicks.
Measurable results
Most digital marketing platforms have built-in analytics. Due to the advanced features that each platform has, you can immediately see charts and reports about the performance of your dry cleaning business. If the platform that you're using isn't giving you enough data, there are tons of tools that you can integrate to have a more comprehensive understanding of the results of your marketing efforts.
Don't have time to do digital marketing for your dry cleaning business?
7 Digital Marketing Strategies for Dry Cleaners
Now that you have a background of how digital marketing works, here's a list of online marketing strategies that you can use in promoting your dry cleaning business.
1. Pay-per-click
Pay-per-click (PPC) is one of the online advertising tactics that you can use to promote your dry cleaning business. Here, you'll only pay whenever someone clicks on your ad. Some of the benefits of creating pay-per-click campaigns include getting fast results compared to SEO and getting a higher volume of traffic with the use of the right keywords and bidding strategies.
One example of an advertising platform that operates in a pay-per-click system is Google Ads.
This is what a Google Ad looks like:
Here's how it works:
Google will display your dry cleaning ad whenever someone in your target location uses a specific search query when looking for dry cleaning services. But before that happens, there are several steps that you should do. This includes choosing your target keywords, setting your average daily budget, and maximum CPC, identifying your target audience, and creating your ad copy.
Another way to showcase your dry cleaning services is through paid social. What's great about this advertising strategy is that it allows you to choose your target audience based on interests, user behavior, and other criteria.
Here's an example of a Facebook ad from a dry cleaning company:
As you can see, they started their ad description with an offer that they have for their customers, followed by the reasons why potential customers should choose them over their competitors. They also used emojis to emphasize the important details of their ad. The purpose of this ad was to get more app installs by offering a $25 free credit.
Next are Instagram ads. Here, your dry cleaning ads can show up not just on a potential customer's feed but even on their explore page, reels page, and IG stories. You just have to make sure that your ad description contains a brief overview of your business, the reasons why potential customers should choose you, along with the contact details and a relevant call to action, and a high-quality photo.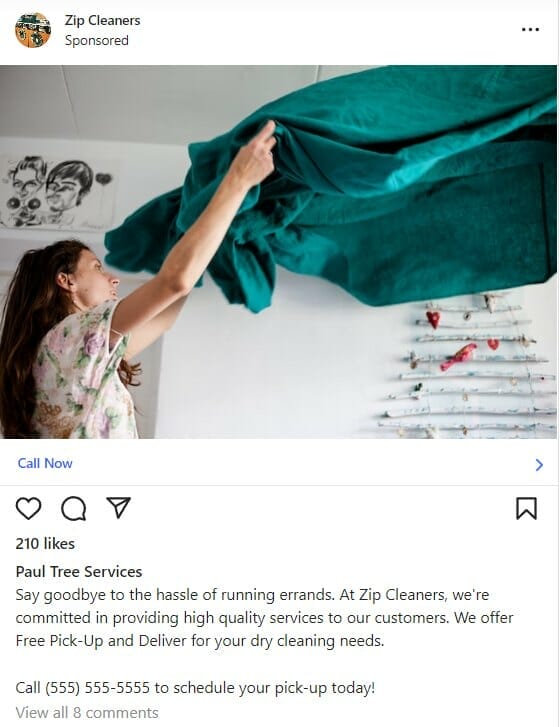 If you are aiming to reach out to a professional audience, LinkedIn ads can help you with that. Since most of its users are from different industries, showcasing your dry-cleaning ads on this platform can help you engage with your prospective customers. The type of ads you can share are single image ads, carousel ads, video ads, document ads, conversation ads, lead gen forms, spotlight ads, and more.
If you have plenty of time to create video content, TikTok ads are one of the best platforms that can help you generate more traffic and leads. You just have to post an engaging video, use trending audio, prepare a well-written caption, and use the most suitable call to action for your ad.
If you want to know more details on how to create ad campaigns for your dry cleaning business, check out our blog about Google Ads for Dry Cleaners to learn more.
2. SEO
Search Engine Optimization (SEO) is the process of improving the quality of your dry cleaning website so that it shows up on top of a potential customer's search results page. Its purpose is to help you get more traffic and rank high on the search results pages.
Here are some of the best practices for optimizing your dry cleaning website:
On-page SEO
Implement your focus keyword throughout your content (e.g. headings, title tags, URL, and meta description)
Proper use of alt-tags
Use of internal and external links
Write compelling meta descriptions
Use of relevant images on your blogs
Off-page SEO
Get listed on online directories
Respond to customer reviews
Engage with your target audience on social media
Guest posting
Sharing your expertise in discussion forums
Technical SEO
Improve your page loading speed
Fix broken links
Use an SEO-friendly structure for your dry-cleaning URL
Make sure your website is secure
Looking for an in-depth guide that can help you to effectively optimize your dry cleaning website? Check out our blog about SEO for Dry Cleaners to learn more.
3. Content marketing
Another marketing approach that you can use for your dry cleaning business is content marketing. Here, you will create and publish relevant content for your target audience to increase the chances of reaching out to your potential customers. This could be in the form of blog posts, videos, podcasts, and social media posts.
The main purpose of this marketing strategy is that it helps you answer the frequently asked questions by your potential customers and turn them into your actual customers which helps you generate more leads!
[Source]
Content marketing tips
Create content for each buyer's journey
Your content should be something that your audience will find valuable
Be a trusted source of information
Write comprehensive content
Use Google Analytics to keep track of your performance
Use a consistent brand voice across all marketing channels
4. Social Media Marketing
Social Media Marketing is when you post engaging content about your dry cleaning business on platforms like Facebook, Instagram, and TikTok. What's great about promoting your dry cleaning business on social media is that it humanizes your brand and it's where the majority of your target audience is.
Referral program
To maximize the use of your dry cleaning social media profile, you can create a post telling your current and future customers about your referral program (e.g. how it works). You can also create a separate page on your dry cleaning website about your referral program where your customers can directly enter their details.
Like this: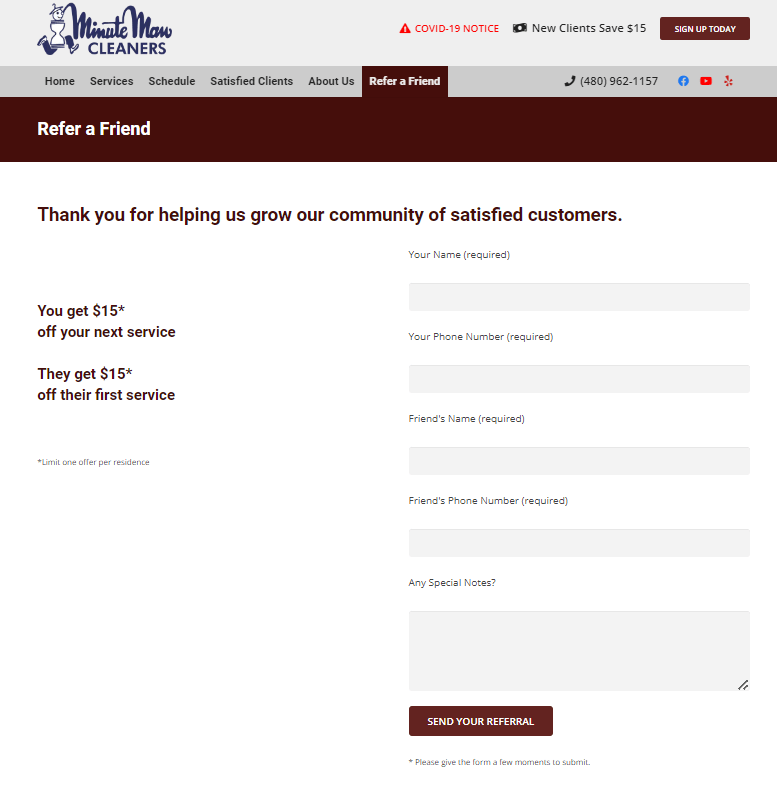 [Source]
Host a giveaway/contest
Want to boost your engagement rate on social media? Hosting a giveaway or a contest can help keep your target audience engaged with your posts! As a matter of fact, giveaways are an effective strategy that can help you get more new followers and more new customers.
Tips for posting on social media:
Proper use of hashtags

There are different types of hashtags you can use on your dry-cleaning posts. It can be industry hashtags, branded hashtags, community hashtags, or event hashtags. The number of hashtags that you can use depends on the social media platform you are using. So, make sure to do lots of research before applying it to your posts.

Engage with your audience

There are lots of ways to engage with your audience online. It can be through the comment section, re-sharing tagged posts, conducting a poll, responding to customer reviews, and a lot more!

Be consistent in posting

Posting regularly on your dry cleaning business' social media pages increases the chances of your posts being seen by your potential customers.

Post at the right time

You also have to make sure that you are posting at the right time when most of your potential customers are active on social media. Although the time you should be posting varies depending on your target location, you can use this as a guide when posting on each social media platform:

Facebook – 6:00 pm to 9:00 pm and 12:00 pm to 3:00 pm
Pinterest – from 3:00 pm to 6:00 pm
TikTok – 6:00 pm to 9:00 pm, 3:00 pm to 6:00 pm, and 12:00 pm to 3:00 pm
5. Get listed in online directories
Google My Business, Bing Places, and Yelp are some of the widely used online directories by local businesses. In fact, more and more businesses are getting listed on these platforms because not only will you show up on relevant search results, but you will also get a chance to see how satisfied your customers are with your dry cleaning services!
These are some of the dry cleaning businesses listed on Yelp:
Tips when claiming your business listing:
Make sure to keep all of your details accurate and updated
Respond to customer reviews
Pin the exact location of your dry cleaning business
Upload actual photos of your dry cleaning shop (e.g. interior and exterior)
Want to know how to get your business listed on Google? Check out our step-by-step guide on Google My Business for Dry Cleaners to learn more.
6. Email marketing
Email marketing is another form of marketing strategy that allows you to send the latest updates about your dry cleaning business directly to your customer's inbox. This works best especially if your goal is to retain existing customers.
Types of emails to send to your dry cleaning customers
1. Newsletters
Email newsletters are the ones that you send to your subscribers whenever there's a latest update about your dry cleaning business. For example, if you're opening a new branch or want to send informational emails like tips on how to care for your dry-clean-only clothes, you can share those details through newsletters.
2. Review request emails
You can also use email marketing to ask your previous customers for feedback. Since customer reviews play an important role in establishing the trust of your potential customers, gathering them as soon as you can, helps build your reputation as a dry cleaning business.
3. Re-engagement emails
Got customers that you haven't seen in a while? Send them a discount voucher to see if you can win them back. The purpose of re-engagement emails is to stay in touch with customers who haven't engaged with your brand for quite a while now.
4. Transactional emails
E-receipts and confirmation emails are some examples of transactional emails. This type of email is triggered by specific actions on your dry cleaning website.
5. Promotional emails
If you have an ongoing promo for your customers or have exclusive discounts for your loyal subscribers, you can also share the good news through email! Just remember, to send evenly distributed emails to your recipients (e.g. don't send too many promotional emails in a week).
Email marketing best practices:
Send your emails at the right time
Use email automation tools like Mailchimp and Hubspot's email marketing tools
Test your subject lines to see which works best
The recommended length for subject lines is a maximum of 60 characters
Use emojis to emphasize a word or phrase not to replace it
7. SMS marketing
SMS marketing is when you send promotional messages directly to your customer's inbox. You can use it to send updates about the dispatch, tracking, and delivery information (if your customers want to have their dry-cleaned clothes delivered to their doorstep).
If you want to have your SMS marketing campaigns automated, tools like Sendinblue and Birdeye can help make the task manageable.
Digital marketing best practices
Now that you have an idea of the marketing strategies that you can use for your dry cleaning business, here's a list of things that you should do once you start digital marketing:
1. Competitive analysis
Before you start promoting your brand to your target audience, you first have to do comprehensive research about the strategies used by your competitors. Its purpose is to identify their strengths and weaknesses and find out the gaps in the market so that your dry cleaning business stands out to your potential customers.
Here are some of the questions that might help you in evaluating your competitors:
What products and services do they offer?
Do they charge more or less compared to your dry cleaning business?
Which online platforms do they use?
How do they market their services?
Do they offer perks to their valued customers?
How do they promote their marketing content?
2. Use automation tools
If you don't have that much time to manage your digital marketing efforts, automation tools can make the task a lot easier. Not only will they provide you with ready-to-use templates, but they also have this feature where the message that they send doesn't feel like it's automated.
3. Use conversion tracking
The only way to know whether your digital marketing efforts are effective in driving more new customers to your dry cleaning business is when you track conversions. With the use of conversion tracking tools like CallTrackingMetrics, you can monitor where the calls you get come from (e.g. your Google My Business profile or landing pages).
4. Web design
Web design refers to the layout of your dry-cleaning website. With a well-structured web design, page visitors will stay longer on your site and increase the chances of them converting as your actual customers!
What makes a good web design?
Consistency

The elements that should be consistent throughout your dry cleaning website from your page design, the tone used in your content (e.g. formal or informal), and the way you interact with your customers. By establishing consistency in these aspects, page visitors can easily scan through your pages, eliminate confusion, and also, saves you time in building your website!

Simplicity

When it comes to creating a design for your dry cleaning website, you have to go for a simple one. Not only will it help your potential customers to understand what your website is all about, but it will also take lesser time to load which helps in your SEO efforts.

Easy to navigate

A website that has easy navigation uses headings to separate sections throughout your content, has clickable elements, and has a functional search feature. Website navigation is one of the essential features that contribute to user experience. That's why you have to make it intuitive as possible.

F-shaped reading pattern

The "F-shaped reading pattern" refers to the way page visitors scan your page. Starting from a horizontal manner, down to the left side of your content, to the right, creating an F shape. Check out this post about the F-Shaped Reading Pattern for Content to learn more.

Fast page loading speed

Another technical requirement that your dry-cleaning website should have is a fast page loading speed. Every second that it takes for your page to fully load, the higher the bounce rate your site gets. So, if you want to prevent increasing your bounce rate and want to get high conversion rates, aim to make your page load within 4 seconds for the best results.

Mobile-friendly

Almost 60% of web traffic comes from mobile devices. Because of that, you have to make sure that your dry cleaning website is compatible not just with desktop users but also with mobile and tablet users. To check if your dry cleaning website is mobile-friendly, check out this mobile-friendly test from Google.
Great content

Another factor that you should focus on is content. This includes the texts, images, videos, and links you use on your dry cleaning pages. Engaging content matters especially if you want your page visitors to stay longer on your website.
So, to make sure that you are consistently publishing high-quality content to your target audience, create a content checklist so that you don't miss out on important elements before posting.
5. A/B Testing
A/B Testing also known as "split testing" is when you compare two versions of your digital marketing campaigns. Its purpose is to help you identify which strategy will give you better results. When done right, A/B testing can help you get more leads!
Here's how it works:
For example, let's say your goal is to increase the number of calls from your dry cleaning website. With that, you're going to test which call-to-action format works best.
In version A, you are going to use white as the background color of your call to action button.
In version B, you are going to use red as the background color of your call to action button.
If we look at your page visitor's perspective, they are most likely to click on the red call to action button (Version B) since it's more attractive than the white one. Check out this blog to learn which colors work best for call-to-action buttons.
Tips when doing A/B Testing:
Use pop-up surveys to gather user feedback

Pop-up surveys are the tiny pop-ups that show on a page which usually appear in the lower right corner or sometimes take up the entire page whenever someone scrolls down to your content. It can be useful in measuring how satisfied your page visitors are when navigating your website as well as identifying potential issues that they experience on your site.

Test your landing page headlines

You can also test different variations of headlines on your landing pages to see which gets more conversions. This can be done by comparing the type of sentence used (e.g. declarative or interrogative), length (short or long headlines), or even the font you prefer to use.

Document your test results

You have to make sure that you create a note of the process of how you did your A/B testing along with the results. This way, you'll have something to look back to as a reference in the future.
Need help in digital marketing? Our team is here to help.
Key takeaway
Digital Marketing helps businesses like your dry cleaning shop to reach your target audience. Aside from that, this type of marketing strategy can help improve your online presence which can be your stepping stone to getting more new customers. Just follow the tips we've mentioned earlier, and you will eventually see results in no time!