Ever wondered if blogging should be included in one of your digital marketing strategies? In this article, we'll share with you the importance of publishing orthodontist blog posts along with some tips and ideas you can implement to expand your brand's reach.
Reasons You Should Post Blogs on Your Orthodontist Website
1. Rank high on search engine results
Did you know that writing blog posts about orthodontic-related topics will help you rank higher on search engine results? Addressing the questions that your prospective patients might ask not only makes it easier for you to get discovered by your target audience but it's also a good way to establish your brand's authority!
In fact, 72% of online marketing professionals consider publishing content through blog posts as an effective SEO tactic. Interested in optimizing your website? Check out our blog posts on SEO for Orthodontists to learn more.
2. Converts traffic to potential leads
Once you're getting a decent amount of search volume traffic, there is also a higher chance of you getting potential leads out of it. To maximize the opportunity of getting more new orthodontic patients in your clinic, don't forget to add a call-to-action button in your blog post and add an option where your page visitors can subscribe to your email newsletters or book an appointment with you.
3. Gives you long-term results
Over time, blog posts can help you attract a wider audience and even help you improve your search rankings. You just have to make sure that you are providing high-quality content, keep on search engine optimizing your post, and at the same time be consistent in terms of publishing.
Orthodontist Blog Post Ideas
Running out of ideas on blog topics to cover on your orthodontist website? Here are some ideas that you can try on your next blog!
1.  Difference between Invisalign and Braces
Your first blog could be an educational/ informative type where you compare which works better between two dental treatments like Invisalign and braces. This will help your patients have an idea of what treatment suits them best.
Here's an example of a comparison blog post from an orthodontic website: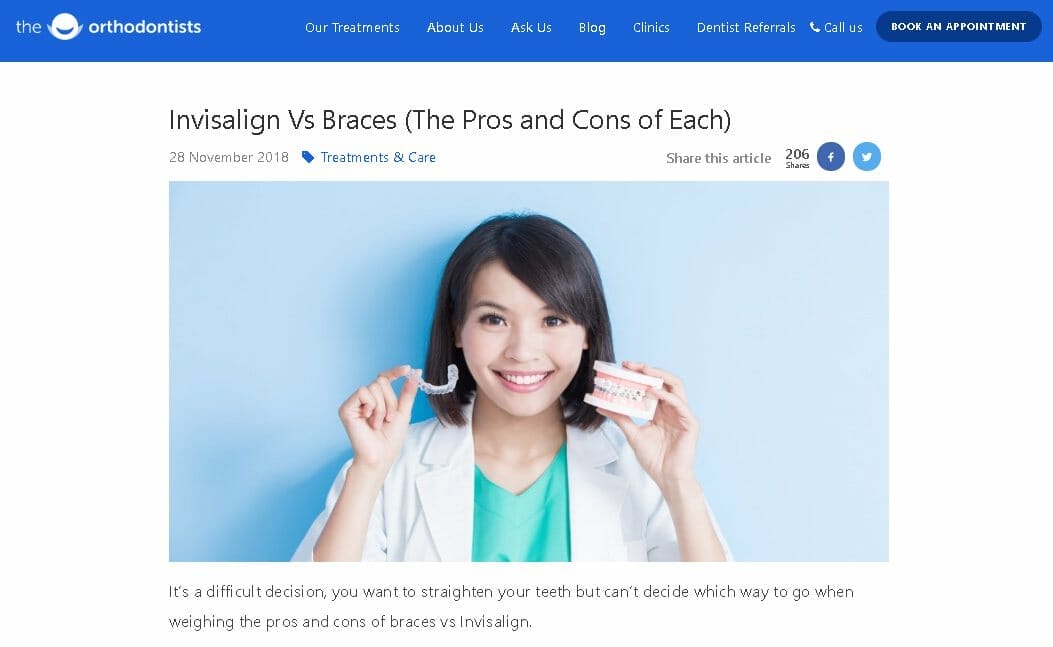 Source: www.theorthodontists.com
Looking for ways to market your Invisalign services? Read out our blog post on Invisalign Marketing Ideas to learn more.
2. Accepted insurances in your orthodontist clinic
Lots of people avoid going to an orthodontist thinking of how expensive the treatments would be. One of the common questions that patients usually ask before booking a consultation with an orthodontist is if their insurance covers a specific treatment (e.g. braces, dental bonding, malocclusions, etc.). In your blog post, you can explain what insurance plans cover your services, how to choose one, as well as the advantages of using them.
3. How braces work
Most people think that getting braces would be a scary experience that's why even if they need the treatment, they would prefer to simply not just go through with it. But, through blog posts, you can use the opportunity to remove their doubts and fear of getting the right treatment for their condition.
Take a look at this blog post which tackles how braces work. They also attached an educational video of it from their YouTube Channel.
Source: www.yourazbraces.com
Want to know how videos can help increase your brand's exposure? Read our blog post on Video Marketing for Orthodontists to learn more.
4. Things you should know before and after getting braces
Most patients want to be mentally and physically prepared before getting their treatments. Preparing your patients prior to their appointment is very important because it tells them what to expect before and after their treatment. Knowing this information would be beneficial, especially for your first-time patients as it will help lessen the anxiety that they're feeling.
To cater to the needs of these types of individuals, writing orthodontic blog posts about the things to do before and after getting a treatment (e.g. braces, retainers, dental bonding) could be a good topic to write about.
Sources: www.perfectteeth.com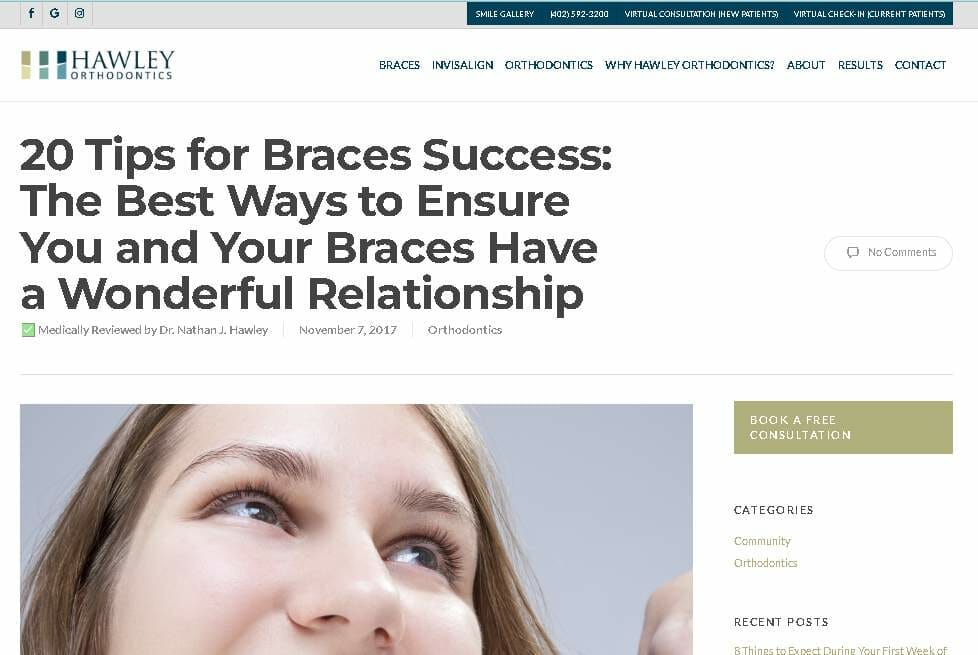 Source: www.hawleyorthodontics.com
5. Debunking myths about orthodontic treatments
As an orthodontist, you have a vast knowledge when it comes to the common misconceptions about orthodontic treatments. You could use this opportunity to bust those myths with facts so that your target audience will have a better understanding of your practice. Here are some ideas you can discuss:
"Are orthodontic treatments too expensive?"
"Does having braces mean I can no longer eat my favorite food?"
"Braces are for kids and teens only"
"It takes years to see results from your orthodontic treatments"
6. Things to consider before choosing an orthodontist
Finding the right orthodontist could be challenging especially for individuals who haven't had their teeth done before. Since there are lots of things to consider (e.g. location, budget, expertise/specialization, etc.) deciding whom to pick would be kind of difficult. To give these individuals an assurance that they're in the right hands, writing a blog post that tackles the factors in choosing an orthodontist would be very helpful in making them feel at ease.
Source: www.gentledental-pa.com
7. Latest news and updates about your orthodontist clinic
You could also write blog posts about the recent news and updates in your clinic. It can be about the new branch location, a new addition to your orthodontic staff, updated facilities, and more.
Here are a few examples:
Source: www.doughertyorthodontics.com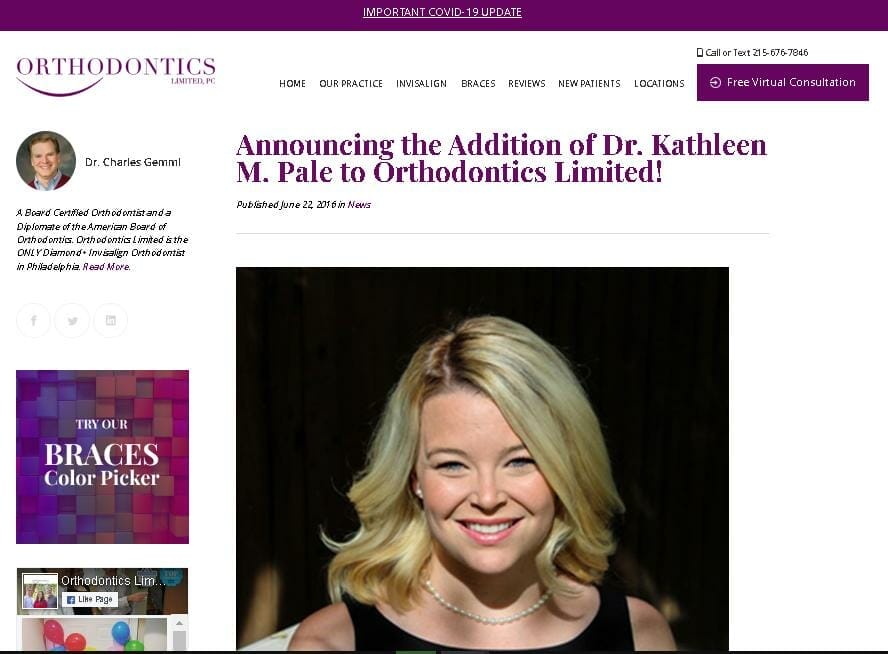 8. Explain the orthodontist profession
You could also write a comprehensive blog post that tackles the basic information that patients must know about the orthodontic profession. Like what sets it apart from dentists, the type of services they provide, and when to see an orthodontist.
Source: www.aosmiles.com
9. Case studies
Did you know that you can also incorporate your case studies in your blog posts? You just have to include an introduction of the patient's condition, imaging X-rays of his teeth (before and after), the details of the orthodontic treatment that was given, as well as the results of the treatment.
Like in this example: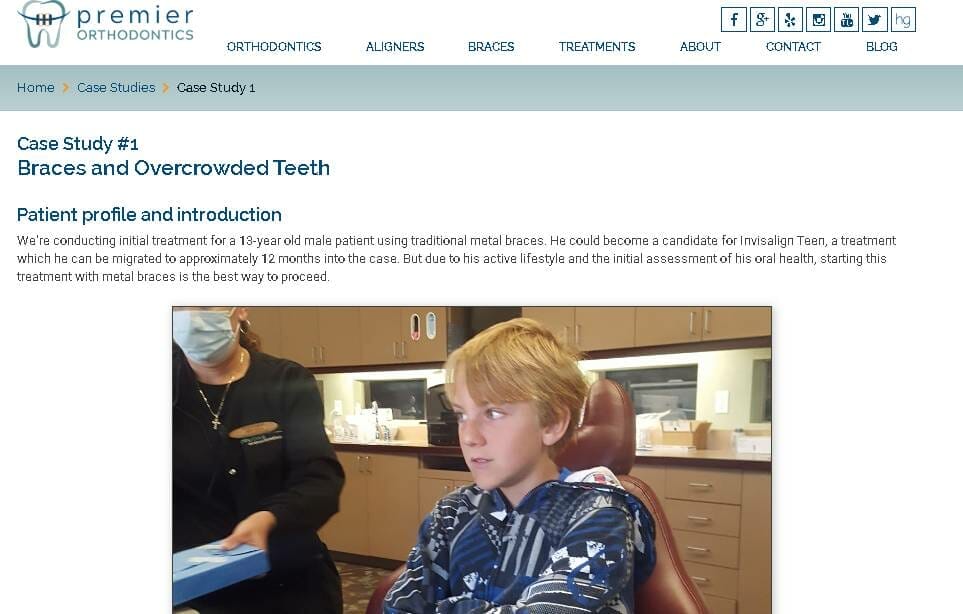 Source: www.premiereorthodontists.com
10. Tips to Prevent tooth decay
A patient's teeth become harder to clean if he or she gets cavities after getting braces. To prevent situations like that to happen, sharing a few tips on how to prevent tooth decay through a blog post could be another great addition to the blog topics to write on your orthodontic website.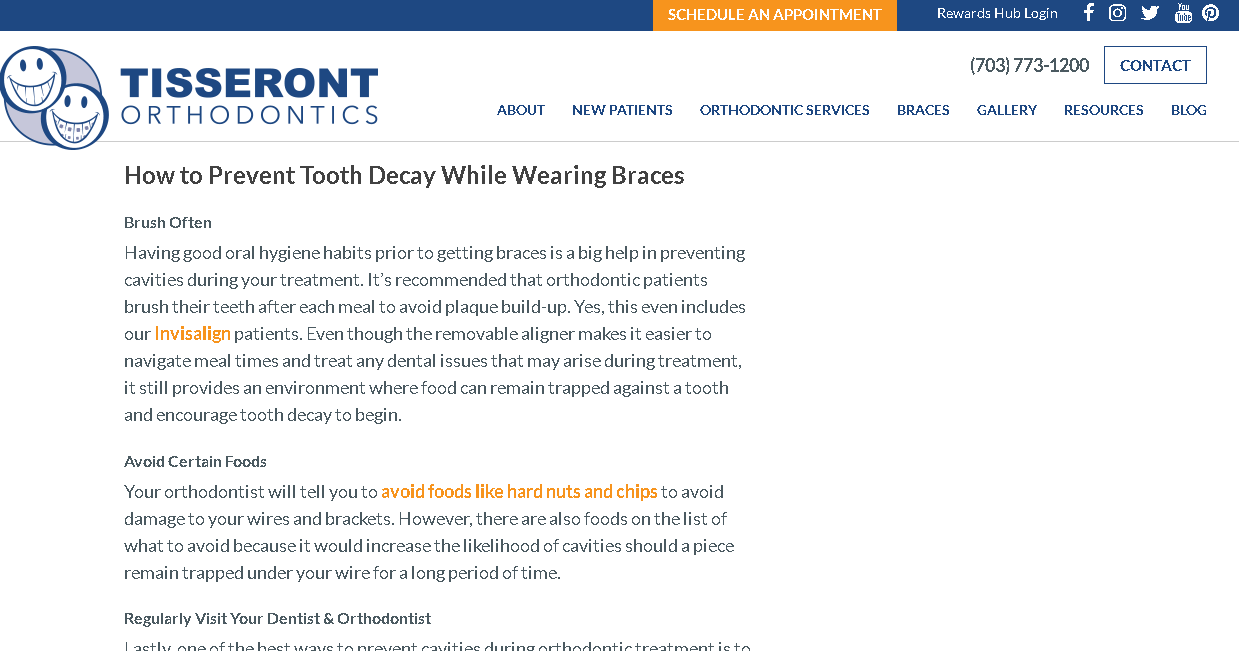 Source: www.tisserontorthodontics.com
Need help writing your first orthodontist blog post?
Schedule A Free Strategy Session!
Tips for writing blog posts for orthodontists
Tip #1 Do Keyword Research
Writing a blog post without doing in-depth keyword research is just a waste of time and effort. But if done right, it would be beneficial, especially for your site's SEO. So, to make sure that you are working on something that will help your brand get noticed here's what you can do:
Check out what keywords your competitors are using

There's nothing wrong with snooping around your competitor's published blog posts. In fact, it gives you valuable insights such as the keywords that haven't been used yet, keywords that bring a huge volume of traffic to their website, and what you can do to make your brand stand out among the rest.

Understand customer intent 

As an orthodontist, you should also know the questions that usually pop into your target audience's minds. This includes the keywords and phrases they use as they look for more information about the orthodontic services that they're planning to get. Having this knowledge about user intent not only gives your brand better conversion rates but also increased volume in search traffic.

Look at the People Also Ask section

This section, also known as "featured snippets" is another feature from the Google Search Engine which gives you an idea of the questions that your target audience usually searches for. To appear in the People Also Ask Section, what you can do is provide an answer in a clear and informative answer to a search query.

Visit the Related Searches Section

Google's "Related Searches Section" is found at the bottom part of the search results. This gives you additional search terms that Google thinks are relevant to your search queries (which is good for SEO). You could also use this if you want to know more about what your target audience is also looking for.

Use Keyword research tools

There are tons of keyword research tools that can help you have an idea of the topic you'll be writing in your next blog post. Browser extensions like Keywords Everywhere and Keywords Surfer are some of the tools you could use.
Tip #2 Compile the List of Researched Ideas in a Spreadsheet
Compiling your orthodontic keyword research ideas in a spreadsheet file is also a good idea. Here, you can keep track of the blog topics that you've already covered, the ones you haven't written yet, as well as additional information about a specific keyword (e.g. estimated monthly traffic, cost per click if it's used for Google Ads campaigns)
There are tons of SEO keyword research templates/ spreadsheets that you can find on websites like Sheets for Marketers and  Backlinko.
Tip #3 Answer frequently asked questions
Noticed that you're receiving lots of the same questions from your orthodontic patients? You could use those questions as the topics for your next blog posts! This can help address your prospective patients who have the same questions in mind.
For example, you get "Am I too old to get my teeth to straighten?" a lot. You can use that as the topic of your blog post and further expand its content through sub-topics like "10 things older adults should know before getting an orthodontic treatment." See how you were able to think of the next patient query to address.
You could also share the link to your blog posts through your social media accounts, such as Pinterest for Orthodontists. On these platforms, you are able to implement orthodontist ads such as Facebook Ads. Check out our blog post on Social Media Marketing for Orthodontists to learn more.
Tip #4 Use catchy headlines
Blog post titles are the first thing that people see on search engine results. To get more impressions and clicks, you should come up with a title that has the ability to draw the attention of your target audience. You could include words like "ways," "tips," "how to," "tips," "why," and "facts," and phrase them in a way that will intrigue people to read your blog post.
Bonus tip: Numbers also work best on blog post titles so don't forget to add them to your headline (e.g. current year, odd-numbered list). Learn more about the best ortho-website design.
Tip #5  Add images
Images make your content readable and easy to consume. Compared to a blog post that only has walls of text in it, adding images also plays a role in getting the attention of your prospective patients and helping them further understand the gist of your blog. You can find free orthodontic-related images on websites like Unsplash, Pixels, and Pixabay.
Want us to write orthodontist blogs for your website?
Key Takeaway
Writing an orthodontic blog post can be an overwhelming task especially if it's your first time. But, as soon as you find a niche that matches your interest, the succeeding topics would be much easier for you to write. Just remember to follow the tips we've mentioned and do lots of research, and your orthodontist blog will surely help you set a positive reputation for your brand.