If you are struggling with how to use ad extensions on your Google Ad campaign, you are in the right place! Using ad extensions will definitely increase the value of your ads. In this article, we will discuss best practices for
No time to set up your ad extensions?
What are ad extensions?
Ad extensions are extra information and links that you can include in your ads. These additional details can be your business number, business address, links to different pages of your website, app downloads, and so on.
Using ad extensions for your ads have no additional costs. You will be charged the same whenever someone clicks on your extension.
However, keep in mind that now all ad extensions you added will all be shown at the same time. Also, Google reviews all the extensions you apply if it follows the advertising policy.  So how do you increase the probability of most of your extensions showing up?
Ad rank – Combination of bidding, overall quality of your ad, and the landing page. The higher the ad rank, the higher the chance of your extensions to show.
Ad position – The position of your ads on the Google Results page. To show up at the top of the page, you need to work on the bidding and relevancy of the ad.
You can read more about ad extensions here.
Why are extensions important?
Ad extensions are important as it expands your ad into a larger size and it add more value to your potential clients or patients. In advertising, the bigger the ad, the more chance it will be seen and noticed by people.
Also, people are interested in an ad that has a lot of information in them. This will also easily lead them to different sites of your website and see what else you are offering.
Automatic vs Manual
If you have your automatic extensions turned on in the settings, Google will automatically create additional extensions to your ad, based on your website information. If you don't have anything set up in your account, Google will automatically serve sitelink, callouts, structured snippets extensions on your ad (again, only if it is turned on in the settings). Other automatic extensions are seller ratings, app, and location extensions.
Now for the manual, you have to set everything manually. You will have full control over this and you will provide all the necessary details. We always recommend doing it manually as you can experiment on it and customized it based on performance.
Type of ad extensions
Sitelink extension
This adds additional links where it will redirect people to a different page of your website. It could be the contact page, gallery page, specific product page, and other pages you have on your website.
Callout extension
This extension is separated by periods and it is not clickable. It will give you another line of ad copy to work with. This extension will give the opportunity to add a lot more to your ad and to increase the size/area of your ad campaign.
The purpose of the callout extension is to add more of your business feature such as "24 Hour Emergency", "No Hidden Fees", "Open Monday To Thursday", and so on.
Structured snippet extension
A structured snippet extension adds an extra line of text in your ad that shows other services that you offer. You need to choose a header on what items/services you want to list on your ad.
List of headers that you can choose: Amenities, Brands, Courses, Degree programs, Destinations, Featured hotels Insurance coverage, Models, Neighborhoods, Service catalog, Shows, Styles, & Types.
Call extension
This adds your business phone to the ad. Adding a phone number is important as it also encourages your potential customer to call right away from your ad.
Lead form extension
This will add a link to any form that you want to include in your ad. The main purpose of this extension is to get more leads and information from your potential customers.
Location extension
This will add a clickable location that is shown at the bottom of your ad campaign. When clicked, it redirects the potential customer to Google maps.
It is recommended to add a location extension even if you do not have a physical store. People will usually trust a business if it has a location. It shows people that it is indeed a reputable local business.
Affiliate location extension
This will also add a location to your ads but the difference is that this is if you have a product that is available and also sold in different retailers on another location.
This will help your potential customers to choose the store location that is most convenient for them. Of course, this extension is applicable to large retail chains and brands.
Price extension
This gives you an opportunity to list your product's prices and service rates. You can add up to 8 price extensions here.
App extension
This is useful if you have an app that you want customers to download and use. This will link them to the Google Play store or a link where they can download it.
Promotion extension
This will feature the best deals, promos, and discounts your business offers at the moment. This will definitely get the attention of your potential customers because people obviously love discounts.
Best Practices For Ad Extensions
Set your goals before adding extensions
Before you add extensions to your ad campaign, make sure to determine first your goal. You can't add every extension you see because it will not show up all at once. We recommend just using extensions that are really focused on your goal to increase the chance of more important extensions showing up.
Here is a goal guide you can use to determine which extensions might be suitable for your ad:
Get your customers to go and buy on your physical store

Location extension
Affiliate location extension

Get your potential customers to contact your business
Get your potential customers to direct on your website

Sitelink extension
Callout extension
Structured snippet extension
Price extension

Get your potential customers to download your app
Get information for your potential customers
Want to know more about which ad extension suits your business? Read this article about best Google Ad extensions you should be using.
How to use ad extensions for your ads
To create an ad extension for your ads, choose the campaign you want to manage, and on the left vertical menu, click the dropdown for 'Ads & Extension'. This can be seen between 'Ad Groups' and 'Landing Page'. Now click on the 'Extensions'.
Then click on the plus sign and choose which extension you want to add based on your goal.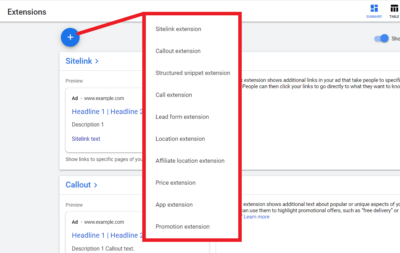 We will use a solar company and business for this part. If you are in the solar industry, check out this article about Google Ads guide for solar panel installation business.
Sitelink extension
Now for sitelink extension, we recommend adding an extension at an ad group level. This will guarantee that each information in the sitelink is relevant and patterned to what is written on the ad copy, this is also to prevent redundancy.
Choose 'Add to: Ad group' and then select 'Create new'.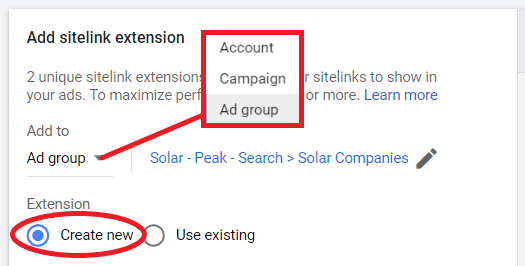 Then write your sitelink texts and their description. You can put up to 20 sitelinks and Google will combination of 4 sitelinks.
Once you are done, you can now click 'Save'.
Callout extension
Now for callout extension, again choose ad group level so you could pattern it on what is written on the ad copy. Here, you can write up to 10 callouts and a minimum of 2 for your callouts to show up.
Keep in mind that on the desktop, each callout is separated by dots, while on mobile, it will be shown in a single line.
Structured snippet extension
For the structured snippet, choose which type of items/services you want to list. In this example, we chose 'Service Catalog' for the header. Then we listed all other services that this example solar company offers.
After that, click save.
Call extension
Here, you just need to input the phone number that you want to feature on your ads. We recommend adding this to 'Account level' since its content is just a phone number and not specific content.
Make sure that call reporting is turned on which can be edited on settings. We also recommend using a call tracking 3rd party app when you have a call extension.
Call tracking tools will track each call you get and determine which ads that call came from. This is important as you want insights on which ads are performing well and which are not doing good and need optimizing.
Here is a related article about the importance of call tracking. Also, here is a tutorial for a 3rd-party call tracking app that we recommend using.
Need help with call tracking set up?
Lead form extension
You can only add a lead form extension at a campaign level, so choose a campaign and then click 'View and accept terms'.
Then, choose the headline for your form. In this example, we are creating a subscription form where the audience will receive news and information about solar energy usage.
Make sure that the intent of your lead form is interesting and not just simply to get information from your audience. People will only sign-up if they would get something in return, it can be information, news, discounts, and so on.
Then, check all the boxes for information you want to ask on your form. We recommend making this form as short as possible, nobody wants to answer a very long form.
So here, we only ask for name, number, email, city, and zip code. Obviously, you should already know which state and country your audience is from since you set up the targeting location for your ad campaign.
Then, you can also add Google pre-made questions from different categories. Just make sure that the questions are really important because we want to make this form really short. So if there are no pre-made questions that are suitable for your business and form, just skip this part.
After that, choose a background image that you want to use for this lead form.

Now edit the message that will pop up once your form is answered and submitted. Also, choose a call-to-action (CTA) button and the link where people will be redirected once they click on that.
Finally, customize the text that will be displayed as your lead form. We chose 'Get Info' here and added "Why Switch To Solar Panels?', this would give out an impression that they would get information and other facts about solar panels.
Finally, once you created your lead form, you will be asked a link or URL where people will be redirected to your business' privacy policy. Then click 'Save'.
Location extension
Now for location extension, you can either select curated locations or connect your Google My Business account.
Once you have selected, click 'Continue' and then click 'Save'.
Affiliate location extension
Now for the affiliate location extension, choose between 'General retailers' and 'Auto-dealers' if you are selling autos. But since this is a sample solar company, we are choosing 'General retailers'. After that click 'Select general retailers'.
Here, you can now select all business that is affiliated with your business. Just make sure that your ad copies are about a specific service/product that your affiliate location also sells and offers.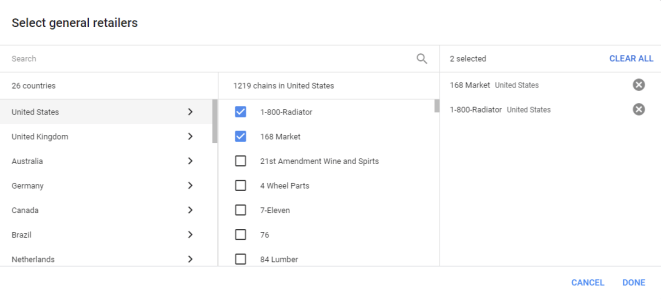 Then click 'Done'.
Price extension
Now for the price extension, you want to also pattern this to your ad headline and descriptions. We are adding this at an ad group level.
Then we choose the type of price extension we are creating which is 'Product categories'. You can also choose other types depending on the items that you will be listed here.
Choose your preferred currency and the price qualifier is applicable. The price qualifier modifies the price value, it can be "from", "up to", and "average".
Now start listing your items. Add a header, price, units (per hour, per day, etc.), description, and a final URL where people will be redirected once they click on that price extension. You can also put a separate mobile link if you have one.
In order for your price extension to show up, you need to list a minimum of three prices.
App extension
Now this is only applicable if you have an application that you want to advertise with your services or products.
Select your mobile app's platform (Android or IOS).
Then enter the name of your app and edit your link text. You also have the option to exclude this app extension on tablet devices.
Promotion extension
If you have a promo that is related to an event, you can choose on the occasion and click on the dropdown button. It can be a back-to-school promo, black Friday, and so on. Then choose your language and your preferred currency.
Next step is to choose your promotion type, it's either a monetary discount, percent discount, and 'up to' discounts. In this example, we chose a percent discount.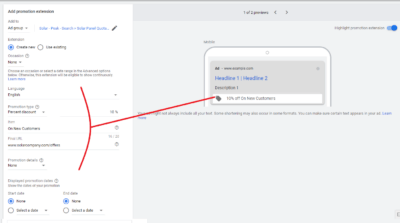 Then we input the percent value, type of item, and the link to the offer. Then you can either give out a promo code or set a required order amount to get this offer by clicking on the 'Promotion details'.
Once done, click 'Save'.
Want in-depth Google Ads for business?
Start using ad extensions and improve your ad performance today!
Ad extensions are a great way to add value to your ads and also improve performance. Now that you are now familiarized with ad extension, we recommend setting it up right away!
And if you are having a hard time with ad extensions, and want in-depth account optimization to improve your ad performance, you can talk to our PPC experts for free!