Today, most people look up healthcare providers online before even booking an appointment. This makes it even more important to understand how to grow online presence for chiropractors.
There are more than 70 thousand chiropractors in the U.S. As more chiropractors open practices, it becomes essential to be noticeable online. With a strong online presence, you will surely stand out and grow your practice —fast.
Digital Marketing for Chiropractors – Online Marketing Strategies for Chiropractors Like You
If you're wondering "How can I grow my chiropractic business?" Digital marketing for chiropractors can help you create a much-needed online presence.
Learn how a good website, SEO, PPC marketing, GMB, social media, and email marketing can help bring in more business to your chiro practice. Here are some tips to grow your chiropractic presence online.
Are you interested in digital marketing for Chiropractors?
Web design
The first thing you need to be visible online is a website. It serves as your identity or a specific location online to find your chiropractic practice. It's like a physical address for your business, but it is in the form of an online address.
Invest in a Quality Website
Your website is most likely the first online interaction your potential clients will have with your chiropractic practice. A disorganized, slow, and half-baked website may give the impression the same impression about your practice. Don't get us started with a website full of bugs!
To make a good first impression, invest in a well-designed, visually appealing website. It should also be easy to navigate, contains useful information, and demonstrates your chiropractic practice's expertise. A good website is the foundation of a powerful online presence.
Let's say this is the first step of how to grow online presence for chiropractors. So, let's discuss what makes a really good website.
Secure Website
A secure website protects you and your site visitors from malicious hackers. Knowing their private information is safe with you increases their trust in your practice.

Don't expect site visitors to stay long on your site if it isn't secure.
Mobile-friendly
Because mobile devices now make up for more than half of all Internet traffic, it's critical that your site looks and functions properly on mobile.

It's going to be a bummer if someone is on the train searching for chiropractors on their phone and your site wouldn't load up.
Visually Attractive
Your website should be professional and inviting. When it comes to website design, it is better to prioritize quality over cost. The average user sees quickly through a cheap site design.

A good site structure is required to keep up with your business as it grows, just like the need to renovate your office. Your website should reflect the high level of service and quality you offer.
Professional-looking
Yes, your website should be attractive. But remember, you are a healthcare provider. Your website should reflect this.

Your website should have a consistent, professional-looking style that matches the personality of your brand. A well-designed website lends credibility to your company.
User-friendly
People visit your website for a specific reason: to find a chiropractor they can trust. Your website should be armed with answers to questions only a chiropractor can provide.

Site visitors are looking for solutions to a specific problem —why not give them an easy answer? A convenient navigation bar can solve this and they can find all the information they need about your service and the procedure.
If your website is unclear about the value each page provides, it will reflect poorly on your practice. Be clear, helpful, and remember to put the website users first. After all, they are your potential patients.
The good news is that many of the chiropractic websites on the internet appear to be quite outdated. You can easily stand out by creating a well-designed website. If you already have a website for your chiro practice, all you need to do is improve it!
SEO for Chiro
Traditional search engine optimization (SEO) for a chiropractic practice can be extremely effective. Chiropractic SEO involves optimizing the elements of your site so that you rank higher in search engine results.
The idea is that if you are a chiropractor in Irvine, you want to be found when people search for "chiropractor Irvine" on Google and other search engines.
You want to appear as close to the top as possible so that more users will choose your site over other chiropractors' websites. To put it into context, the volume of searches for the keyword "chiropractor Irvine" is around 800 per month. Getting a cut of this traffic would undoubtedly help your practice grow.
SEO for your chiropractic practice will help you build a brand. It's also an effective way to generate potential patients. Here are a few of the advantages of investing in SEO:
Gain Visibility and Write Blogs
Content marketing involves publishing content on a regular basis. It should also be able to provide value to your potential patients in ways that only you, as the expert, can. If you're a bit lost about what to write this is where keyword research comes into play.
Keyword research will show you what people are looking for and how many people are looking for it. These search terms, in many cases, represent the questions that your potential patients have for you.
For example, if someone is experiencing upper back pain, they may Google "upper back pain" to learn more about the possible causes.
Create Trust and Establish Authority
As you begin to appear in Google searches, you will be perceived as an authority. The more searches you rank for, the more people will regard you as an expert chiropractor.
As a chiropractor, you are an expert in an area where most other people are not. You spent a lot of money to become skilled in the chiropractic field. Use that knowledge to help your brand grow through content marketing.
When people end up with your content, they'll think "Hey, this guy knows what he's talking about. Let me click on this free consultation."
Pay-per-click (PPC) advertising for chiropractors
PPC advertisements are an excellent way to raise awareness of your practice and encourage potential or past patients to schedule an appointment. PPC ads can take several forms, including paid search results and website display ads.
You can bid on relevant keywords, including location-based keywords, with PPC ads for search, so that your site appears at the top of the search results page. Here are some examples of paid search results for the term "chiropractors Irvine."
Another advantage of PPC advertising is that you only pay when someone clicks on your ad. You're directing your resources toward leads who are more likely to convert.
PPC ads work through an auction system. In Google Ads, for example, if you want to show an ad to users who search for a specific keyword, such as "best chiropractor in Mission Viejo," you would place a bid on that keyword.
When a user searches for "best chiropractor in Mission Viejo," Google starts an auction. This process compares a variety of factors, including each advertiser's bid, the quality of their ad, and the relevance of their ad to the search.
Google uses this process to determine which ads to display and in what order. The system then determines how much each advertiser will pay per click. This occurs in a fraction of a second.
The ads are then displayed at the top of the search results by Google. When someone clicks on your ad, you pay the set price, and the user is directed to a landing page on your website. You have to make sure your landing page is well-designed to entice potential patients to book an appointment.
Are you interested in PPC Advertising for Chiropractors?
Google My Business
Google My Business is critical if you want to appear in Google's local search results. GMB is a tool that you can use to oversee your Google Business Profile. This tool allows you to post updates, and photos, promote offers, and even get messages directly from your business profile.
The local box will display various businesses that match the criteria typed in.
How do you optimize for Google My Business?
1. Make sure that your company is verified with Google My Business. This is a relatively simple procedure. Google will send you a postcard with a verification code after you create your Google My Business page. The code will then be entered into the tool to verify your company's listing.
2. Next, double-check that all of your information is up to date and upload 3-5 images of your company.
3. After you've added some great photos of your company, double-check the category you've listed it for. It is critical that you have properly classified your company.
4. Fill out your business's introduction and title carefully so that it accurately represents your company.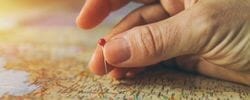 Factors for Listing
There are numerous factors that affect how your business would show up. Google has set these factors:
Relevance
The term "relevance" is fairly self-explanatory. It refers to how closely your local business listing matches the search term entered by the user. You'll gain relevance by filling out your information thoroughly as well as optimizing it to match the queries you want to show up for.
Distance
Another simple one, distance shows how far a person is from your business. According to a recent Hitwise report, nearly 60% of searches are now conducted using a mobile device. Google will calculate a user's location using their device and will use this distance as a factor when providing results.
Prominence
This is where optimization comes into play. Prominence attempts to determine how prominent your company is in the offline world and to reflect that in local listings.
Many factors are taken into account here. Links, local citations, reviews, and your position in traditional SEO results all contribute to your level of "prominence."
Reviews
In local search marketing, reviews are extremely important. Engage with customers by reading and thoughtfully responding to customer reviews about your company. Reviews can have a significant impact on your business, for better or worse. It is advantageous to keep them under control by responding to and genuinely caring for your customers.
Citations, Links, and Directory Listings
Citations are mentions of your work in various web directories. These directories include Yelp, The Yellow Pages, chirodirectory.com, and more.
You can decide to build citations on your own. All you need to do is make sure that all of your information is consistent across all of the directories you submit to. Imagine how much of a bummer it can be to receive a slew of citations just to end up having to fix conflicting phone numbers or addresses.
You don't want to look unreliable because you aren't answering the phone or something.
Are you lost setting up GMB for Chiropractors?
How to Utilize Social Media to Grow Your Chiropractic Practice
Your potential patients most likely have their individual social media accounts and are pretty active. In fact, 82% of people in the U.S. have a social networking profile.
It only makes sense that chiropractors like you should use this opportunity for marketing your chiropractic practice.
Content Themes are the Key
The first thing someone notices when they visit your profile is your social feed. According to studies, visitors form an opinion about your profile in about 50 milliseconds. This determines whether your potential patients stay or leave.
Sticking to a single theme for your content entails more than just sharing similar images or videos. It is about developing a style that reflects your brand's voice, story, and personality. Also, make sure that the theme for your content includes a mix of thought-provoking images and interesting videos.
Use Videos to Grow and Stand Out
If videos aren't part of your chiropractic social media marketing ideas, you are definitely falling behind.
At the moment, audiences are eager to watch videos. According to one study, approximately 85% of social media users prefer to see more video content from the brands or businesses they follow.
The best way to engage with your audience is to post videos to your feed and stories. Adding videos opens up a plethora of new opportunities.
Learn about even more ways to do effective marketing as a chiropractor.
Create a Regular Presence
Knowing the best times to post is the best way to stay ahead and get the most engagement. Reaching your target audience at the right times and on the right social platforms is difficult.
To maximize your reach, it is best to schedule your posts ahead of time.
Also, you have to make sure to post regular content. Being a seasonal poster will hurt your social marketing strategy. It could mean a lack of dedication on your part.
Invest in Paid Advertising
There is no reason not to use social media marketing ideas to grow your chiropractic practice. Ads for your specialty, keywords, and services can be run on Google, Facebook, and Instagram.
Facebook Ads provide a great opportunity for chiropractors like you. This lets you attract more potential patients and increase their sales.
Utilize the Appropriate platforms
Your current and prospective customers use various social media channels. But this doesn't mean you should create an account for each one.
If you try to reach your potential patients on every possible platform, you may become overwhelmed. Try to check your patient's records and which platforms they are using.
Make Posts Out of Patient Testimonials and Reviews
Did you know that chiropractic social media marketing can help you build your brand's reputation? Using customer testimonials is one of the best social media marketing ideas for chiropractors. It can help you save time thinking about what to post.
Giveaways, Special Offers, and Discounts
Giving exclusive discounts to your followers is one of the most effective and best ways to grow your business on social media. You could also provide a free consultation or some other type of promotion.
The goal is to provide special benefits to those who follow you. When your audience sees the incredible deals you're offering, they'll be more likely to keep following you. They might even contact you to set up an appointment!
For more tips, check out our guide on how to get more revenue for your chiropractor business.
Email marketing for chiropractors
Did you know that people spend 138% more as a result of email marketing?
This is compared to those who don't receive email offers. The high ROI of email marketing is one of the main reasons it is so popular.
How do you plan and execute successful chiropractic marketing through email? Consider the following suggestions:
Use an email marketing platform
Segment your email list
Personalize your emails
Create enticing subject lines
Use email marketing platforms such as SendinBlue, Hubspot, or Mailchimp to improve your email marketing.

These programs can assist you in the design of your newsletters, the automation of parts of your process, and even the tracking of your campaigns.
By segmenting your email list, you can send different emails to different groups of subscribers. This lets you customize and make your emails more relevant to your subscribers.

You could segment your subscriber list based on their age, the number of appointments they've had, or if they are new to the service.
You can go a step further and personalize emails to specific individuals.

A person's name can be included in your emails, and you can set up automated behavioral trigger emails that send users specific emails after they take certain actions on your site.
The subject lines of your emails play a significant role in determining which emails people open and which they delete.

Focus on writing enticing subject lines and testing different types to see which has the highest open rate.
You can use your email list to keep subscribers up to date on the latest news at your chiro practice. Creating an email list is a great way to stay in touch with current patients. This is also an effective way of encouraging potential patients to schedule an appointment.
Provide your email subscribers with health-related information and stay relevant to them for a long time.
How To Grow Online Presence For Chiropractors
Today, the Internet is key to how people find information, products, and services. The majority of people conduct online research on a company before deciding to convert. It just makes sense to try to learn how to grow an online presence for chiropractors.
The vast majority of consumers conduct online research before scheduling an appointment. A lot of these people will do so even if referred by another healthcare professional.
Do you need help in growing your online presence?
As a result, chiropractors require a strong online presence that provides potential patients with the information they require. At YoYoFuMedia, we can help you build an online presence through different chiropractic marketing strategies that puts your business on the map.