In this blog post, we'll share with you how Google My Business for Dermatologists is effective when it comes to getting more new patients and generating more leads for your practice!
What is Google My Business?
Google My Business is an online business listing tool that allows business owners to get discovered on Google Maps as well as on relevant search results. Its purpose is to help dermatologists like you manage your online presence so that your prospective patients will no longer have to go through the hassle of searching your practice online just to get the important details of your clinic (e.g. contact number, location, and business hours).
Here's an example of what a Google My Business listing looks like:
Optimized business listings have higher chances of showing up on Google's Local Map Pack.  If you're wondering what a Local Map Pack is, it's where you see the top three local business listings of a specific niche that matches a search query (e.g. "dermatologist near me"). When someone is looking for a business establishment to visit, they usually consider the top 3 results and don't look for more.
So, if you want to know how to get your dermatology practice shown on top of search results, just keep on reading because we'll share it with you in a bit.
Why Google My Business for Dermatologists?
Increased visibility in local search results
Aside from creating social media profiles for your dermatology practice, having a Google My Business profile that has lots of high-quality and positive reviews from your patients can surely help you gain more exposure on search results. With over billions of searches that take place on Google, reaching out to your potential patients is possible when you start listing your dermatology practice on this platform.
Makes it easier to gather reviews
Some people hesitate to leave a review because it's either the steps are too complicated or they might be too busy to do it. Another advantage of getting your dermatology clinic listed on Google is that it makes it easier for your patients to leave a review. Once your listing gets verified, you can easily create a shareable link and send it to your patients so that they will be redirected to your Business profile's review section in just a few seconds.
Free and easy to use
What's great about Google My Business is that you don't have to pay anything to access all its features. You can gain useful insights such as how people find you, how many people asked for directions to your clinic, how many phones calls you received, and a lot more!
In addition with that, this platform is beginner-friendly. Its interface is easy to navigate and because of that, you won't be having a hard time managing your Business Profile (if you're doing it by yourself).
Interested in setting up Google My Business for Dermatologists but don't have time to manage it?
How to set up Google My Business for Dermatologists
The first thing you have to do to set up your Business Profile is to go to https://www.google.com/business/ and click "Manage Now."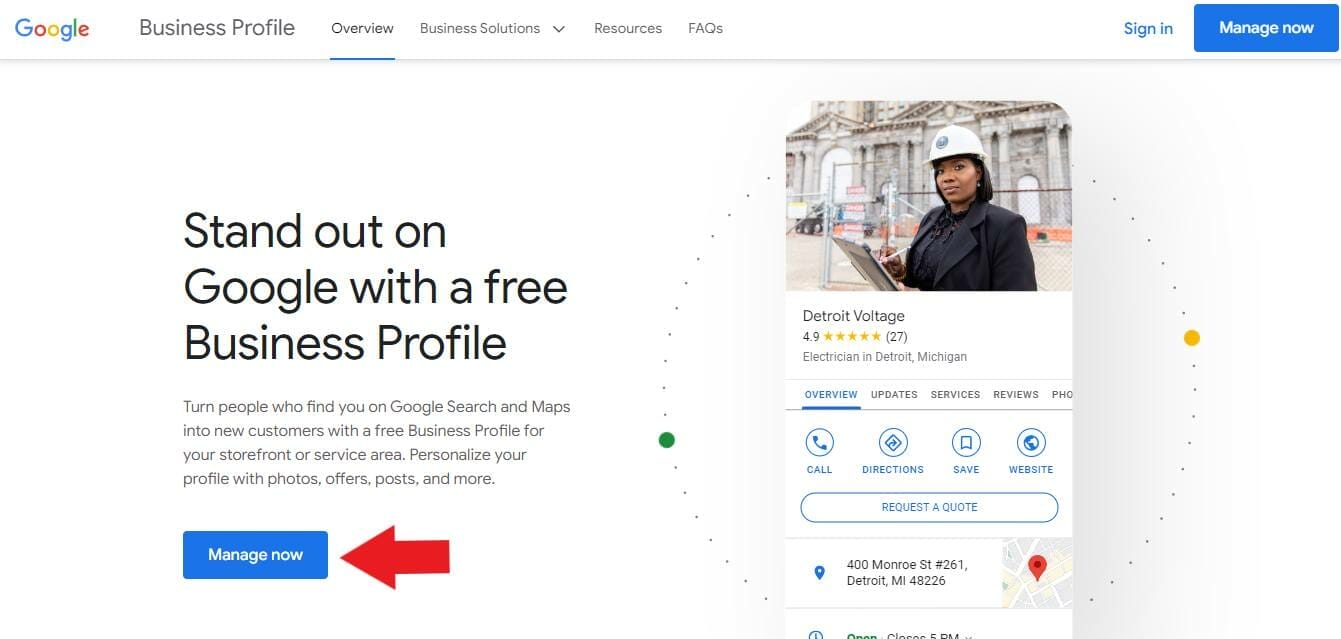 Then, enter the name of your dermatology practice. If it doesn't show up on the list of dermatology practices, it means that you haven't created a Business Profile for your dermatology practice before.
Click "add your business to Google."
Start building your dermatology clinic's Business profile by entering the name of your business and choosing "dermatologist" as the primary category of your business. Then, click "next."
To add a location where your patients can visit your dermatology clinic, select "Yes". Then, click "Next."
After that, enter the complete address of your dermatology clinic. This includes your street address, city, state, and zip code. It's important to get this right because this is where your clinic will be exactly pinned on Google Maps.
Once done, click "next."
In some instances, a list of existing dermatology clinics that has the same address as yours will show up. If the name of your dermatology clinic doesn't show up, click "none of these."
Then, click "next."
To help your patients know your dermatology clinic's exact location, drag the exact location of your clinic from the map.
Then, click "next."
Add the contact details of your dermatology clinic. If you already have a website, you can also add it here. But, if you don't yet have one, you can add it later.
After that, you are going to choose a way to verify your dermatology clinic's Business profile. It can be done through text, email, call, or postcard. Just follow the steps that will be sent to you by Google and once you receive your verification code, wait until Google verifies it.
Then, you have to set your business hours. You can make changes later whenever there are adjustments in the hours you are open for business.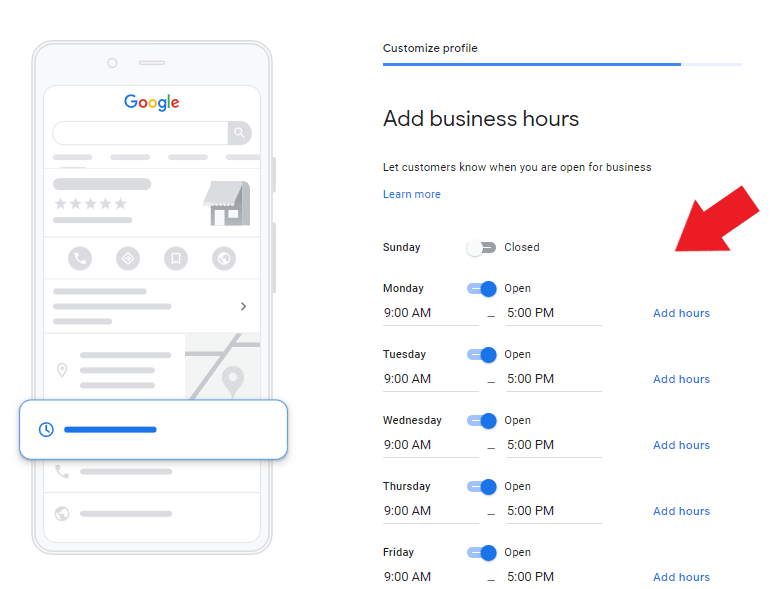 You can also add messaging so that you can directly receive messages from your potential patients. Just toggle the button beside "Accept messages."
Then, click "Next."
Then, add a business description for your dermatology practice. You can add here the tagline of your clinic, and a brief description of the services you're offering.
After that, upload photos of your dermatology clinic. This should include the logo of your clinic, the facilities used, the waiting area, as well a photo of you with your team.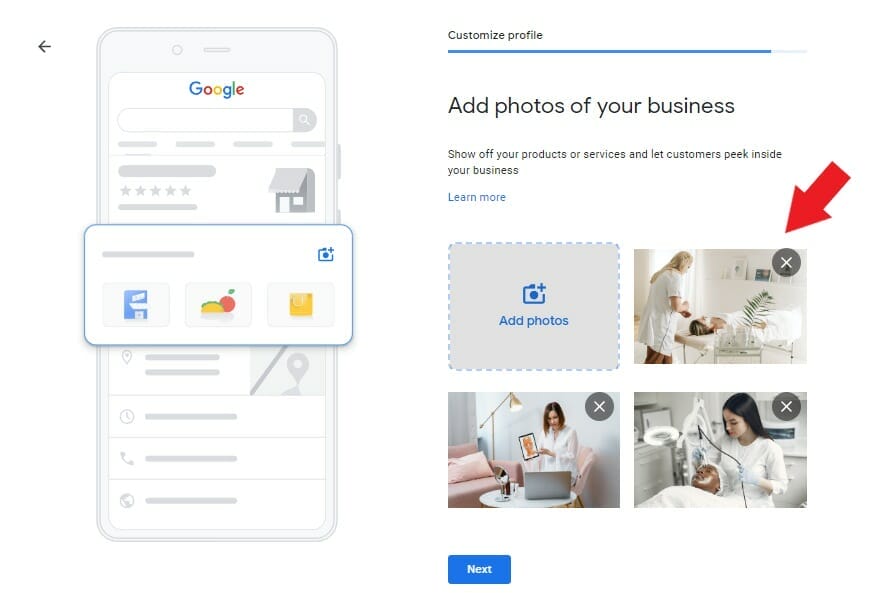 If you haven't set up Google Ads for your dermatology practice, Google offers a $500 USD free credit which allows you to start advertising your business on Google.
You can skip this step if you don't want to set up a Google Ads campaign.
If you didn't enter your clinic's website earlier, Google will offer you a list of customized domain names that you can choose from. You can also see more domain name suggestions by clicking "Explore more domains."
Click "Continue" to save changes and make your Business Profile visible to your potential customers once verified.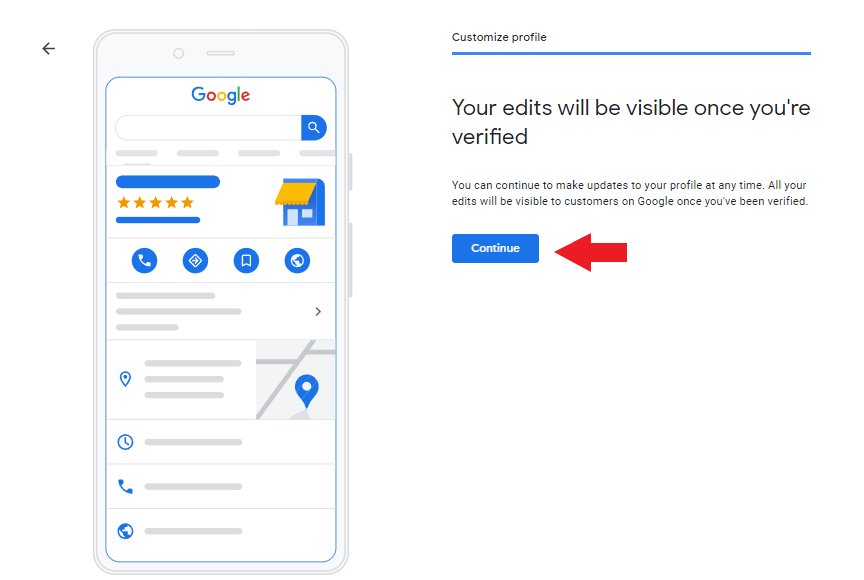 Need help setting up Google My Business for your dermatology practice?
How to Optimize your Google My Business Profile
Now that you have an idea of how to set up Google My Business for your dermatology practice, the next thing that you should do is optimize your profile so that your clinic shows up on top of relevant searches in your local area.
1. Complete your profile
The first thing that you have to do when optimizing your dermatology clinic's Business Profile is to complete all the information needed. Make sure that you have indicated all of the essential details of your dermatology clinic's business profile including your clinic's name, address, and contact details. You also have to make sure to add the link to your website so that if your potential patients want to know more about your practice, it won't be hard for them to find your clinic's website.
If you want to know which section you need to fill in to get a complete Business Profile, there's a gauge that tells you how near you are to getting a complete profile like this:
2. Update your information whenever there are changes
Make sure to provide accurate business information on your profile. For example on holidays, if you're planning to adjust the business hours of your clinic, don't forget to make adjustments to your business profile. This way, your prospective patients won't be disappointed if ever they call or visit your clinic for an appointment.
3. Post on Google
Did you know that you can also post on Google? There are 6 kinds of posts you can share on Google including changes that are related to Covid-19, the latest updates in your business, promotional offers, and events that will be hosted or participated in by your dermatology clinic. Its purpose is to attract more new patients to your clinic and let your customers know if there is an event that you'll be hosting.
Here's what a Google Post looks like:
Tips when posting updates on Google:
Post at least once a week.
Make sure to follow Google's Business Profile content policy to avoid violating any laws and regulations.
Don't include a phone number on your post, this may cause your post to be rejected. You can use call-to-action buttons if you want your patients to call you.
4. Respond to patient reviews
Having lots of good reviews gives your potential patients the impression that your brand is efficient and reliable when it comes to treating your skin, hair, and nail-related concerns. But what makes you stand out among your competitors is by responding to each patient review that you receive. So, make sure that you appreciate the effort of your patients leaving a review and sharing their experiences by expressing your gratitude toward their feedback.
Take a look at the example below. As you can see, the owner personalized his/her response by mentioning the name of the patient who left a review on their Business Profile. They also encouraged their patient to come back with her family if they wanted to seek help from a dermatologist.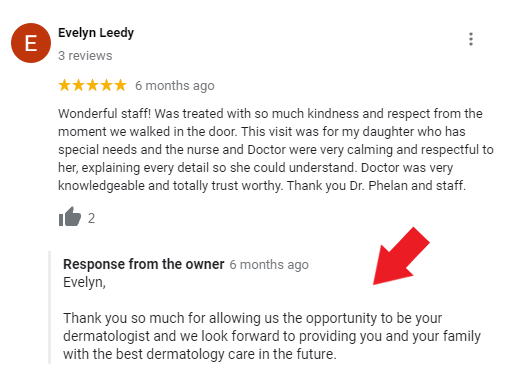 Bonus tip: When responding to patient reviews, use keywords that are relevant to your practice. This way, Google will have a better understanding of what your dermatology clinic offers.
5. Answer questions from the Q&A section
The Q&A section of Google My Business is a section where anyone who's interested in your dermatology practice can raise questions and at the same time, anyone who has a Google account can answer them. However, as a dermatologist, you want to be the first person to answer queries raised by your potential patients this way, the answers would be 100% accurate because it comes from a reliable source of information.
If you leave questions unanswered, you're most likely going to lose a potential customer. To prevent that from happening, make sure that you switch on the notifications for new questions so you can answer them right away.
Here's what it looks like when the owner itself is the one who responds to a prospective patient's question.
6. Upload photos of your dermatology practice
According to research, businesses that have more photos on their GMB profiles get more clicks, calls, direction requests, and views on Maps. So, when you start uploading photos to your dermatology clinic's profile, make sure to use high-quality photos which include the facilities as well as the exterior of your dermatology clinic.
In the example below, you can see that the dermatology clinic posted photos of their team along with the facilities that their patients can use while waiting for their appointment.  They've also added a photo of what their clinic looks like on the outside. This way, their new patients will easily find their clinic while using Maps.
7. Come up with a compelling business description
Your business description should clearly state what products and services are offered in your dermatology clinic. It should also contain relevant keywords to increase the chances of your brand showing up on top of local search results.
Take a look at the example below. As you can see, the dermatology clinic strategically used relevant keywords in its business description. They included terms like "specialize in Dermatology", "Mohs Surgery" (services offered), and "Oklahoma" (their clinic's location).
8. Add products
Apart from skincare procedures, if you're also offering post-procedure skincare products in your dermatology clinic, you can also create a catalog for that. This will help your prospective patients see the products that are available in your clinic.
Here's what it looks like:
And when you click "view all", it will display all of the available products that are grouped into different categories.
9. List of accepted insurance
If you notice that most of your calls or questions raised by your potential patients are all about the accepted insurance in your dermatology clinic, you can create a list where people can see for themselves whether their insurance covers their dermatology appointments.
Below is an example of what it looks like once your list is added to Google My Business. You'll see a hyperlink to the text "Check insurance info."
When you click it, the list of insurance accepted by your dermatology practice be displayed like this:
10. Monitor your Google My Business insights
As a dermatologist, you also want to know where most of the traffic and patients you get come from. This way, you'll have an idea of what marketing efforts need to be maintained and which ones need to be improved.
Here's a list of metrics that you'll have access to in Google My Business:
How your customers found you
Search queries used that trigger your Business listing to show up
Platforms where your patients found you
Actions performed by your prospective patients once they see your listing
Total number of phone calls you received within a specific time frame
Number of times your photos/profile has been viewed
This is what an optimized Google My Business profile looks like: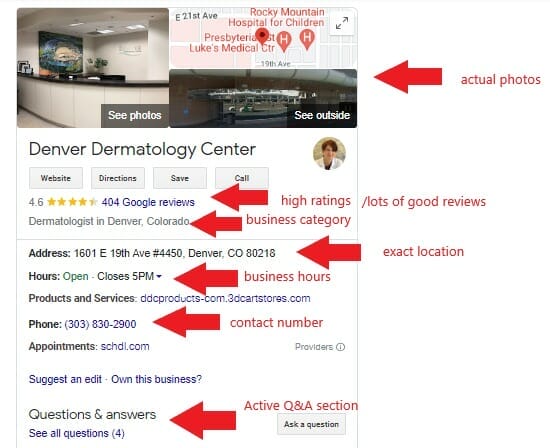 Want to know how to set up an Ad campaign for your dermatology practice? Check out our blog post about Google Ads for Dermatologists to learn more!
Need help optimizing your dermatology practice's Business Profile?
Key takeaway
Google My Business for dermatologists is one of the most effective tools that can help you step up your digital marketing tactics. Not only does it help boost your brand's visibility but it can also help bring in new patients to your dermatology clinic! Just follow the tips we've mentioned and you will surely notice a significant improvement in your performance.