Do you still have a slow-loading website? If you don't want to miss out on your potential patients who are going through your dental office's web pages, now's the time to fix it.
The average page speed is 1-3 seconds. So, when a page loads let's say 3-5 seconds, 90% of site visitors tend to leave your page and look for your competitors' website instead. To prevent that from happening, we'll give you some tips on how to make a faster dental website along with the online tools that you can use to monitor the performance of your dental website.
Importance of Having a Faster Dental Website
When a patient is looking for a new dental clinic to get treatment online, they want fast results. But how can you turn these prospective patients into actual customers?
One of the things that retain patients and factors that influence the number of page visits is the page loading speed. Why? It's because the longer the loading speed is, the higher the chances of people leaving your site which we call a bounce rate. So, if your page has poor loading speed, you might want to make changes to improve its performance so that you don't lose your potential customers.
Before we tell you the ways how to make a faster dental website, here are 3 reasons why you should improve the page loading speed of your dental website:
#1 It increases your SEO ranking.
Page speed is one of the criteria that's included in Google's Ranking Algorithm. In a recent study by Backlinko, they found that the faster your page loading speed is, the higher your rank is on Google. Want to know other factors that affect your ranking? Check out  SEO for dentists.
#2 It boosts the number of new patients visiting your dental clinic.
Having a fast-loading dental website also attracts new patients to your dental clinic. So, if you notice that you are getting a decent amount of page visits but have a high bounce rate, improving your page loading speed should be your top priority because not only will it help you get more patients because if not handled properly, it might cause a huge drop in the volume of traffic to your website. Consider attracting more patients by using search engine ads or ones on social media, such as dental Facebook ads.
#3 User experience
The reason you created your dental clinic's site is to cater to the needs of those people who are looking for exceptional dental services, right? And with that, page visitors have high expectations when it comes to your website's loading speed. Providing a smooth visiting experience not only plays a huge impact on your brand but also on the returning visitors and their user experience.
Need help in fixing the load time for your dental website?
Schedule A Free Strategy Session! 
Make sure you have all the essential pages on your dental website by reading our guide. Additionally, here are ways you can improve your patient experience in person.
5 Ways on How to Make a Faster Dental Website
Now, here are things that you should do to prevent your website is running slow:
Avoid using large file sizes
If your dental website is using a lot of images and videos that have large file sizes, it could be one of the reasons why the loading speed of your website is running slow. And if you are planning to compress it, make sure that it is done properly so that the image and video quality doesn't turn out to be low quality.
If you want to know more about the best image size for websites, Here's an Ultimate guide that could help you.
Remove unnecessary plugins
If you are using WordPress for your dental practice, you might want to check the installed plugins that you aren't really using. Only keep the ones that you are frequently using and remove those that aren't that useful. By doing these, your dental site will improve its loading speed.
Clear up cache
This is another thing that you should be checking if your website takes a long time before it completely loads. If you are using WordPress, there's are a lot of plugins that you can choose from to help increase the performance of your web page.
Check your web hosting
Another thing that is often overlooked and might be causing a delay in your website's loading speed is web hosting. This happens when your hosting servers are not properly optimized, and if you are not using the ones that are high-quality.
The best web hosting option that we can recommend to you is Wix. It is one of the reliable hostings out there because they make sure that your dental website is secured with the use of HTTPS and SSL protection.
Fix your internet 
Your internet speed could also be one of the factors because if all of the things that we've mentioned above are doing good on your website, the issue might be your internet. What you can do is upgrade it to a better one so the page loading time doesn't take forever before loading.
Want us to fix your dental website's loading issue?
If you are wondering how to check the site speed, we'll introduce you to some of the best tools out there.
Best Tools to Test your Dental Website's Speed
In this section, I'll teach you how to check the page loading speed of your website along with some examples that can help you determine the speed of your dental site. These are beneficial for digital marketers, web-hosting providers, and web developers.
First on our list is GTmetrix. This is a free page loading speed checker that analyzes your page's speed performance, structure, and so much more! It also provides you with very detailed results that are useful when you are starting to make improvements to your dental clinic's website.
All you have to do is:
Enter the URL of your dental practice's website.
Click the "Test your site" button.
Here's an example of a website that was analyzed by GTmetrix:
As you can see, it shows a detailed report on the performance, structure, web vitals, and issues that need to be fixed on your site. They make it easier for you to determine what specific areas on your website need to be resolved.
Pingdom is another tool that also provides reports on the uptime, performance, and interactions of potential customers to your dental website. It lets you know if your website is down or accessible to users. They have a 30-day free trial that has synthetic and real-time user monitoring which is very helpful especially if you want to know if your website is meeting your objectives or not.
All you have to do is:
Enter the URL of your dental website
Choose the location where you want to test it
Click "Start Test"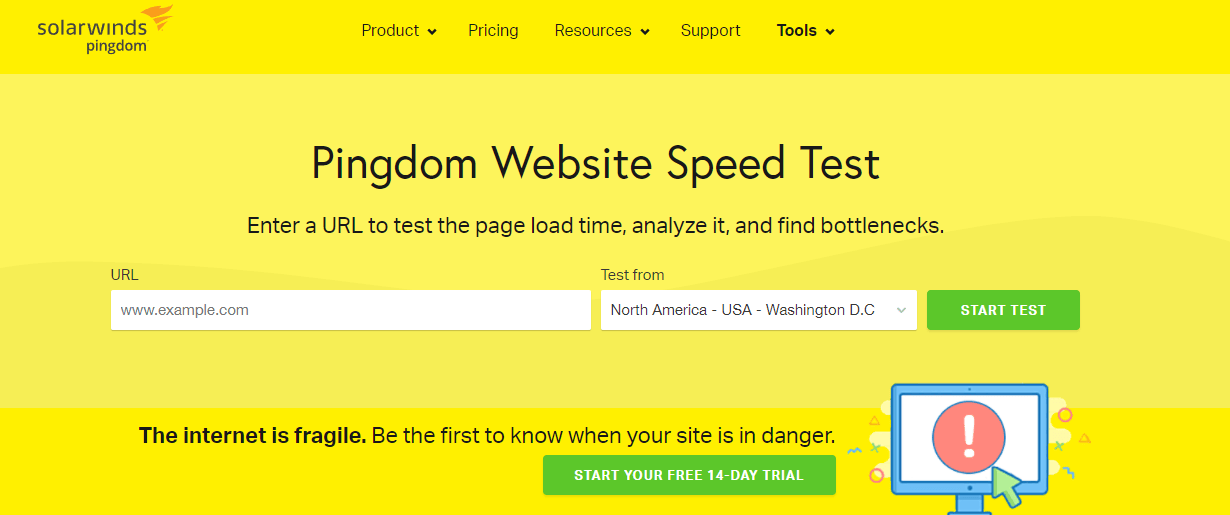 Here's an example of Pingdom page checker result:
It shows you the overall size of your webpage, how long it takes before it completely loaded, and also tells you specifically what needs to be done to improve the performance along with a grade based on their criteria for your dental website's homepage.
Page Speed Insights is created by Google Developers that gives you reports on how well your website is doing both on Desktop and mobile users. Just like the previous ones, this one also provides you with suggestions on what to do to improve your site's page speed.

For reference, here's an example after Page Speed Insights analyzed a dental website:
It shows a list of suggestions that are beneficial in making your page load faster along with an estimated time that will be saved once you fix your website according to their diagnosis.
Don't have the time to test your dental website's loading speed?
How to make a faster dental website for mobile devices
If you want to make your dental website load faster on mobile users, here's an overview of what you can do:
Optimize and compress images and videos properly. If you are using WordPress, there's a plugin that we recommend you to use. It's called Smush. And it is one of the in-demand image optimization plugins that you can find in WordPress that is 100% free!
Don't use too many elements on your website. Using too many pop-ups will only annoy your page visitors and in a worst-case scenario, it might drive them away.
Learn more tips with our blog Why Dental Clinics Should Have Mobile-Friendly Sites In 2023
Conclusion
Dental offices should not only think about how discoverable they are on search engines but also about how fast their dental sites are for mobile devices. Not only will it affect their Google ranking but even the number of patients they get. Remember, website speed matters.
Just follow everything that we've mentioned earlier, and your dental website will run smoothly in no time.
Thinking if blogging is worth a try? Read our article on the Best Guide and Blog Content Ideas for Dentists 2023