What is Digital Marketing?
Digital marketing is the process of promoting your towing services to potential customers on digital platforms like social media, business listings, websites, and search engines. Some of the digital marketing strategies include writing blogs, posting on social media, investing in pay-per-click campaigns, and more of it in the later part of this blog.
In addition to that, 70% of small-to-mid-sized businesses are investing more in digital marketing because of its effectiveness in connecting with prospective customers in every stage of their buying journey. So, if your towing company hasn't started your digital marketing campaigns yet, you're probably missing out on tons of potential customers out there!
Why Digital Marketing for Towing Companies?
Investing in digital marketing is such a great idea for towing companies like yours due to several reasons. First, it's because 88% of people use the internet to do local searches.
For example, if you are someone who's stuck in the middle of the road because your car broke down, the first thing that you would probably do is search for the nearest towing business near you, right? And if your towing company offers fast and reliable tow-truck services but hasn't yet established your online presence, your potential customers wouldn't know that you exist, unless they live in your area. That's why you have to establish your online presence, for your business to get easily found on local search results.
Next, digital marketing is cost-effective. If you create well-planned digital marketing campaigns, it is possible to reach your potential customers at a lower cost compared to traditional marketing. For example, if you don't have that much budget in advertising your towing services, you can still make it on top of relevant search results, as long as you're maximizing the use of SEO strategies (which we'll be sharing with you in a bit).
Lastly, it's easier to measure the results of your marketing campaigns. You no longer have to wait for long and go through a dreadful process to see how well your marketing campaigns are doing or compare data from this month to the previous one. In just a few clicks, you can get charts and reports which makes it easier for you to make decisions and analyze the performance of what's working for you and which one doesn't.
Does digital marketing sound like a good idea for your towing company but don't have time to do it?
Digital Marketing Strategies for Towing Companies
Now that you have an idea of how digital marketing can help your towing company, we'll share with you 7 digital marketing techniques that will guide you in choosing which technique suits your towing company.
1. Pay-per-click (PPC)
Pay-per-click marketing is a form of digital advertising method in which you'll only pay a fee whenever someone clicks on your towing company's ad. The most common PPC format is Text Ads which are the ones that you see on Google's search results like this:
Other than that, it can also be displayed in other formats like responsive search ads, image ads, and call-only ads. What's good about PPC marketing is that you are in control over your marketing budget, see the real-time performance of your Towing advertisements, and make adjustments of when and where your ads will be shown.
Aside from that, pay-per-click campaigns also work well with other marketing channels like SEO. This means that, when these two digital marketing strategies are done right, you'll get higher chances of ranking on top of your potential customer's search results.
For example, if you want to rank high on top of your target audience's search results page, you have to do keyword research (which is one of the on-page optimization strategies) and for you to find out which keywords will help you rank high on search results, you have to take a look on how many clicks and average monthly searches a specific keyword gets before you implement them on your content.
Another way to advertise your towing services is through paid social. By promoting your towing company on social platforms like Instagram, Facebook, LinkedIn, and TikTok, it'll be easier for you to be found by your potential customers.
Here are a few ad examples for each social media platform:
Facebook ads sometimes look like regular Facebook posts. But, what makes it different is it has a call to action button that potential customers can use to engage with your brand. When clicked, they will be redirected to your landing page which should encourage them to perform an action before leaving your page (e.g. subscribing to a monthly newsletter or getting directions or contact details).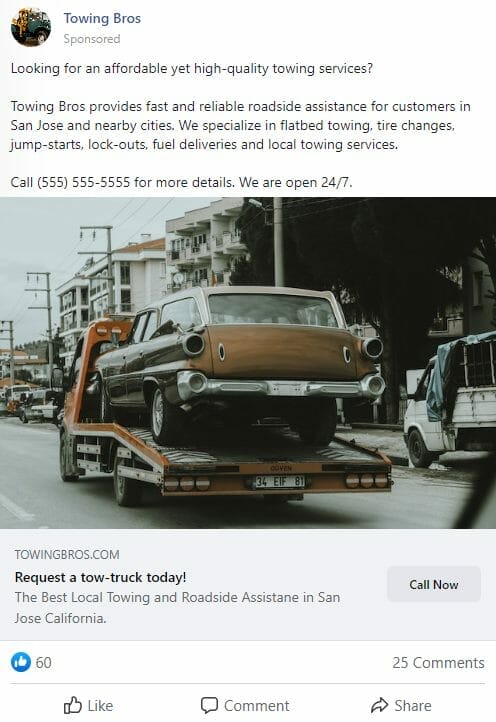 Your main audience in LinkedIn ads is professionals from different industries. What makes this platform unique from the rest is that it allows you to share documents like relevant e-books that your potential customers might need when dealing with their cars.
Through Instagram ads, your towing advertisements will be displayed not just on a potential customer's newsfeed but even on their explore page, reels page, and stories section. This is what it looks like on a user's feed:
With TikTok ads, you will be promoting your towing services through short video clips. Just make sure to mention the specific services you offer, and features that make your services better than your competitors, use a relevant call to action, and incorporate a high-quality video, and trending audio for best results.
Want to start creating your Ad campaigns? Check out our blog post on Google Ads for Towing Companies to learn more.
2. Search Engine Optimization (SEO)
Search Engine Optimization refers to the process of improving your towing company's website so that it ranks high on your potential customers' search results page. It has three kinds which are On-page SEO, Off-page SEO, and Technical SEO.
On-page SEO is when you optimize elements within your towing company's website so that it ranks high on local search results.
Some of the On-page SEO strategies include:
use of short but descriptive URLs
use of catchy titles
compelling meta descriptions
proper use of internal links
optimized images
Off-page SEO is when you optimize elements outside your towing company's website to improve its rank on local search results.
Some of the Off-page SEO strategies include:
participating in discussion forums that are relevant to the towing industry
getting your towing company mentioned by other brands
content marketing
sending newsletters
guest blogging
Technical SEO is the process of improving the quality of your towing company's website to make sure that it's functioning well and meets the technical aspects of a high-ranking website.
Some of the Technical SEO strategies include:
having an organized website structure
making sure that your pages are indexed on Google
secured website
fast page loading speed
mobile-friendly website
Need help optimizing your towing company's website?
3. Content Marketing
Content marketing is when you share relevant articles, videos, and other forms of media to promote your brand. This is an effective strategy especially if your goal is to attract new customers and retain existing ones. Some of the content marketing strategies include blog posts, newsletters, whitepapers, social media posts, and videos.
Blogs are proven effective in capturing the attention of your potential customers. In fact, it's one of the top 3 content marketing strategies used by companies.
Here's an example of a blog post from a towing company's website.
If you're still looking for other reasons how your towing company will benefit from writing blog posts, it can help you get increased web traffic, and improved conversions, establish trust with your potential clients, drive long-term results, and when done right, it can help you get featured on reputable social media pages!
Don't have time to write blogs for your towing company?
4. Social media marketing
With over 4.59 billion social media users worldwide, promoting your towing services on platforms like Facebook, Instagram, TikTok, and LinkedIn is a no-brainer. Social media marketing works best especially if your goal is to improve your towing company's engagement rate.
Other reasons why you should consider social media marketing for your towing company:
it's easier to connect with your potential customers
it provides you with lots of features to engage with your customers
it humanizes your brand
because most of your customers check their social media multiple times a day, you get to stay on top of their minds
serves as an additional source of traffic (especially if you put a call to action like "link in bio")
helps build your towing company's credibility
Check out our blog post about Social Media Marketing for Towing Companies to learn more ways how to use social media in promoting your tow-truck business.
5. Video Marketing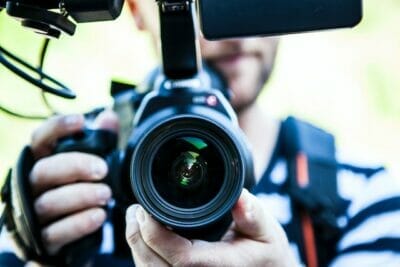 Video Marketing is another way of promoting your towing services but in video format. As of today, 86% of businesses are using videos as a marketing tool. This is because of its effectiveness when it comes to helping consumers in their purchasing decisions.
Some of the advantages of using video marketing for your tow-truck business include:
ranking high in search results
increased traffic
you get more backlinks
get lots of shares
Best practices when using video marketing
Choose the platform where most of your potential customers are

It's important that before you post videos on a social media platform, you have to make sure that it's where the majority of your potential customers are. For example, if your target demographics are ages 25-34 years old, you should consider posting videos (in the form of reels) on Instagram but if you prefer those in the older age group, you can try posting your promotional videos on Facebook.

Start with a compelling intro

The attention span of humans keeps on getting shorter and shorter. Because of that, you want to make sure that you are able to grab the attention of your viewers in the first few seconds, or else, they might just go past your video when it shows up on their newsfeeds.
You can start by sharing an overview of what the video is all about and give them something to look forward to at the end of the video.

Create various types of content

Another thing that you should also plan is the type of videos you're planning to post. You shouldn't just stick to posting promotional videos, as they may be overwhelming to your potential customers and will result in a low view count. Here's a list of the various types of content you can share with your audience such as:

customer testimonials
explainer videos on how towing works
your towing company's values
your team working behind the scenes

Add subtitles

Adding subtitles to your videos is way better than not having one. It's because subtitles can make your videos more engaging and accessible to users (e.g. those with hearing impairment or who can't use the audio of their phones). In fact, if you don't have these on your towing company's videos you're probably missing out on 80%-85% of your target audience! So, make sure to add them to your next posts!
6. Email marketing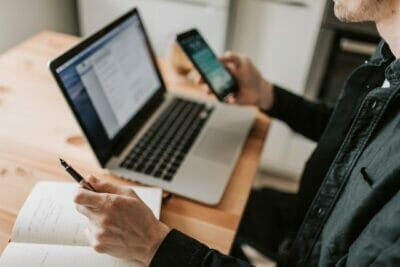 You also might want to consider email marketing in promoting your towing services especially if your goal is to stay in touch with your customers, turn your potential customer into loyal customers, and inform them about the latest updates in your towing company (e.g. deals, promos, new branch location).
Here's a list of some of the best email marketing software that you should consider:
Best Practices for Email Marketing
NEVER buy an email list

Buying an email list is a bad idea. If you're going to use email marketing software to send emails to your clients, they will only allow you to use an opt-in email list (email addresses from individuals who have willingly subscribed to receive emails from your towing company).
Not just that, but it will also result in a bad sender reputation, which will result in having a low engagement rate, hard bounce rate, and failure to reach your recipient's inbox, or your emails will be marked as spam.

Personalize your email greetings

When sending emails, since your towing company's messages will be sent directly to your email recipient's inbox, it's important that you personalize your email greetings to set an impression that you're connecting with them on a personal level. Not like the message came from automated messages (like it came from robots). You can personalize your email greetings by mentioning your subscriber's name.

Clearly state your offer in the subject line

Subject lines are one of the first few words that your email recipients will see when they receive your message. It's also where they decide whether they should open your email or just leave it unopened. Here are some tips that will help you write catchy email subject lines:

Use words that will trigger the emotions of your email recipients.
Keep it short but full of impact
Highlight the benefits of why they should open your email
Use at least one emoji (only to emphasize a thought and if it's applicable)
Should create a sense of urgency (e.g. "Use your discount code before our promo ends")

Add your towing company's logo.

This will give your emails a professional look.

Make sure that the landing pages you'll be using are relevant to the links used in your email

Another thing that you should check before sending out your towing company's emails is the links that will be used in your emails. When an email recipient clicks on any link from your email, it should redirect them to a landing page that's relevant to what they click. This way, they will be more likely to complete an action.

Do a/b testing in your subject lines

Don't stick to one format for your subject lines, create several variations for your subject lines to see which format works best (gets high open and engagement rates) from your audience.
7. Functional web design
Having a minimal website design can also be a factor in helping you get more new customers. It should be something that reflects the personality of your brand and at the same time pleasing to the eyes of your potential customers. That's why you have to make sure that your towing company's website design does not have that much clutter, and has functional links, buttons, and relevant landing pages.
Best practices on how to get a functional web design
make sure that your towing company's website is easy to navigate
optimize it for mobile users
add clear call-to-action buttons
use short paragraphs
add links for your towing company's social media pages
use terms that can be easily understood by your target audience
keep track of your website's performance
Already have a website for your towing company but need help optimizing it?
Key takeaway
Digital marketing for towing companies is an effective way in reaching your target audience. Not only does it help you with brand awareness but also in other stages of a buyer's journey. Just follow the best practices we've mentioned earlier and you'll notice an improvement in your marketing campaigns!