In this blog, we'll talk about how effective digital marketing for podiatrists is in bringing more new patients to your clinic along with an overview of how each digital marketing strategy works.
What is Digital Marketing?
Getting more new patients is the #1 thing podiatrists struggle with when growing their clinic. Digital marketing is the #1 way to do so, fast and efficiently.
Why Digital Marketing for Podiatrists?
As of 2023, 64% of the world's population is using the Internet. Considering the huge number of internet users, promoting your podiatry services across digital platforms is a cost-effective way in grabbing the attention of your potential patients. With its massive reach, you'll get higher chances of reaching out to your target audience.
Another advantage of using digital marketing is that you can send real-time marketing campaigns. You don't have to worry that you might miss the opportunity of sending your seasonal campaigns to potential patients because, with digital marketing, you can schedule your campaigns ahead of time.
Not just that, digital marketing has a wide range of targeting options. You can choose your target audience based on specific demographic criteria, lifestyle, interest, those who have already visited your podiatry clinic's website, and more!
Lastly, digital marketing can help you get measurable results. You can easily see how effective your online marketing efforts are through each platform's built-in analytics feature. If you want to get more in-depth reports, there are lots of analytics software that you can integrate with the applications that you're using.
Does digital marketing sound like a great idea for your podiatry clinic?
Schedule A Free Strategy Session!
7 Digital Marketing Strategies for Podiatrists
The top digital marketing platforms that businesses use to promote their products and services are social media, website, email marketing, SEO, video, and content marketing. In this section, we'll go over each digital marketing strategy to help you decide on which suits your podiatry clinic best.
1. Invest in PPC advertising campaigns
Pay-per-click advertisements are usually shown on the Search Engines Results Page (SERP) or through website display ads. What's great about advertising campaigns is that it allows you to bid on relevant keywords so that your podiatry website will show up on top of the search results page. Aside from that, you only pay when someone clicks on your podiatry ad.
Here's an example of a paid search ad for the term "podiatrist irvine."
Here's an overview of how it works:
You create ad campaigns and choose a set of relevant keywords that will help trigger your ad. Then, you're going to set your target location, audience, average daily budget, and bid. Once a potential patient clicks on your ad, you'll pay the amount you set for each click, and they'll be directed to your podiatry website in just a few seconds.
Another form of displaying sponsored content is paid social. This helps you get found by potential patients on social media platforms. What's great about paid social is that it allows you to choose your target audience based on their interests, life events, user behavior, and other target options.
Here are a few ad examples for each social media platform:
Facebook ads can be in the form of image ads, video ads, carousel ads, and instant experience ads. Just like the example below, your ads may look like a regular Facebook post but the only difference is that it's labeled as a "Sponsored" post under your business name and there's a call to action button that your potential patients can click to book an appointment, contact you, or find out more details about your podiatry clinic.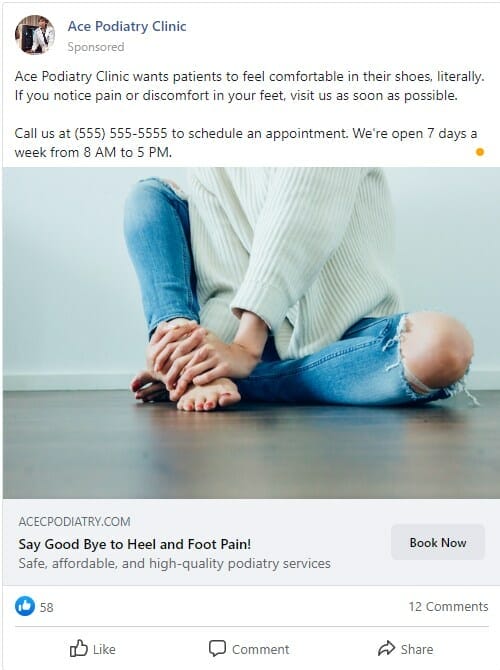 If you want to target a professional audience, you should try LinkedIn ads. This is divided into four categories which include (1) sponsored content, (2) sponsored messaging, (3) lead gen forms, and (4) text dynamic. You can share blog posts from your website which is great for brand awareness and help you get more site traffic.
Instagram ads, on the other hand, are more on the visual side. Your advertisements can be shown on your feed (e.g. image ads, video ads, carousel ads, reel ads), explore page, and through your IG stories. What separates this from regular IG posts is that it has CTA buttons and you can tag your products and services along with your ad.
In TikTok ads, there are 6 types of ad formats that podiatrists can use. This includes In-Feed ads, Branded Takeover ads, Top View ads, Branded hashtag ads, Branded effects ads, and Collection ads. Video ads under this platform can be up to 60 seconds long and consume the entire screen when displayed. Just like in this example:
PPC best practices
Enable conversion tracking

Conversion tracking gives you an idea of how a patient ended up on your ad, what encourages them to schedule an appointment, which ads perform best, and a lot more. Although most PPC platform has their built-in analytics feature, integrating a conversion tracking software gives you a better understanding of what works for your audience and what doesn't.

Check out your search terms report

The search terms report contains queries that your target audience uses to trigger your podiatry ad to show up. You want to regularly check this from time to time to see if there are irrelevant search terms that use up your advertising budget and add them to your negative keywords list.

Utilize ad extensions

Ad extensions like sitelinks are designed to improve the performance of your podiatry clinic's ad. In fact, it makes your ad stand out and gives your potential patients several ways how they can reach out to your clinic. This includes checking out your location and the offers and discounts that you currently have, calling your podiatry clinic for an appointment, and a lot more.

Optimize your landing pages

Make sure to test your landing pages to encourage a potential patient to book an appointment with your podiatry clinic. There should be a clear call to action button which will guide them on what to do next as they end up on your landing page.

A/B test your ad campaigns

To maximize the effectiveness of your ad campaigns, you should a/b test them. A/B testing is when you create 2 variations of your ad, run the test, and analyze which performs better compared to the other. This helps you make informed decisions about the type of ads that you will use in your ad campaigns in the future.
Want to know how ad campaigns work? Check out our blog about Google Ads for Podiatrists to learn more.
2. Search Engine Optimization (SEO)
Search Engine Optimization (SEO) is the process of improving the quality of your site so that it ranks high on relevant search queries. It can be done through on-page optimization, off-page optimization, and technical SEO. Here's an overview of how you can optimize your podiatry clinic's rank on search engines:
On-page SEO is when you improve the quality of your podiatry website. This includes using easy-to-read characters on your URL slugs, using relevant keywords throughout your content, optimizing your meta descriptions and title tags, using headings to divide content into sections, and the proper use of alt tags.
Off-page SEO, on the other hand, is focused on improving the quality of your podiatry website by making efforts that are outside your website. This includes guest posting, making sure that you have the right details on your, business listings, and participating in relevant discussions about podiatry.
Lastly, Technical SEO is more about improving the technical aspects of your site. This includes finding deadlinks, improving your podiatry clinic's page loading speed, fixing cannibalizing content, and making sure that your site is mobile-friendly
Looking for an in-depth guide on how you can optimize your podiatry clinic's website? Check out our SEO Blog for Podiatrists to learn more.
3. Get listed in online directories
Having your clinic listed on business directories like Yelp, Google My Business, and Healthgrades increases your chances of showing up on relevant search queries from potential patients. In fact, 87% of consumers use Google to find local businesses. So, if you want to get an additional source of traffic, improve your online presence, and engage with your potential patients, you should start claiming your business listing.
Business listing best practices
publish relevant posts on your business profile
respond to patient reviews
answer questions raised by potential patients
update your business info whenever there are changes
upload relevant photos of your podiatry clinic
write a compelling business description
Check out our blog about Google My Business for Podiatrists to learn more tips on how you can optimize your podiatry clinic's business listing.
4. Social media marketing
More and more businesses are using social media to market their products and services. It's because promoting your brand on platforms like Instagram, LinkedIn, and TikTok is a great way to keep in touch with your previous patients, reach a brand new audience, and build your credibility as a podiatry clinic.
Social media marketing best practices
Make sure to add your basic info on your social media page
Use relevant hashtags
Add relevant images to your posts
Engage with your target audience
regularly monitor the performance of your posts
Share relatable content
Want to know more about how you can use social media to promote your podiatry services? Check out our blog on Social Media Marketing for Podiatrists to learn more.
5. Content marketing
Content marketing can be in the form of blog posts, podcasts, videos, infographics, case studies, etc. Its purpose is to attract and engage potential patients toward your podiatry services.
Content marketing best practices
Plan your content

In content marketing, there should be consistency in the way you deliver relevant information to your target audience. With that, you have to make sure that you plan ahead to create timely posts (e.g. in February, you can share Valentine's Day promos, in Thanksgiving, you can post a giveaway).

Proofread content before publishing

Make sure to check your content for potential grammar and typographical errors. To check your content's readability level, use Hemingway Editor. It should be grade 8 or below,

Create content for each stage of the buyer's journey

The buyer's journey refers to the process that each customer goes through before purchasing a product or a service.

The first stage is the Awareness Stage. This is where an individual is looking for ways how to solve their problems. Blog posts, social media posts, and infographics are the types of content that are suitable for those in this stage.
The second stage is the Consideration Stage. Here, the individual is starting to compare solutions from different service providers and see which is more effective in providing the best podiatry services. The type of content that you can share for those in the consideration stage is patient feedback and checklists are some of the posts you can share.
The last stage is the Decision Stage. This is where you should convince your potential patients that your podiatry services are better than your competitors. Case studies, Frequently Asked Questions, and product landing pages are some of the content that you can create for those in the decision stage.

Make sure that your content is indexed

After publishing your blog posts, make sure that they are properly indexed. Indexing refers to the process of allowing search engines like Google to see what your content is all about. This helps them organize your content and match them to relevant search queries.
Google Search Console can help you index your podiatrist pages and notifies you of potential indexing issues.
6. Email marketing
Almost all of us check emails on a daily basis. If your goal is to improve your podiatry clinic's patient retention rate, you should use email marketing as an approach to connect with your target audience.
Some of the reasons why you should consider adding this to your marketing strategy are that (1) it delivers your message right away, (2) it allows you to personalize your campaigns, and (3) it has a high return on investment. For every dollar that you spend on email marketing, the average ROI you get is $40. So, if you are looking for a cost-effective channel, you should give email marketing a try!
Email marketing best practices
Test your subject lines

Add a sense of urgency to your subject lines
Test the length and word order
Use of active or passive voice
Emojis used

Use a clear call to action in each email you send

use compelling action words
make sure to use the right size (not too small not too big)
use the first-person point of view
use bright colors
place your CTA above the fold
test your buttons (they should be responsive)

Segment your email list

Every email subscriber has a different reason why they agreed to receive emails from your podiatry clinic. That's where email segmentation comes in. You should not send the same email to all of your email subscribers. They should be categorized based on what suits their interests.
Segmenting your email marketing list is important because it results in higher open rates, low unsubscribe rates, and greater revenue. You can segment your email list based on the type of customer, their location, and the level of the stages of the buying journey.

Personalize your email greetings

Start your emails by mentioning the name of the subscriber instead of general terms like "Dear customer" or "Dear patient." Not only does it add a human touch to your marketing campaigns but it also gives an impression that the message is really made for that subscriber, plus it increases the open rates of your emails!

Regularly clean your mailing list

If you've sent re-engagement emails but still got no response or interaction from that subscriber, you might want to remove them from your email list. They are probably no longer interested in receiving emails from your clinic.
Types of email marketing:
Welcome emails

These are the emails you send when a page visitor agreed to receive emails about the latest updates from your podiatry clinic. You should send your welcome emails as soon as the user confirms their email address or else, they might forget about you.

Seasonal email campaigns

These are the type of emails you send during the holidays like Thanksgiving, Halloween, Christmas, and other events that most people celebrate. During the holiday season, people are more inclined to spend money and receive promotional offers. With that, make sure to plan your emails ahead of time so that you don't miss out on the chances of promoting your podiatry clinic to get more business opportunities.

Re-engagement email

If you have email subscribers who haven't engaged with your marketing email for quite a while now, you might want to send them re-engagement emails that contain vouchers and discount codes. This will help you identify inactive subscribers from your mailing list.

Email newsletters

Email newsletters are usually about the latest news, promotions, and updates about your podiatry clinic. Its purpose is to help build relationships with your subscribers, increase loyalty, and to learn more about your target audience (e.g. their preferences and behavior).
7. Create a lead generation website
A lead generation website is the type of website that focuses on educating your page visitors and encouraging them to take action on your podiatry website. When done right, a responsive web design can be a driving factor that may turn page visitors into your actual patients.
Tips for creating a lead generation website
Use an action-oriented CTA

recommended length of 4-5 words 
add a short but relevant sentence before your CTA (it should motivate them to take action)
should clearly identify what action you want them to perform

Showcase your testimonials

You shouldn't jump right away into promoting your podiatry services. You want to establish trust by showing them that your clinic provides excellent services to your patients through the patient feedback and adding certification and awards that you have received.

Make it easy to contact you

Another thing that should be on your website is your clinic's contact details. You don't want them to get confused or have a hard time before they find your phone number, location, or email address. These details should be on your website's header or footer section so you don't miss the chance of getting those page visitors to convert as your actual patients.

Always test and optimize your podiatry website

To make sure that everything is functioning well, regularly check your website's buttons, links, and forms. This way, you can prevent situations that might interrupt your potential patient's user experience.
Ready to get more new patients with digital marketing?
Key takeaway
Digital marketing is effective not just in helping you get qualified leads and brand awareness but it can also help you get an idea of how effective your online campaigns are.