Social media may be a simple and effective way to reach out to new audiences. You are bringing them material that is relevant, educational, and entertaining. This makes social media marketing for orthodontists worth getting into.
Because orthodontic treatment improves esthetics, the popularity of orthodontic cosmetic care is growing. such as teeth whitening, composite veneers, implants, and dental crowns. Over 9 million people in the United States receive orthodontic treatment each year. This makes it the third most common treatment category in dentistry.
Social Media Marketing For Orthodontists
The favorable demographic trends and sophisticated technological advancements have led to the growth of the orthodontics industry. Don't miss out on the opportunity to get into the industry and elevate your career.
Knowing how to use social media platforms like Facebook, Twitter, and Instagram for your orthodontics marketing can feel like a moving target. Imagine all of the new features and updates released all the time. It is understandable that it takes time to do it properly.
You can even employ the help of specialists to help you practice social media effectively. Don't worry, everything will pay off eventually.
Using various social media networks for orthodontists to distribute unique, high-quality content tailored to your target audience can help you raise brand awareness. It can also build trust between your orthodontic practice and your audience and set you apart from other orthodontists out there.
Orthodontic Marketing Ideas – Best Digital Marketing Ideas For Orthodontists
It can be extremely difficult to make a business out of an orthodontic practice. There can be quite a lot of competition and a brutal market downturn.
To get your practice off the ground and make the most of your money, you'd need to use a ton of social media marketing ideas and digital marketing ideas for orthodontists.
Make A Well-Designed Website
Your website is the first point of contact for 70% of your new patients. You have to constantly improve your website's user experience. Ensuring that users enjoy their time at your site can be done by doing these 2 important things:
| | |
| --- | --- |
| Reducing your website's load times. | Mobile-friendly. |
| You need to know that reducing load times help you make a positive first impression. Who wants to wait around for a website to load when they can just click on another orthodontist's website link, right? | There are currently 6.648 billion smartphone users in the world. This means that a LOT of people are doing their research online. It is really important to make sure your website is mobile-friendly in order to support local searches. You know, like people looking for a good orthodontist? |
Do You Need Help With Your Website?
Creating Dynamic And Engaging Original Content
Add value to your potential and current patients with engaging original content. Your website's blogs, content, and FAQs can distinguish you as an industry authority. A regularly updated and informative blog is one of the most efficient methods in orthodontics marketing.
It makes you a lot more trustworthy in the eyes of your orthodontic patients. When you write content that answers several questions about the procedure of having braces, chances are the person who found your article will be calling you for a consultation.
Build a great Online Reputation
69% of patients look for online reviews before choosing a new healthcare provider. If it was you, you'll also be reading reviews before letting someone put braces on your pearly whites.
You can ask your patients to give you a good review or include it in your checkout process. This way they can help you draw in new and potential patients. Your reputation will aid in the development of the local audience's trust.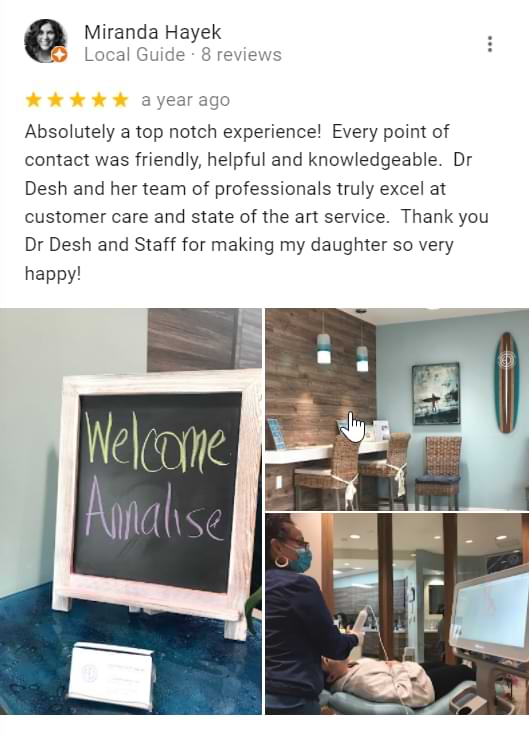 Try to post a comment from a customer about how much they enjoyed their visit to your practice. Let them tell others about how they would recommend you and your practice to others.
You can even share a "Patient of the Day" to make them feel more special. It's also a way of showing your work to your potential clients.
Learn About Email Marketing And Email Campaign
Email marketing has been around for a long long time. It could do you some good to adopt innovative strategies to grow your email list. You can also make use of marketing services that can help you streamline your sales funnel like using an automated platform.
Sending out reminders and important information through Email can keep you relevant to your potential patients for a long time.
Acing Local Search engine optimization (SEO)
Gain a significant advantage over other orthodontists by ranking higher for certain keywords. SEO is an important part of digital marketing for many orthodontic marketing organizations. In their organic search, 67% of potential new patients never go past the first page.
You've got to make sure that you give your audience what they want. You can use keyword research tools and other useful SEO tools to help you pick the right keywords to write about.
Boost Your Orthodontic Practice With PPC
PPC for your orthodontic practice can help you grow your company. Developing SEO as an orthodontist takes more time and effort but generates long-term results. If you don't think you have the time, PPC is a more direct and faster way to generate leads and impressions.
A well-executed ad campaign can boost traffic to your website in minutes. Proper keyword research, a sound budget, and ad placement are critical to the success of your paid advertising.
Do you want to dip your toes in PPC Marketing?
Social Media For Orthodontists
Social media marketing is an excellent way to strengthen your relationships with both new and existing patients. Contributing to and responding to relevant posts will increase your conversion rates. This is due to the importance of increasing impressions and leads.
Coming up with good ideas and putting them on Facebook, TikTok, or Instagram, on the other hand, can be challenging. However, if you hack it correctly, there are unique social media ideas for orthodontists like you.
Social Media Marketing Ideas
What comes to mind when you consider a market strategy for an orthodontic practice?
You are most likely to think of commercials such as your face in local magazines and newspapers. These traditional methods can be costly, as well as ineffective — not to mention — short-lived.

An orthodontic social media strategy can create remarkable, shareable marketing content. Social media marketing not only makes advertising easier but is also less expensive. Through it, you can convert patients into promoters for your practice.
This brings in new patients through your client's online posts. These are basically the new word-of-mouth, the best way to grow your practice.
Find The Right Social Media Platform For You
If you want to do orthodontist social media correctly, the first thing you should do is select the appropriate platform.
A lot of orthodontists make the mistake of creating an account on every platform without actually thinking about it. Just because these platforms are available does not imply that you must use them all.
There are some Orthodontic practices that are around on Facebook, Instagram, Tiktok, Twitter, and even Pinterest. But this doesn't mean that it's also the best move for you. It may seem that your involvement with more platforms will bring just as much customer traffic. But this isn't always the case.
You might just end up with too many social media tasks than you can manage.
Here are a few of the social media networks you can use for your orthodontic practice:
Facebook For Orthodontists
Make the most of your Facebook page with the right practices.
Add a Facebook profile photo. It is one of your most important photos. Your Facebook profile photo is the face of your orthodontic practice. Ideally, your profile picture should be 180×180 and is still readable even if it is reduced. The reason for this is for it to still be identifiable as a profile picture on your comment or on messenger.
Add a cover photo. It is a great way to make a first impression. It is also the biggest image on your page (820×312) and perhaps the most impactful. Do you want to take it up a notch? Use a video for your Facebook cover. This will surely catch more attention than a simple photo. Use your best videos that are up to 20-90 seconds long and 820 pixels to 312 pixels in size.
Don't forget to write an About page. Write a short description of your practice. Describe who you are, what you do, and perhaps what makes you different. That's not all, it's also important to use the right keywords in your description to help people find your orthodontics practice easier.
Take advantage of the Our Story section. After writing a short description, it's time to write a longer description on your Facebook page. This section will allow you to explain your business in more depth. This is where you reiterate your contact number, address, and provide links to other social media accounts. You have 10,000 characters to write a very interesting description of your orthodontic practice.
Include captions on your cover photo. Add a link and description to your cover photo to make it more significant. It also reveals more about you and your practice. You can also add a location or tag significant people.
Add your website link. Remember to include your website link if you have one in your About and Story. This also builds trust, especially since people can see your online presence a lot.
Select the right business category. Pick the most relevant category your business belongs to. You don't have to worry about providing a more specific job description or anything. This helps visitors understand what your business is about.
Vanity link. Make your Facebook link into something easier to remember. Usually, a link to a Facebook page will consist of random numbers.

But that can be quite boring, right? It's not as easy to remember as a link like this.
Add a call to action button. Ah! Call to action, what can a business do without them. You can add a "Book Now" or "Call Now" button to encourage visitors to engage with you and your business. So they can either schedule an appointment with you or get on a call with you.
Add services tabs. If your page doesn't already have the "Services" tab, you can access it by clicking "Settings" in the top right corner of your Facebook page. Next, on the left side of your screen, select "Templates and Tabs." You'll have a few options for adding the "Service" tab. This is going to help big time so visitors would know what services you offer.
Pin your most important post. You need to post regularly on your account. This means that older posts get pushed behind to make way for new ones. But if you have really good video content or an important announcement, you can actually pin posts and videos.
This lets new followers or visitors find the most important content.
Post a ton of videos. Videos actually get more of the global internet traffic. Not to mention you can squeeze in more information in a video compared to a post without it getting too boring.
Create a playlist of your videos. After going through all that effort to make videos, don't just let it fall through the cracks. One way to make sure they are noticed is to create a playlist.
From your homepage, just click videos, and click the pencil icon.

Enable reviews. As we mentioned earlier, a lot of people check reviews first before getting a service. Let your clients leave good reviews for others to see. This way, they'll know that you are the best orthodontist for them.
Measure your page performance. When everything is said and done, you've got to know if the things you are doing are actually working. Are you getting enough attention? Are you getting a lot of inquiries?
On your home page, go to insights and look at the two important metrics: Post engagements and Reach. This is because these are great indicators of how popular you are.
Instagram For Orthodontists
If you are more into sharing photos of your orthodontic practice, Instagram for orthodontists is the best option for you. Here are some of the things you can do to stand out.
Convert your personal Instagram account to a business account. To do this you need to click on the three bars in the upper right-hand corner of the app. Next, select Switch to business profile from the Settings menu. It's that simple.
Define your personal aesthetic. You need to set a few standards for your Instagram account that will help it look more professional. Make it fast and easy to create content by creating a list of postings that you can reuse. You even have the option to share everything on Facebook.
Establish a consistent post schedule. You need to post on a regular basis to keep your followers interested. You can start by posting once a day or at least every other day when you first start off.
Engage with your followers and other Instagram users. Aside from posting regularly, you also need to engage and communicate with your Instagram followers. You can like and comment as well as respond to comments too. Like a photo by double-tapping a photo or tapping the heart button under the post.
Make use of polls and other interactive elements. Add polls to your Instagram Stories. Start discussions and create better relationships with potential clients online. It can give you a clue about which treatments are on-demand among your followers.
Make use of reels. Reels are short-form videos that are no more than 15 seconds long. You can edit them with audio, effects, and filters. Use reel to highlight new services, an employee of the month, or recent orthodontic promotions.
Make sure your posts are relevant to your brand. Definitely don't post about food or animals if your orthodontic practice has nothing to do with them. Although you can encourage your clients to eat skittles to come back and pay for you to fix their braces. Just kidding! Don't forget to make your Instagram captions interesting.
Link your Instagram posts to your website. If you have a website, you can actually get an embed code from Instagram for desktop to add photos and videos. Choose the photo you want to embed, then click the ellipsis in the bottom right corner and select Embed. You'll see a popup with the embed code like you would on YouTube.
All you need to do now is, copy and paste the code wherever on your website.
Directly share posts to your story. Small businesses can use this tool to communicate with their followers while promoting their products or services. You can share a client's snapshot of your product directly to your story to emphasize the product and your client.
You can also use hashtags strategically. Since hashtags index words and phrases. When you add a "#" this can help your post show up when someone types a phrase or word on a search.
Increase engagement with 3-10 hashtags for each post and focus on local hashtags.
YouTube For Orthodontists
Currently, YouTube has 2 billion users. It is the most popular social media platform in the US. This makes it a great social media platform for your orthodontic practice.
So if you are more into making videos, here are a few orthodontic marketing ideas on YouTube for you.
Posts lots of videos right away. You can start with around 35 videos. You might already be thinking "Woah! That's too much!" Here's the thing, YouTube is all about watching videos and you've got to feed your audience a lot of videos otherwise you end up with a very bored crowd.
Start before you're ready and avoid judging your results too early. This triggers the algorithm and gives YouTube a nudge that you are an active participant. Given your first videos might — not — be the best. Remember, you are a beginner so cut yourself some slack. Posting a less-than-perfect video on YouTube is better than being nonexistent.
Make your videos interesting by answering "Who/What" questions. To start with your channel ask these questions:
Who and Why would a person subscribe to your channel?
What problems do you solve for them?
Think about the audience first. Figure out which content you want to create. Do you want to entertain or to educate? Obviously, since this is YouTube for orthodontists you should lean more into educating your audience.
Build up your skills and study already successful channels. Check out how other channels are doing. Are they getting a lot of subscribers? This can be a sign of whether you should pursue YouTube or not.
These YouTube for orthodontists content creators have around 100 thousand to 2 million subscribers.
Shorten your learning curve with this research and studying techniques from your competitors and other creators. Watch your competitors' videos and take notes. How do they start their videos? How do they end them? How do the videos usually go?
Focus on Search-Based Content & Answer Specific Questions. Clearly conceptualizing is one of the most difficult parts of making a video. Just like SEO is about answering questions people would likely ask, make a video about what or who people would like to know about.
Commit to the process for YouTube For Orthodontists. Avoid dabbling and make a real commitment to your YouTube journey. It might not be so easy-peasy to acquire a big following. Take advantage of training and remember to commit to making regular videos on YouTube. Creating sporadic videos will just show how much using the platform isn't a priority to you.
TikTok For Orthodontists
TikTok is the kind of Social media platform that could shoot you up from zero to a million followers in just 1 post.
Tell a story. TikTok is about short videos. The videos can be 15 seconds to 3 minutes long and let you reach a massive audience. Compared to YouTube, you can actually create content easily and quickly.
Use TikTok to grow out your presence on other social media platforms. You can actually share your TikTok videos on Instagram and Facebook. This would be like hitting not just 2 but 3 birds with one stone.
Jump into the latest trends. TikTok is big on trends. Be open to doing dances, lipsync, or using fun filters. Jumping into the trends will give you a better chance to end up on people's FYP. TikTok will see you as part of the crowd and give you a bite of the audience.
Provide value to your audience. Just like any social media platform, you have to give the audience something they can use and probably want to watch. Using viral songs and using a trending "sound" on your video doesn't mean forgo giving out sound orthodontic advice.
Use hooks to make your viewer finish watching your videos. Hook your audience at the beginning of your video with a really interesting clip. You can show them someone's teeth with terrible alignment that will make them go "Whaaat?"
But you would also want them to keep watching. So put in a hook in the middle of your video every 5-10 seconds. Create a fast-paced video and use a lot of quick jump cuts throughout the video.
Beware of being shadowbanned. Be observant if you suddenly get a drop in engagement. TikTok could shadowban you if you post some videos that look like spam if you reply to every single comment. If you think you haven't violated anything, it's time to just wait it out and chances are your engagement will come back.
You should select platforms where your target audience is likely to engage with your practice. You can compare your audience's demographic information to the demographics on social media. This gives you a clear picture of where your audience engages and spends their time.
You can also think about what kind of content is easiest for you to make. If you enjoy making videos or have a younger staff, you can try out YouTube or TikTok and join in the newest dance trends. If you can only make time for photos or if you have a lot of clients sending in their selfies, then Pinterest or Instagram for orthodontists can be the best option for you.
Social Media Marketing Strategies For Orthodontists
Making your Social Media Pages is not a walk in the park. It goes without saying that having a social media presence for your orthodontic practice is one of the most important marketing tools you have.
Here are some social media marketing ideas for your orthodontic practice.
Make Orthodontic Treatments Fun
Celebrate the start of treatment by posting a photo or a quick video on how to floss properly with braces. You can even share a relatable meme to make things more interesting for potential clients.
C'mon, there are definitely people out there who find the procedure scary.
Compare the photos below and tell me which one would encourage your clients to get braces and which one would send them running for the hills.
Make Your Clients Your Models
Remember that your posts won't be the most effective online marketing strategy. The best ones will actually come from your actual patients. All of your patient's friends and family will see what a wonderful experience they had with you.
It's a great opportunity when a patient takes a picture at your practice, posts it on their own account, and tags their favorite orthodontist —YOU!
Remember to tell your patients to tag your orthodontic office's Facebook business page or Instagram account. Then, increase the visibility by sharing the post on your own Facebook or Instagram.
Be Relatable to Your Patients
Sharing photos of your team is the best way to get your social media pages off to a good start. Create blogs or social media posts about your team doing good things.
This means being involved with social work such as walking for a cause or giving free services to the less fortunate. But you can also post about fun things like going out to lunch together, or celebrating a holiday. You can have dress-ups for Halloween or Christmas too!
Allowing your team to shine online will help patients connect with your practice in a positive way. It actually makes you more human. Make a "Team Member of the Day" post congratulating one of your staff on a job well done. Taking an interest in your staff's lives is a powerful way to build relationships.
Run a Fun Survey or an Orthodontic Campaign
Conduct a fun survey, such as "What is your go-to food after getting your braces?" " or "Which rubber band colors are your favorite?"
Post the results to see how many of your patients will get involved in the survey. You can actually invite your patients and encourage them to share it to win a prize.
You can also have a free braces giveaway for a year-end orthodontic campaign. This will definitely generate some publicity for your practice.
Now, your giveaway doesn't even have to be about braces all the time. You can give away other cool things that have nothing to do with orthodontic treatment. Think about how many people will join your campaign for some AirPods or power banks. Don't be surprised to find yourself in front of a lot of new potential patients.
Prizes and freebies are definitely a great incentive for your patients to take part in your survey.
Why Is Social Media Important For Orthodontists and their Practice
It is difficult to grow your orthodontic practice. Particularly if you only have a limited amount of time to market yourself. The orthodontics industry is fiercely competitive. This means that a strong online presence may aid in commercial success.
Do you need help to jumpstart your online presence?
Get in Touch with a Specialist!
If you believe you require assistance, an expert can assist you in developing your orthodontics brand. Yoyo Fu Media, a marketing specialist, can assist you in developing your brand and online reputation.