If you're going to keep on guessing the keyword that your audience is searching for without checking out how your competitors are building their dental websites, you are just wasting your time and effort on nothing. That's why doing a keyword competitive analysis is one of the strategies that you should be working on if you want to improve your page's SEO.
In this article, you'll learn how competitive keyword analysis for dental clinics works along with some tips and tricks that will help you come up with a keyword strategy that will surely bring in more patients to your clinic!
But before we go on with the steps on how to do keyword analysis, here's a short background about it.
What is competitive keyword analysis?
Competitive Keyword Analysis refers to the process of doing keyword research based on what your competitors are using. This is one of the first few things that you should do when building a website or creating an advertisement or social media profile for your dental practice. Basically, it gives you an idea of what type of keywords your target audience uses, how your dental competitors are using them, and more!
Don't have enough time to do a competitive keyword analysis for your dental practice?
Why competitive keyword analysis for dental clinics?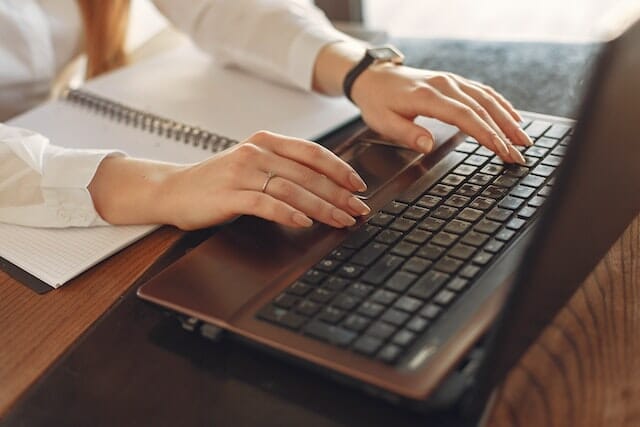 Gain a better understanding of your audience
A competitive keyword analysis is very helpful especially if you are just starting to build your dental clinic's website or Ad campaigns. It's because you'll get to know more about your target audience's intention when looking up specific dental services (i.e. root canal, dental bonding, dentures, full mouth dental implants, etc.).
Once you start targeting the keywords that are used by your audience, you'll notice an improvement in the volume of traffic that your dental website is getting.
Improve your online marketing strategy
Another reason why you should consider doing keyword competitor analysis before publishing dentist-related content is that it can help you with your content strategy. For example, if you have no idea what content is suitable for your audience, keyword analysis can give you an idea of how your competitors end up higher than you on Google, the type of keywords used by your competitors, and which ones worked for them.
It helps you fill in the gap that your competitors might have overlooked and how to use them to your advantage, resulting in a higher rank on SERP.
Analyzing your competitor's pages can be time-consuming. Our team is here to help.
How to do competitive dental keyword analysis
Step 1: Look at the search terms used by your audience
Start by jotting down all the phrases you'd like to use on your dental website. Then, after coming up with a list, you may start your keyword research manually or with the use of keyword research tools (which we'll tell you about later).
If you want to do the research manually, you have to type the term into a search engine. Once you see the results, observe the titles are written, and what the content of their pages is all about (e.g. if it's written in a long format or in the Top 10 best list).
To see how frequently other dental websites are using the keyword by pressing CTRL +F, which will give you an idea of how many times you should use the word or phrase. Also, you have to be mindful when using keywords because if not done right, it may be under-or over-optimized.
Step 2: Identify your competitors
The fastest way to know who your competitors are is by typing on Google [services offered in your dental clinic + your location]. For example, "Dental bonding Irvine."
Then, your top competitors will show up on the first page of search results.
Step 3: Analyze your competitors
Now that you have an idea of who your competitors are, it's time to examine which keywords your competitors are primarily targeting and how they're using them. You could also check their social media pages to get more ideas.
Here are some of the guide questions for analyzing your competitors:
What dentist-related keywords are used by your competitors?
How do they use those keywords?
What is their competitive advantage?
Who is their target audience?
Step 4: Do more research about the keywords
After getting ideas on the keywords used by your competitors, you have to do further research on the results that go along with it when searching on Google. Here, you'll be able to identify if the majority of the results are targeting individuals who are in the awareness, consideration, or decision stage.
Step 5: Build your dentist-related keyword list
You could use a spreadsheet and compile all of the keywords you've gathered and categorize them based on your preference. Create columns for the keywords used along with the search volume traffic, link to the content, as well as its current rank on Google. Once done, make sure to implement them throughout your posts.
Need assistance doing competitive keyword analysis for your competitors?
Schedule A Free Strategy Session!
Tools for keyword research
Keyword Surfer
Keywords Surfer is one of the best keyword research tools out there because it has a lot of features such as giving you an idea of keywords that gets high search volume every month, helping you find keyword ideas that are relevant to the term you are going for, providing a set of guidelines based on the pages of your online competitors, and more. All of that for free!
Like in this example, it shows that the average number of monthly searches for the term "dental clinics" is 40,500 in the U.S. and the keywords that are getting high search volumes if you are going for the term dental clinics are: "dental near me", " dentist near me", "dentist", "dentists", "dental", "dentistry", etc.

Keywords Everywhere
Keywords Everywhere is another browser extension that is helpful when doing competitive keyword analysis as it shows search terms that other people are also searching for. It also shows you a graph of the monthly search volume over the years, website traffic, etc. This is also free and compatible with Google Chrome and Firefox.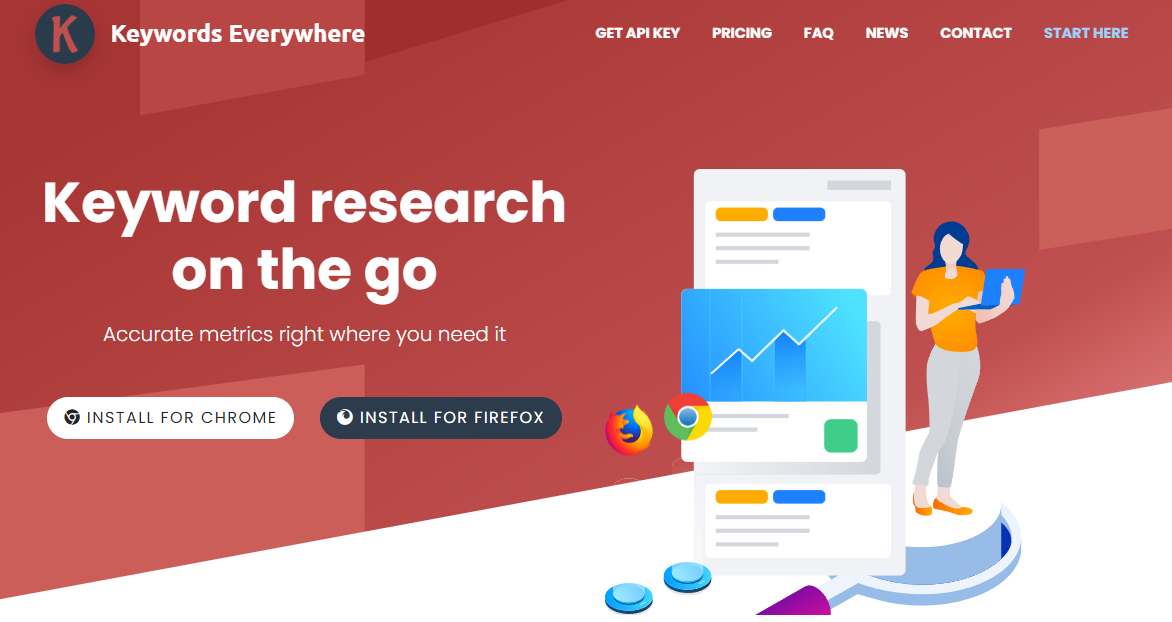 Here's an example of the keyword research result after using Keywords Everywhere:
Page Optimizer Pro
Page Optimizer Pro is another tool that can be used so that your dental pages are properly optimized based on Google's algorithm. It can be used by professionals or even by those who just started working on optimizing your page. All you have to do is indicate the dental keywords you are planning to use and it'll provide you LSI terms, tags that you should use on the header section, the number of times you should use a specific term, and more.
Keyword Planner
Google Ads Keyword Planner – If you already have an existing Google Ads account for your dental practice, you can also do keyword research with the help of a Keyword Planner. Here's what you have to do:
Click "Tools and Settings"
Under the planning section, select "Keyword Planner"
If you want to get ideas on the keywords you are aiming to use, click "Discover new keywords", and if you want to know the metrics and predictions on the performance of the keyword you are going for, click "Get search volume and forecasts."
Then, it'll show you a line graph along with the list of words that has low, medium, and high search volumes, and level of competition. Something that looks like this one:
Want to learn how to do Google Ads for Dentists? Check out our PPC Guide for Dental Practices. But, if you don't have time to create one, Book An Appointment with our digital marketing experts today!
Tips and tricks in doing keyword analysis
Go to the bottom part of the Google search results page, it'll show you terms that people are also searching for when searching for the keywords you are going for
Try looking at Google's autocomplete suggestions. If you already have an initial idea to use for your dental clinic's website or advertisement but are still in doubt if you are going to use it, Google suggestions can help! It generates the common queries that go along with your search term.
Use keyword variations. Don't stick to one variation of keywords. Explore other terms that are relevant to what you are going for. For example, instead of simply going for "Dentists near me" try using "Dental clinics near me." This tip is also useful if you're considering promoting your dental practice with Facebook Ads.
KPIs in doing competitor keyword research
1. Search Volume
Search Volume refers to the estimated number of average monthly searches for a specific keyword. This metric gives you an idea of how frequently a keyword is used by your target audience.
2. Keyword Difficulty
Keyword difficulty refers to how difficult it is for you to rank for a specific keyword. The higher the keyword difficulty is, the harder it would be to rank 1st on the Search Engine Results Page. It's something that gives you a heads-up on how difficult it would be to publish competitive content.
To give you a better understanding of how keyword difficulty is evaluated, there are three factors that should be considered.
Page Content – This refers to the quality and relevance of a web page to a user's search term. If you do keyword research for a certain keyword and notice that none of those websites provides in-depth information about a specific topic, then you can use that as an opportunity to deliver well-written content, making it easier for you to rank high for that keyword.
Backlink quality  – Another contributing factor when it comes to keyword difficulty is the accuracy and reliability of the links used. So, to rank high on Google, make sure that when you're referring to other websites, those are from reputable websites only.
Domain Authority – Another factor that defines a keyword's difficulty score is the website's reputation. If a website has a high authority it means that Google perceives that website as an expert content provider in that industry. MozBar Extension allows you to view instant metrics such as a page and the website's domain authority.
3. CPC
CPC or Click Per Cost refers to the minimum bid for that keyword when used in Google Ads Campaigns. The actual cost per click is based on you and your closest competitor's ad rank, along with the maximum bid, and quality score of an Ad.
Conclusion
Doing keyword analysis before you actually implement them is a must for every dental practice. But, to find the right keywords, you have to analyze your competitors first. The entire process can be time consuming but when done right, it can drive long-term results in your dental marketing campaign.