Google Ads has the power to drive traffic and customers your way. It is an advertising platform that will display results such as content, services, and advertisement. Read on and learn real tips on Google ads for carpet cleaners.
Elevating Your Carpet Cleaning Service with Google Ads
Google Ads makes it easy to reveal what's unique about your service. It's a way to show what makes you different in full view of your target audience. With its help, you can reach customers seeking carpet cleaners like you.
Google Adwords s works under a pay-per-click (PPC) model. If PPC is new to you, it's actually as straightforward as the name implies. You pay every time someone clicks your ad.
For example, when someone renovating their home type "carpet cleaners near me" on the search box. Google ads pop up as one of the searches when someone browses anything related to your business.
This means that someone paid for this ad about a commercial cleaning company to appear at the top of your search. The reason why Google ads are so powerful is that there is buyer's intent with every keyword behind it.
You are probably thinking, "Can't I just write really exceptional content? Someone will find my services eventually, right?"
Some of your audience WILL find your services eventually— but how soon?
SEO aims to raise your site's organic ranks. Your page appears when customers search for terms related to your content. However, you can't control where it shows up so it could take longer for you to get results.
Google Adwords on the other hand allows you to target specific keyword phrases. You get to design an ad that promotes your site and content to people who are searching for those phrases.
Steps to Create Google Ads for Carpet Cleaners
If you are already convinced that the carpet cleaning industry has a better chance with Google Ads, follow these simple steps:
Step 1. Create a Google Ads Account
You can begin with how you usually start with any pursuit of knowledge online —type words on the search box.

Next, select the first result that isn't an Ad. This lets you create an account for free. Remember, you need to have a Gmail account to create a Google ads login. Don't worry, it's quite easy to create one.
Next, select the "Get Started" button.
In case you are curious, if you click the Ad result, you would be asked to pay upfront.
Money-saving tip:
Google ads can actually give you a voucher. If you type in "$100 google ads credit" or a similar search, you might find a voucher that gives you your money back.
You need to have a Google account to create a Google ads account for carpet cleaners. If you already have a Google account just type in your email address and password.
If you don't have a Google account yet, go ahead and create one.
Initially, you will be asked to provide your first name, last name, and a secure password.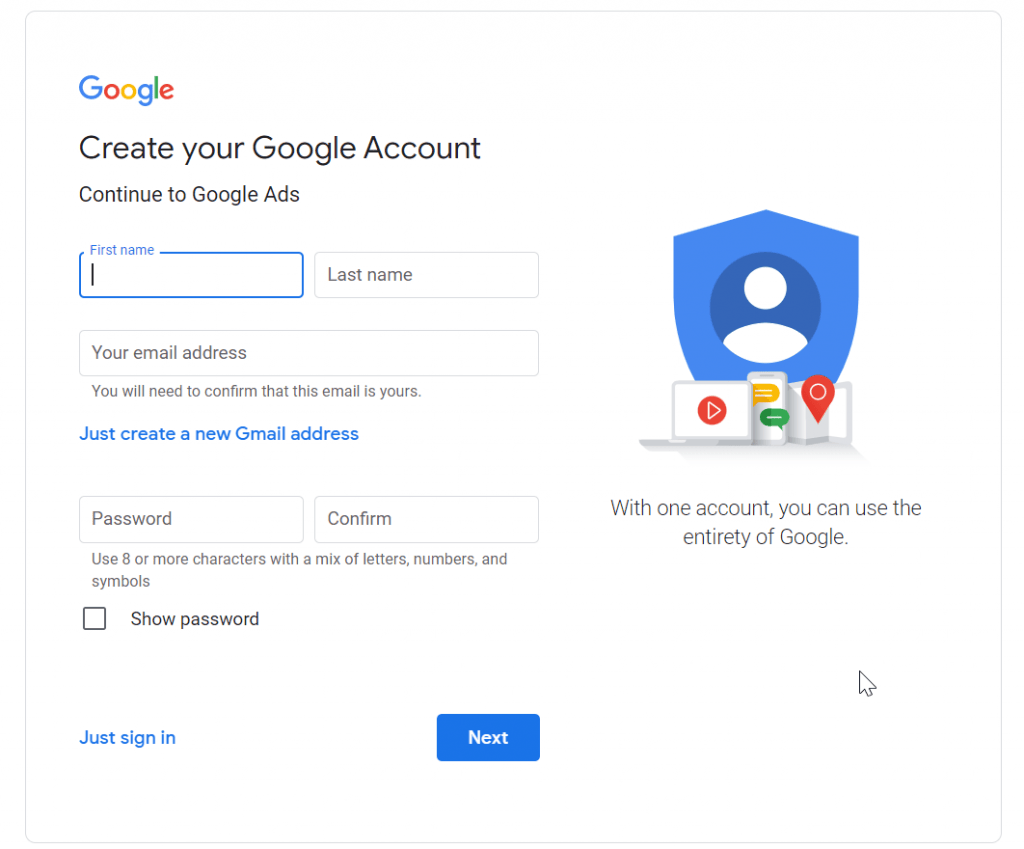 After you are done creating your Google account, you can now proceed with the next step.
Step 2. Create Your Google Ads for Carpet Cleaners
When you get past the homepage, you will be asked to select your advertising goal.
For someone who has never done Google ads before, this is actually quite helpful. Google tries to walk you through it step-by-step.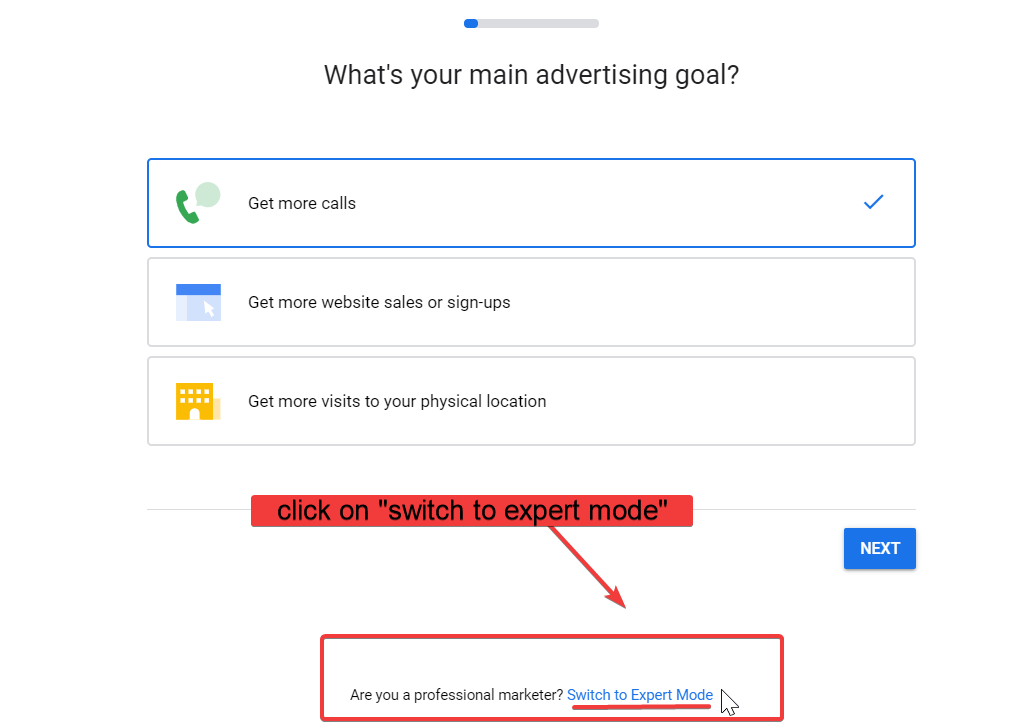 In this guide, we'll be clicking the "Switch to Expert Mode." After that, continue onto the next page. We will show you how to create ad groups together with your campaign.
Next, since we're walking you through everything on this guide, select "create a campaign without a goal's guidance."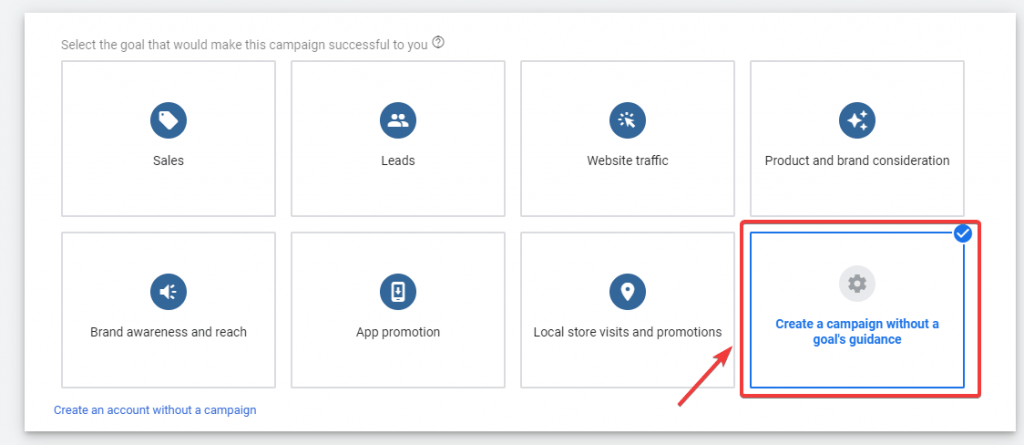 Next, select the option "Search." This is your first step in getting your Ad to show up when someone searches for information on Google. Search can be a great place to start if you are new to PPC advertising.
6 Main Google Ads Campaigns
There are six main campaign kinds to choose from:
Search
Display
Shopping
Video
App
Smart campaigns
Aside from these 6, there are two more campaign kinds available: Shopping and Discovery. However, Shopping and Discovery will be unavailable if you have just started your account.
If you really want to start with either Shopping or Discovery campaign, hover your mouse over one of the options and click the link that says "Skip and build this type of campaign later."
How are these campaign types different from each other?
Search
Search is the text adverts displayed on Google's search result pages using search campaigns. Search queries are used to activate these adverts.

These are the words a user types into the search bar.

Selecting terms related to your product or service allows you to target these search inquiries.
Display

The Display campaign presents keywords, audiences, placements, and other targeting choices.

Google has access to a network of over 2 million websites where they can display text, video, and image adverts.

Display advertising is an excellent choice for raising brand awareness. It also lets you re-engage prior website visitors while they are surfing the web.
Shopping

Shopping campaigns are the best campaign to use especially if you're a retailer.

It helps to promote your online and local inventory. You can also boost traffic to both your website and local store. This lets you find better-qualified leads.

You'll just send Google your product data with the Merchant Center first. After that, simply create a campaign in Google Ads.
Video

Video campaigns allow you to use YouTube videos. After all, next to Google, YouTube is the world's second most popular search engine.

You can establish video advertising campaigns for your videos on YouTube using your Google Ads account.

Similar to the targeting options with Display, there is a range of targeting possibilities on the video campaign option too.
App

App campaigns are your best choice if you want to advertise an app with Google Ads. You'll be able to market your app on a variety of Google domains.

App campaigns even include Search, YouTube, the Display Network, and the Google Play Store.

Since these campaigns are totally automated, all you have to do now is sit back and wait for the installs and upsells to come in.
Smart campaigns

If you want to go on autopilot, select Smart campaigns.

This is letting Google take the wheel. All you need to do is provide Google the fundamental parameters to deal with.

From there, the AI handles everything else. If you use it correctly, smart campaigns can offer some value to your account. However, this might not be the place to start.
You can also select the results you want to achieve from your Google ads for carpet cleaners.
Do you want more traffic to your website?
Do you want to receive more calls about your carpet cleaning business?
Would you like people to download your application?
So if we are using Google ads for carpet cleaning companies, then the target could be to receive more calls. More calls inquiring about your business is a surefire way to get more appointments.
Why is Search the best choice?
If you're on a tight budget, search ads are generally the best place to start.
Building your brand with display ads, for example, usually takes a significantly bigger investment. Unfortunately, it is unlikely to yield a positive ROI. Search ads often have greater conversion rates.
This makes an increase in the budget a justified move.
After you decided on everything, click on continue.
Step 3. Create Your First Create Google Ads for Carpet Cleaning Services
You will be brought to the campaign settings page. Start with naming your campaign. For this step-by-step guide, we'll name it "Carpet Cleaning Services."
We recommend that you uncheck "display network."
Money-saving tip:
This will help you save money, by keeping your Ad on Google instead of showing up on other websites. Not only will it cost you more but it will give you low-quality results.
You wouldn't want to spend an unreasonable amount on your Google Ads for carpet cleaners.
Step 4. Choosing Your Demographic
By using demographic targeting in Google Ads, you can easily reach a particular set of potential customers. These people are likely to belong within a particular age, gender, parental status, or household income.
To select your audience, select choose your demographic.
This is where you indicate where you want your ad to appear. If you are in the US, select "United States." Make sure to select your target location as well as your language preference. This is the language your customers speak, in this case, we'll select "English."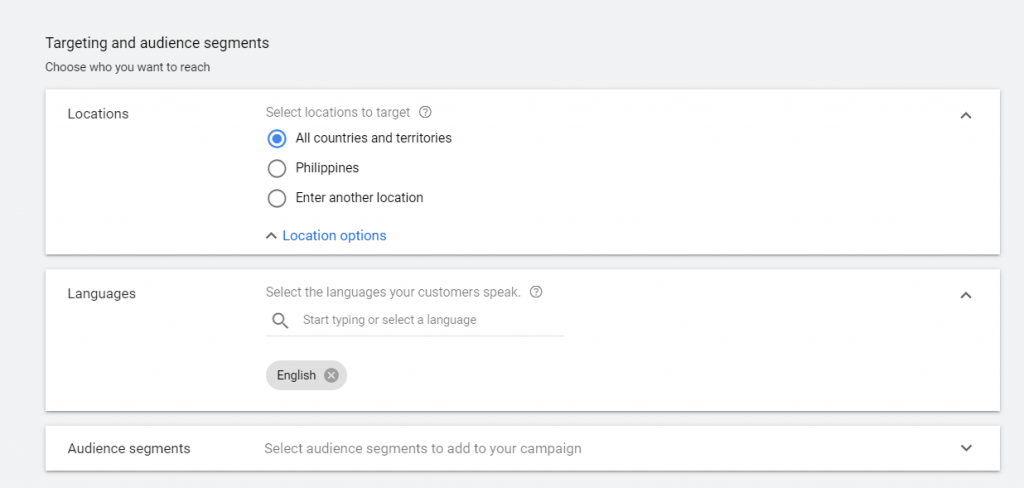 To create a clearer path for bullseye, set your target audience.
Do you need help with your Google Ads for carpet cleaners?
This is where you indicate the geographic locations where you would like your ads to show. Your targeting can be as extensive as the entire world. You can also be as specific as a single zip code which we recommend.
Your options by default are:
All countries and territories
United States and Canada
United States
Enter another location
Select the "Enter another location" to target locations at the city, state, zip code, or radius level. After clicking this option, you will then click on "Advanced Search."
You will be able to choose your specific target locations from there. After this, you will be shown the different options to target:
People in or who show interest in your targeted area
People in or regularly in your targeted area
People searching for your targeted area
Select the recommended option: "people in, or who show interest in, your targeted locations."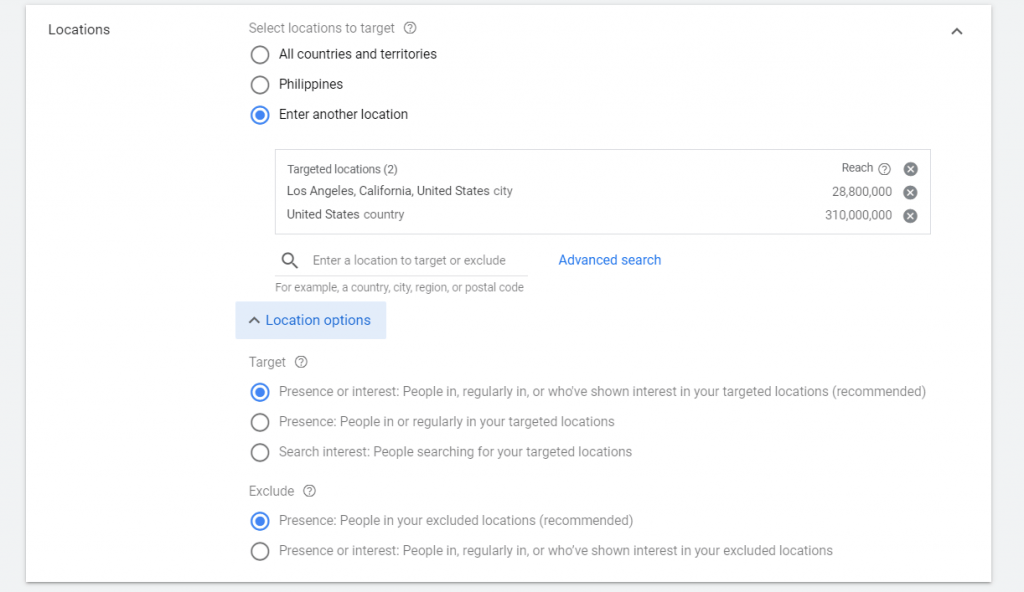 Indicating the audience you want your ad to attract is critical to success. This directs your campaign in driving traffic. It helps increase impressions when users type in specific keywords.
What are impressions?
An impression is counted each time your ad appears. This can be on a Google Network search result page or other sites. For each time your ad shows on Google or the Google Network, an impression is recorded.
I typed in "carpet cleaning" and selected few other topics my target audience might like.
So since you are offering a professional carpet cleaning service, your target audience are those who type in searches such as:
"carpet cleaners near me"
"carpet cleaners for hire"
"residential carpet cleaners"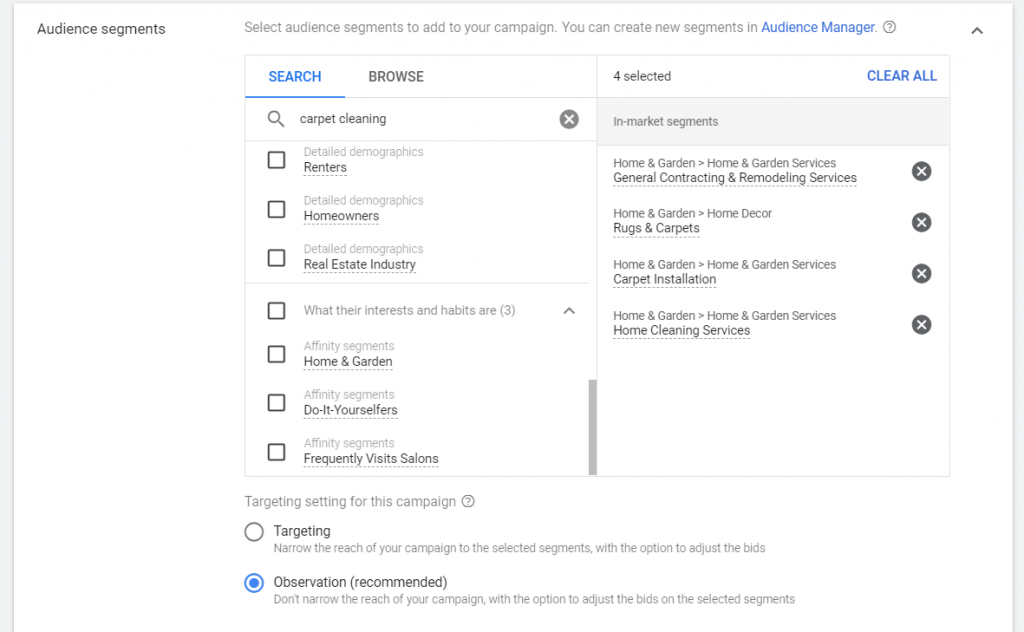 Step 5. Create the Budget for your Google Ads for Carpet Cleaners
When you have selected your audience it is time to narrow down your budget.
How much are you willing to spend per day on your ad?
For this guide, we'll set a $300 budget a day. Take note that you can start low on your Google ad investment. When you notice favorable results, then you can decide to increase your Google ads cost.
When you are decided, proceed with selecting the currency you would like to pay with.
Setting the Bid
Next, you'll find the Bidding section. This section is where you set the bidding strategy for your campaign. Google will try to assist you in choosing a bidding strategy by asking what type of result you want to focus on.
The default recommended choices are:
Conversions
Conversion value
Clicks and Impression share
For "Bidding", the best option for a starter campaign is "Clicks." Next, make sure to select "set maximum cost per click bid limit." This will help you save on your Google ads for carpet cleaners cost.
This determines the highest amount that you are willing to pay for a click on your ad. This setting helps avoid going over the budget when someone clicks your ad. This is because clicks won't cost you more than the maximum cost-per-click bid (max. CPC) that you set.
Money-saving tip:
Your max bid is what you are willing to pay a click on your ad. You would not want to pay more than $2 for a click. Learn more about your bid and quality score for your Google ads.
Ad Extensions
The final section of the campaign settings screen is for Ad Extensions. You'll find the following options:
Sitelink Extensions
Callout Extensions
Call Extensions

Sitelinks allow you to display up to four more links alongside your advertisements. These links can be used to direct customers to various pages on your website that will help them learn more about your company and services.

Use Callout Extensions to draw attention to competitive advantages, discounts, and special offers.

A Call Extension is a must if your company generates leads or sells products over the phone. This allows your phone number to appear alongside your adverts. This allows mobile customers to call you immediately from the ad without having to navigate to your website.
Sometimes, when you choose to add Sitelinks extensions, the URL for your landing page might not work. If this happens, go ahead and finish your ad campaign first and go back to this setting.
So, for this step-by-step guide, we'll skip the last part about ad extensions.
Step 6. Set Up The Ad Groups For Your Campaign
We will now set up the ad groups for the campaign.
In a previous version of Google Ads, you are able to select the schedule when your ad will show. This is quite convenient especially if you'd like to catch customers calling you during business hours.

This option used to come right below the "conversions" section.

In the current version, the scheduling feature is not on this part of Google ads campaign creation. Fortunately, this doesn't mean that it's no longer available. You can still schedule your ads when they're already in your Google ads account.
For "ad rotation," we recommend that you select "do not optimize indefinitely" or else Google will make changes in your ad automatically.
Now it's time to set up your ad group. This tells Google which ads to show depending on what people are searching. This means your ad group will depend on the keyword you are targeting.
For this part, let's use the keywords "carpet", "carpet cleaning", and "living room."
To know the best keywords to provide, it would help a lot if you make use of keyword search tools. Down below it gives the option to add a couple of keywords related to the niche.
For carpet cleaners using Google ads, it is good to use keywords like "carpet cleaning services", "carpet cleaning," etc.
Avoid adding too many ad groups unless you want your ads to be too segmented.
You don't want to create separate ads when you can optimize them to target more interests.
The Keyword Math
Knowing which keywords to use and how to use them is a skill in itself. It will help you big time if you know more about it.
If you use it right your Google ads for carpet cleaners have a better shot.
Before you start creating your Google ads, it is important to already have a list of keywords. Make sure your keywords answer these two important questions:
What are you?
What do you sell?
These two questions will help you collect the best keywords for your campaign.
Let's use a company that specializes in carpet cleaning as an example.
What are you?
What do you sell?
Carpet cleaning company
Carpet cleaning business
Carpet cleaners
Residential Carpet cleaner
Commercial carpet cleaner
Carpet cleaning services
Residential Carpet cleaning
Commercial carpet cleaning
The answers to these questions are great keywords. This is what people type in when they are looking for a solution to their problems.
Keywords you ❌SHOULD NOT❌ use or must avoid using:
❌Keywords that does not answer your question
Example:
Carpet cleaners for sale–
you are not selling carpet cleaning tools/accessories

Carpet Cleaning solutions–
still at the initial stage of research
These are research-type keywords. These are inquiries made by someone looking into doing it themselves. It could also be that they haven't made up their mind yet. It is usually not worth spending your money on.
❌competitor names
Unless you are confident that you can steal your competitor's customers, you might just end up getting wrong-number calls.
"Catch-all" Keywords
"Catch-all" keywords are an investment. Since they don't answer what your business is and what you are selling, it may not be profitable to you. It does not answer the two questions, but they ensure that you are not missing any keywords.
Example:
Carpets
Carpet cleaning
If you have money to spare then go ahead and "Catch-all" keywords. If you don't, avoid using it at all.
One way you can improve these keywords is to use them in combination with your location.
Example:
Carpets Los Angeles
Carpet Cleaning Los Angeles
Exact Match Keywords
These are keywords that Google discovered to be an exact (word-for-word) match to what the user googled. Exact keywords can show your ad to clients who are looking for keywords and phrases that are similar to yours.
For example, if your keyword is "carpet cleaners near me" and the person types exactly that in the search bar.
Negative Keywords
These types of keywords prevent specific terms from triggering your ad. To use these keywords, place a "-" sign in front of the term. For example, using "-carpet cleaning education" will keep your ad showing up when someone looks up "carpet cleaning DIY."
Negative keywords are vital when you just want your ad to reach the most likely audience.
Broad Match Modifier
These are the terms Google looks at to see if your ad is acceptable to match for in its exact or close variant form. For this type, you'll need to include a "+" symbol in front of these terms.
When you're done, click "save and continue."
Step 7. Creating Your Google Ads for Carpet Cleaners
After creating your ad group, you can now proceed with creating your ad. In this section, you'll see the ad groups you just set up.
Now, let's start with using the website address for the business. This serves as what we call a landing page. This is where people will go after clicking the ad.
The goal of a landing page is to convert your site visitors into leads or sales. For example, if the goal is to obtain leads, the landing page should enter a form. It can also be a phone number a visitor can call to get in contact with the company.
It is essential that your landing page is engaging enough to make a sale.
Landing Page
Here are the characteristics of a good landing page:
A Clear Call-To-Action (CTA)
Content Sections Segments
Concise Text
Use of Visual Information
Appealing Color Schemes
You can create beautiful landing pages with the help of landing page software. A landing page software gives you the opportunity to create winning landing pages even without any technical knowledge.
Remember, a really good landing page should be goal-oriented, and high-converting.
When you are happy with your landing page, you can proceed with creating the text for your ad.
Headlines
There will be 3 headline options. You can settle with using headline 1 or all three. Make sure to include the keywords and phrases that you came up with within the headline. You can only write up to 30 characters so the text should be attractive and engaging.
Display Path
There will be 2 display path options, you may use just pathway 1 or both of them. The display URLs show the content of where the user will be led if they clicked on the ad.
You can also just leave this part blank.
Description
The 2 description boxes are where you describe the product or service you are promoting. Your description will be a maximum of 90 characters. You can use this as a "Call to Action" to urge your target audience to click on your ad.
Step 8. Finalize Your Google Ads for Carpet Cleaners
Here's the great thing about this part. You can actually see how your finished ad would look on the right side of the screen.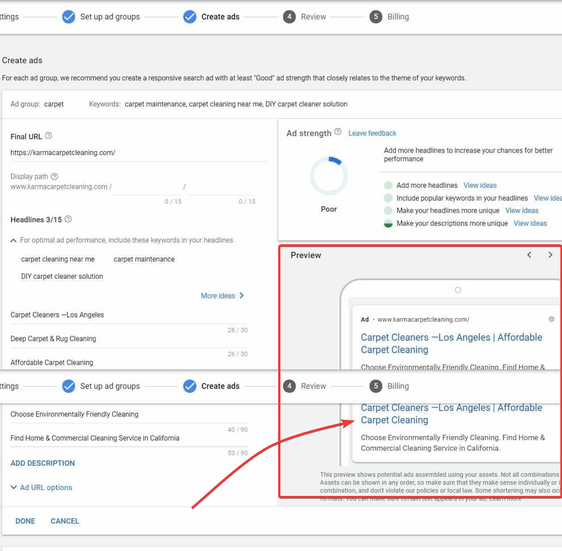 When you are all done with the text for all your ad groups, click on "save and continue."
Read our article on how to create appealing text on your Google ads. Learn about how to make your ads more successful through appealing text.
Step 9. Setting up Payment
Congratulations! You just created your first-ever ad campaign. Now, all that is left to do is confirm your payment information.
Google Ads for Carpet Cleaners
Now that you have created your first Google ads campaign, here are some AdWords tips for carpet cleaning companies.
Choosing the Right Keywords
The keywords you are going to use can determine the success of your Google ads. It is important that you know these important tips:
1. Think Like Your Customers
Make sure that you understand who your target audience is. Put yourself into their shoes when you create your initial list of keywords.
Try to ask yourself what you would likely type into Google if you are looking for carpet cleaners?
2. Study the competition
Make a list of your top competitors and visit their websites to see what keywords they're focusing on.
To help determine the keywords they're targeting, read the content and look at the metatags. Examining your competitors' keywords can not only reveal what you may be overlooking. It will significantly expand your range of possibilities.
3. Understand the long tail keyword
Long-tail keywords are made up of at least three words or phrases. Long-tail keywords actually have smaller search counts. However, they tend to draw more relevant traffic, are less competitive, and are easier to rank for. You can choose long-tail keywords that help you to describe your product or service more precisely.
4. Use keyword research tools
If you're using Google Ads, you can study prospective target keywords using the Google Keyword Planner. Keyword research tools will give you data on:
keyword volume and trends
keyword competition
comparable keywords, etc.
Click on "go to keyword planner." Remember to create your Google ad account. You need this to log in to the keyword planner.
If you have multiple Google Ads accounts, select the one you want to use.
You will then be redirected to your Keyword Planner inside Google Ads.
Click on "Got it."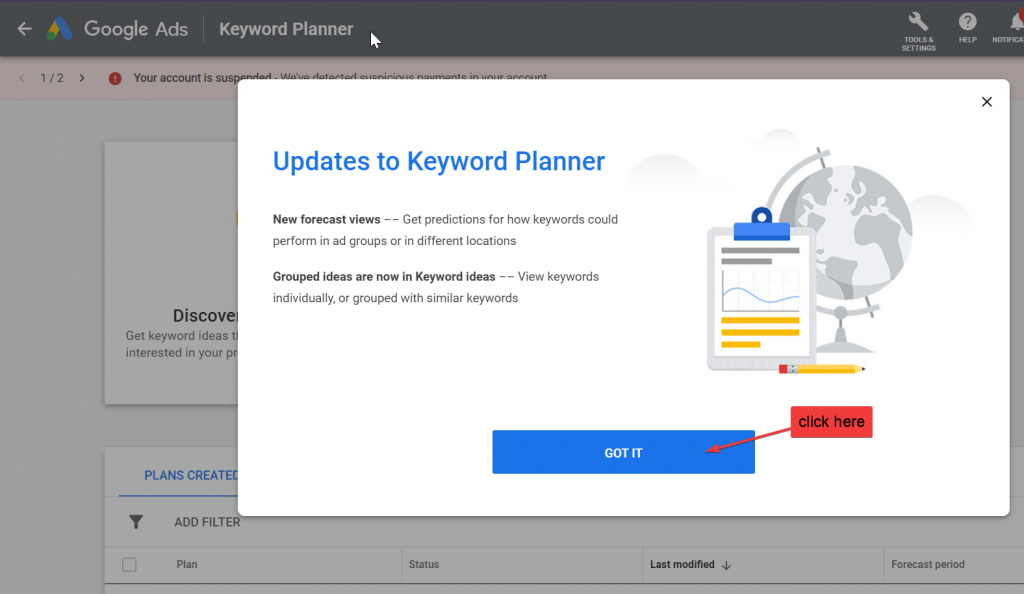 5. Analyze the results
After you've chosen your keywords, keep an eye on them and examine the outcomes. There are frequently trending keywords or phrases, as well as fresh terms used by your competitors.
Remember to use your keywords whenever possible!
Include your keywords in:
blog articles
social media postings
metatags
website content
The more keywords you employ in your writing, the more likely your target audience will find you. This makes it very important to track your keyword rankings.
High-converting Landing Pages
The landing page where you direct your interested audience can make or break a sale. Find out how an appropriate landing page can help with your relevancy and quality score.
Best Landing Page Software
Here are some of our recommended landing page software you can use for your carpet cleaning services.
Instapage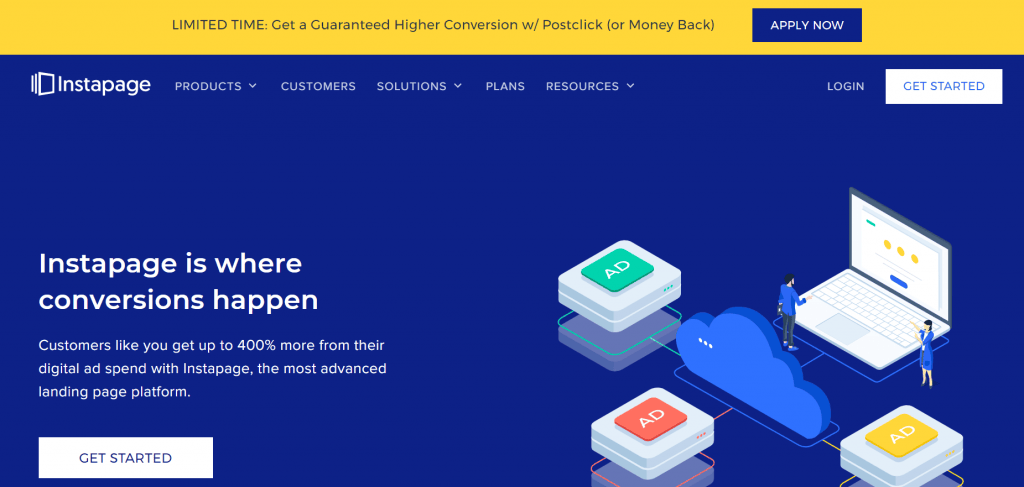 Instapage lets you pick out a preferred template for your landing page. After that, you can easily add the text for each block. Once you are done with the text and images, you can save your work. You can then preview your landing page on your site.
ClickFunnels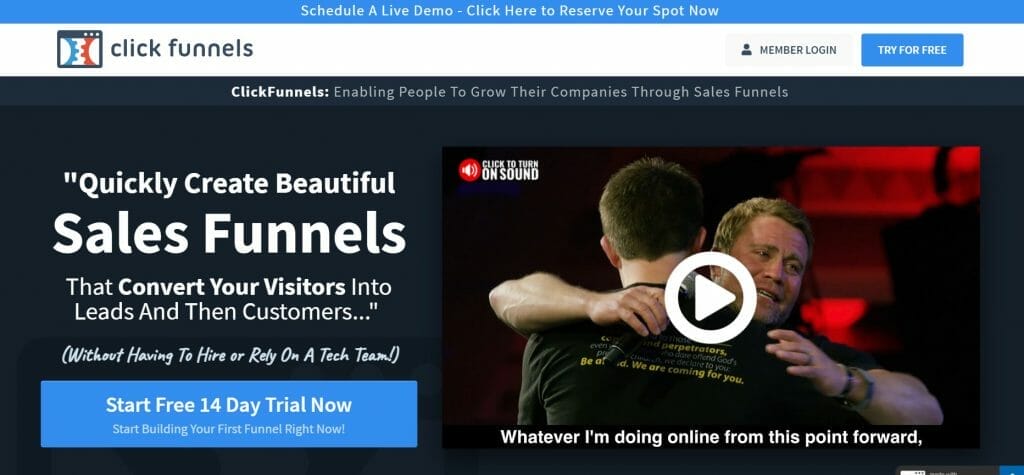 Clickfunnels is a sales funnel software that lets you create series of landing pages. These landing pages will help your visitors to do what you want them to do. ClickFunnels will give you a step-by-step process in creating your sales funnel which can save you time and effort.
Elementor Plugin for WordPress
Elementor is a WordPress plug-in. This makes it really easy for you to create your landing pages. It has 4 different plans which include a free version.
It has dividers, spacers, and a Google map to add to your page.
Click Fraud Protection
Your local competitor for carpet cleaning services might be clicking on your Google Ads. This is called click fraud. This happens when other carpet cleaning businesses intentionally click on your Google Ads. This is a malicious attempt to increase your costs. Talk about sabotage!
One of the common challenges for carpet cleaners using Google Ads is their very own competition. Well, this should be obvious, right?
They know that inflating your Google costs will push you to pause your carpet cleaning advertising.
What can you do?
To protect yourself, you can make use of the following click ad protection software.
Anti Click Fraud Software
Here is the best anti click fraud software:
AppsFlyer
PPC Protect
ClickCease
Adjust
ClickGUARD
Click fraud software detects and even protects against fraudulent clicks on your Google ads or other PPC advertising. Advertisers use these click fraud tools to detect shady efforts, manual or automated, to inflate click numbers on their ads.
Benefits of Google Ads on Professional Carpet Cleaning Businesses
Google Ads works faster than SEO and this is perhaps its topmost benefit. Both SEO and Google Ads are search engine marketing strategies to generate more traffic and leads.
You can also use Google Adwords with Google Analytics. This will help you get a comprehensive insight into how people engage with different websites.
Thanks for reading our post about Google ads for carpet cleaners. Remember that Google Ads can help boost traffic, clicks, and conversions. Aside from that, it is an efficient strategy for carpet cleaning marketing. Audiences will think of you as one of the best carpet cleaners in town.
Do you want to use Google Ads to bring your carpet cleaning services to the next level? Get On A Call With Us Today!