Why Social Media Marketing for Dermatologists?
More and more brands are using social media to promote their business. In fact, based on this report from Buffer, it plays a very important role in every business's marketing strategy. So, if you're one of those practices that don't yet have a social media marketing strategy, you're probably missing out on a lot of potential patients!
Apart from what we've mentioned, here are other reasons why you should consider social media marketing for your practice:
Easier to interact with your target audience
Social media was created to bring people closer to each other. Dermatologists like you will surely benefit from using this platform because you'll get to know more about what other people as well as your patients think about your services through ratings, recommendations, and tagged posts. They can also react to or like your posts, leave a comment, or share your posts on their personal profiles.
That's not even half of what you can get by using social media. On your dermatology clinic's profile, you can post announcements, conduct polls, surveys, and even re-share stories whenever a patient tags you when they give their feedback.
Helps with brand awareness
With over 4.48 billion social media users worldwide, promoting your dermatology clinic on these platforms will surely give your posts lots of clicks and impressions. Since each platform allows you to choose your target audience based on age, gender, interests, and location, it's easier for you to reach out to a specific audience to promote your dermatology services. You just have to use the right strategies (which we'll be sharing with you in a bit).
Helps build trust and credibility
Establishing your dermatology clinic's presence on social media sites like Facebook, Instagram, and LinkedIn is another indicator that your practice is legitimate. But of course, you have to make sure that all the basic details such as your clinic's name, address, and contact details are updated along with your posts.
Still not sure if social media marketing suits your dermatology practice?
How to Start Social Media Marketing for Dermatologists
Step 1: Set your goals
Before jumping right in on the type of posts you're going to share with your potential patients, you first have to identify the goal you want to achieve from your social media marketing efforts. It could be to increase brand awareness, get more leads, bring in additional traffic to your site, or improve customer engagement.
Whatever goal you choose, you have to make it clear at this point so that it'll be easier for you to track results once you already start publishing posts on your social media profiles.
Step 2: Identify your audience
When choosing your target audience, you have to make sure that you're not only focusing on promoting your brand to individuals who are in the buying stage. You also have to consider who is in the awareness and consideration stage. This way, you get to have more chances to get qualified leads to your practice.
In addition with that, the more you get to know who your target audience is, the easier it will be for you to think of the type of posts that they will be interested in. So, make sure to identify who your audience is before you start creating posts.
Step 3: Research your competitors
The next step is doing research about your competitors. In this stage, you're going to evaluate the strategies used by your competitors. This will give you an idea of the gaps they might've missed in addressing individuals who are looking for ways how to improve their skin conditions and also get the gist of the marketing efforts that worked well for them.
Step 4: Create social media profiles
Although your brand shouldn't be on every social media platform, you want to be where your target audience is. To help you decide which platforms to use in your marketing strategy, here are some of the factors that you should consider:
It should be where the majority of your target audience can be found
The type of content you want to share with your audience (e.g. short-form videos -TikTok or Instagram, detailed videos- YouTube, if you want to attach a link to your blog post, you can use Facebook and LinkedIn)
The platform that you're comfortable using
Base it on your patient demographics (e.g. gender, age range, occupation, etc.)
Check out where your competitors are (e.g. Are most of them active on Instagram or Facebook? Do they have LinkedIn company pages?)
Step 5: Plan your content
Based on what you've seen on your competitor's posts, you should have an idea of which kinds of posts worked for them and which ones did not. Using a social media calendar can help you manage the ideas that you are planning to publish and will help you stay on the right track. If you're looking for tools to help you plan your content, Canva and Asana can help you create, plan, and schedule your upcoming social media posts.
Step 6: Track results
Most social media platforms have built-in analytics. That's where you can see the number of impressions you got on your posts, the number of accounts you've reached, the number of engagements received from your followers and non-followers, as well as your follower count. However, you'll only be given limited data that will help you analyze the overall performance of your marketing strategy.
To help you have a better understanding of how effective your posts are when it comes to reaching your marketing goal, some of the social media analytics tools you can use are Google Analytics, Buffer Analyze,  and Zoho Social.
Step 7: Optimize your posts
Once you've analyzed the results of your social media marketing posts. You're probably aware of the areas that need to be improved and maintained. So, keep on applying the strategies that work for your dermatology clinic's social media pages and tweak the areas that need improvement. If you want to test out which of the two variations of your posts works best, do A/B testing.
Does social media marketing sound like a great idea but you don't have time to manage it?
Schedule A Free Strategy Session!
Social Media Marketing Ideas for Dermatologists
Now that you have an idea of how social media marketing works, we'll share with you several ways how to market your dermatology practice on each social media platform.
Instagram
Instagram is one of the leading platforms that is mostly used by brands as well as users who are between the ages of 25-34 years old. This is the most used social media platform when it comes to influencer marketing (where you partner with individuals who have a huge follower count to promote your business) because you can easily tag your posts when you're partnering with brands and promoting their products.
To give you a better understanding of how to use Instagram in promoting your dermatology clinic, here are some ideas that might inspire you:
1. React to viral videos about DIY skin treatments
If you scroll through social media you're going to see lots of DIY skin treatments or skincare hacks that people discover and share with their friends. However, not all of these procedures are proven safe and effective especially if it's not performed by board-certified dermatologists. Some of it might even worsen their skin condition.
As a dermatologist, you want your patients and target audience to be informed of the things they should and shouldn't do when it comes to properly caring for their skin.
In the post below, you can see how the dermatologist reacts to the DIY Dermaplaning that went wrong. Instead of having glass skin, the result made her acne even worse because she didn't consult with a skin expert before doing such measures. The moral lesson of the video is don't try everything that you see online because the damage will cost you more than going to a dermatologist.
View this post on Instagram
View this post on Instagram
2. Hair products that are worth buying
The next marketing idea is by sharing products that you think are worth the price because of their effectiveness. Educational posts like this are helpful in attracting potential patients to your clinic or engaging with your brand because not only is it relevant to the daily lives of your audience but it's also one way of establishing your expertise in the field.
In the example below, you'll notice that the dermatologist added a voice-over while showing the products that her target audience will find useful. She also made a summary of what the reel is all about by writing down the important details in the caption. To make sure that her reel shows up on relevant searches, she used keywords that are related to the content of her video.
View this post on Instagram
3. Tips on how to properly care for one's hair
Apart from creating content about tips on how to care for one's skin, you can also share hair tips with your audience. Here, you can discuss the common hair problems that people face and create a digestible list of how to prevent them from happening.
Like in this example, you can see that the dermatologist used props such as a hairbrush, curling iron, and thinning scissors so that her audience will be able to visualize what her reel is all about. She also added captions in the video itself to add context as well as emojis (in the caption) to emphasize the main points mentioned in the video.
View this post on Instagram
4. Debunking myths in a creative way
Aside from busting myths "the normal way" which is usually done by talking in front of the camera or doing a voice-over, making interactive posts by adding humor helps people remember your brand and retain the information they got from it.
Like in this example, dermatologists joined the trend by using trending audio, using the same actions that people who joined the trend performed, and adding captions so that their audience will get the gist of the video. See how you can keep up with the trends while being relevant.
View this post on Instagram
5. Skincare products that dermatologists can't live without
Since dermatologists are skin experts, they know a lot about the skin care products that shouldn't be left out of a person's daily routine. Make your content interesting by letting your followers know which products dermatologists can't leave without. Since everyone has their own opinion about this matter, creating content that ignites the curiosity of your audience is an effective way of grabbing their attention and improving the engagement rate. of your posts.
In the example below, you'll see that the dermatologist did a quick question-and-answer with her fellow dermatologists on which product is something that they can't live without. It doesn't have to be a long video, as long as the main idea is briefly stated, the shorter video, the better.
View this post on Instagram
Best practices for Instagram
Hashtags help boost the discoverability of your dermatology clinic. The recommended number of hashtags you should use is 3-5 in every post. It could be a variation of these types of hashtags:

Niche hashtags – This refers to what you're specializing in. For example, #dermatologists or #SkinCare
Branded hashtags – This hashtag could be relevant to the products and services offered in your dermatology clinic. Some examples include #DermalFillers, #LaserHairRemoval #Cryotherapy.
Location hashtags – This type of hashtag is used so that whenever someone is searching for a dermatology clinic in your local area, there's a possibility that they'll see your brand. Some examples are #IrvineDermatologists or #DermatologistsIrvine.
Event hashtags – This refers to the hashtags used whenever there's an event that's celebrated at the local, national, or international level. For example, #MothersDay #FourthOfJuly

Instagram Reels have been getting lots of impressions and engagement compared to regular posts. So, to increase your brand's engagement rate here are some of the best practices that you should do:

Blurry videos affect user experience. So, make sure that your reels are made of high-quality videos.
Avoid using watermarks (if the video is posted on your other social media pages beforehand)
Be creative when it comes to transitions.
Running out of ideas on what content to post on your next reel? Do a Q&A and pick from the suggestions from your audience.
Don't forget to add a call-to-action (CTA). For example, "Read more in the caption" or "Save this video for later.
Make sure your reels are filmed in portrait mode.
Add subtitles to your reels.

Having an aesthetic Instagram feed not only makes your profile look visually pleasing but also helps your target audience immediately recognize your posts whenever it shows up on their newsfeed.
Facebook
With over 2 billion active monthly users, posting content on Facebook will surely help you reach tons of prospective patients, increase website traffic, easy to understand audience insights, and a lot more!
1. Greetings for special occasions
Having a humanized brand is important, especially to dermatologists like you. The more approachable your brand is, the more likely your prospective patients are to do business with you. With that, you have to make sure that your posts are relatable and at the same time, help you build a personal connection with your target audience.
One example of humanizing your brand is by posting season's greetings to your audience like this:
2.  Before and after results of skin treatments
Another factor that helps your prospective patients choose you over your competitors is the results of skincare treatments. Because of that, you have to document the before and after each skin treatment (with consent) that you are most proud of and share it on social media so your potential patients can see how competent you are as a dermatologist.
3. Promotional offers
Another social media post idea for your dermatology practice is promotional posts. If you have a limited-time offer or discounts for your new patients, you can also share those kinds of posts to boost the number of patients who visit your clinic.
4. New treatments offered in your dermatology clinic
As years go by, there are lots of new technologies that are being discovered. So, if your dermatology clinic has new treatments or facilities, showcase them to your audience by creating a post about what it looks like and how it works.
Like this:
5. Events participated by your team
You also want to make your target audience informed of the activities or events in which your team has participated in. For example, if your team joined a community service or conducted a seminar on how to properly care for one's skin, creating posts with pictures of your team in action will make your audience feel that apart from being an efficient dermatologist, you also care about the community.
Take a look at the example below. As you can see they've used an image that's relevant to what's written in the caption. They also added a few emojis so that their post won't appear too formal to their audience. Lastly, they've also used the hashtag #allergan so that their post will also appear whenever someone searches for the term #allergan on Facebook.
6. New member of your team
Another way to humanize your brand is by introducing new members of your team to your audience. You want to keep your audience informed whenever there's an additional member to your team because it lets them know of the culture of your company and also shows that you care not just for your patients but also for your staff.
In this example, the post is all about welcoming a new member to a dermatology clinic's team. What's great about this post is that they've added a short background so that their page followers will get to know more about the new addition to the team. They also used relevant hashtags like #Mentorship #AlwaysTeaching #AlwaysLearning as well as a branded hashtag #SFLSkin and industry hashtags which are #ASDS and #ASDSMembers.
7. Behind the scenes (when you get featured on the local news)
There are instances when you get invited to local news or asked to be interviewed on a morning show. Important matters like this should be shared on your social media pages because it adds exposure to your brand and at the same time, it helps build your credibility and expertise in the field of dermatology.
8. Employee appreciation post
From time to time, you have to show how much you appreciate the hard work of your team. This will not only boost their morale, but it will also create a positive impression that your brand genuinely cares about your employees.
Best practices for Facebook
Pin important posts. If you have an ongoing giveaway or promotional offer, so that it doesn't get buried under your recent posts, pin it to your dermatology clinic's profile.
Don't use too many hashtags 2-3 is enough.
Add emojis to emphasize a thought from your caption.
Grab the attention of your target audience by using high-quality images and videos.
Make your captions engaging by adding humor
Add CTA on your captions
Do a live Q&A
TikTok
One of the major benefits that your dermatology practice from marketing TikTok is improving your brand's visibility. Since this platform focuses on short, authentic, and entertaining videos, you have to make sure that the videos that you post here are something that can easily captivate the attention of your target audience.
Here are some TikTok video ideas you can post:
1. Rating skincare products
There are tons of skincare products that easily become viral because they've seen influencers or celebrities use them. However, people should be aware that not all products suit everyone's skin type.
Take a look at this example below where the dermatologist shared insights about skincare products. As you can see, she didn't just simply rate the products mentioned but also shared tidbits of information on why she agrees and doesn't agree with some of it.
2. Calling out "TikTok skin hacks"
In today's time, there are still lots of people who believe in the common misconceptions on how to get clear skin. Some just follow the trend without even checking if it's scientifically proven or not.
Here's an example of how a dermatologist reacts to what most people believe in when it comes to getting clear and smooth skin:
3. Budget-friendly alternatives for pricey skin-care products
Not everyone is willing to splurge money on expensive skin-care products because of that, providing budget-friendly yet effective alternatives to your audience will surely attract potential patients to your dermatology clinic.
Here's an example:
Best Practices for TikTok
Use trending hashtags and audio for your content

Using trending hashtags and audio in your dermatology-related content increase the chance of your videos going viral on this platform. It also increases your chances of showing up on the For You Page which is the first thing that users see whenever they open the app. Just make sure that the audio you're using is relevant to the content you're posting.

Focus on creating full-screen content

Mobile phones provide a better user experience compared to when you're using TikTok on desktops or laptops. So, make sure that your videos have an aspect ratio of 9:16.

Use high-resolution videos
Use captions on your videos

This will make your content more inclusive, especially for those who have a hearing impairment and those who don't speak the same language as yours. There are several ways how you can add captions to your videos. It can be through TikTok's built-in caption feature, using third-party apps, or you can manually adding captions to your videos.
LinkedIn
The majority of LinkedIn users are aged 30-39 years old. It's where individuals stay in touch with their colleagues and connect with business professionals. Aside from that, businesses that are on LinkedIn create a positive impression on your prospective patients as it gives them an idea of
1. Skin Awareness Month
First on the list is posting awareness campaigns about specific skin conditions. These kinds of posts help you build a positive reputation for your brand because you are not only educating your target audience but also showing how concerned you are about their health.
For example, in May there's Skin Cancer Awareness Month. In June, there's Acne Awareness Month October, it's Eczema, and the list goes on.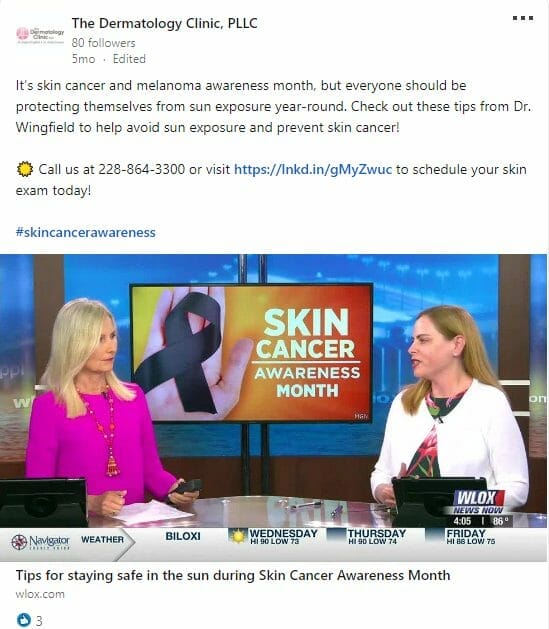 [Source]
2. Patient feedback
Reviews matter to your potential patients. With that, sharing good feedback from your previous patients can greatly help you stand out among your competitors. You could also feature good reviews you got from Yelp, Google My Business, and other review sites.
Something like this:
[Source]
3. Branch expansion
Planning to expand your dermatology clinic to other locations? Share the good news with your audience by posting it on your dermatology clinic's profile! This type of post would be helpful in letting your potential patients know about the expansion of your business and at the same time, it's also a subtle way of telling your audience that you can recommend their newly opened clinic to someone you know that will surely love going to a dermatology clinic.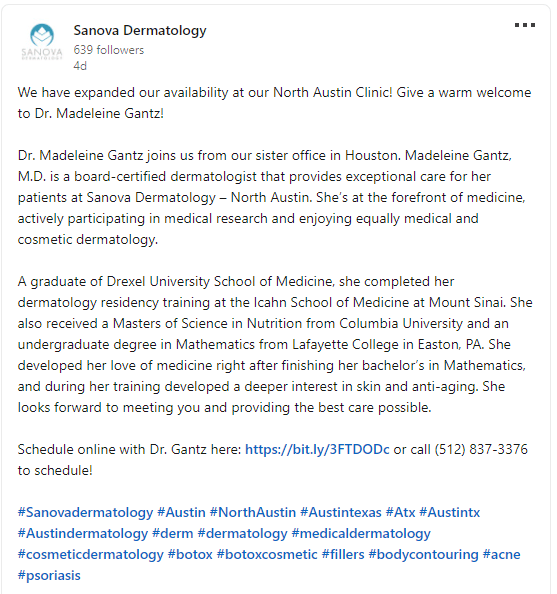 [Source]
4. Staff appreciation post
If one of your dermatologists gets nominated or won an award as one of the best dermatologists in the country, that's definitely something huge that needs to be celebrated! Creating a congratulatory post will not only create a positive image of your brand but also shows that you are proud and appreciate the hard work done by your doctors!
[Source]
5. Milestones reached
If your dermatology clinic has received prestigious awards, you could also share it with your social media followers! Here, you can mention how you wouldn't have done it without the trust and support of your patients toward your brand.
[Source]
Best practices when posting on LinkedIn
Complete your company page information
Use your dermatology clinic's logo as your profile photo
Use relevant keywords in the About Us section 
Post on a weekly basis to increase engagement
Add relevant images to your posts
Use 3 relevant hashtags for your practice
Pinterest
Pinterest is another social media platform that's mainly used to allow users to discover outfit inspirations, recipes, home designs, and more. Its purpose is to connect everyone who has the same interests. Other than that, Pinterest can also be used to promote your brand.
In fact, it's found effective when it comes to getting additional traffic, more leads, and improving brand awareness. To help you get started with your Pinterest marketing strategy, here are some ideas that you can use for dermatology practice:
1. Before and After transformation
When it comes to skincare treatments, they always look at the results. This serves as their basis whether they should engage with your brand or not. So, to increase the chances of getting more new patients to your dermatology clinic, posting a picture of the before and after photos (with the consent of your clients) can be another marketing idea for your brand.
2. Skin-related quotes
Got a tagline for your clinic or have a skin-related quote for your audience? You can also use that strategy to promote your dermatology practice. Just don't forget to add the logo of your clinic on areas that your viewers can see so that if they want to learn more about the services offered in your clinic, they can simply look for you in other platforms or click the link to your website to learn more.
3. Greetings
To reach a wider audience, you can also post greetings on behalf of your team whenever there's a local, or national event that's celebrated by a lot of people.
Take a look at the example below. As you can see the dermatology clinic greeted all of the workers to celebrate labor day. They also used the opportunity to send a thoughtful reminder by telling their audience to always wear sunscreen wherever they go. Gestures like this help build a personal connection with your target audience, so take note of this for your next Pinterest post!
4. Reviews from previous patients
You can also promote your brand through patient testimonials. In the example below, you can see that the dermatology clinic created a visual post out of the review they got from one of their review sites. You can be creative as you can by using suitable fonts, colors, and photos to make testimonials like this as attractive as they can be.
5. When you get featured on local news
Let's say one of your dermatologists got invited to a morning show to share their thoughts as a skin expert. That's something that you can share on Pinterest! Not only will make your audience informed of your appearances on local television but it will also help establish your credibility in the field of dermatology.
Best practices when posting on Pinterest
Recommended aspect ratio: 2:3
Hashtags
Add text overlay on your images/ short clips
don't forget to add a watermark to your dermatology clinic's logo (but don't place it on the lower right because it might get covered by Pinterest icons
For short clips, hook your audience's attention in the first few seconds
The recommended length for organic posts: is 15 seconds and -1 minute
Use a powerful cover image
Need help creating visual content for your dermatology practice's social media posts?
Additional Tips in Marketing your Dermatology Practice on Social Media
Monitor what other people say about your dermatology practice

As someone who runs a dermatology practice,  you want to make sure that you are aware of what most people think about your products and services. Since not all of them tag your brand whenever they share their experiences with your clinic, it's important that you know about their thoughts. This way, you'll have an idea of which areas needs to be improved to provide a better experience to your prospective patients.
Create user-generated content

The more relevant your posts are, the more likely your audience will engage with your dermatology practice. So, to get improve your engagement rate, posting user-generated content will surely help you get more likes, comments, and shares!

Tips for creating user-generated content:

Post shareable content
Use a unique approach. People get easily bored especially if the content they're watching is something that has been done by a lot of people already. Standout among your competitors by posting content that no one has ever thought of before.

Respond to patient feedback/reviews

Among the social media platforms, only Facebook has this review section where previous patients can share their previous experiences with your dermatology practice.
Reshare tagged posts/ stories

Reposting tagged posts or stories from your patients helps build loyal customers to your dermatology clinic. Engaging with your patients gives your audience the impression that your brand has a warm personality meaning, your brand is approachable, and uses a friendly approach to connect with its patients.

There should be a balance between promotional and entertaining posts.

Being on social media doesn't mean you should post anything you want. You have to make sure that all of your posts are aligned with your marketing goal.  Having the right balance of promotional and entertaining posts can help you with that.

Partner with influencers

Other than famous personalities, influencers can help showcase your brand to a brand new audience and at the same time get more new patients to your dermatology clinic. Partnering with influencers who share the same interests and advocacy with your brand can surely help make your brand grow into a successful one.

Post often

Since people spend an average of more than 2 hours per day on social media, content gets easily consumed on social media. With that being said, you have to make sure that you never miss a week without posting relevant content on your dermatology clinic's social media profiles. Using a content calendar can help you follow a schedule of when to post and also give you a heads up of the upcoming events and holidays where you can post promotional and timely posts on your profile.
Wondering how Google Ad campaigns work? Check out our blog post on Google Ads for Dermatologists to learn more.
Key takeaway
Social media is an effective way to improve your dermatology practice's engagement rate, get you lots of impressions, and can also help you get more leads. However, to get the most out of it, you have to make sure that you keep up with the trends so you don't miss out on opportunities to promote your brand. Just follow the tips we've mentioned earlier, and you'll see improvements in your brand's marketing efforts!