Learning how to get your chiropractic clinic ranking on search engines like Google? Want to understand why some websites rank higher than others? SEO or search engine optimization is the answer.
SEO for Chiropractors can help your office become more visible on the search engine results page (SERP). This is useful for all search engines; Google, Yahoo, Bing, etc.
By implementing SEO on your chiropractic website, you can drive traffic to your site and create brand awareness. This will eventually allow you to increase your patient list by organically ranking higher and higher.
To start, you can schedule a free strategy session with SEO experts or you can keep reading for more information.
What is SEO and how do you do it?
SEO is the practice of implementing techniques and strategies to organically rank (meaning no paid ads) on the search engine results page. In other words, making your site the best it can be for viewers and search engines. It all involves research to understand what will be best for your business.
The 3 types of SEO that can help any site get found on the SERP are the following:
On-page SEO
Off-page SEO
Technical SEO
Working on these allows Google to know how to rank your chiropractic site accordingly. It also lets other search engines know too. You do not have to separately optimize for each search engine.
Benefits of SEO for Chiropractors
One of the main benefits of implementing SEO for chiropractors is that it is free, unlike Google or Facebook ads. You are able to add techniques and strategies to your site and off your site to help your rankings without needing to spend money. However, you will need to spend time to properly understand and implement.
If your time is too valuable to spend learning SEO, we can do all the work for you!
On-page SEO for your Chiropractic Site: Content on your Website
On-page SEO means optimizing things on your website to rank high on search engines. This includes:
Loading speed/time
Keywords
URL structure
Image Alt-tags
Meta descriptions
Internal and outbound links
These 5 on-page SEO techniques are ways to help your website's performance on Google.
Loading Speed
The loading speed aspect refers to how fast your website loads. It must load fast, or you will miss out on traffic from viewers. 1 in 4 searchers will exit a website that takes longer than 4 seconds to load. Keep in mind that you can be deterring viewers by having slow pages.
GTmetrix and Pingdom are great sites to check the loading speed of your chiropractic website. It will let you know of any issues.
If your website is not performing as well as you want, you must check the image sizes on your site. This is usually the culprit for a slow site. You should compress all images on your site by using a plugin or other tool to help.
Autoptimize and Smush are simple WordPress plugins that will allow you to decrease the loading time.
Keywords
Keywords, or words/phrases you would like to rank for, are super important in SEO. These must be researched and planned to do well.
There are also long-tail keywords, which mean longer phrases you would like to rank for. Examples of these can be "arthritis treatment Irvine" or "how to fix shoulder and elbow pain."
As for chiropractic SEO, it is best to target keywords that have to do with your services. These can be words that express either research or buying intent. This means that the searcher is intending to find an answer (research) or make a purchase.
Typically, research keywords will not give you a high return on patients, but they still may be useful to you. If you target these types of keywords in your website through blog posts or FAQs, you can consistently answer people's questions which will lead them to trust you and possibly book an appointment.
With buying intent keywords, these searchers want to complete a purchase/action. This means you can receive patients from these keywords more quickly.
Examples would be "chiropractor for scoliosis Irvine" or "where to find chiropractic treatment for fibromyalgia." These are the high-value keywords. They are much harder to rank but are worth more.
It is best to not jam in a ton of keywords into one blog post or FAQ. Use them as necessary.
How to do manual keyword research for chiropractors:
On your preferred search engine, type the keyword that you want to rank for. Let's say you want to see the type of content that ranks the keyword "chiropractor for knee pain."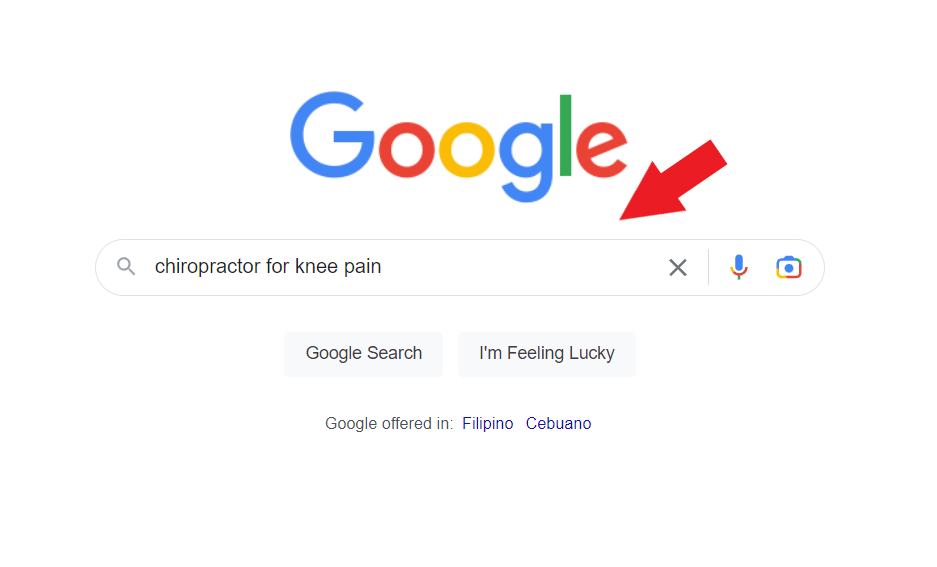 Then, visit each post from your competitors (based on the search results page).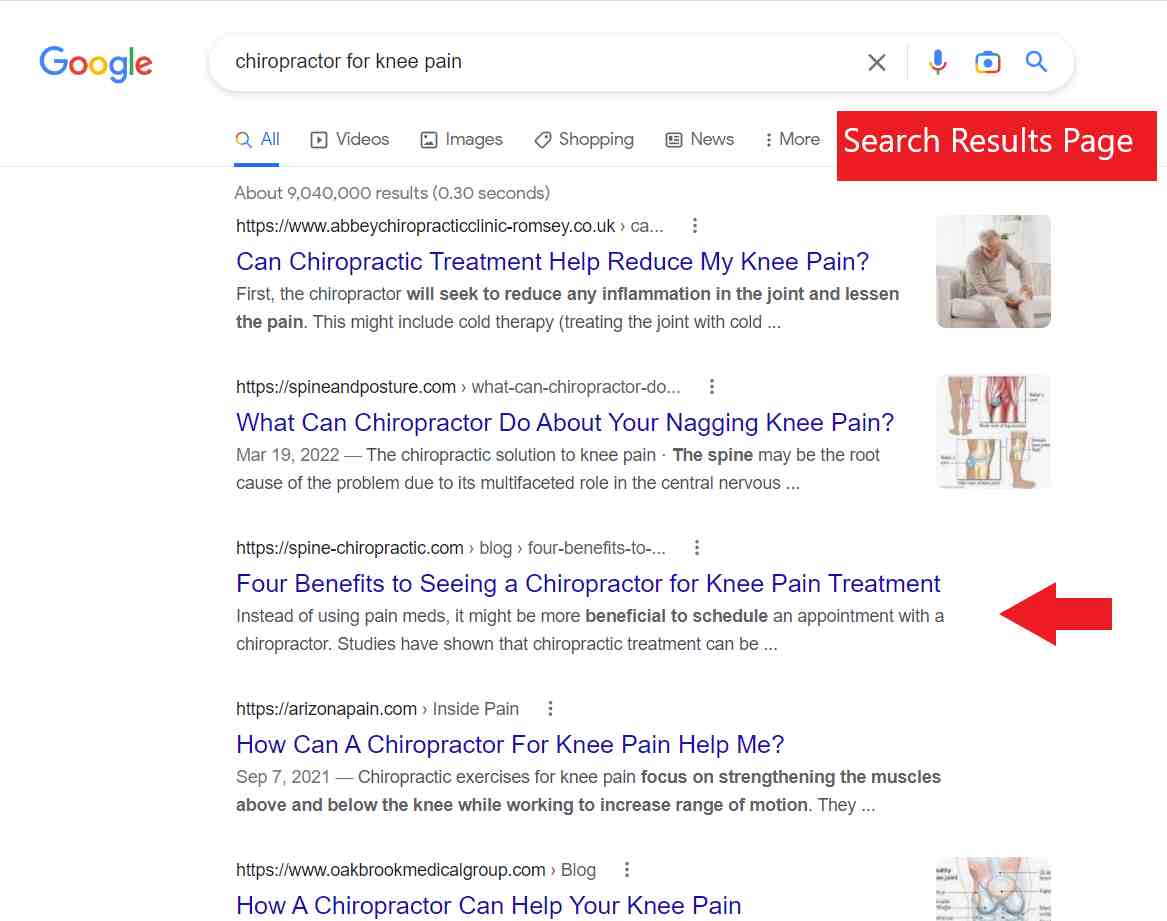 While checking the content for each post, press Ctrl+F. A tiny rectangular box will show up on the upper right corner of the page. That's where you can enter the keyword that you want to search for on your competitor's post.
For example, you want to know how many times the phrase "chiropractor for knee pain" was used.
This will give you an idea of the number of times a specific keyword was used on your competitor's blog posts along with the strategic places (e.g. headings or at the beginning of the content) to add your keywords and other variations which will be helpful when you create your future posts.
URL Structure
The URL structure is another determining factor in your site's success with SEO. It is recommended to keep your URLs short and concise while including your keywords. These are words you would like to show up for in the SERP.
It is best to keep them as close to the URL root as possible. An example of this can be lower back pain or knee pain.
To start editing your URLs, you should:
Get straight to the point (keyword)
Delete any punctuation
Delete dates
Delete unnecessary words like "the" or "a"
Example URLs:
chiropractor.com/services/symptoms-and-disorders/arthritis
chiropractor.com/symptoms-and-disorders/arthritis
chiropractor.com/arthritis
As the list goes on the URL becomes shorter. These are examples of how it may be set up on your or another chiropractor's site. By the separation of slashes, it means these are separate pages.
If you do not have an entire list of symptoms and disorders, then there is no need to create a page for it. If you specialize in arthritis care, then your URL structure should look like the third example. Any service that you specialize in or that is important to your practice should have its own separate page instead of being found under symptoms and disorders or services.
Image Alt-tags
Image alt-tags are an accessibility feature that helps the visually impaired. It allows you to include a description of any images you include on your site. Not only is this helpful and makes your site more accessible, but it can also help with SEO.
You can offer context to your images which allows search engines to understand them.  This will lead Google's bots to crawl your chiropractic site more efficiently.

Meta Descriptions
Meta descriptions are the captions below a title in the SERP that offers information about the website or page.
This appears anytime you show up in a search for something, so it must be eye-catching. This is another chance to grab a searcher's attention, so include relevant information and keywords. Every single page and post on your site needs a meta description.
With your homepage, you can include keywords about your services and location. Tell people about what you do and how long you have been doing it.
You can include testimonials or chiropractic awards you have won as well. Keywords for your services page should be all services you offer and any important details about your care specifically.
Internal and Outbound Links
Internal and outbound links add value to pages on your site. You are showing Google that these may be trusted and serve as a vote of confidence in whatever you link to. Internal links are links back to other pages on your site. Outbound links are links to other websites.
These are super important to use because you are offering readers and Google more information about whatever it is you wrote about. This allows you to rank higher in the SERP.
You should only use internal links to offer more context, and not just randomly link to other pages on your website. Only add when you believe it will further the understanding of the viewers.
An example of this would be adding a link to the address and booking information in a blog post announcing a new location for chiropractic services.
It is a perfect example of internal linking because it offers the reader more information on the contact information to book an appointment.
As for outbound links, they are equally important. This shows Google there is a connection between your site and the one you are linking to. Therefore, it is recommended to link to websites that are trusted, well-known, and relevant to the chiropractic industry.
Is on-page SEO too much to set up on your own?
Learn more about how page speed can impact your chiropractor site performance.
Off-page SEO
Off-page SEO for chiropractors includes:
Backlinks
Google My Business
Citations
Social Media
These are all things you can work on outside of your site to perform better in the SERP.
Backlinks
As mentioned earlier, links are very important in SEO. Backlinks are links back to your site and show Google that others trust your site and content. It is super important to obtain quality backlinks from other trusted sites in your industry or from a local news publication.
Quality links mean that spending money on sketchy link-building sites is not the way to go. Since this is an SEO for chiropractors guide, it is best to do outreach and ask for others who are practicing at your chiropractic office for links on their websites.
You can check where you are obtaining backlinks from on Ahrefs Backlink Checker.
Google My Business (Profile and Reviews)
To increase your brand awareness and digital presence, you should create a Google My Business account. This is another chance to add your business's information on Google such as contact info, address, and more.
By creating this account, you are more likely to get found and bring in potential clients.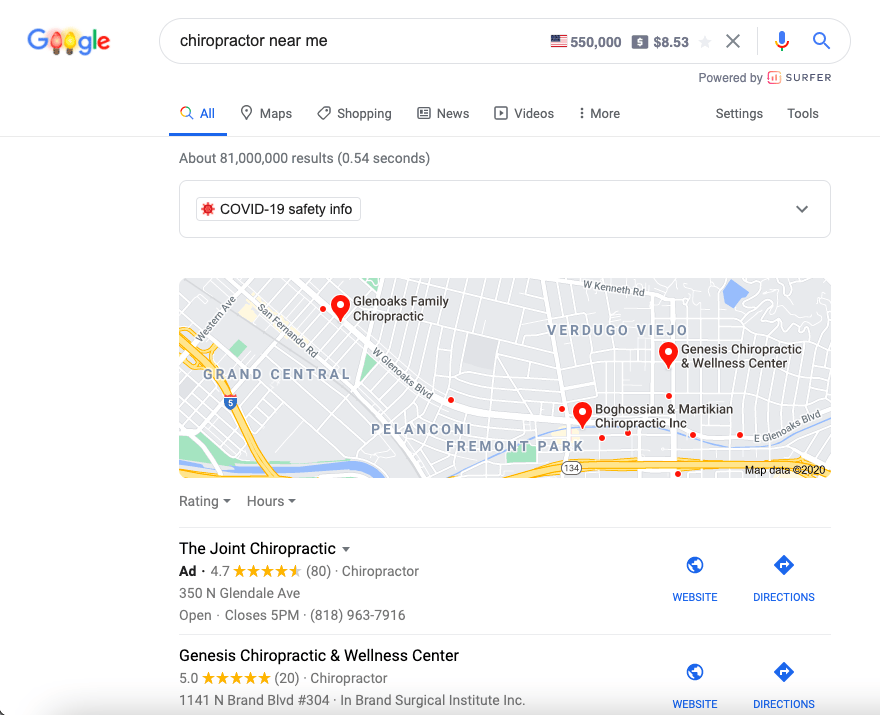 While searching for "chiropractor near me," Google Maps suggestions show up first with information from Google My Business. This can be your practice of showing up first to all locals who search.
There are reviews and a questions/answers section on each profile.
It is best to respond to every review and question asked. Even questions that can be answered from your profile or website still should be answered. This shows that you care about prospective patients.
With reviews, you should respond to all of them. Bad reviews should have a response to let others know that you value customer feedback. You can also respond to all the nice reviews to let them know that you are happy that patients were satisfied with their care.
While you don't have control over what your reviewers write about, you can control what you write in your responses. Inserting relevant SEO chiropractic keywords into your responses will rank your clinic higher on the google map pack.
You can always ask your patients to leave reviews on Google. You can even include a section on your website that links to your Google My Business profile so they can leave a review.
If you want to appear in more Google searches, use PPC for chiro practices.
Citations
Citations/online directories are another place outside of your website where you can let others know about your practice. This will give you more links and reach other audiences. Citations are websites like Yellow Pages, Yelp, and LinkedIn.
One way to determine which online directories may be worth it is by checking where your competitors are registered. You can check their sites on the Ahrefs backlinks checker and scroll through to see which directories they are on. Then you can register for each one.
Another citation you should register for is Apple Maps. You have to have an Apple ID to set it up and then input all of your practice's information.
Will search engine optimization competitor research take up too much of your time?
Social Media: Another Form of Online Marketing
It is key for businesses to have social media accounts, even chiropractic offices. This allows you to offer social proof of your services to people. It will let others know that you are trusted.
People love to see before and after photos/videos as well as progress videos. For chiropractors especially, people love seeing videos of services. It would be very beneficial to use a social media platform that allows you to post videos.
Instagram, Facebook, TikTok, and YouTube are all great choices. You can repurpose your content across all these platforms.
If you create a longer video on YouTube, you can shorten parts of it to create a TikTok video or Reel on Instagram. Or if you create TikTok videos, you can create a compilation of them for YouTube.
You can also implement your keyword research into these chiropractor social media apps through hashtags. Search engine optimization also extends to these apps as well.

Technical SEO
The third part of SEO is the technical aspect. This focuses on optimization for the search engine's bots that crawl your website. Google Search Console can be very important in this side of SEO.
On Google Search Console you can submit the URLs of your website's pages so Google can index them. It will let you know if there are any issues with your site and what you need to improve on.
You can also submit an XML sitemap that allows Google to understand your site better. It will let the bots know where your content is located.
If you have a WordPress site there are many plugins that make using an XML sitemap easy, like Yoast.
There is a lot more that goes into technical SEO, like 404 pages and canonical URLs. However, there should be a lot of research that goes into these techniques.
Recap of SEO for Chiropractors
SEO is not a one-time set-it-and-forget-it strategy. It is something you must continue to work on and monitor. Rankings fluctuate so it is important to notice what works and what doesn't work.
On-page SEO consists of your loading speed, URL structure, meta descriptions, image alt-tags, and internal and outbound links. For your off-page SEO, you should try to obtain quality backlinks and sign up for citations/online directories like Google My Business and Apple Maps. As for the technical aspect, you can request indexing on Google Search Console to allow the bots to crawl your site.
You should start optimizing your site today to become visible to potential patients.
Don't have the time to start and maintain?