Online reviews play a huge role in every veterinary practice. It's one of the factors that pet owners consider in choosing a vet clinic. If people see that there are no reviews from your previous clients, they will surely think twice before trusting your brand.
In this blog post, we'll share with you the importance of getting reviews for your practice along with some tips on how to get reviews for veterinarians!
Importance of getting reviews
Looking at your client's perspective, when you first encounter a veterinary clinic's website, before setting an appointment, you want to look at what other people say about their services, right? It's because consumers consider reviews as an important factor in their purchasing decisions.
But, aside from that, here are three reasons why reviews matter to your veterinary business.
1. It makes your veterinary practice trustworthy
Reviews build trust with your target audience. When people see that there are a lot of people saying good things about your brand, it gives them an impression that you are providing high-quality services to your clients. It's also something that gives your potential clients assurance that their pets are in good hands which in return, attracts more new clients to your clinic.
2. It helps improve client satisfaction
Through client feedback, you get to know whether your veterinary services satisfy the needs and expectations of your clients. The review section gives you an idea of the areas that need improvement in your vet practice.
For example, if you noticed that most of the reviews you're getting are complaints about the frequent missed calls when setting an appointment during office hours, you can remind your front desk of the importance of picking up calls right away. Maybe even implement some call monitoring in your practice to hold the front desk accountable.
3. It shapes your online reputation
Reviews are very influential on consumers. When they see that your veterinary clinic's profile has tons of good reviews and high ratings, the more likely it is for them to choose your business over your competitors.
With that, you have to make sure to monitor the reviews you're getting across all platforms. This way people won't have a negative impression of your brand (especially if you have a few negative reviews).
A lot of pet owners are scared of asking for reviews. What they need to realize is that reviews don't have to be all 5-star positive, occasional negative reviews actually can make it look more realistic. And your responses to irrational negative reviews often help sway potential clients to your side.
Need help improving the reputation of your veterinary clinic?
Schedule A Free Strategy Session
Tips on How to Get Reviews for Veterinarians
Tip #1 Claim your business listing
The first tip to get more reviews is to claim a business listing for your veterinary clinic. This makes it easier for your clients to find your veterinary business aside from Google Ad campaigns. Not only does it help increase the chances of you showing up on relevant search results, but it also boosts your brand's credibility, as well as the confidence of your potential clients to engage with your brand.
Here are the top 2 business listing platforms where you can get your vet clinic listed:
1. Google My Business
Google My Business is one of the popular business listing tools that integrate your veterinary business into Google Maps. Creating a Business profile allows your potential clients to get to know more about your brand. In just a few clicks, they can easily get the direction to your clinic, set an appointment, or read reviews.
Need help creating your vet clinic's business profile?
2. Yelp
Yelp is another online business listing tool that allows users to find local businesses, schedule an appointment, and leave a review. Here, your potential customers can sort out search results based on the most recommended, highest ratings, or highest number of reviews. So, make sure to gather as many reviews as you can to increase the chances of you ranking on top of these sorted-out search results.
Facebook
Facebook is a social media platform that has a built-in feature that allows users to leave a review and recommend businesses that they recently engaged with. There's a section on Facebook where your potential clients can see recommendations and reviews from your previous clients. So, make sure to provide top-notch services to earn lots of good recommendations from your clients.
Tip #2 Simplify the process
Most people will not leave a review if they feel that the process is time-consuming or if they think the steps are way too complicated. However, providing a review link makes it much easier for them to leave a review. All they have to do is type in or copy the URL of your review site and your clients will be directed to your veterinary clinic's review site,
If you already have a Google My Business listing, here's how to get the link for your Business profile:
Go to your dashboard and scroll down till you see "Get more reviews"
Select the "share review form" button.
Then, copy the review link for your veterinary clinic's Google My Business profile.

You can attach this link on receipts, review request emails, and also on your business cards! There are options where you can automatically share it such as Facebook, Whatsapp, Twitter, or via email.
Tip #3 Use QR codes
Looking for another way to make it easier for your clients to leave a review? Try generating a QR code for your review site! Here, all you have to do is ask your clients to scan the code using their mobile phones and they'll be automatically redirected to your veterinary clinic's review site.
This is very helpful, especially for your clients who have a tight schedule or are too busy to do extra steps (such as typing the URL of your review site or searching you up on Google) just to post feedback about your veterinary services.
Benefits of using QR codes for your veterinary practice:
It makes life easier.

There's no need for your clients to write down your website's URL address, phone number, social media pages, etc. One quick scan and they can quickly leave a review on your veterinary clinic's business listing or Facebook page.

Results are measurable.

You could also track its performance through dynamic QR codes. With the use of dynamic QR codes, you can gather useful data such as the number of scans, the operating system, the location used in scanning your QR code, and more!
If you're looking for websites where you can generate free QR codes, check out QR code monkey. It allows you to choose the type of content you want to link your QR code with (e.g. your veterinary clinic's social media pages, email address, location, website, etc.). You could also customize it (e.g. add a logo of your brand) and download it in different image files (e.g. .png, .svg, .pdf, etc.).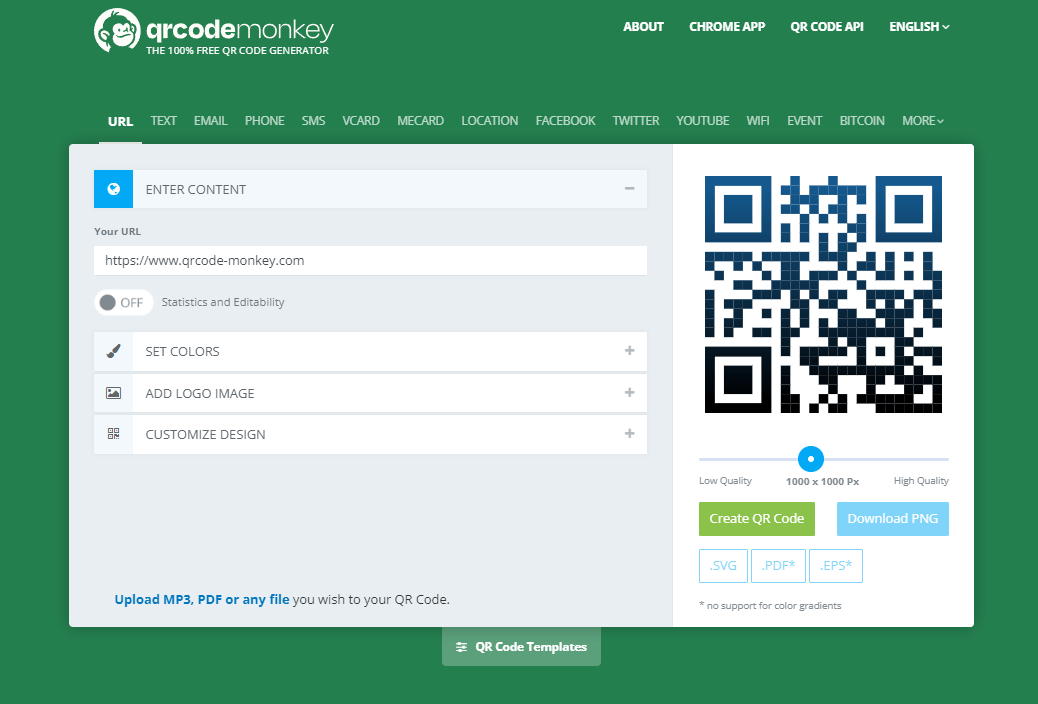 Tip 4# Post signage on how to leave a review veterinary clinic
Another tip for you to get more reviews is to place your printed media (e.g. QR code for leaving a review) in areas that are accessible to your clients. It could be on your front desk, near the exit, on your bulletin board, or television screen. This way, whenever your clients wander around your clinic, they'll be reminded of leaving a review for your veterinary clinic.
Just remember to add a sentence like "leave us a review" or explain the procedure on how to use it to inform your clients about what will happen after scanning your QR code, so that they will not have doubts that scanning the QR code will bring them to fishy websites.
Like this example:
Tip #5  Respond to reviews
No matter how good or bad the review is, always make time to respond.
According to a survey, 30% of consumers set an impression about a business based on how business owners respond to client reviews. With that, you have to make sure to maintain a sense of professionalism in every reply you send because if you act irrationally after reading a negative review, it might ruin your veterinary clinic's reputation.
Best practices in responding to positive reviews:
Respond as soon as you can.
Express your gratitude to clients who leave good reviews.
Encourage your clients to take action (e.g. visit your clinic the next time they have concerns about their pets or refer a friend)
Keep your response short but personal (mention the name of the client)
Share it on your social media pages.
Here's an example of a business owner responding to a positive review from a client:
Sample template:
Thank you so much [name of your client] for the AWESOME review! We're truly grateful for your kind words and soo happy to provide the best possible [veterinary service provided] we can for your [pet]. I have relayed this review to the team, and we can't wait to see you at your pet's next check-up!
How to deal with negative reviews:
You can't expect a business to have all good reviews only. There's always a mix of positive and negative reviews.
However, this is something that you shouldn't ignore because 94% of consumers avoid businesses that have negative reviews. So, if you noticed that you are having a few bad reviews on your veterinary clinic's profile, here are some tips on how to handle it:
Check to see if the review is from one of your previous clients 

Check your list of clients. If you can't find them on your list:

Read Google's Policy.
If you think that it applies to the review posted on your Business profile, click the three dots beside the review followed by the flag icon, then select "report."

If it's confirmed that it's from one of your previous clients, here's what you can do:

Acknowledge the complaint 

No matter how horrible the review is, make sure to stay calm because escalating the concern of that client will only harm your veterinary clinic's reputation.
Start your response with a  phrase that says something like "Dear, [name of the reviewer], thank you for bringing this to our attention."

Empathize

Make them feel heard. This makes them feel that you're willing to resolve their issues. Say something like "We're sorry you had a bad experience. We are looking into this issue and hope to resolve it promptly."

Be responsible

Explain the situation of why the event occurred and provide details on how they can reach you and take an action. Say something like "We would like the opportunity to talk and investigate your feedback further. You may reach us whenever you're available at [Email Address] or [Phone Number]"

Discuss it offline

If you're already conversing online but still, the client is enraged about his or her experience, discuss it offline or make it up to that client by offering a discount or voucher on their next visit. This will give them the impression that you are willing to compensate them with the quality of veterinary services they've experienced towards your brand earlier.

Gather lots of good reviews

If you did everything you can to make it up to them, yet the client still hasn't changed the review given to your veterinary clinic, the next step you can do is to bury those negative reviews with good ones. Improve the quality of services you are offering and don't forget to personally ask your clients (especially the ones who are really satisfied with your veterinary services) and remind your receptionist to tell them once again to leave a review before they leave your clinic.
Here's a good example of dealing with negative reviews:
Here's a sample template:
Dear [name of your client], thank you for sharing your feedback. We're sorry for not meeting your expectations. We'd love to know what caused that so we can provide you with a better experience the next time you visit your veterinary clinic. You may reach us anytime at [Your clinic's email address] or [your clinic's phone number].
Tip #6  Message for follow-up
If a few days or weeks have already passed and you noticed that there are no reviews that came from your previous clients, they might've completely forgotten about it. So, try reaching out to your clients via e-mail or send a text message until you receive a reply from them.
Taking time to ask your previous clients if they are satisfied with your vet services is important in building a trustworthy relationship and encourages them to engage with your brand in the future.
Here's a sample template for you in sending follow-up messages:
Hi [client name]!
Thank you for choosing [Name of your veterinary clinic]! As one of our new clients, we'd love to hear about your experience. Here's the link where you can leave your review [attach the link to the review site].
Note: Remember to personalize your message, this way, they'll know that they play an important role in your veterinary center's success and that you really know your clients no matter how many of them you encounter on a daily basis.
Tip #7 Share good reviews on your social media pages
Showcasing your online reviews also helps widen the reach of your veterinary practice.
For example, if one of your clients mentioned or tagged you in one of their posts or stories, re-share it on your social media profiles. You could also take a screenshot from one of the best Google reviews you got and share it on social media! This gesture will encourage existing and potential clients to engage with your brand knowing that you appreciate the effort of pet owners mentioning your vet clinic on their social media accounts.
Here's an example:
When people see that you're getting lots of good words from your previous clients and see that you are regularly monitoring all the reviews you get, it could also become a turning point where they choose your clinic over your competitors! So, make sure to share some of the positive reviews you get across all of the social media platforms you have.
Tip #8 Use automation tools
Gathering reviews can be time-consuming, especially if you have a long list of clients who haven't left a review yet. But with the use of automation tools like Birdeye or Podium, the task becomes easier, faster, and more efficient in terms of gathering reviews for your veterinary clinic.
Aside from that, it also strengthens the online reputation of your veterinary clinic, keeping you updated whenever there's a new review posted on your Business profile or social media pages.
However, nothing beats directly asking your clients for reviews. Want to know what other tools you can use in marketing your vet services? Check out our blog post on Digital Marketing Tools for Veterinarians to learn more.
Tip #9 Train your receptionist
Since receptionists are the primary contact between veterinarians and clients, you can use their skills to encourage your clients to leave a review after their appointment. You just have to create a  script and train your receptionist on how to successfully do it.
Here are some tips that your receptionist can use when asking for reviews:
Establish rapport.
Be polite.
Keep it short but simple.
Explain why your vet clinic needs the review.
Guide your clients on the process of leaving reviews.
Tip #10 Be consistent in asking for reviews
Most customers do need to be asked to leave a review for your veterinary practice. Because once they leave your clinic, there is a high possibility that they will also forget to leave a review about their experience as pet owners.
With that being said, you have to make it a habit of asking your clients right after the service is performed, to leave a review about their experience with your veterinary clinic.
Need help with your digital marketing strategy? Our team is here to help.
Key takeaway
Reviews play a crucial role in every business. It serves as social proof of how efficient you are as a veterinarian. It may be hard to gather reviews at first, but with the right strategies and tips we've mentioned earlier, the number of reviews you get will surely increase in no time!