When people are looking for services like dental clinics, chances are the first place they search is Google. Google My Business allows businesses to manage their online presence across Google Maps and Search. It can help customers find important information about your dental clinic. Reviews play a significant role in your Google My Business. Reviews show what customers think about your business, they help improve your SEO and increase sales. This guide will teach you how to create an effective Google My Business account to turn more visitors into actual patients for your clinic.
What is Google My Business?
Google My Business is your practice's business listing in the Google database. Google My Business accounts list information about your practice. This information includes name, phone number, address, reviews, and hours. It will also show where your business is on a map.
The reviews on your Google My Business for Dentists give your dental clinic more credibility. Business reviews appear next to your Business Profile in Maps and Search. The reviews on Google provide you and your customer's valuable information about your dental clinic.
Below are examples of some Google My Business results when searching for dentists in LA: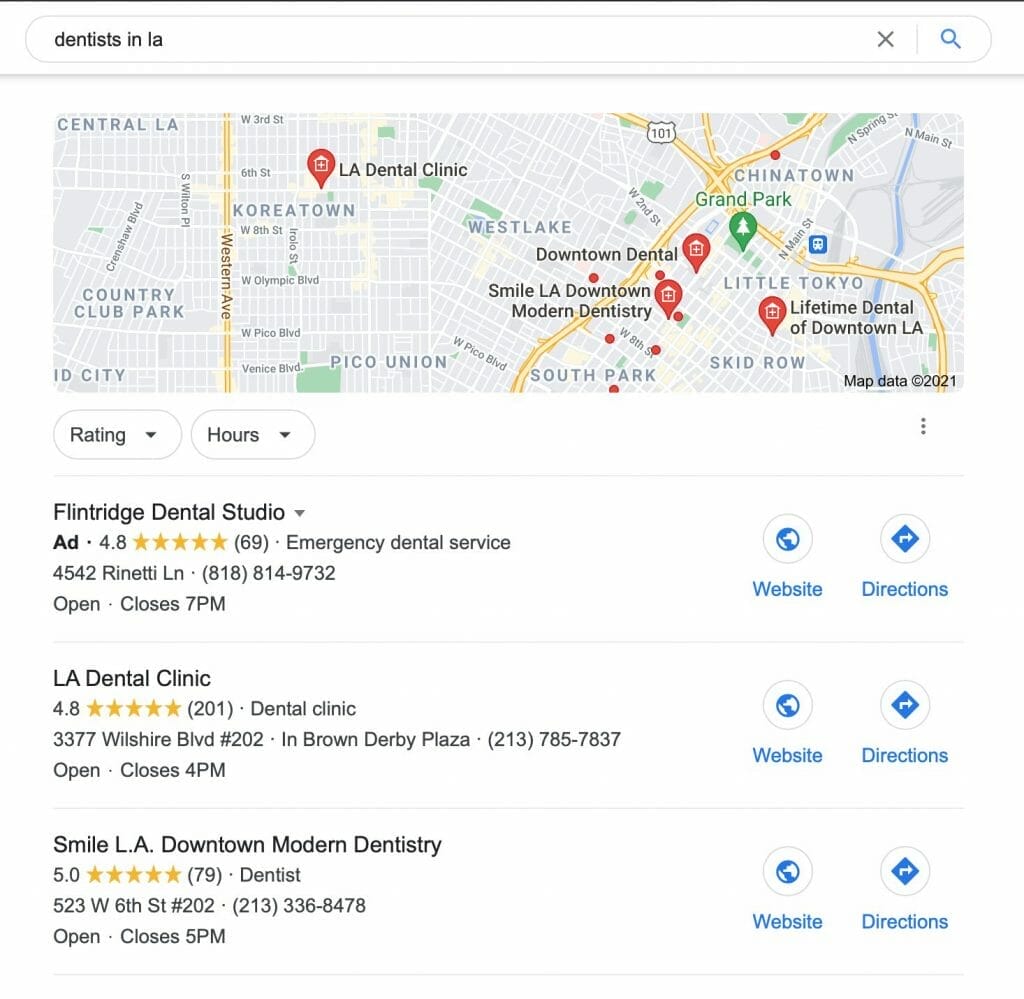 Want to learn about Google Ads for your dentist, learn more
Why Google My Business for Dentists?
Google My Business allows people to find out about your business. It will increase traffic and sales for your dental practice. Google My Business works to increase your local ranking which leads to more patients which leads to an increase in your revenue. It also works to increase your website views and helps you stand out against competitors.
In Google My Business, you want to enter your business hours, add an online schedule, and verify your location. These factors make it easier for patients to find your location. Doing Google My Business (GMB) right will allow you to show up when users search for the Keywords "dentists in Los Angeles."
Your Google My Business listing is a great way to advertise your practice's patient reviews and social proof to potential patients. This will give patients an incentive to choose your dental clinic over your competitors.
Does Google My Business for Dentists sound like a great idea but you don't have time?
How To Create A Google My Business Account For Your Dental Clinic
Log into your personal Google account in order to access your Google My Business account.
Go to Google My Business and click Manage Now.
Then, enter your business name to claim it. If you can not find your dental clinic then click on "add your business to google" in blue font.
Claiming your dental practice on Google Maps will make your practice look more official and credible on Google. Your business is also more likely to be seen by patients when claimed and verified.
Creating Your Profile
You will then work on creating your Google My Business for Dentists profile.
To start building your dental practice portfolio, you will first enter your business name and your business category.
Before selecting your business category, you should research your competitors to find the most accurate category for your business. You should pick the category that is most relevant for your clinic.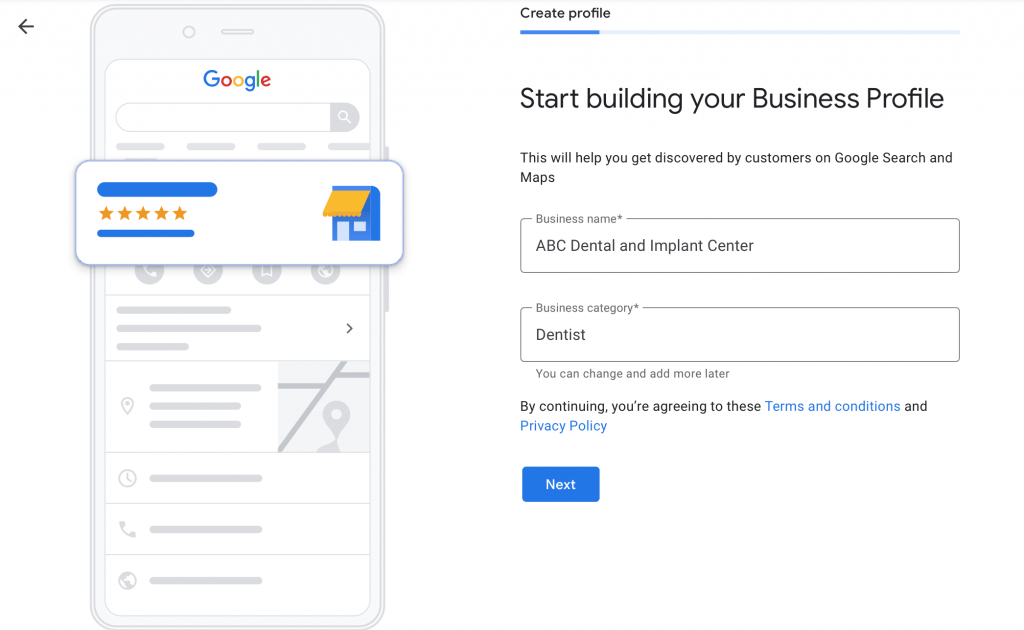 Second, you will be asked if you want to enter a location where patients can visit, select yes. Then enter the address of your dental practice. This location will show up on Google Maps and Search when customers are looking for businesses like yours. This will make it easier for patients to visit your office.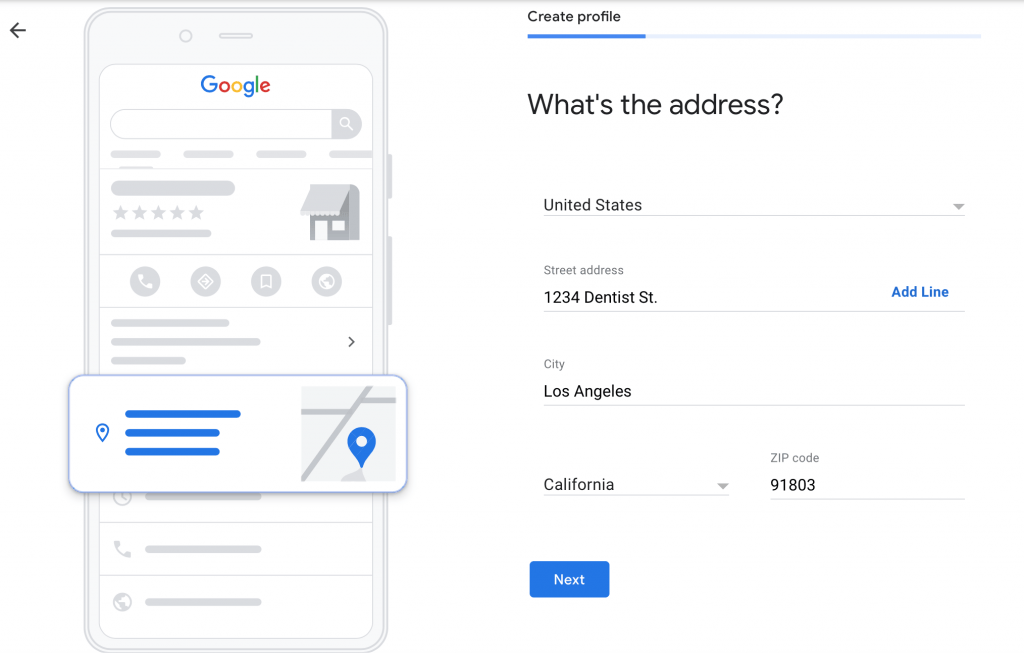 Then, Google may detect that your business might already have a Business Profile on Google Search or Maps. If you see your business in the list provided, select it. If not, choose "None of these." Google may ask you to mark where your business is located on a map.
Then Google My Business will ask you if you provide deliveries or home and office visits?
Select No. This means if you visit or deliver to your customers, you can notify them of the distance you are willing to go. However, most dental practices don't perform home visits.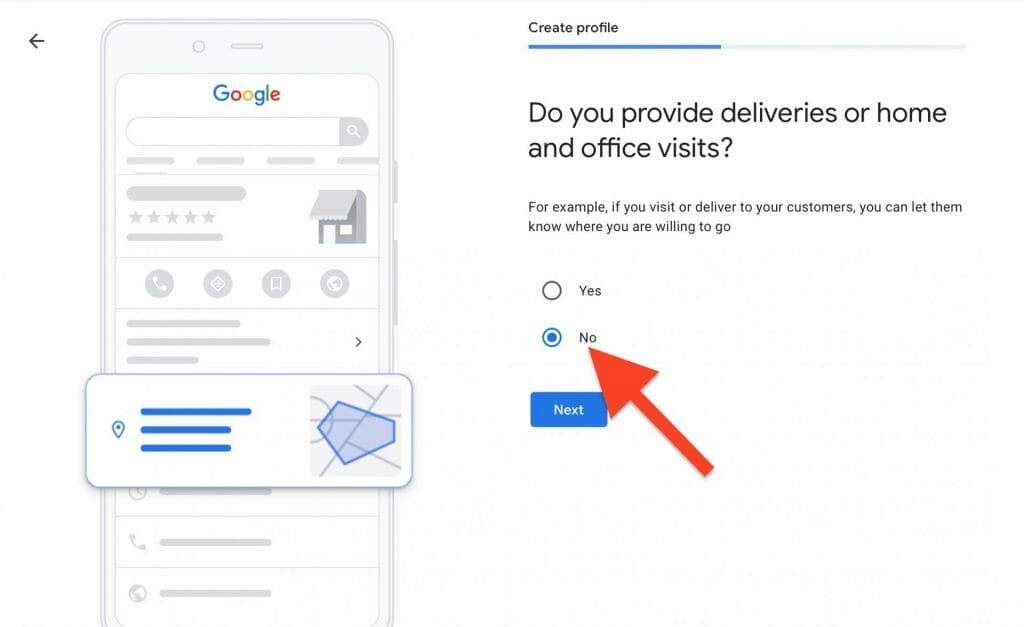 Then you need to enter the contact details you want to show to patients looking for a dentist. This includes your phone number and website URL.
If you do not have a website URL, Google will give you the option to create a quick new one-page sample Google Website to use.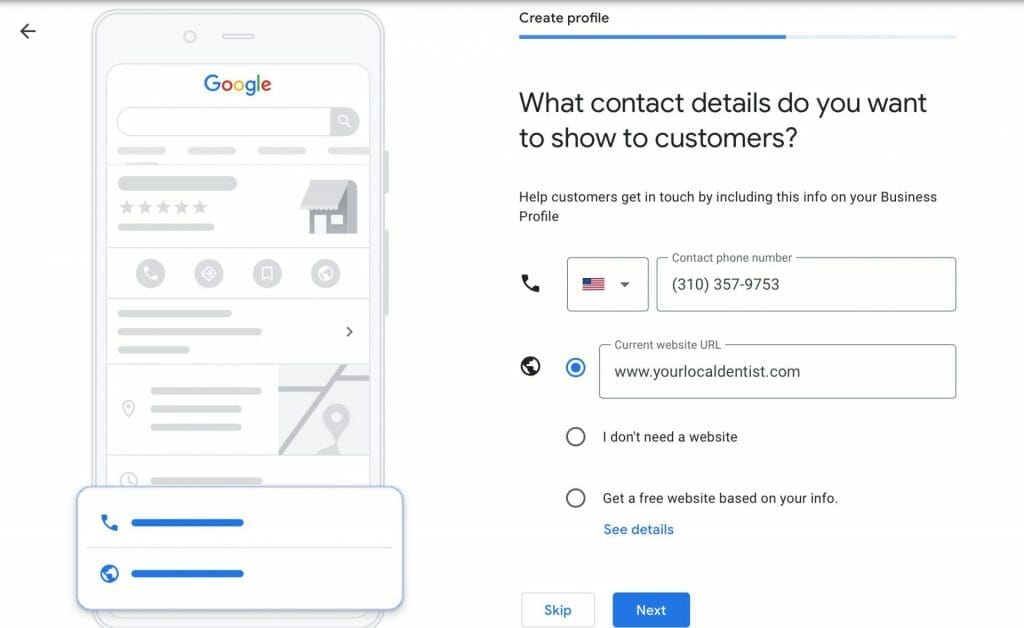 Then you will have to choose a way to verify your business. In order to manage and represent your dental practice on Google, you'll need to confirm that it is truly yours. You will need to select how you'd like to get a verification code.
There are several ways to verify your Google My Business for Dentists listing:
By postcard
By email
By phone
However, the most common method is a postcard by mail. After selecting your method, it will take 5 days before you receive your verification code.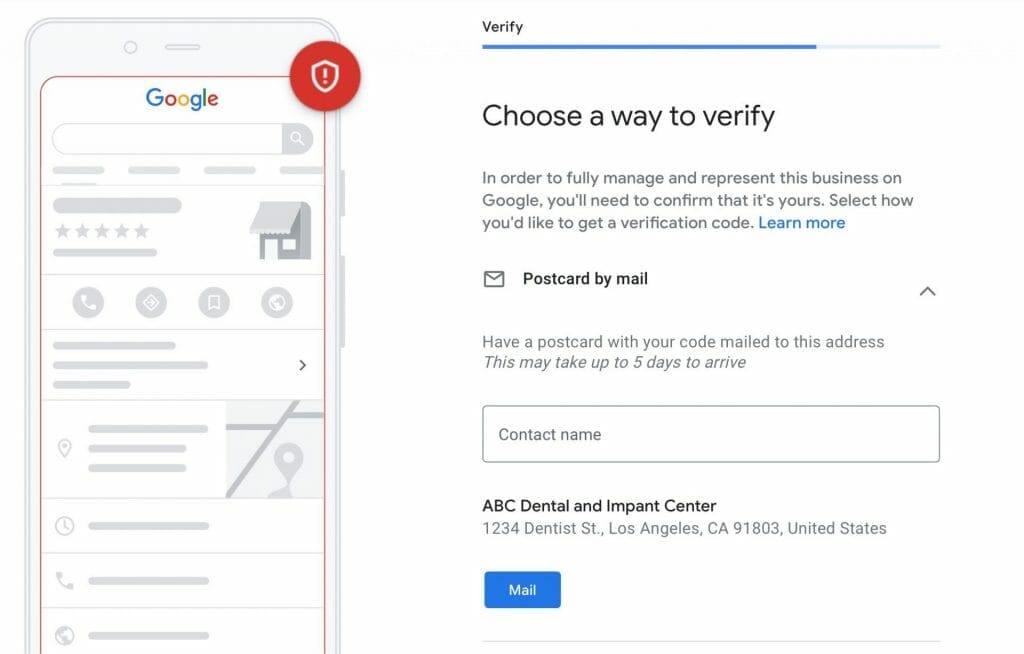 Customizing Your Business Profile
Now, Google will start letting you customize your business information. You will begin to customize your business hours, images, and a writing a description for your business listing.
Your images will attract more visitors to click on your listing and land on your website. You should also write a compelling business description that sets you apart from your business description.
You can make any changes you feel are necessary to your GMB account at any time.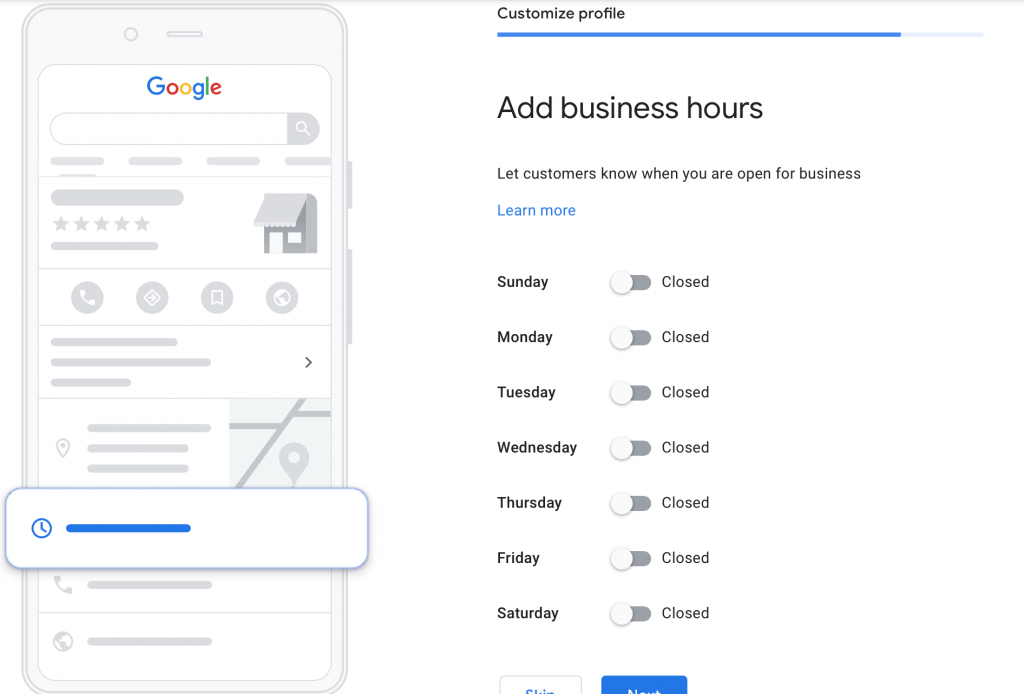 Then, you will be directed to the home page of your Google My Business account. Here, you will be able to check your insights, read your reviews, edit your information, and add photos to your business listing.
In your profile, you will also see previews of Google Ads you can create for your Dental Clinic. Read our Google Ads for Dentists – Comprehensive Guide article for a step-by-step of how to create effective Google Ads.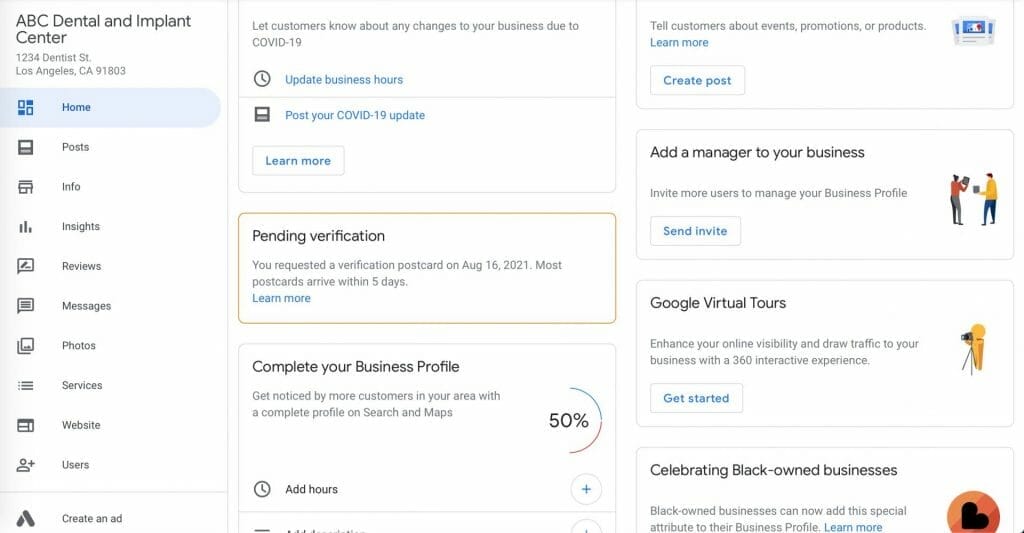 Optimizing Your Settings
Next, we will go over some tips to help optimize your business so people can find you better on Google My Business. When people are searching for services that your dental clinic offers you will have a greater chance to show up on the Google Maps area.
To start, go to your information tab. Make sure your business information is up-to-date and accurate. Check your business hours, make sure your phone number is correct, and check your service areas. You want to fill out as much information as possible. The more information you fill out, the higher you will rank.
There are many features on your Google My Business dashboard that you can use to showcase and optimize your business on Google My Business listings.
Photos and Videos
Many clients will look at your pictures before they decide to call you. Pictures play a big role in turning a visitor into an actual customer for your business.
Adding photos and videos to your listings will make people much more likely to come to your store. The cover photo of your listing is the most important photo, as this is the photo that shows on your business listing.
According to Google businesses with more photos generate more clicks to their website.
Oftentimes, businesses may opt to upload stock photos to their website, but it is best to include authentic photos of you, your staff, and your patient rooms. You can include your logo, the outside of your business, your desk, or even videos in your office. You should also add captions to your photos. The photos you post should add personality to your Google My Business. When you look at your insights, you will see how many individuals viewed your photos. Learn more about how to grow your online presence as a dental clinic.
Categories
In the category section, you can select different categories from the Google database system to describe your business. Based on the keywords you search, you can choose a variety of categories. You have to find the categories that relate to your business.
Want to learn more about how to choose the right category for your Google My Business listing? Read this article for cool tools in choosing the best category.
Each business is able to choose one primary category and 9 additional categories. The primary category should be the category that is most influential and profitable for your business. You can choose to categorize your business under much broader categories like dentists and Dental clinics, or you can choose more specific categories like cosmetic dentists or pediatric dentists. You have to search for dental words like dentists, dental implants, and dental. This will help you find all the categories related to the services you provide.
These categories will influence your rankings on Google My Business for Dentists listings.
Do you need extra help you choosing the best categories to optimize your ads?
Below is an example of categories from Google's database, when searching Dentist:
Service Areas
When ranking in Google Maps your strongest attribute is your physical location. As you enter locations further away from your physical location it is going to be more difficult for your practice to rank. Patients further from your clinic may seek dental care elsewhere if you are too far from their location.
It is recommended to keep your service area listing to 20 or less. So, depending on the population density of where you are located, the area range of where you can rank will differ. For your dental clinic, you may want to list cities within a 20-mile radius of your practice.
Services
The services listed will be pulled from the categories listed in your Category Section. You can then go into those categories and list services related to those categories. You can edit the service details about the services that you list and relate.
When someone visits your website they can see the types of services you offer. This will help your patients know the services you can provide them.
In your service description, you should use all 300 of the characters available. You should include language and text related to popular search phrases related to your dental clinic. For example, if you want to rank as a cosmetic dentist then you should enter several services related to cosmetic dentistry. This will optimize your business listing for those search phrases and keywords.
Need help writing and optimizing the service details of your dental practice?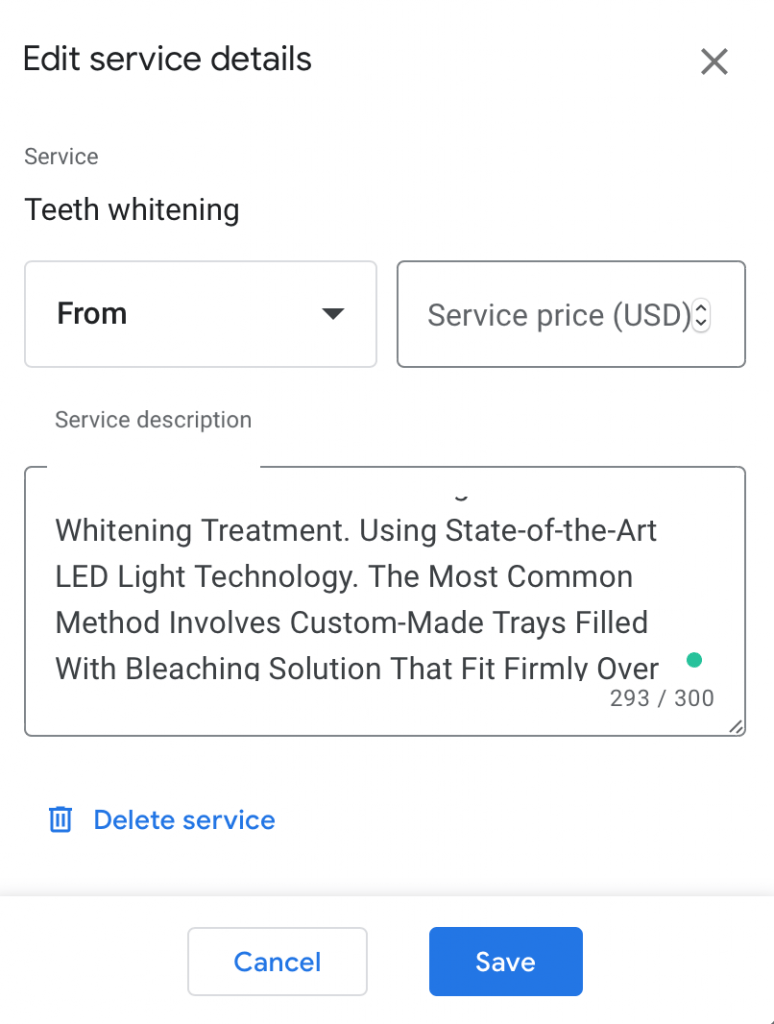 Posting On Google My Business
A key component of Google My Business is that Posts allow you to keep people updated. You can talk about something new at your business, special events, or even talk about products that your business offers. Consistently posting content can help your profile stand out against competitors.
What you post on Instagram and Facebook, you should also post on your Google My Business webpage.
Want to learn more about Facebook ads? Read our Facebook Ads for Dentists article.
Or, do you want to learn more about Instagram ads for dentists? Our Instagram for Dentists article will show you how to use Instagram to reach more patients.
Review Ratings
To further optimize your Google My Business listing you should start requesting and managing Google Reviews. The reviews left on your GMB profile increase the number of clicks you receive in local search result listings.
The way reviews will affect your rank is based on different factors from each review:
keywords your customers will include as part of their reviews.

The more they mention a product or service you offer in their reviews, the more likely you will rank for those keywords.

based on the rating value customers give you.

The higher the value, the higher your listing will score. So, aim to deliver outstanding customer service to get a high star rating.

how many reviews do you get?

The more reviews you get, the higher you will rank.

Metadata in the photos you upload

Metadata such as the location where a photo was taken, etc.
Furthermore, if your practice receives a negative review, you should try to fix what they are saying. This will help you receive better ratings in the future. Responding to both negative and positive reviews can influence other patients to leave a review on your business. However, when responding to negative reviews make sure you respond professionally, as your response is a reflection of your business and can impact a potential patient's decision to choose your dental clinic. Keep track of your clinic objectives using dental Google Analytics.
Messages
Using Messages in your Google My Business is another simple and quick way for you to generate leads for your dental office.
If you download the Android or iOS Google My Business app, your customers can send you a message to request a quote. You will use the app to see new messages and quickly reply to any leads.
Check Your Profile Regularly
After you have customized and entered all your information, you should frequently be checking your Google My Business for Dentists account. Frequent engagement can help you land one of the top 3 spots on Google Maps. This will also give you a chance to respond to reviews, post any news regarding your clinic, or even reply to any messages from potential patients regarding quotes.
Google My Business is an investment for your dental practices. Optimizing your ads will help you get the most amount of traffic and it encourages your loyal customers to follow your business on Google Maps.
So, if you want to rank better in Google Maps to reach patients in your local area there are some key areas of your profile you should work on optimizing. For your Google My Business for Dentists, you should focus on sections like choosing the most profitable categories, defining your service areas, and building out the content and description of your services.
Need help managing and optimizing your Google My Business for Dentists account?
Are you looking for more ways to promote your dental practice? Read our article to learn 23 Simple Marketing Strategies for Dour Dental Practice.