In this how-to guide to Facebook ads for hair salons, we go over tips and step-by-step everything you'll ever need to get new customers on Facebook. When beginning to market your hair salon in the beauty industry, there's a lot of information and tips thrown at you that can make things confusing. This guide will help all local hair salons and spas understand how to market their businesses to gain leads and customers with Facebook ads.
The Basics of Facebook Ads for Hair Salons
Social media / digital marketing is very important for businesses to stay relevant. Everything is online, which means your salon needs online too. Facebook has 2.7 billion users and is a great platform to use for your beauty salon marketing plan. This how-to guide will help you market to the right audience for your business, bringing in tons of bookings from your local community. We will walk you through the digital marketing funnel. Having a popular page will broaden your clientele to the outside of your community as well.
Advertising Vocabulary
There is a lot of technical jargon used on Facebook ads, and for a complete beginner, it may be hard to understand exactly what you are doing and what everything means. So here is a list of FB ad words and their definition.
Ad Copy
This is the text in the ad itself. Writing ad copy is also known as copywriting (not to be confused with copyrighting).
Audience
This is the target of your ads / who you want to engage with your ad. The demographic, location, interests, etc. Audiences are customizable on Facebook Business manager.
Conversion
When someone buys your product/service from your Facebook ads.
Landing page
This is the webpage the audience will visit after they click your ads.
Thank you page
This is where your audience is directed after completing the lead form and filling out their email, name, and phone number from your landing page.
Tools
Facebook Business Manager
In order to get started with utilizing Facebook advertising as an efficient marketing tool for your hair salon and spa, you must create a Facebook Business Manager account. This is where you can create ad campaigns, and audiences, and monitor them over time. Overall, this is where the majority of work will be done to obtain successful leads for your business.
To set this up you may begin by going to https://business.facebook.com/overview
Does this seem like too much work spent away from clients?
Pixel
Pixel is a tool that creates a code for your beauty salon in order to track the activity on your landing and thank you pages. This helps your ads become more effective, allows you to create audiences based on the data, measures conversions, and it comprehensively optimizes the run of your ads.
To set this up, you must go to Facebook Business Manager and click the hamburger icon (≡), and then click business settings.
From here you will now see a new menu on the left-hand side with drop-down options. You should click data sources, then Pixels.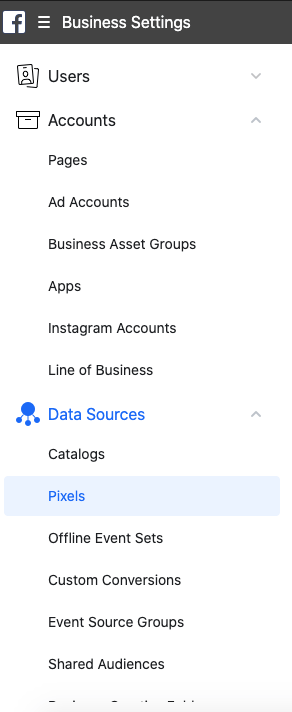 Now your screen should have the option to add a Pixel, where you will input your business name and website URL to create the code. The next step will be to use this code on your website, so Facebook gives you a couple of options. You may manually install the code yourself, email it to a web developer if you have one, or if you use Shopify, Wix, etc for your website you can do a platform integration option. If you choose to install it yourself, you must input it into the header of your webpage. 
Types of Facebook Advertising
There are many types of Facebook ads, however, there are four main types that are relevant to running a hair salon and spa. This is the very beginning of your digital marketing funnel.*
Link Clicks
Web Conversions
Post Page Engagement
Video Views
*Digital marketing funnel means the journey people take from ad viewer to client.
Link Clicks (Gathering the Interest of People)
Link clicks are for analyzing the data of who is clicking your ads and how large your reach is. It is a traditional way to get started with a Facebook ad, as this is the beginning of reaching out to new people.
It will allow you to find out the trafficking rates to your website, landing page, or even Facebook page depending on what you may link the ad to. For hair/beauty salons, it can even be a click to your profile so new clients can send a message or call for appointments.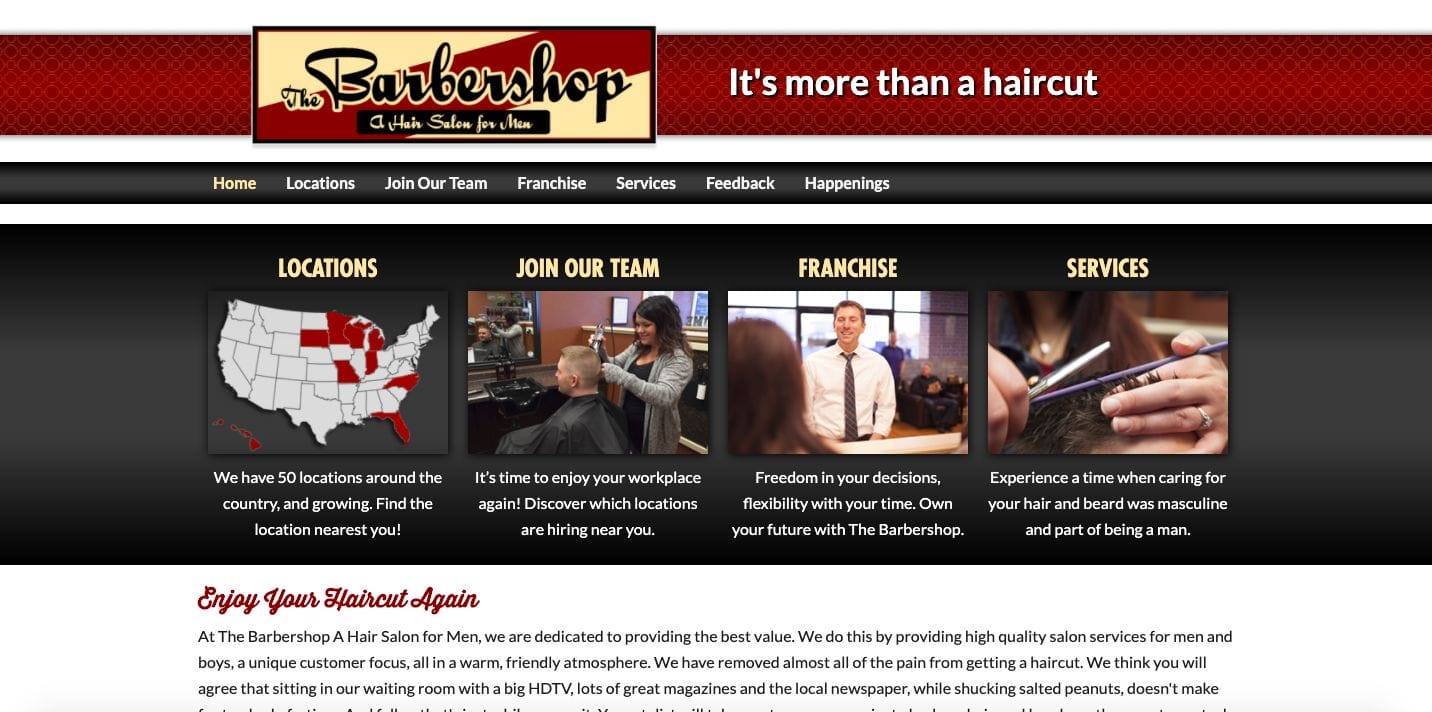 This ad and landing page are the perfect example of a link clicks Facebook promotion. It shows a real hair stylist working at their salon in the image, and has a button stating learn more to find out about the beauty salon. Once you click on the button it takes you to their website where you can read about them, their services, and locations. 
If you were to choose this type of ad, picking a learn more button may be the best call to action to get people to click on it and generate traffic to your spa and salon's site or Facebook page.
Web Conversions (Gathering a Lead)
As explained earlier, conversions are when someone viewed your lead ad and also followed through on your desired action (i.e. booking a hair coloring consultation, purchasing a deal for a Brazilian blowout, etc). You may customize this with a name and conversion event for optimization. Once you pick the event, Facebook will make sure to recommend your lead ad to the audience that is the most likely to complete the action.
In order to set this up from the business settings page, you should click on data sources and then custom conversions.
Next, press add new a new custom conversion, and type in all of the information asked of you to complete this portion of Facebook ads.
It asks for a name, description, where this data is coming from, and what you want to optimize. Your titling can be as simple as Facebook Promotion-Schedule, and click your own category called Schedule to receive Pixel information from all bookings that came from Facebook ads. You can also create a conversion for views to your site; you would title it something like Facebook Promotion-Views, click select your own category, and click on view content.
This is a highly recommended tip for when you create your first ad. It is important to obtain a dataset of those who are clicking on your ad to get to your website to see how well your ad is doing and to use this audience to retarget later when you want actual appointments. 
It is recommended to begin with web conversions as your first ad type. If you have been running your Pixel on your website and gained data on visitors, it will allow you to create cheaper and more effective ads for people who are already interested in your services. 
Page Post Engagement (Marketing a Post)
A Page Post Engagement (PPE) ad is when one is trying to get Facebook users to engage with a post. For example, if your salon recently posted a video of someone getting their hair dyed by a stylist, you may use this type of ad to get others to like and comment on it.
Although the boost may be nice on previous posts, typically this type of ad is not worth it to local businesses. Don't run this unless you are trying to just get vanity likes on the post and not customers.
Video Views Ads
The last type of Facebook ad is video views. Much like PPE, this is about boosting views on a video of your choosing. 3 seconds is the standard watch time for Facebook to count it as a view.
This type of ad allows room for retargeting your audience. You may customize it to specifically be shown to people who have viewed your video, but not watched it in its entirety.
If you have really nice video footage or footage of the owner or hairstylists talking into a camera explaining all that is great about your business, this is great. A lot of times though, it's hard to get video footage because a lot of owners/hair stylists/colorists are camera shy.
Creating a Salon Facebook Ad
The first part of creating a Facebook ad for hair salons is to choose the objective of the ad and title it.
Now that you know the different reasons for running a Facebook ad, you should pick one of those as your objective and make sure to include it in your title, but abbreviated.
For example:
LC=Link clicks
WC= Web Conversions
PPE=Post Page Engagement
VV=Video Views
You should also include whoever the ad is meant for in the ad set name as well, for example for an ad focusing on Link Clicks and targeting Women ages 20-60, title the ad campaign: LC-Women 20-60. (Note: only the advertiser can see this).
This way everything is broken down and easy to find once you become a pro at running Facebook ads and have multiple of them going. 
Aside from objective and titling, there are 5 other important aspects to creating a Facebook ad:
Targeting the right audience
Offer
Copy
Visuals
Relevant landing / thank you page.
These are all very important when working through your marketing ideas. 
1. Targeting the Right People
You have to make sure to pick the right people to market to when dealing with Facebook ads for hair salons. This is the beauty industry, so you want to show your ads to people who are interested in it. You ultimately want leads so they can turn into clients, and this tool is critical to your funnel. There are 3 different audience types that you may target:
Custom
Saved
Lookalike 
Custom Audience
This is where you may attempt to target people based on data. You may click the Customer list and upload your salon clients' information to push ads towards them, or since you have your Facebook Pixel running now you can click on the website option. This will use your Pixel to capture those who visited your website and put them on a list to market towards.
It is very important that you upload your customer list and any customer data you have to boost the effectiveness of your ads.
Saved Audience
This is an audience type that can be of most use for hair salons and spas to reach new clientele. Here you can create an audience based on demographics. Given that this is a guide for local hair salons, location targeting makes the most sense. Depending on the population density of the city/town you are located in, you may want to set the ad for a 5-10 mile radius to attract the most potential customers. 
You may also set your ad to target people by gender and age as well, so if your hair salon only services women and you are trying to bring in all different ages you may set your ad to be marketed towards Women 20-60. 
You may also input interests and target people on Facebook based on those, but it is not recommended because you will then be narrowing your pool of potential clients from ads. It is better to wait on the data you have gained from Facebook Pixel before you decide on making the saved audience list smaller. 
Lookalike Audience
This type of audience is probably the one you are least likely to use for running Facebook ads for hair salons. Lookalikes are basically when Facebook creates an audience that is similar to one of your databases. It can be similar to your email audience or client list or even anyone who likes your Facebook page.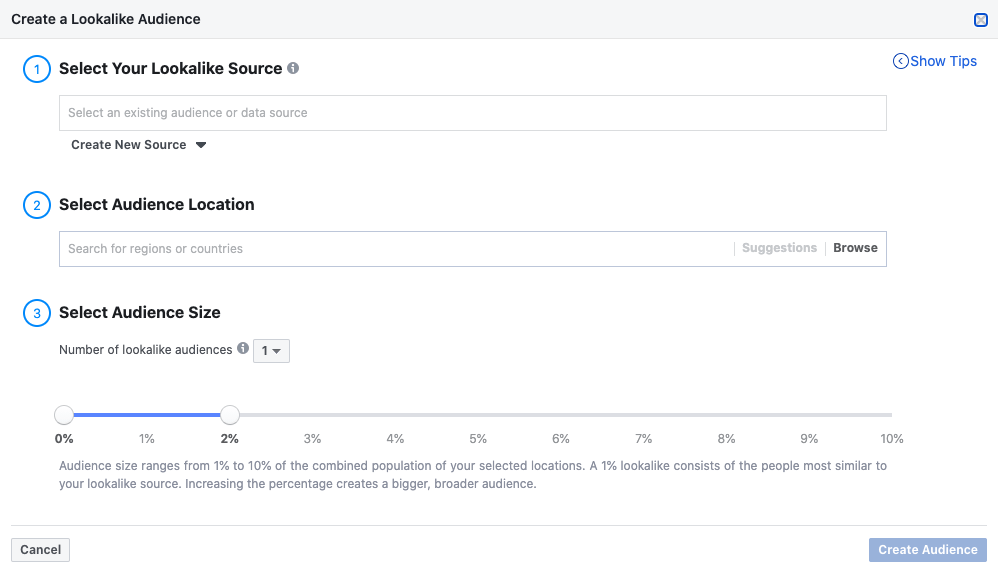 Make sure to keep it to 1-2% for the audience size, because anything bigger will be too broad and lower your chances of finding a decent audience that will actually generate leads.
Placement
An additional aspect of creating your Facebook ad is placement. Where your ad will be put is very important in its success, and for the purpose of this beginner's guide, there is a one size fits all rule. When you reach the placement section of creating your ad, you are going to click Manual. 
There is an automatic placements option where Facebook may choose for you, and place your ad in Messenger, Instagram, etc. It is best that you do not do this because you are only beginning with your Facebook ads for your hair salons journey, and Instagram is a whole other ballpark. 
Once you click manual placement, make sure to untick everything except the Facebook newsfeed.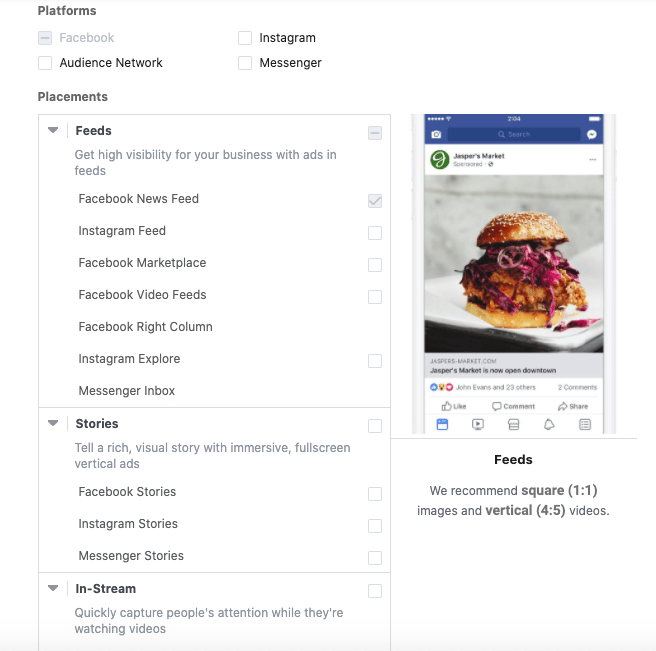 Rather spend time with clients instead of setting up ads?
2. Irresistible Offer
In an age of instant gratification and the digital world, it is very important that your ad reflects this in your offer. It should be something that has a high perceived value and delivers the promised good / service right then and there.
You must keep in mind that people are on Facebook to connect with family and friends, and in order to really catch someone's attention off of their feed and onto your ad, you must display something irresistible. Facebook isn't the first platform someone visits to find deals or where they will visit next. It isn't Google where potential clients are already intending to find a new hairdresser.
Given this information, you can't lowball people with 10% off a haircut or any other tiny deal. It must be something really good to attract new clientele who will be retained in the long run. If this can't be done, then Google Ads will be your best bet. 
With marketing your hair salon business, you must offer vouchers (limited amount/time) for a discounted haircut or treatment. Remember, this is what will ultimately draw them to you.
3. Captivating Ad Copy for a Salon
Even if you have a great offer, the language you use is very important. Attention, interest, desire, and action are the four keywords for writing the perfect copy for your ad.
Attention is where you address a potential client's pain point, or call them out. You can mention that your hair salon business has been closed for a while now due to COVID-19 (without mentioning Covid-19 in the ad directly, so you say things like due to "current hard times" or "interesting times." Use euphemisms because Facebook will disapprove of ads with the term Covid/coronavirus.), and you understand how not having regular hair maintenance has led to damaged hair and split ends.
Interest is describing the benefits of your offer. No more damaged hair, no more split ends.
Here is a Facebook advertising example that calls out the audience's pain point (not having healthy hair), and an immediate solution with a call to action.
The desired aspect relies on you being able to give them a reason to click your ad. If you are offering treatment for damaged hair you can say that the products you use are high quality and the best.
The call to action is the last thing needed for a successful Facebook ad. You can write out sign up now or get more information as a closing to your copy. (PS: Emojis are really good for Facebook ads, so don't be afraid to put a few!)
If you are still a little lost with where to start on writing your ad copy, a great introduction is to call out the city/town your hair salon is located. "Hey (Insert City Name)! I'm (Insert name)." This gives that personal touch that users on Facebook aren't accustomed to seeing ads, and this will make people want to become a customer. 
This is a carousel hair salon advertising example, (which we will talk about more, later), that calls out the audience nearby the salon's location and promotes scarcity. Mentioning a limited-time deal or a set amount of deals offered promotes a scarcity mindset that will make your audience more inclined to click on your ad.
4. Eye-Catching Ad Creative
Now that you have an amazing offer and a well-written copy, you must accompany it with a stunning visual. It can display the offer (someone getting a treatment done to their hair) or tells a story (a hairdresser beginning to cut someone's hair).
Types of Visuals
The three types of visuals are all great marketing ideas for displaying your offer/services:
With images and carousels, it is important to keep in mind that you use real photos you took yourself. It adds a nice touch when marketing to your local neighborhoods.
Image Ads
This is just a single image that displays your offer and is the most simple for beginners to Facebook ads for hair salons. It is important to note that a single image is 1200×628 pixels, which if the photo you would like to use doesn't fit that, you can edit it on Canva.
Here is a single image of a hairstylist cutting someone's hair. Use a real photo, not a Stock photo. It is important that potential clients get to see actual hairdressers or the real owner of the salon with their hair stylists and clients.

Carousel Ad
Another visual type is the carousel, which allows you to use three images for your ad. It is highly recommended to use for first-time ads on Facebook.
When looking for images to pick for this type of ad, it would be best to include an image of a hair stylist and a client, a service being done, and the benefits of your services.
As for formatting, it must be 600×600 pixels and all three images must have the same headline, description, URL, and call to action. By doing different ones for each image, the ad will become smaller because of all the writing. If it is uniformed, the font will be bigger and calls more attention to your ad.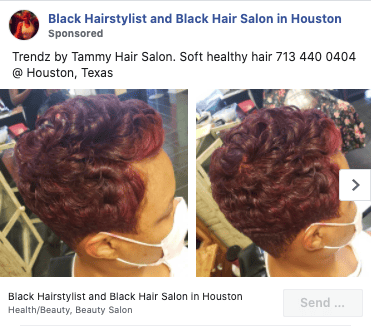 In this carousel ad, they have the same headline, description, and call to action. It allows you to click through multiple images of their work, while still only having one button for you to send them a message. This makes the ad less busy and allows potential clients to focus on the hairstylist's work.
Video Ad
The last type is video ads. These give you an opportunity to showcase more content than can be in a couple of photos.
These don't need to be made frequently considering they take a lot more time and effort than photos of the goods and services you provide. Videos demonstrating a hairstylist trimming a client's hair or a sped-up version of a hair-dying process would be great examples of video ads for local salons.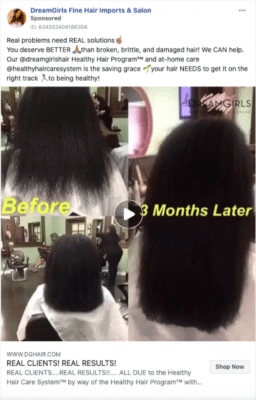 5. Set a Relevant Landing Page and Thank you Page
As we now know, a landing page is where a potential client ends up after clicking on your ad, and a thank you page is for after they complete the desired action on your landing page.
Facebook likes consistency with ads and your landing page. Your ad should not promise one thing, and your landing page offers another. It is imperative that the same copy and visual style are used when creating your landing page and thank you page.
Some great places to create a landing page and thank you page are:
Salon Landing Page Example:

Once your new client reaches the thank you page, there must be a timely follow-up action on your end. The client decided your offer was good enough and went through with their purchase, so your salon and services are on their mind. Your receptionist should call them within 5 minutes of their purchase, any time after that the lead might be done. People have a lot of things going on in their lives and often forget they have a voucher waiting for them in their email. It is up to you to talk them into booking their appointment while your ad is still fresh in their mind. 
Budget
The amazing thing about Facebook ads is that you don't need a ton of money to generate leads and new clients. You can let your money work for you, and to get a lower cost per lead, typically a budget of just $500 is enough to get started and start seeing results.  
The reason for this is that if you are running different ad sets like one for Women 20-30 and one for Women 31-40 (this is called split testing), you get to see exactly which audience is the most responsive. 
You want your ad to reach at least 1,000 people before you make any decisions. Around 1,000 people should give you enough data to decide if you want to keep running the ad, pause it, or stop it altogether. As the number goes up, your cost per lead should go down and it all depends on how much you want to spend to obtain that client lead. 
Timely Email Autoresponder (With Website Service Examples)
An outside resource that is key to Facebook ads for hair salons, is having an email autoresponder prepared before you begin your campaigns.
These are all examples of one of these websites where local hair salons can set up email responses to those who click on your Facebook ads and complete an action like booking an appointment. You may also set up SMS follow-ups which will require a premium subscription but may be worth it when reminding clients of appointments. Make sure you have a form set up to be filled out on your page.
Facebook Business Suite Beta
Facebook also runs a Facebook Business Suite group that allows its members to test new features and unreleased versions. You just need to click the link to sign up and can decide to leave the group at any time. Since it is a beta program, there may be glitches in the system as well. As a tester, you get to review the updates Facebook wants to implement and give them your review. 
Recently, Facebook allowed its beta testers to connect their Canva and Vimeo accounts to their Facebook Business suite. This tool makes it a lot easier to create ads and content by using free Facebook templates from both Canva and Vimeo. This will save time from creating content elsewhere online, saving, and needing to adjust them into fitting Facebook's ad model. 
Summary
Now that you know all of the basics of Facebook ads, you can create an online hair salon marketing plan. The traditional way to start out, once you run your Pixel, is to create your first ad for web conversions. (Use the data from your Pixel so these ads are more effective). 
Next, you should use a saved audience. Since this is a hair salon guide, you want clients who live nearby so you can retain them for a long time. A 5-10 mile radius is always best depending on if you live in a large city or a small town and need more space to reach potential clientele. 
An enticing offer, great writing/language, stunning visuals (3 images), and a landing page and thank you page that matches your ad will lead you to a very successful turnout.
Please keep in mind that even if you do make the most beautiful-looking and well-written ad that targets your local neighborhood, a bad offer will deter people from clicking on it. 
Need help with writing a great offer and copy?
In this Facebook ad for hairdressers example, they do a great job of calling out the local audience and being personable. The description of the ad also shows that the salon is ranked for something and has award-winning hair stylists, which draws people in to learn more.
If you follow all of these steps, you will be sure to be on your way to generating lots of website traffic and thus more leads and potential bookings. 
Lastly, if this is too stressful and complicated for you, book a free strategy session to consult your goals with someone experienced in Facebook ads for hair salons.