Wondering how email marketing for physical therapists can help you get more patients in your clinic? In this article, we'll share with you why email marketing is still relevant in today's time along with some tips on how to effectively use it to your advantage.
Email marketing is one of the digital marketing strategies that is used to deliver promotional messages, remind them about their scheduled appointment and get more referrals. It can also be a way for building stronger relationships with your patients.
Do email marketing campaigns work?
Email marketing campaigns are used to gain new patients and retain the existing ones that you have through promotional emails, newsletters, referral programs, and the like.
To answer your question if email marketing still works in this digital age, the answer is a solid YES!
Despite the fact that it is an old marketing strategy, email marketing still has a higher ROI compared to other marketing strategies such as paid ads and social media.
And with the use of high-quality email marketing software and thorough planning with your team, you'll be able to get more new patients and improve retention with the patients that you already have.
So, if you're a physical therapist who hasn't tried email marketing in the past, you should consider using it because you have no idea how many business opportunities you are missing out on.
First time using email marketing for physical therapists?
Schedule A Free Strategy Session!
Why email marketing for physical therapists?
Email marketing is suitable for physical therapists who wanted to boost their revenue, get immediate results, and build a stronger relationships with their patients.
In this section, we've listed several reasons why email marketing should be included in your digital marketing strategy.
#1 Low-cost yet effective
With email marketing, even if you don't spend that much money to keep in touch with your physical therapy customers you'll still have good results in return (especially when done properly).
Email marketing software like Mailchimp, Active Campaign, and Mailer Lite is some of the best ones out there that not only help you send out emails but also provide you insights into how well your marketing campaigns are doing.
#2 Delivers your message directly to your customers
Unlike in digital ads, your audience in email marketing is those who voluntarily signed up for your form. This means, that they have already given you their permission to receive news and updates about your physical therapy brand.
In that case, your #1 priority is keeping them engaged in your physical therapist brand, and to do that, email marketing allows you to send personalized messages to your patients which helps in strengthening your relationship with your existing patients.
If you want a more comforting, personalized way of reaching your patients, also consider using direct mail as a physical therapist.
#3 Less-intrusive
Unlike other digital marketing strategies, email marketing allows your patients to read your emails during their free time.
#4 Builds a deeper connection to your customers
Email marketing for physical therapists helps you form a stronger bond with your patients. For example, if you have a previous patient who hasn't returned for a while, through email marketing, you can send them follow-up emails.
Want to know if your patients are satisfied with the services they're getting? You can also do that by sending them a survey.
You can do almost everything with email marketing. From winning back previous patients to sharing the latest updates about your physical therapy practice.
Interested in email marketing for physical therapists but don't know where to start?
7 Email marketing strategies for physical therapists
Now that you have a background of the importance of email marketing, we've summed up 7 email marketing strategies along with some useful tips for physical therapists:
1. Building your email list
Building your email list can take some time before you have a complete list of it. But, where do you begin?
a. Newsletter subscriptions 
Newsletters are like the modern-day mailbox. Instead of delivering the news right to your doorstep, it'll be delivered directly to your inbox.
If you're starting to build your email list, adding a section on your physical therapist website where people can easily subscribe to your newsletters can help you with that.
b. Squeeze pages
If you haven't heard about this before, squeeze pages are designed to motivate your potential patients to submit their emails and in return, you'll give them something that's useful about physical therapy. It can be an e-book, video, podcast, free report, or anything that's useful about physical therapy.
You might get confused between landing pages and squeeze pages. They have different purposes. Landing pages usually have more than one goal (i.e. get more calls, schedule an appointment, get more clicks, etc.) while squeeze pages focus only on one goal. That is to add your email address to their list.
Things to remember when creating squeeze pages for physical therapists:
Use a relevant and catchy headline
Provide a clear and concise explanation of *the thing* that you are offering
Sneak peek of your offer
A call-to-action button that creates a sense of urgency
c. Sign up forms
Sign-up forms are usually used to collect a user's name and email address so that they'll have access to your monthly email newsletters, download an e-book about physical therapy, or be the ones who'll be notified when there's something new in your physical therapy clinic.
It can be in different formats such as:
Inline forms
Embedded forms
which will lead them to this page, where they can submit their emails: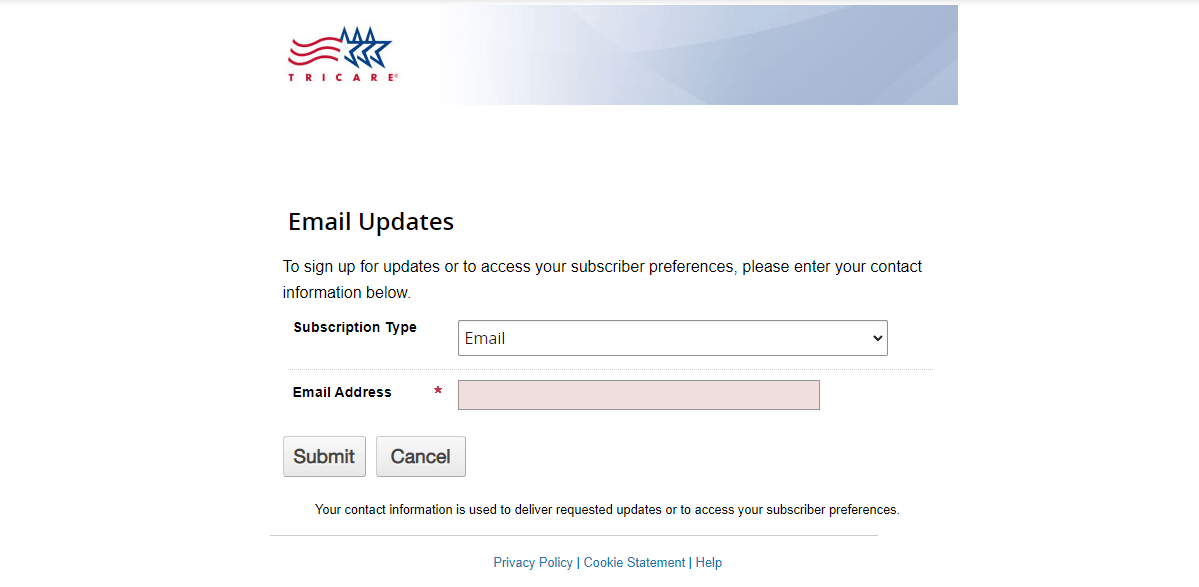 For those signing up after a Google Search, you can consider managing Google My Business to build the credibility of your location.
2. Segmenting your email list
Once you have successfully gathered a list of emails, it's time to categorize your customers into smaller groups. Why? Because they have different purposes for submitting their emails to your physical therapist website.
Some could be interested in getting tips for improving their muscle movements while some could be interested in learning more about their physical condition and ways how to ease the pain.
Aside from that, segmented emails have a 17.61% lower bounce rate compared to non-segmented emails. That's why it's important that you're only sending these people content that suits their interests.
To determine the topic that'll capture the interests of the people in your email list here are some tips that you can do:
check to see what specific pages on your physical therapist's website they are consuming
look over their previous medical records
what source made them sign up on your physical therapist's website
This way, you'll be able to personalize your emails depending on the reason why your patients signed up for them in the first place.
3. Sending personalized emails
After segmenting your list of email recipients, it's about time to create the emails that will be sent to your audience.
Emails that have customized subject lines are 26% more likely to be opened than regular emails. So, to increase the chance of your emails being opened, make sure to add a personal touch to your message.
Here are some tips for creating personalized emails:
add the recipient's name in the subject line
mention their previous treatment session
send follow-up emails to customers who haven't visited your physical therapy clinic for a while now
4. Use catchy subject lines
Based on Marketo, the recommended length of your subject lines should consist of 7 words with an average of 41 characters. Because it is more likely to have clicks-to-open and overall engagement with your email.
To know what type of emails get more clicks, you could try testing out different subject lines to see which are more effective to your audience. It could start with a captivating question, contain numbers, or an emoji (only if it's relevant to your message).
Here are some points to remember when creating your physical therapist subject lines:
keep it short but full of impact
must contain a sense of urgency (i.e. "your vouchers are expiring" or "limited time only")
give them an idea of what's inside the mail (i.e. discount coupon, appointment schedule, new location)
test your subject lines on different devices (i.e. desktop, tablet, and mobile users)
If you wanna broaden the scope of your emails, consider using Google Ads for PTs to bring more traffic to your clinic's page.
5. Mobile-friendly emails
User experience is also one of the factors that affect how your PT recipients engage with your email. As a physical therapist, you should be aware that they are using various kinds of devices to read their emails.
As of 2018, 81% of individuals prefer using their smartphones in reading their emails. With that percentage, you have to make sure that everything's working well on all devices, especially smartphones.
To end up with mobile-friendly physical therapist emails:
use a call-to-action button that's visible and highly-responsive
fonts should not be less than 14px
make some room for white space (don't overcrowd your mail with too many texts)
make sure that your email recipients don't have to zoom in or scroll sideways to read the physical therapy content
6. Schedule the time in sending your emails
There's no general rule that applies to all kinds of business industries in terms of sending an email.
Since you want more people to open your emails, you should work on a strategy of when you will be sending your emails to get a good amount of conversions.
But how would you know if it's the right time to send your mail?
There are three things to consider:
Time zone of your recipients
Right timing
Customer demographics
If you are providing telehealth services to your physical therapy patients, you should schedule your emails when they are mostly online which could be during lunch breaks or mid-afternoon of your target audience's location.
Remember to plan out when to send emails and avoid sending too much within a week. As it might spoil your entire email marketing strategy or worse, people might see it as spam mail.
7. Test the emails that will be sent to your physical therapy audience
After doing all of the previous strategies that we've listed. You have to test the emails before actually sending them to your existing and potential patients. This is to know which type of email works best for your target audience.
Read our blog post on 20 Marketing Tools for Physical Therapists to know more about the tools you can use in testing your email marketing campaigns.
Need help with your physical therapist email marketing strategy?
Key takeaway
Email marketing for physical therapy is one of the most effective strategies for keeping your patients engaged with your brand. It may be quite overwhelming at first but with the use of email marketing software and the tips that we've mentioned above, you'll get the results that you're aiming for.