Are you a wedding photographer that is looking for new ways to advertise your wedding photography business? Well, you're in luck because we figured out that Google Ads for Wedding Photographers is an effective way to generate not just audience insights but also increase your sales!
With Google Ads, you can instantly showcase the greatest wedding photos that you captured from every wedding ceremony that you have attended, and also give you more opportunities to shoot at weddings.
This article will guide you to the steps on how to create Google Ads for Wedding Photographers that will surely generate audience insights for wedding photographers.
1. What are Google Ads?
Google Ads is a digital platform that makes it easy to promote your brand and may also be used for market research. It's designed to assist you in gaining new clients and expanding your business. You can profit from effective advertising investments and you can also modify your marketing style to suit your needs.
Some of the benefits of Google Ads:
You have full control of how much money you want to spend on marketing
You can reach more customers that are interested in what you offer
It's a convenient way of tracking the performance of your ad
Aside from that, it gives you the assurance that they will never sell your personal data to a third party.
When you use the keyword "Best Wedding Photographers" on Google, it'll show you text ads like the ones you see below.
1.1 Why Google Ads for Wedding Photographers?
Wedding photographers are the ones responsible for capturing spontaneous moments at wedding events. Starting from creative shots of the soon-to-be brides and wedding dresses down to the candid memories of the newlyweds, family members, and guests. It is a tough job but with the help of a professional wedding photographer, they make sure that all the images taken from your special day will be transformed into lifelong memories.
Google Ads for your Wedding Photographer campaign is an excellent choice since it will be easier to advertise your wedding photography skills. By choosing Google Ads for your Wedding Photographer campaign, you can monitor your ad performance, select personalized ads and also generate audience insights. Aside from that, you can also decide where you want to promote your business, and how much you want to spend on it.
What are Personalized ads?
Create inferences about a user's interests based on the sites they visit or apps they use. It allows advertisers to tailor their ads to these interests, resulting in a better user and advertising experience.
What are Audience insights?
Audience insights is a tool that shows you useful information about your website visitors and app users to help you locate new audiences. It enables you to broaden your targeting or change your bids in order to better reach these high-performing populations.
Want to create ad campaigns for your wedding photography business but don't have the time to do it?
2. Steps in Creating a Google Ads Account for Wedding Photographers
The first step in creating a Google Ads Account for your Wedding Photographer Campaign is to log in to your Gmail Account.
Then, visit www.ad.google.com and click "Get Started."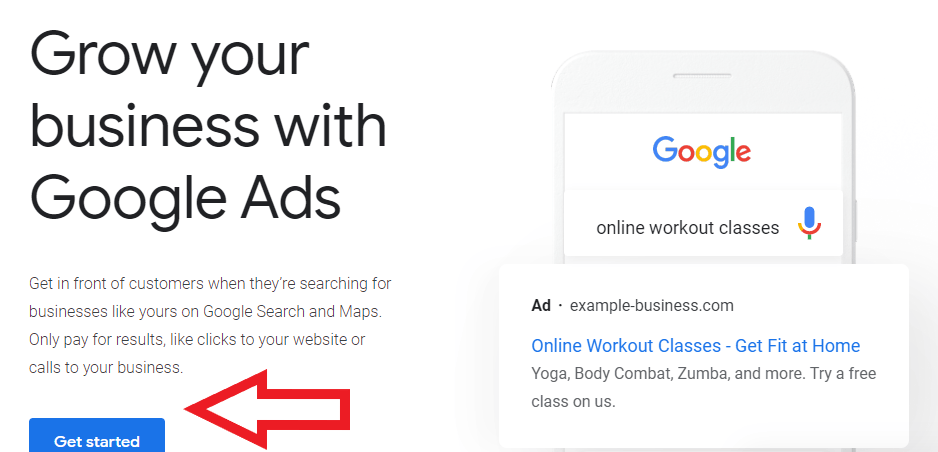 2.1 Create Google Ads for Your Wedding Photographer Campaign
After clicking "Get started," you will be asked about your main advertising goal. Choose among the three options that are available. Let's say that you want to get more calls, click the first option.
Then click "Switch to Expert Mode."
Expert Mode lets advertisers experience the advanced feature of Google Ads. It includes having greater control over bidding methods and choosing among the different campaign types.
After switching to Expert Mode, you will be asked to select a goal that you think will make your wedding photographer campaign a successful one.
Click "Create a campaign without a goal's guidance."
Then, you'll be prompted to select a campaign type. The option "Search" should be chosen. Clicking this is ideal for generating sales, leads, and traffic to your website since you can target your ads to those who are actively looking for your Wedding Photographer service.
Another question will appear, prompting you to select the outcomes you desire from your Wedding Photographer campaign. Let's imagine you wish to increase the number of visitors to your website. Click "Website visits."

You will then be asked about additional details about your campaign. For website visits, you'll have to enter your website URL and for phone calls, you'll have to enter your contact number.
Once you're done, click "Continue." 
In the network section, leave "Search network" checked and uncheck "Display network."
The reasons why you must follow this step will be discussed as you continue reading this article.
2.2  Search Network
What is Search Network?
It is where your Wedding Photographer Services will be shown on a variety of search-related websites such as Maps, Shopping, and other Google search partners.
Why consider checking Search Network?
Leaving the search network "checked" will give your wedding photographer services some exposure when someone searches for the terms relevant to any of your keywords.
It can be useful in a variety of contexts, such as expanding the reach of your Wedding Photographer services.
2.3 Display Network
What is Display Network?
It shows your Wedding Photographer Services on videos, websites, and blog posts that your potential customers are currently browsing.
Why you should consider unchecking Display Network?
Others find it irritating as it interrupts what they are doing while surfing the net.
Its click-through rate (CTR) is often lower than Search Network
Since it has a lower CTR, it will also have a lower conversion rate.
Next, you'll have to choose your target location.
Once done, click "Location options." Select the audience that you want to include and exclude.
In this case, we want to target "People in or regularly in your target locations," and exclude "People in your excluded locations."
Following these steps will make your ad appear to those interested in the photography services that you provide.

After that, choose your preferred language. Click "English."
Then, click "more settings."
Set the duration that you want your ad to be displayed by entering the start and end dates.
You can also customize the days that you want your Wedding Photographer Ad to run. Edit it by clicking "Ad Schedule."
What is the definition of an ad schedule?
One of the most important components of Google Ads to consider is ad scheduling. It allows you to specify a timetable for when you want it to be presented to potential clients on various days of the week and hours of the day.

Not sure about the right time to run your ad?
3. How to create an Ad group for your campaign
In this step, you will now create a name for your Ad group.
3.1 What is an Ad Group?
An ad group is a collection of advertisements with reaching out to similar targets. Here, you can set a bid to be utilized when the keywords in an ad group cause an ad to show up. The bids, target audience, placement, and delivery options are chosen to capture the audience are all overseen by ad groups.
In setting up an ad group, you must first think of a name for your ad group.
Afterward, enter the services that you offer to get keyword suggestions.
Let's say you are offering "Wedding Photographer."
Press "enter," and it will automatically give you a list of related keywords to your Wedding Photographer Services.
When you're done, click "continue."
Need help finding the right keywords for your Wedding Photographer campaign?
On the next page, you have to fill up the final URL, Display path, headlines, and description of your Wedding Photographer Ad.
4. Google Text Ads Structure
4.1 Final URL
This is where your customers will be led to your official website when they click on your advertisement.
4.2 Display path
It is a portion of the official web URL that is seen when they click on your ad. You have only 15 characters to work within this case. The objective of the display path is to show potential purchasers where they'll wind up after clicking on your ad.
4.3 Headlines
It is the first line of your Wedding Photographer ad that is noticed by people. The keywords that you are working on must be included in this section. You only have 15 characters to write with, so make the most of them to grab people's attention.
4.4 Descriptions
This section, which comes beneath your title, allows you to set yourself apart from the competition. In this circumstance, you'll have to persuade clients to hire you as their wedding photographer. Because you only have 90 characters to work with, make sure to specify your research goal.
Here's a guide on the "Best practices for creating a successful google text ad."
5. Ad Extensions
5.1 What is an Ad extension?
Ad extensions are additional details that you want to be shown under your Wedding Photographer ad. These can boost the clickthrough rate of your Wedding Photographer ad by several percentage points.
5.2 Types of Ad Extensions
Sitelink extensions – It is a type of ad extension that is linked to additional pages on the same website that appear in the search results.
2. Callout extensions – It is a type of ad extension where you can showcase the deals you offer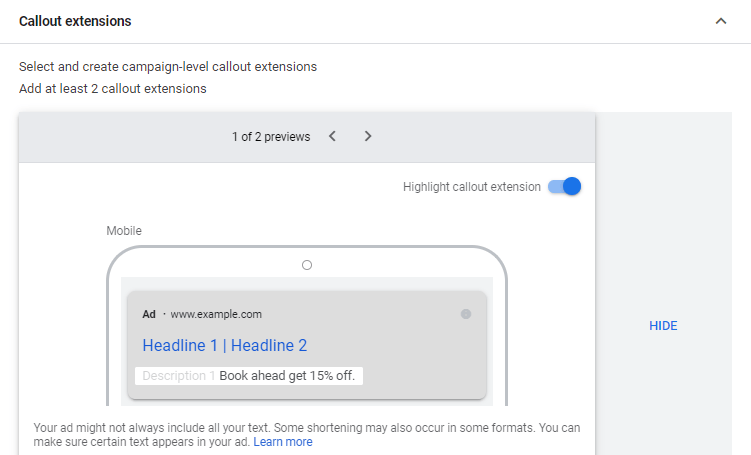 3. Call extensions – a type of ad extension that comes with the phone number of your wedding photography business and helps clients to obtain quick answers to their questions.
If you want to know more about the other types of ad extensions and ways how to use them, check out this blog about the different types of ad extensions to learn more.
5.3 What are some of the benefits of ad extensions?
Using ad extensions to add extra information about your company can help your ad stand out, resulting in more clicks and a higher return on investment. Ad extensions can contain a link to a specific page on your website, your phone number, or any other relevant information about your company.
Need help creating Ad extensions? 
Schedule A Free Strategy Session!
After writing your headlines, ad descriptions, and ad extensions, you will see the desktop and mobile preview of your ad.
Below is what your Google Ads for Wedding Photographers will look like:
Desktop view:
Mobile view: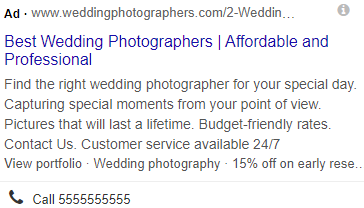 If you want to create another ad group for your wedding photography business, click  "Create another ad group." But, if you're already satisfied with the look of your first ad group, click "next."
6. Budget and Bidding
In this section, you have to set your average daily budget as well as the maximum amount (maximum cost per click) that you are willing to spend per click on your Wedding Photographer ad.
Because each campaign's budget defines a daily spending restriction, it must be an average amount you'd be willing to spend every day.
The bid is the biggest amount you're willing to pay for a click on your ad.
Having trouble setting up the right amount for your Wedding Photographer ad?
Schedule a Free Strategy Session
Congratulations! You've completed the process of creating an advertisement for your wedding photography services.
You can now access your ad campaign and monitor its progress.
7. Keyword match types
Keyword match types define how closely a keyword must match the user's search query in order for the ad to be considered for bidding. This information is used to determine when and where your ad will appear.
7.1 Broad match
Broad match is a type of keyword that lets you display your Wedding Photographer ad in searches that are related to your keywords.
For example: When you search for "wedding photographer," the results you might get are "Wedding Photographers near you," "Affordable local photographers," etc. 
7.2 Exact match
An exact match is the most specific type of keyword. It displays your Wedding Photographer Ad to clients that are looking for the exact words and phrases as yours.
For example, searching [wedding photographers] will give you results [wedding photographers in your area] 
7.3 Phrase match
Phrase match is a type of ad that shows your ad to people that are probably looking for your Wedding Photographer ad. To get a phrase match, you have to enter a keyword within the quotation marks.
For example: "Wedding photographers"
Negative Keywords
Purpose of negative keywords
The reason why you should add negative keywords is to make sure that your Wedding Photographer advertisement will not be displayed with words or phrases that will not convert.
For example, you don't want your Wedding Photography ad to show up on search results for "Art and Photography Classes."
Steps in adding negative keywords to your Wedding Photograper Ad
On the left portion of your Google Ad page, click "Keywords."
A drop-down menu will show up. Click "Negative Keywords."
Then, click the "+" sign to add your negative keywords.
8. Landing Page
This is the page where you will be redirected once a visitor clicks on your ad.
According to this Beth Morgan, there are eight components of a converting landing page:
It must have a "call to action" button
It must contain deals you are offering
It must have a narrow focus
It must highlight the very important attributes that your wedding photography services have to offer
It must have an effective headline
It must have a resolution-savvy layout
It must have tidy visuals
It must contain social proof
For more details, check out this post about the Best Landing Page Designs to learn more.
9. Conversion
The action that a person takes as a result of seeing your advertisement is known as conversion. It can be done simply by clicking your ad, signing up for a free trial, etc.
Conversion rate
It is the percentage of users who came to your website and completed a task.
How to calculate the conversion rate?
number of interactions ÷ number of people who completed a task on your website = conversion rate
To calculate the conversion rate of your Wedding Photographer Ad, divide the number of interactions that you get by the number of people who completed a task on your website.
For example, your website receives 500 visitors on your website this month and 20 sales. The conversion rate is 500 divided by 20 which gives you a conversion rate of 25%.
This article guide will help you understand more about conversion.
Want us to manage your Google advertisements for your Wedding Photography business? Book an appointment
Summary
Here are some of the things you must remember when creating a Google Ad Account for Wedding Photographers:
Set up your Google Ads for Wedding Photographer account according to your preferences
Set a budget you want to allocate for your Wedding Photographer ad
Choose the right keywords
Add negative keywords
Optimize your landing pages
Determine your target location and demographics
Was the article helpful? Let us know by leaving a comment below.