What is SEO?
Search Engine Optimization (SEO) refers to the process of improving the rank and quality of your dumpster rental website on search engines. This strategy is very helpful, especially for business owners who want to outrank their competitors and stay on top of the minds of their potential customers.
There are three types of SEO. On-page SEO is when you make improvements to your website (e.g. including relevant keywords in your content, optimizing your title tags, meta descriptions, and improving your URL structure). Off-page SEO, on the other hand, is when you make improvements on the elements that are outside your dumpster rental site (e.g. guest blogging, posting on forums, and links from social media).
Lastly, Technical SEO is more on improving the crawlability and indexing aspects of your dumpster website. This includes fixing duplicate content, keyword cannibalization, and more of these strategies in the later part of this blog.
Does SEO for Dumpster Rentals sound like a great idea?
Why SEO for Dumpster Rentals
Businesses like your dumpster rental will definitely benefit from SEO due to several reasons. First, it will get you more new customers. The higher your rank is on the search results page, the more traffic your site is bound to get. The more traffic you get, the higher chances that your potential customers will notice you.
Second, it helps you stay on top of the minds of your potential customers. Consumers are more likely to click on pages that can be found on the first page of SERP. So, if you're currently running ad campaigns for your dumpster rental business. Adding SEO to your marketing strategy will definitely boost your online presence as well as the number of new customers!
Third, it's a good long-term strategy. Although it takes some time before you see results, when done right, SEO can help you achieve the results you want to get from your marketing efforts! In the later part of this blog, we'll share tips on how you can optimize your website to get the best results.
Don't have time to do SEO for your Dumpster Rental Business?
SEO Strategies for Dumpster Rental Businesses
In this section, we'll share on-page, off-page, and technical SEO strategies that will help you rank high on relevant search queries.
On-page optimization strategies
1. Optimize your URL slugs, meta descriptions, and title tags
A URL slug is a part of your website URL which comes after your domain name. For example, if your website is https://dumpsterrental.com/about-us/, then your URL slug is "about-us".
The main purpose of URL slugs is to help search engines and page visitors identify and locate your dumpster rental pages. Aside from that, it also gives your potential customers an idea of what page they'll land on once they click on your website. Imagine visiting a page that has random numbers and characters on its URL slug, not only will it drive away potential customers, but it will also look suspicious because it doesn't state what the page is all about.
URL slug best practices:
don't use numbers or the current year (it can make your content look outdated and it means you'll have to change the URL every year)
should be readable, avoid using random characters
use lower case
to separate words, use hyphens
keep it short (between 3-5 words)
Meta descriptions serve as an overview of what your page is all about. You can usually see this under your title tags on the Search Engine Results Page (SERP). You can utilize this section to let your target audience know that your post will answer their search question or intent.
Meta descriptions best practices:
include your target keyword in your meta descriptions
phrase it in a way that your target audience can't help but click on it (you can add a call-to-action)
keep it under 160-165 characters
use an active voice
make sure it matches the content of your page
Title tags serve as the main topic of what your page is all about. This can be seen on the search results page as a clickable element and on top of your browser's tab.

Title tags best practices:
start with your target keyword (this helps search engines become familiar with your content)
keep it under 60 characters (to prevent your title from getting cut in the middle)
use long-tail keywords to rank in specific search queries
should have power words
should be relevant to the content of your page
should have a positive and negative sentiment to get higher click-through rates
2. Use internal and external links
Internal links are used to help your page visitors navigate through your dumpster rental website. It's like you're recommending a relevant page on your site that can better explain the topic from your post. In addition to that, using internal links can also help search engine crawlers to have a better understanding of your website's structure.
Internal links best practices:
create lots of content so you'll have lots of pages to use as internal links
use keyword anchor texts instead of "this post" or "click here"
link to important and relevant pages on your site
External links, on the other hand, are when you link relevant pages from other websites.
External links best practices:
only link to websites that are trustworthy
only link to websites that are relevant to the topic you are writing about
make sure that external links will open to a new tab
don't link to your competitor's website (it will make them rank higher than your website)
3. Proper use of alt-tags
Alt tags, also called "alternative texts" or "alt text, " briefly describe what the image used on your page is all about. This is helpful not just when your page fails to load images properly, but especially for those with visual impairments.
Alt tags best practices:
keep your alt text short but descriptive
it should add context to what your topic is all about
don't start your alt tags with "image of" or "photo of"
use your target keywords (but don't keyword stuff it)
4. Use headings to boost the rank of your posts
By using relevant headings on your blog posts, your blog will have a higher chance of showing up on Google's featured snippets. Featured snippets are a section on Google's Search Results Page that displays a concise description of a specific term and is usually made up of 40-60 words. Some of the benefits of ranking in Google's featured snippets include getting a high click-through rate (CTR), higher brand authority and helps you get a better understanding of the interests of your target audience.
Tips that will help you rank on Google's Featured Snippets:
make sure that your content is well-written
make sure that your content matches the user intent
you can check out the related searches section to learn more about what your target audience is looking for
create listicles, data displayed in tables and ordered lists (e.g. step-by-step-guide)
5. Repurpose old blog posts
If you have lots of old blog posts and want to maximize the reach and engagement of your posts, you can repurpose them as if it's new content. For example, if you have long-form content, you can make it more digestible by turning it into an infographic and sharing them on Pinterest. You can also turn them into a podcast or short videos and share them on social media!
Looking for more ideas on how you can repurpose your old blog posts? Check out this blog about Content Repurposing 101 to learn more.
6. Use relevant keywords throughout your posts
Keywords play a huge role in helping your dumpster rental business get found by your potential customers. With that, you have to make sure that before you start creating content, you should do comprehensive keyword research. This will help you get a better understanding of the actual search terms that your target audience is using when looking for dumpster rental services.
Things to consider when choosing your keywords:
monthly search volume – refers to the number of times a specific keyword was searched in the past 12 months
keyword difficulty – refers to how difficult it is to rank for a specific keyword in an organic search
search intent – refers to the intention of the user when searching for a specific keyword (e.g. informational, navigational, transactional, commercial intent)
relevance to your business – use keywords that are relevant to your business (e.g. services you offer, locations covered, etc.)
Tools that can help you with your keyword research:
Keywords Everywhere is a browser extension that provides you with useful details such as the estimated search volume in your area, CPC for ad campaigns, estimated monthly traffic, number of times a target keyword was used, etc.
Google Ads Keyword Planner is one of the built-in features that Google Ads offers to its users. Not only does it help you discover new keywords, but it can also help you get keyword forecasts, and get bid estimates which can be helpful in estimating how high intent a keyword is.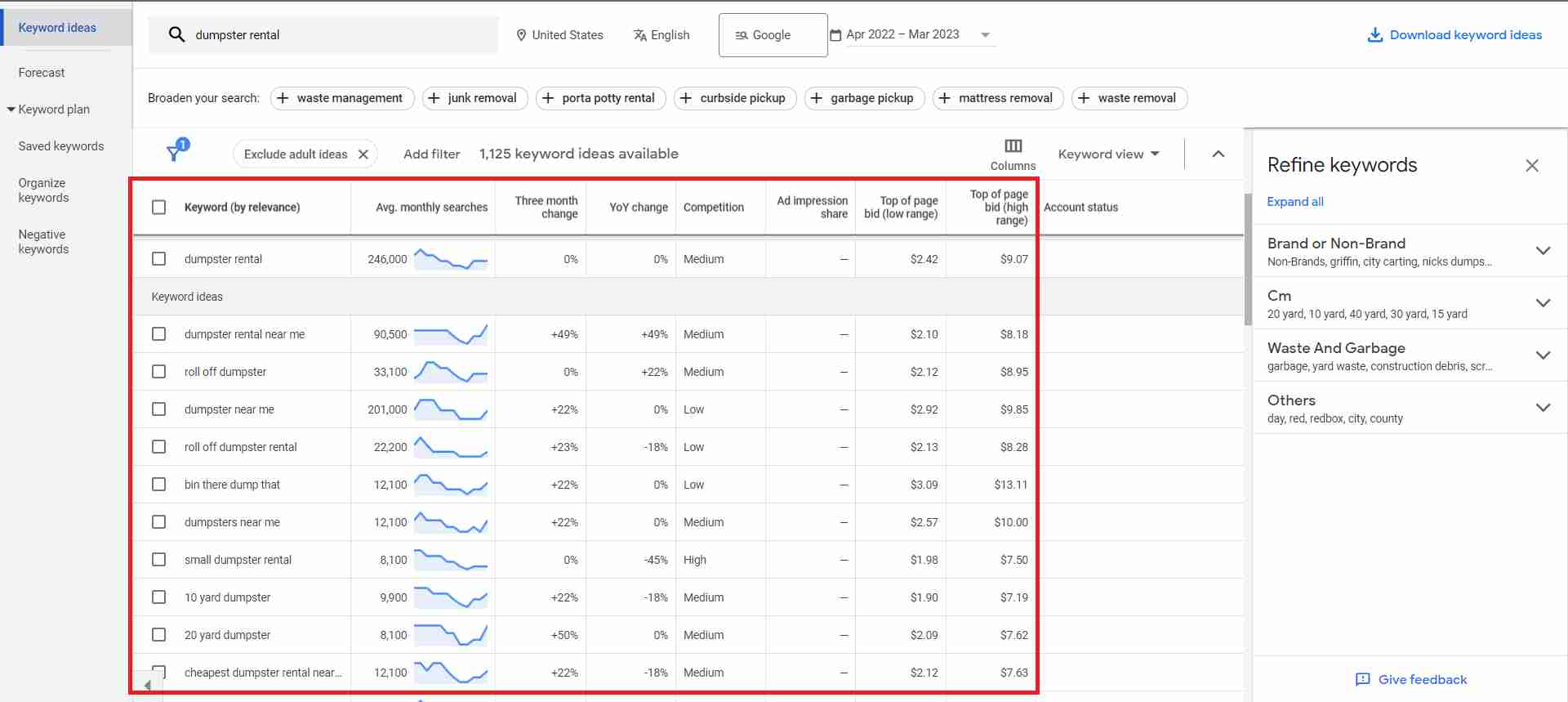 Google's autocomplete suggestions provide you with relevant search queries that come from real and trending searches which are usually based on where you are located.
Google's related searches section helps you get a better understanding of your target audience's search intent along with the type of questions they are more likely to ask.
7. Improve content readability
Content readability refers to how easy it is to consume your content. When posting relevant content on your site, you can write long-form content but you have to make sure that your blog posts are digestible so that your page visitors will not have a hard time understanding the message you want to tell them.
Tips to improve your content readability:
use headings especially if you're writing long-form content
keep your content readability level grade 8 and below
keep your paragraphs short (3 sentences per paragraph)
add relevant images to break walls of texts
use Hemingway App to check and improve the readability level
Off-page optimization strategies
1. Guest posting
Guest posting is when you publish posts on other websites. Its purpose is to help you get high-quality backlinks, improve your domain authority, and drive referral traffic to your dumpster rental site.
If you're looking for guest posting opportunities, try using the keyword "Write for us + dumpster rental." It'll show you websites that accept guest posts along with the guidelines like in this example:
Tips when writing guest posts:
write an impressive author's bio (should include a summary of what you do, your credentials, and social media channels where they can reach out to you)
include internal links on your guest posts (this gives the website owner an impression that you are familiar with the types of posts they publish)
add a call to action that will encourage readers to share your post on other platforms (this helps improve engagement)
promote your guest blog on social media platforms
respond to comments from readers
make sure to follow their guidelines when writing guest posts
2. Social media marketing
Another off-page optimization strategy that you can do to improve your site ranking is through engaging with your target audience on social media platforms like Instagram, LinkedIn, Facebook, and Pinterest.
Here are some tips on how to make social media marketing work for your dumpster rental business:
Identify your goal
Plan your content
Use social media marketing tools like Canva in creating visual posts
Be consistent in posting (use a content calendar to help you stay on track)
Publish high-quality and relevant posts
Partner with influencers (works well especially if your goal is to improve brand awareness)
Share customer feedback (this can help potential customers trust your business)
3. Video Marketing
View this post on Instagram
The total time spent watching videos keeps on increasing as years go by. With that, more and more businesses are incorporating videos in promoting their products and services. In fact, 91% of businesses are using video marketing to grab the attention of their target audience.
Some of the advantages of video marketing are that it can help boost the awareness of your dumpster rental business. With the use of the right keywords, and hashtags, and posting them at the right time and platform, this can help you get found by your target audience. When done right, it can also give you an additional source of site traffic!
However, this marketing strategy also has some downsides. One of them is that production time can be time-consuming. Before posting videos, you need to do lots of research and planning about what your competitors are doing, what hashtags and video length work for them, the current trend in promotional videos, and a lot more.
Video marketing tips:
first few seconds should hook the attention of your potential customers
content should be relatable
use target keywords in your video title/caption
post regularly
be consistent in the type of content you share with your audience
follow the guidelines for your preferred platform in posting your promotional videos
make sure to include a clear call to action in your videos
focus on how your services can help improve the lives of your target audience
keep it short but interesting
4. Join forums
Another way to get backlinks is by posting relevant information on discussion forums like the ones you see on Reddit or Quora. You can do this whenever there are questions or topics where your expertise in dumpster rentals can be useful. When done right, it can help build your authority in the industry which can result in more backlinks, site traffic, and more new customers!
Just make sure to read the community guidelines before posting on discussion forums and when adding links from your website, it should be relevant to the topic being discussed. You shouldn't spam the comments section just to get more links (it might ruin your reputation).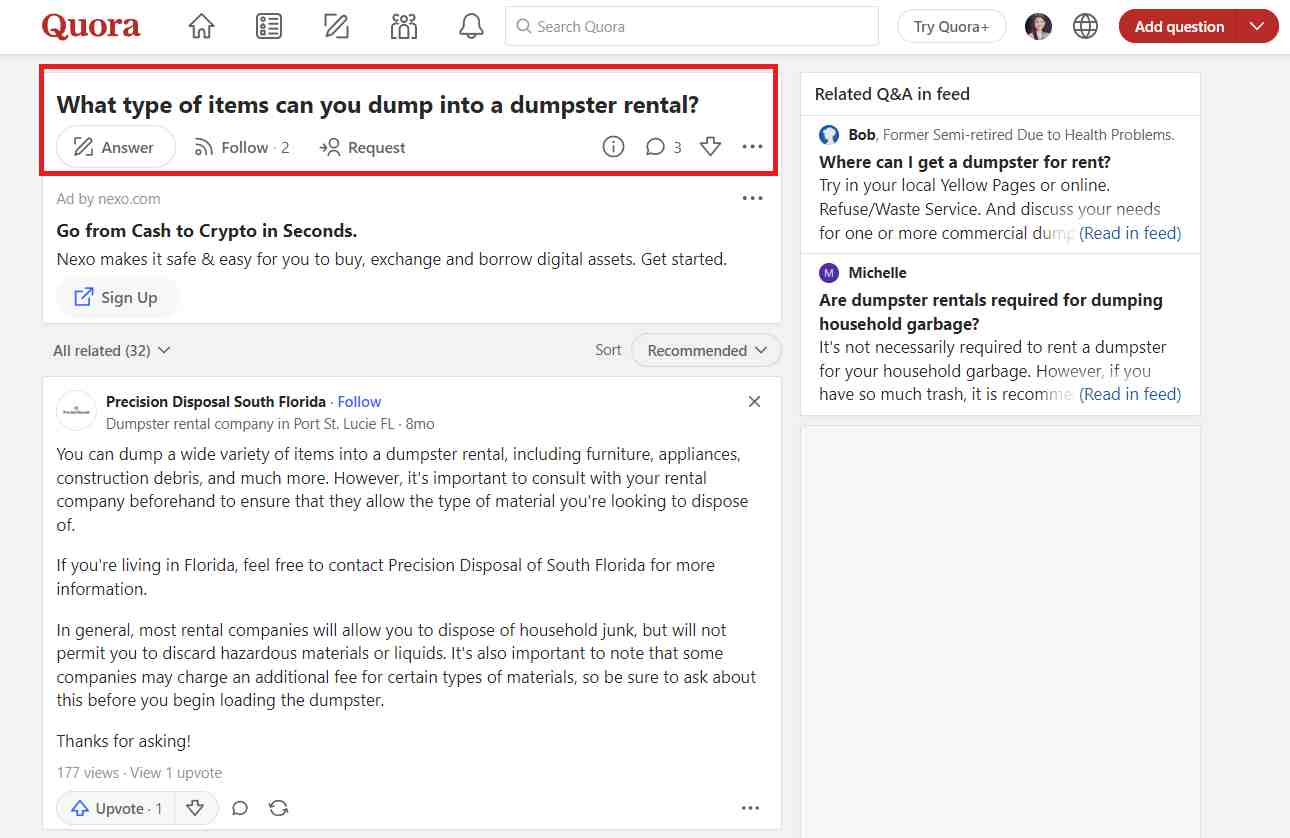 Technical SEO strategies
1. Find and fix keyword cannibalization
Keyword cannibalization happens when there are multiple pages on your site that contain similar content or target the same keyword. When this happens, search engines and web crawlers will have a hard time prioritizing which page should rank high than the other. If not caught early, this will result in losing potential site traffic and fluctuating search engine rankings.
With that, you have to make sure to check your website for potential keyword cannibalization issues. There are two ways how to do it (1) Create a spreadsheet that contains all of the URLs of the pages on your dumpster rental website along with their target keywords or (2) you can also use keyword mapping tools like Semrush.
How to fix keyword cannibalization:
Check both pages that cannibalize one another. Analyze the possible reason why keyword cannibalization occurs (e.g. is the target keyword for other pages used too many times?). Take note of this for future reference.
Reduce the number of times the keyword was used or remove it if possible.
Improve the content of the page that has better quality.
2. Make sure that your website is secure
Two distinguishing features that a secure website are the following: (1)  Website URL start with HTTPS instead of HTTP and (2) there should be a lock icon before your website URL. If your dumpster rental website doesn't have these features, now's the time that you should start migrating to a more safe and secure site.
Reasons why you should have a secure website:
it helps increase the trust of your potential customers
it prevents your site from getting hacked
it helps you get a good reputation
How to improve your website security:
migrate from HTTP to HTTPS
make sure to update your website to its latest version
do regular site cleanups for a stronger security
install security plugins
remove unnecessary or redundant plugins
3. Check broken links
Broken links happen when several pages on your dumpster rental website can no longer be accessed by your page visitors. Some of the reasons why this occurs are it's either you have moved to a new website or the page no longer exists.
What happens when you don't fix broken links right away? Broken links will affect user experience which will result in page visitors leaving your site without performing an action and it will make your site look outdated which may affect your ranking on the search results page.
One way how you can easily track broken links on your dumpster rental website is through Ahrefs' Broken Link Checker.
Other ways how to fix broken links:
redirect the broken page to a relevant page on your dumpster rental website
if the broken link is because of a typo, update it to the right one
if the page is no longer available, remove the link
4. Make sure that your site is mobile-friendly
One of the factors that influence your search engine ranking is mobile-friendliness. As a matter of fact, 58.3% of the global web traffic comes from mobile devices. So, if your dumpster rental website is not suitable for mobile users, you should start making improvements to your site so that you don't drive away potential customers.
To check if your dumpster rental website works well on mobile devices, use Google's Mobile-friendly test.
Want to know how to get your dumpster rental listed on Google? Check out our blog about Google My Business for Dumpster Rentals to learn more.
Need help optimizing your dumpster rental website?
Key takeaway
SEO is an effective long-term strategy, especially for businesses like your dumpster rental company. Not only will it help you stay on top of relevant search queries but it will also help you get more new customers!