The 7 different types of Google ads campaign types clearly explained. By the end of this article, you will be able to get started on your cost per click (PPC) ads in no time.
Before you begin a Google ads campaign*, you should keep in mind your overall goals and what you hope to achieve by advertising and creating the campaigns. Are you here to gain x2 as many phone calls from customers? Have an increased ROAS? To promote your app?  Have a desired outcome in mind when creating your local campaign.
*Formerly known as Google Adwords
Don't have time to read through and find out which works best for your business? Don't worry.
What are the Google ads campaign types? And which is right for me?
To start, you should also understand the Google ads (Google Adwords) hierarchy.
There are certain features and settings you may only access at the campaign level, and these determinations you make will affect all ad groups and ads within them.
Once you begin to create a campaign, you are immediately asked what goal you would like to focus on. There are 6 specific Google ads / adwords campaign goals and one non-specific option you may choose from. It is important to remember that within these campaign types, there are features that can be used amongst most of them (call only, language, dynamic aspects, etc).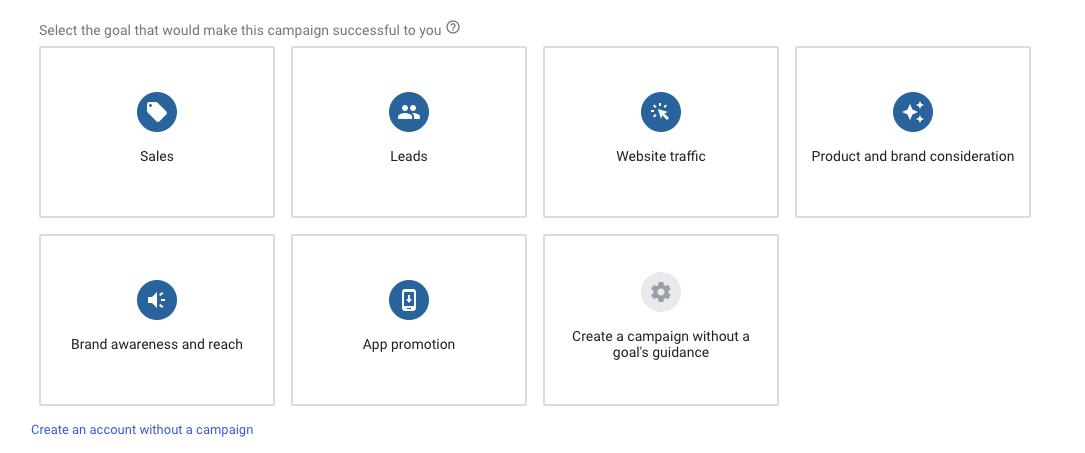 Sales, leads, website traffic, product and brand consideration, brand awareness and reach, app promotion, and no specific goal. If you choose anything other than the non-goal advertising option, you allow Google Adwords to predetermine suggestions for settings in your google ads account.
After choosing a goal, you must also choose from the 7 Google ads campaign types:
Dynamic Search ads

Dynamic search ad appear after someone searches for something on Google

Display ads

These are shown on Google Partners websites

Video ads

These are displayed before, during, or after a Youtube video

App types

These are ads that are shown on the Google Play store apps

Smart campaign ads

These ads are often beneficial for small businesses. It allows for a general ad to highlight what your business offers

Shopping ads

These are displayed above google search ad in a carousel of products that a searcher can click on to be taken to complete a transaction

Discovery ads

These allow a carousel of photos to be shown for a more interactive ad
Smart and discovery ads will not be discussed in this article, however, they can be read about elsewhere.
Google Search ads campaigns
The search campaign type option allows your PPC ads to be displayed on the search engine results page (SERP) after potential customers look up a query.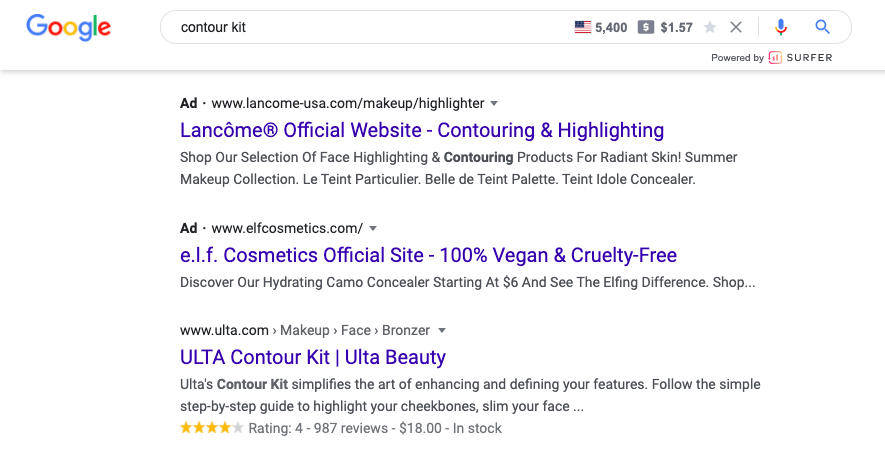 If a searcher looks up "contour kit," you see that the first two search result are Google text ads. By selecting this campaign type, your ads can show up like this too for different search queries. The most common being; branded, generic, and competitive queries.
Branded queries are ads that target keywords with your brand name in them. This way people / customers who know your brand and are searching for information about it will be shown ads.
Ex: Morphe brushes
Upon typing Morphe brushes into the search bar, an advert for the best selling Morphe brushes is shown. It even features two sitelink ad extensions with eyeshadow palettes as typically makeup brushes are used for eyeshadow application.
Generic or non-branded search queries are another type of search ad in AdWords that you may focus on. Instead of targeting Morphe brushes, you can target makeup brushes.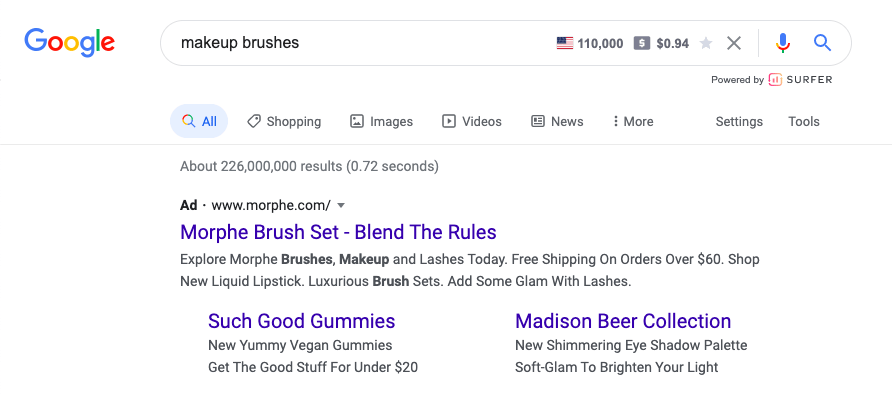 Even with a non-branded search campaign type, Morphe's brushes are still recommended to the searcher. With generic searches, it doesn't need to be this basic. You can still find niche keywords you would like to show up for like ethical makeup brushes. As long as there is no brand name involved, it will be a "generic" Google search.
A competitor search ads campaign is possible as well. This is where you may decide to target keywords with your competitor's brand name.
In this example, the search is about WordPress. You can see that the top two adverts are for Nexcess and GoDaddy, then WordPress. These advertisers are all trying to compete to get the searcher to become a customer by purchasing WordPress hosting from them. You may also notice the cost per click is pretty high at a rate of $5.46. This increased cost is because competitor search campaigns are usually going to cost more and WordPress is a very huge brand with a lot of search traffic. It is ultimately your call to decide on whether or not to run these ad campaigns, since they can be costly.
Display Ad Campaigns
These types of ads are either text or banner ones that are placed on other websites, apps, or videos on Youtube. Since these ad campaign types are not results from search queries on the Google search bar it is important to keep them topically and contextually relevant so people will actually want to click on your ads.
Google has a Placement tool to find out which sites it believes is best for features, or you may choose Google's Partner sites on your own. Since you will know which sites your ads will be displayed on, you can figure out exactly how to make your ads relevant to the readers/viewers. If it isn't relevant, they will not click. They are not there to be shown ads but to read or see content so your ad copy should be convincing.
This campaign type advert displays a Slack banner on The Wall Street Journal.
You also get to choose the exact placement of your ads on these sites. What page should your ad appear on? Do you think a banner placement at the top of the page or the bottom of the page is better? You may also let Google select the placement of your ads, but it is always better to increase the control you have over your ads.
Google Shopping Campaigns (Branded and Non- branded) 
Similar to text ads, you can also decide to do branded or generic ads. Using Morphe again, you can see that if you type their name next to palette you will be suggested 5 different ones.
Branded Marketing example
This is a great method for those who already have a lot of brand awareness. The searcher's intent behind them searching your brand name and product is to become a customer by purchasing from you, so the rewards can be very high.
Non-Branded Marketing Example
As you can see in the generic example, a Morphe palette is still suggested to the searcher. This campaign type will be more difficult to gain conversions from because you are competing with many other brands. Your product needs to convince the searcher that it is the right one for them.
With a branded search, no convincing is needed.  These types of searchers are usually your customers or people who want to become a customer. However, for emerging brands, generic searches are your best bet because you do not have the same brand reach as larger companies like Morphe.
Video Ads Campaigns
With video ads campaign types, you are only charged when someone views your video. The viewing length can vary from 30 seconds to the entire video depending on how long it is in its entirety. According to advertisers, there are 3 different features of video ads:
In-stream: Skippable videos that are played before, during, or after a Youtube video.
In-search: Video previews that are shown after completing a Youtube search, and searchers must click on.
In-display: Video that is suggested on the side of a viewer's screen with other related videos.
Increased video time is not necessarily a good thing. It is typically better to have your video ads on the shorter side, as these are disrupting a viewer's chosen content. Similar to display ads on other websites, you also need to make these super relevant to the search query in order to obtain customers. Understand the user's intent behind their search and only show your video ad to them if it aligns.
App Ads Campaigns (Google Play Platform, Search Network, etc )
These types of campaign types are shown across:
Google Play Store
Google Search Network
Google Display Network
Other apps
Youtube
With the Universal App campaign option, you only need to create one ad and Google will transform it into the proper adverts format for all the possible places it can be shown.
You set up the campaign start date, write out the ad text, pick your budget, and goal (cost per install or cost per action.) Then Google AdWords will do the rest in terms of creating the format and can even choose photos/videos to display with your ads if you do not choose them yourself.
Google claims its Universal app campaign setting drives 140% more conversions per dollar than other promotional products.
Campaign Targeting
There are 3 different types of targeting you may do through your Google ad campaign settings in AdWords; device, location, time, audience demographics, interests, language, etc. However, the 3 most important ones to increase effectiveness for all types of businesses would be device, location, and time targeting.
Device Targeting
In the campaign manager, you can decide the devices you would like your ads to run on. You can do both desktop and mobile, or only desktop, or only mobile. One may work better for you than the other, so your data and analytics can be skewed when looking at how it is performing. Find out what works best for you to obtain customers, because it will vary from business to business and from keyword to keyword.
Location Targeting
Location targeting includes features like including or excluding locations for your ads to be displayed to. You can type in a zip code, city name, state, or country you want to target.
From here you can choose to include or exclude this location. You can even set up a location radius you want to center around the area you are targeting. The radius can always be increased or decreased, depending on what you would like to try. Another very important aspect of location targeting is the option to only target/exclude people who are physically in an area. Google, by default, shows ads to those physically in the location or have shown interest in it.
You might not want to spend some of your budgets on showing ads to people who are interested in your target areas, so you have the option to only target people who are physically there. This makes a lot more sense for service-based businesses since your customers are locals.
Time Targeting
There are two different ways you can look at time targeting. You can choose to run your ads 24/7 and then decide to look at the data to decide when is best to run your ads. For example, if you notice at certain hours you aren't getting any conversions / new customers, then it is best to alter your method. Let's say there are 0 conversions from 12 am-4 am, but from 4 am-9 am you obtain a lot of them. At that point, you should focus your attention on running ads from 4 am-9 am.
You can also choose to run your ads during the times of the day someone will be readily available to answer the phone. For service-based businesses, this is highly recommended.
Is campaign targeting too complicated too much of a hassle?
Remarketing Advertising Campaigns
Remarketing is an unofficial addition to your Google ad campaign types. This is not explicitly expressed as part of the 7 types, but you may choose any of them to create remarketing ads. Advertisers use this type of campaign for targeting people who did not complete the desired action on your prior ads or website pages.
If someone were to have visited your website and began to fill out a form for a consultation but did not finish, this would be the right type of person to retarget. Or for those who added your items to cart, but didn't purchase. In the shared library setting, there is a tab called Audience manager where you can do all of this.
There is already a remarketing option where you can create audiences from different places. Google Adwords also allows you to make specifications for every new remarketing list campaign type you would like to create. If you click on website visitors, you can clarify if it is a list of visitors to a page, visitors of a page who also visited another page, visitors of a page during specific dates, etc.
You can also add a remarketing tag, which you may use as long as you understand, or have someone who understands your website's code. This tag will give you some code you can input into certain pages of your website where you would like to remarket the visitors.
There's a lot of ways to go about Google ads remarketing campaigns, and this is just the basics. If you ever want to alter or edit any of these settings you established, you can always go back into the Google ads campaign manager and do so. If you want to do it for a specific ad group or ad, you can also do that in settings as well. It would also be wise to check out Google Analytics to monitor your website traffic, ROI, ROAS, and other insights on your ads.
If you would like more information, we do Google ads management with our free strategy calls for increased conversions and ROAS.