Why Google My Business for Dumpster Rentals?
Google My Business is one of the best platforms on which you should focus your SEO efforts because it gives your dumpster rental an opportunity to rank high on the local map pack. The Local Map Pack refers to the top 3 businesses that are shown on top of the search results page. The chances of your dumpster rental business ranking high on the local map pack are based on how your business matches a potential customer's search query, your distance from the user, and how popular your business is based on reviews.
One of the advantages of using Google My Business is that it helps improve your online presence. 64% of consumers use Google My Business to find the contact details for local businesses. It's because some of its best features include showing the basic details of your dumpster rental company (e.g. website, phone number, business hours, and location).
Another reason why you should consider having your business listed on Google is that it gives you valuable insights into the performance of your business listing. This includes the number of views your profile, photos, and posts get, keywords that potential customers use to find your listing, how well your target audience interacts with your posts, gives potential customers an idea of where and how they can contact and visit your dumpster rental company, demographics of the users who found your listing (e.g. gender, country, and age group).
Lastly, you can use all of its features for free! Plus, its interface is easy to navigate which makes it beginner-friendly. All you have to do is set up your Business profile, have it verified by Google, and you can now start ranking on relevant search queries!
Already have a Business Profile for your dumpster rental company, but need help managing it?
How to set up Google My Business for Dumpster Rentals
The first thing that you have to do in setting up your dumpster rental's Google My Business profile is by logging in to your Google Account.
Then, visit https://www.google.com/business/ followed by clicking the "Manage now" button.
Select the hyperlink that says "add your business to Google."
Enter the name of your dumpster rental company. For the business category, choose "dumpster rental service." Then, click "next."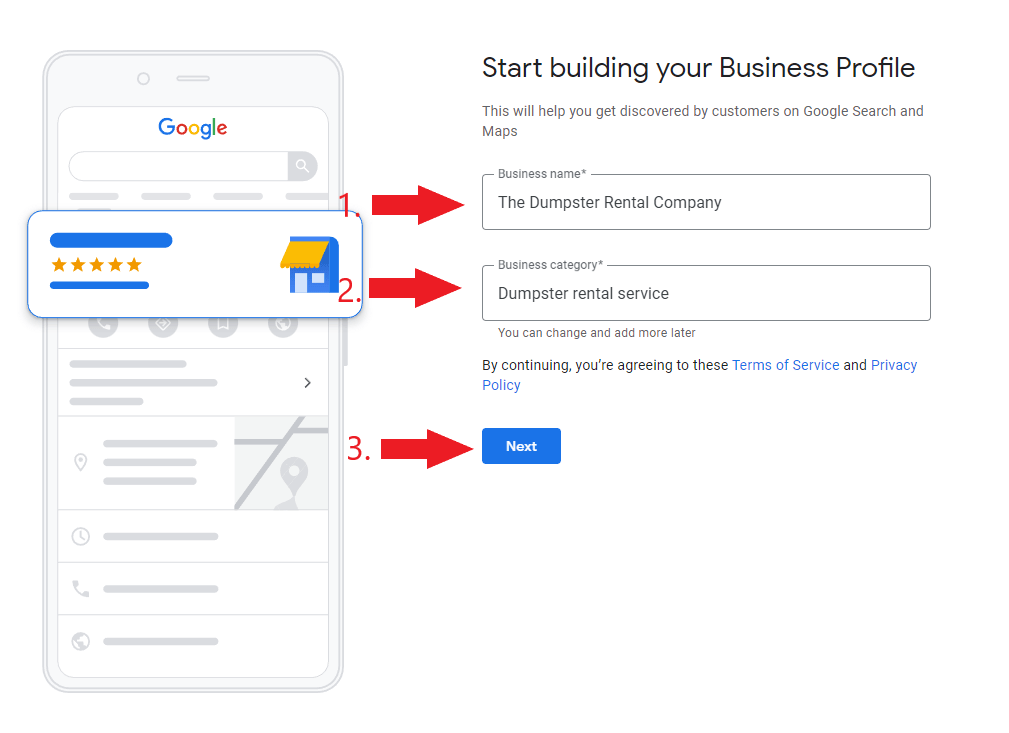 Select the best option which suits your dumpster rental service. Click "Yes" so that your business will show up on Google Maps and the Search Results Page.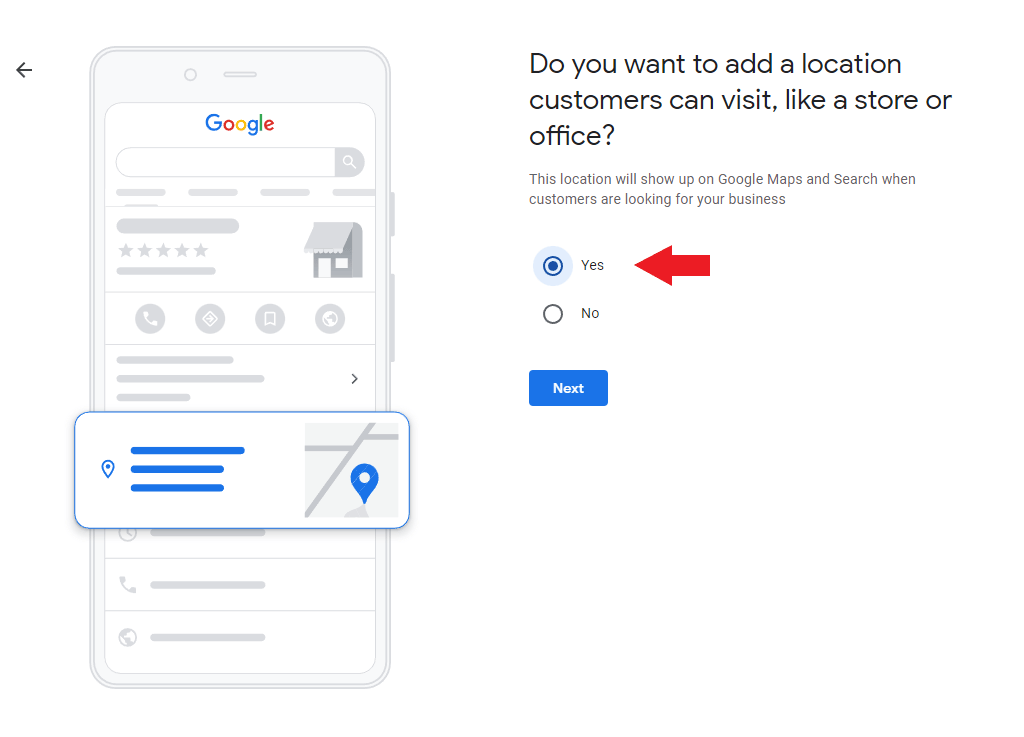 Next, you are going to enter the exact location of your dumpster rental company which includes the country, street address, city, state, and zip code where you are located. After that, click "Next."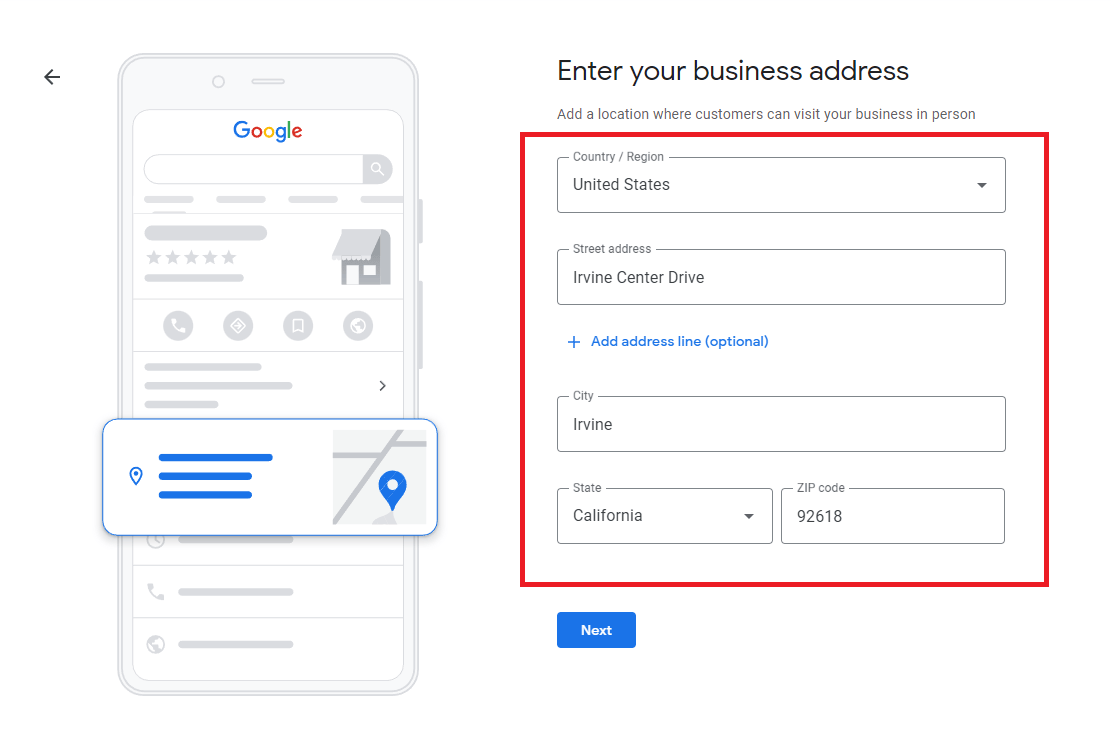 A list of existing dumpster rental listings that are located in the same location as yours will show up. If you don't see the name of your business, click "none of these." Then, click "next."
After that, you are going to pin the exact location of your dumpster rental company on Google Maps. Make sure that it's the exact spot where your business is located.
Then, click "yes" to let your potential customers know that you are accepting house calls.
This step is optional, but you can enter the areas where you provide house calls.
The next step is adding your contact info. This includes your dumpster rental's phone number and website (optional). Once you're done, click "next."
Then, set your business hours. You can adjust this later if there will be changes in the hours when you are open for business.
Enable the messaging feature on your Google My Business profile by toggling the switch that says "Accept Messages." This allows you to receive direct messages from potential customers who have seen your GMB profile.
Write a brief description of your dumpster rental business. Once done, click "Next."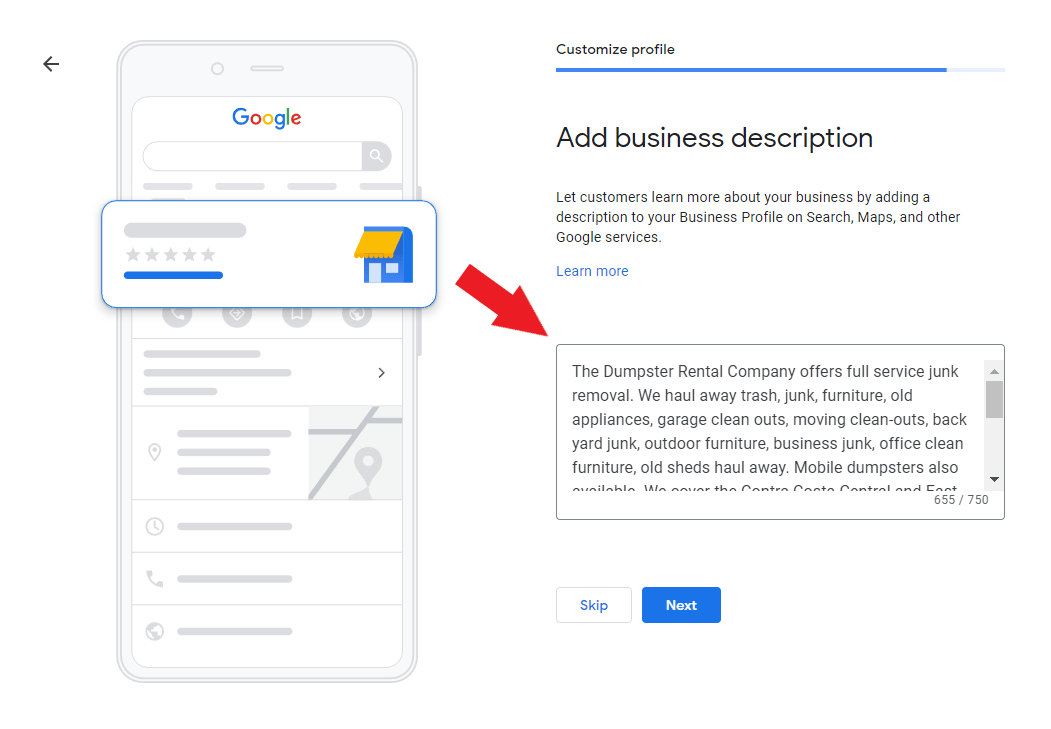 Then, add relevant photos of your dumpster rental business.
There's an option that asks you if you want to promote your dumpster rental business through Google Ads. You can skip this step and just do it later.
Want to know how ad campaigns work? Check out our blog about Google Ads for Dumpster Rentals to learn more.
If you didn't enter your dumpster rental website earlier, Google will provide you with a list of customized domain names that suit your business. You have the option to skip this step or explore more domains.
Click "Continue" to save changes.
You have successfully created your dumpster rental company's Business Profile! GMB profile verification can take up to 3 days but as soon as you complete the verification process, and follow their policies and guidelines, you'll see your profile approved in no time!
Need help setting up your dumpster rental company's business profile?
Google My Business Best Practices
In this section, we'll share tips on how you can optimize your Business Profile so that it ranks high on relevant search queries!
1. Upload relevant photos of your dumpster rental business
Photos are very useful for businesses like your dumpster rental company. In fact, it helps you create a unique identity for your business. Aside from that, it also helps you create a positive impression on your potential customers as to what they should expect when it comes to your dumpster rental services.
Some of the photo ideas that you can upload on your Business Profile include a photo of your team, the facilities that your dumpster rental has, along with the before and after transformation of the services that your dumpster rental business offers.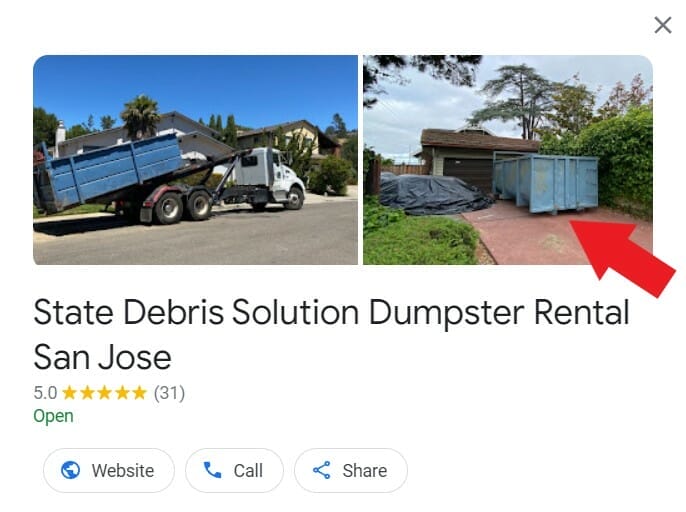 2. Update your basic info
If there are changes to your business hours, service location, or contact details, you have to make sure to keep your Business Profile updated. This step is a must because it prevents your potential customers from getting confused and serves as a way of telling them what to expect from your business. Not just that, having a complete and up-to-date GMB profile also helps with your SEO efforts!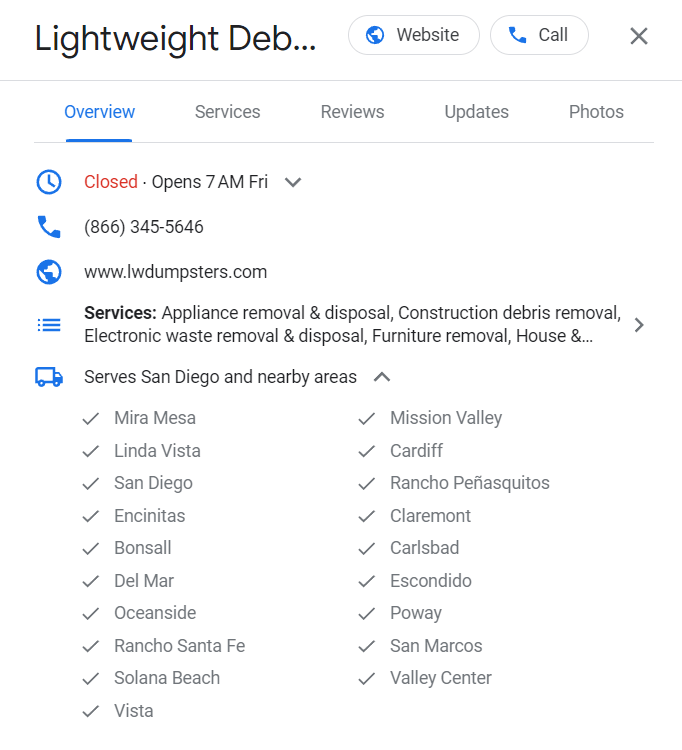 3. Write a compelling business description
Business descriptions serve as an overview of what your dumpster rental company has to offer. It usually contains your primary business category, specific services that you provide, your service areas, and awards that your dumpster rental has received. When done right, this can help improve your visibility across Google.
Take a look at this dumpster rental's business description:
As you can see, they started their business description by telling a short background about their dumpster rental company. This includes their company's location and qualifications as experts in the industry. They also mentioned the services they offer along with their goal, which is providing exceptional services to their customers.
Tips when writing your business description:
use relevant keywords but avoid keyword stuffing
should have accurate and relevant details about your business
word limit of 750 characters (but there's no need to consume the character limit, just make sure to mention the important elements at the beginning of your business description)
shouldn't sound too salesy, remember, it's all about introducing your business and establishing the trust of your potential customers
4. Gather lots of good reviews
One of the best features that Google My Business has is that it helps you collect reviews from your customers. Since online reviews play an essential role for businesses like your dumpster rental company, you have to make sure to ask your customers right after you provide your dumpster rental services. Not only will it help you rank high on relevant search queries, but it can also driving factor in helping them decide to choose you over your competitors and increase customer loyalty.
So, whether you are a newly-opened dumpster rental company or an established one, make sure to take time and ask your customers for reviews.
Here's how to get your GMB review link:
Step 1: On your Google My Business Profile Manager homepage, scroll down to "Get More Reviews."
Step 2: Click "Share review form."
Step 3: A pop-up will appear which contains the link that your customers can use to leave a review about their experience with your dumpster rental services. Copy the link and you can share it on your social media pages like Facebook, Twitter, Whatsapp, and even via email.
If you want to make the task easier when asking for a review, you can use a QR code and print them on a receipt or other marketing materials. Just one scan and they will be redirected to your Google My Business profile where they cant start writing their reviews.
5. Respond to customer reviews
Potential customers not only look at the quality of the reviews businesses receive from their previous customers. They also look at the way business owners respond to customer feedback.
There are several reasons why you should respond to customer reviews. One of them is that it shows that you really care about customer satisfaction. It also helps build trust between you and your customers, which can be a driving factor in making them your repeat customers.
Take a look at the way the business owner replied to a customer review:
As you can see, they started their response by adding a personal touch which is mentioning the name of the customer who left the review. They also made sure to show how thankful they are for getting the feedback and mentioned the name of their dumpster rental company along with the services they offer at the end of their reply.
Tips when responding to customer reviews:
Respond in a timely manner
Personalize your response (e.g. Hi, [Name of the customer], thank you so much for taking the time to provide feedback!)
If it's a positive review, invite them to engage with your brand in the future
Pass along the compliment if members of your team are mentioned
Use keywords by mentioning the products and services you provided for each customer review
Don't take negative reviews personally. Instead say something like this: "Thank you for bringing this matter to our attention. We are sorry that your experience at [Name of your dumpster rental company] didn't quite match your expectations. We would love to know why so that we can deliver a better experience next time. You may reach us anytime at [your company's email address or contact number."
Apologize and take responsibility (when appropriate)
6. Answer questions raised by potential customers
Google My Business has this feature that allows potential customers to ask a question to business owners. Since anyone who has a Google Account can raise questions and answer them, you have to make sure that you are the first person who responds to these questions. You don't want to create a negative impression about your dumpster rental company or ruin your reputation just because of a misleading answer from a random local guide.
Here's what it looks like when a question is answered by a business owner:
To prevent the spread of misinformation from local guides, make sure to switch on notifications for new questions that are raised on your Google My Business profile. On your GMB dashboard, go to Settings, and toggle the button under questions and answers.
7. Link your socials
If you have pages on social media platforms like LinkedIn, Facebook, Instagram, and Twitter, adding them to your Business profile is a good idea because it makes it easier for your potential customers to stay connected and updated with the latest posts about your dumpster rental company.
This is what it looks like when you attach your social media pages to your Business profile:

8. Add categories of specific services you offer
Adding the specific services you offer on your Business profile is another way that can help increase your chances of ranking high on relevant search queries. So, if you have other services aside from dumpster rental services, creating a list of services you offer can help you connect with your potential customers.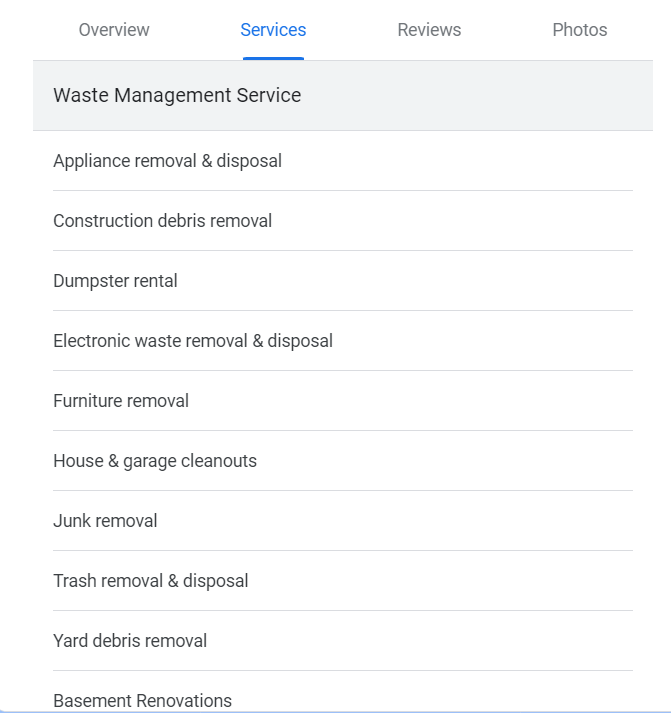 9. Post regularly
Google My Business has a feature that allows businesses to post updates on their GMB profiles it's called Google Posts. With this feature, you can publish relevant posts such as current promos that you are offering, events that you will be participating in or hosting, and several updates about your dumpster rental business.
Here are a few examples of Google Posts from dumpster rental businesses: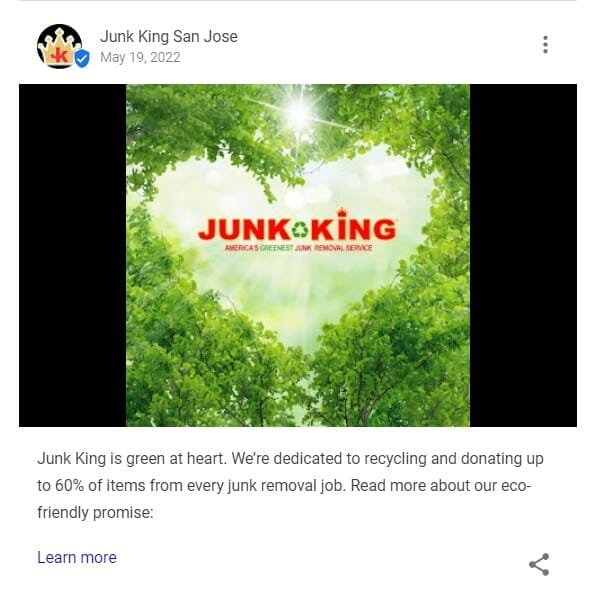 Google Posts Best Practices:
conduct keyword research and implement relevant terms throughout your posts
use high-quality images that are relevant to your dumpster rental business
don't use hashtags, it doesn't work on GMB posts
phone numbers are not allowed on GMB posts, to prevent your posts from getting rejected, use the "Call now" button instead
test which call to action button works best
the ideal length is 150-300 characters
post weekly updates
Want to know more about how Google Posts work? Check out our blog about How to Post on Google to learn more.
Need help managing your dumpster rental's business profile?
Key takeaway
Google My Business is one of the essential platforms where you should have your business listed. Not only will it help you rank high on the local map pack but will also help you get more new customers! Just make sure to follow the tips we've mentioned earlier, and you will see results in the long run.