Google Ads is the best marketing strategy for your pressure washing company; you can implement it for your business to get more customers right away. In this article, we will discuss what Google Ads are, and the key benefits of using this marketing platform for your pressure washing company. This post will guide you step-by-step on how to create an effective campaign on Google Ads to help you get the customers you need and increase your revenue.
Google Ads for Pressure Washing Business
1. What are Google Ads?
Google Ads (formerly Google AdWords) is an effective online advertising program that allows you to advertise your product or services to increase your sales or profit, using a pay-per-click (PPC) model.
1.1 What is the difference between SEO and Google Ads?
Search Engine Optimization or SEO, is the process of maximizing the optimization of your website through organic search. To be successful in utilizing SEO, requires a lot of time and effort, such as an immaculate and organized website structure, high-quality content, and constant maintenance. It can take a long time (SEO often takes 18 months+) before you see results and rank high in search engines due to the complexity SEO has in giving accurate and measurable results, and the large competition on the internet.
Once you master Search Engine Optimization, you will achieve results that will provide long-term success, increased organic visibility of your brand in search results, high-quality website traffic, and more.
Google Ads, on the other hand, will provide you with quicker results for your pressure washing business. This is because you are guaranteed your ad will appear on the front page right away when people type specific keywords, resulting in more generated traffic, sales, and leads, therefore standing out from your competition.
Unsure how to create your Google Ads?
2. Creating Google Ads for Pressure Washing Business
To start off, go to Ads Google and click "Start Now". You will need to create a Google Ads Account with your email. Once you are done creating your Google Ads Account, click "Explore your account" and this will redirect you to your "Dashboard" page.


Click "New Campaign"
Select "Create a campaign without a goal's guidance" if you have specific campaign goals and objectives, then click "Continue".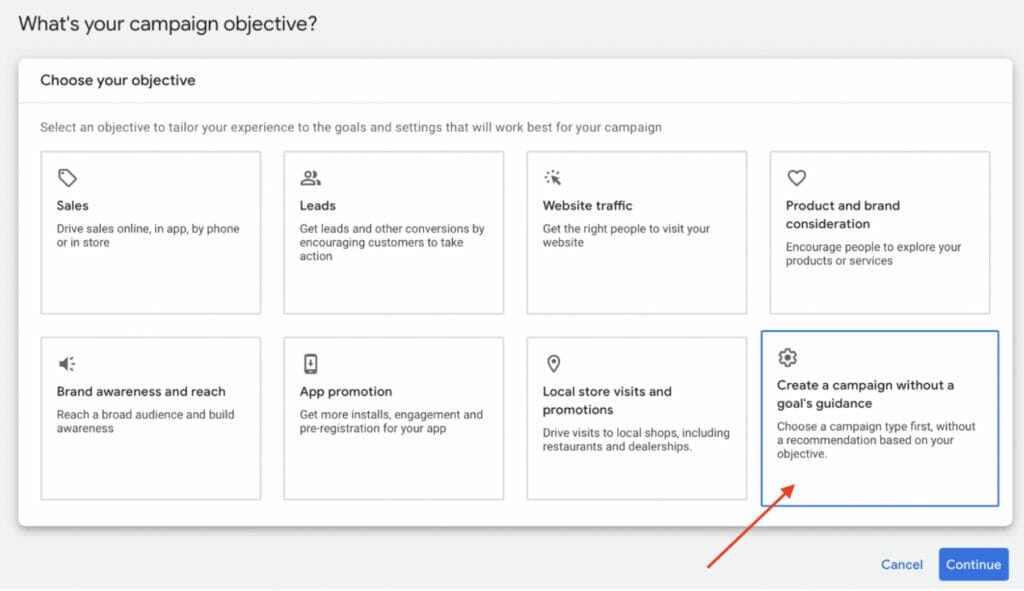 Select "Search" as the campaign type. This is a great option for your campaign type to make sure people searching for your product or services will reach you.
Type your Google Ads Campaign name and then click "Continue". You can also personalize the type of results to want to achieve for your campaign, by checking the box for website visits, phone calls, or even app downloads.
For this Google Ad, we've selected "Clicks" as the bidding focus. You can also set a maximum cost-per-click bid limit, for example 3 USD.  The CPC you should set depends on your location, your competitors, and how high quality your ads are.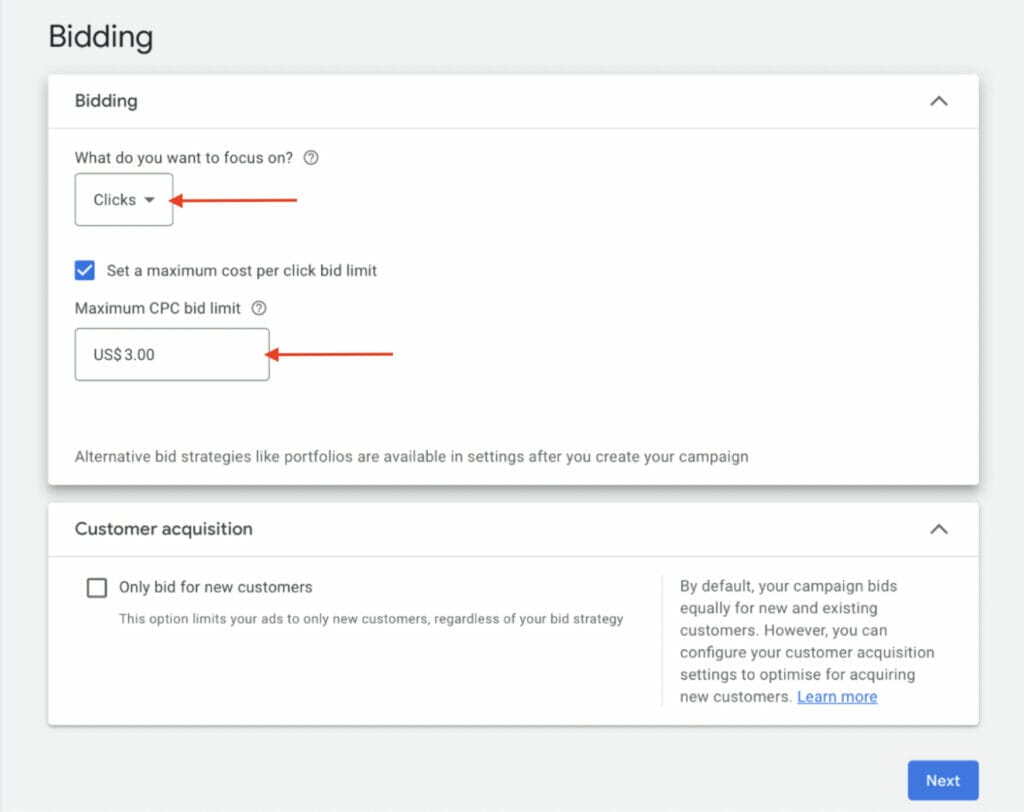 Make sure the box is unchecked for "Include Google Display Network". This is because you want to use this setting for ad campaigns that will mainly be image-based with highly defined images. Having "Display Network" unchecked also prevents your ad from showing up on searches where people aren't even looking for pressure washing services.
For the location section of your campaign, you want to enter a target area near where your business is, then click on "Advanced Search" and decide how far you are willing to travel to provide your pressure washing services to your customers. An example of this is in the image below, which shows you that you can choose your ad to be shown within a specific mile radius of your target area.
You also want to consider adjusting your bidding based on how far you are willing to travel, such as making sure you bid less the further it is from your target location. This is entirely depending on your situation, but if you need help with bidding strategies you can book a free strategy session with us. 
Then select "Presence: People in or regularly in your targeted locations" under Location Options. This is to make sure that your ad is shown to people who are searching for pressure washing services within the area you have selected, giving you a higher chance of conversion.
If you need expert advice on how to set up your campaign location settings, we can help!
Select your language. In this instance our chosen language is English.
If you want to use a different language for your campaign, a different campaign must be set.

You have the option to add target audience segments. Check the box for each target segment you want to be included in your campaign, then select the "Observation (Recommended) setting for a wider reach for your campaign.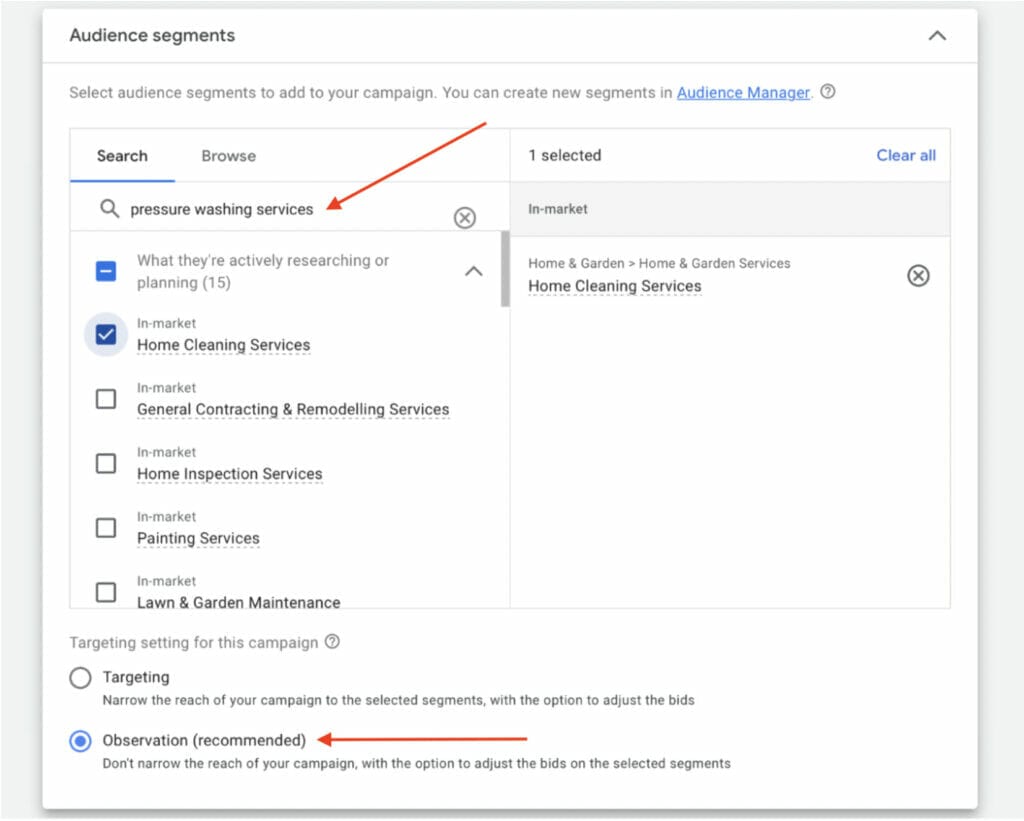 2.1 What are Google Ad Groups?
First and foremost, an ad group contains one or more ads containing a set of keywords, that are in relation to the specific product or service provided by your pressure washing business.
You can use ad groups to organize your keywords into several themes, and you want to make sure you have decided who will your ad target, what your ad will contain, and what landing page will your customers click on if they click on your ad.
Let's have a look at an effective Google Ads Structure that will bring your business more leads, conversions, and traffic.
2.2 Google Ads Structure
To create effective campaigns on Google Ads for pressure washing companies, we started by choosing our first campaign type as "Search Campaign". Inside our Search Campaign, we can have different ad groups with specific intentions per group. For Example: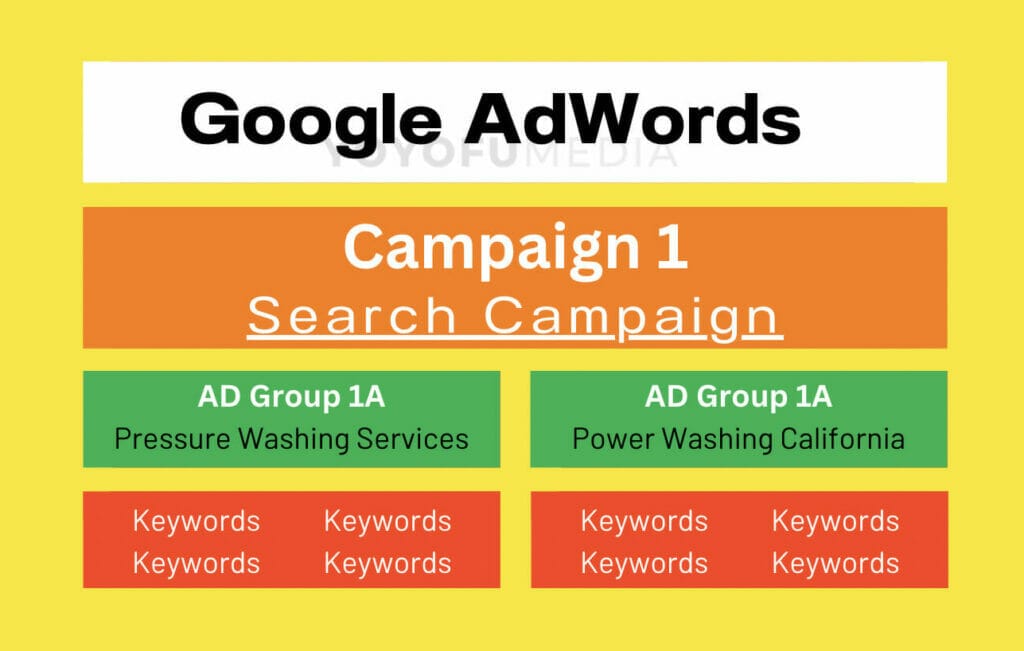 The first Ad group we can have for this campaign is "Pressure Washing Services", which focuses on the intention of services done or provided by pressure washing.
The second Ad group we can have is "Power Washing California", which focuses on the intention of relevant keywords to pressure washing, and within a specific location.
Click Through Rate and Relevancy are very important to your Google Ads to be successful, therefore you want to utilize this strategy to create Google Ads that are very relevant to what people are searching for. This will give you a higher CTC or Click Through Rate and higher ad relevancy.
You also want to have a good landing page to give your visitors a good landing page experience, therefore providing you with a better quality score. Your ads will be cheaper and you will have better conversion rates.
Need help managing your Google Ads and want more customers for your business?
2.3 Creating Ad Groups for Pressure Washing Campaign
To create ad groups for your campaign, rename "Ad Group 1" to your chosen Name. Next, you want to input a competitor's URL website and type in keywords related to your ad topic, then click "Get Keyword Suggestions".

After inputting your keyword suggestions, Google ads will generate keywords based on the competitor's website and the product or service you want to advertise.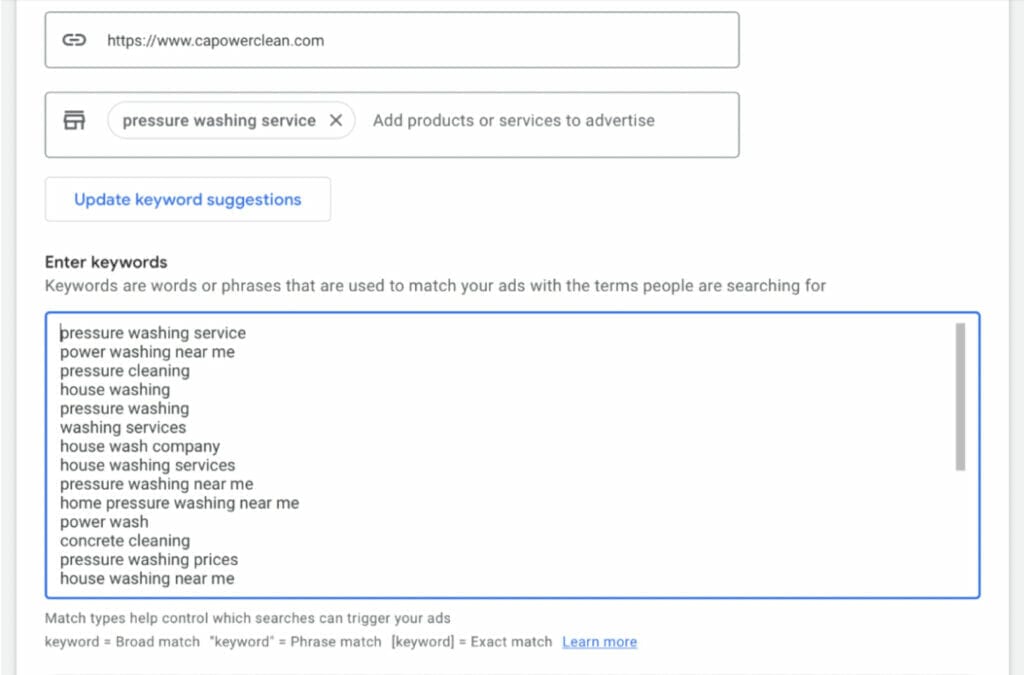 Click on "View" and review all the keywords. Uncheck any keywords that may not be related to your ad topic, then select "Apply".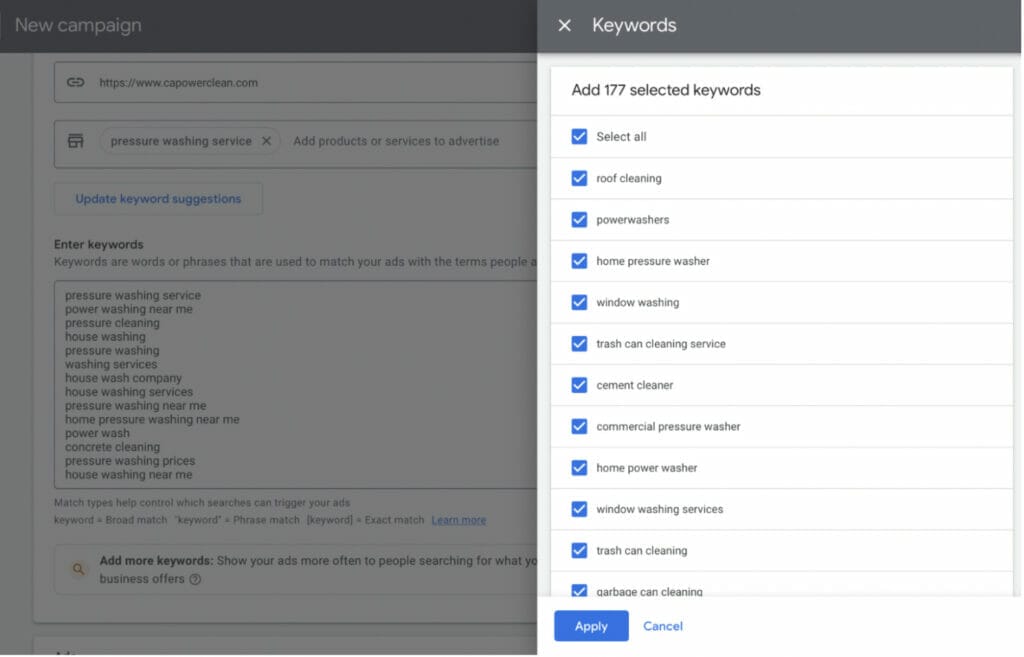 3. Different Types of Keywords
To help you drive more traffic toward your website, there are 3 keyword match types used in Google Ads that can include searches relevant to keywords found in your ads. These are Broad Match, Phrase Match, and Exact Match.
3.1 Broad Match
Broad Match includes misspellings, synonyms, related searches, and other relevant variations.
3.2 Phrase Match
Phrase Match includes a phrase and close variations of that phrase.
3.3 Exact Match
Exact Match is for an exact term and a close variation of that exact term.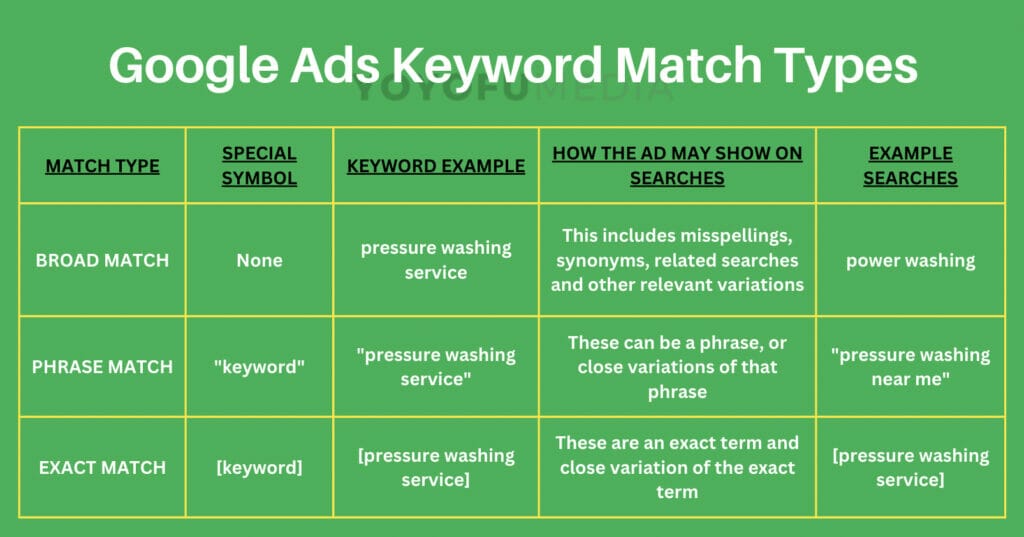 Examples of Keyword Match Type Search:
Broad Match: Keyword is pressure washing service, Search is power washing
Phrase Match: Keyword is "pressure washing service", Search is "pressure washing near me"
Exact Match: Keyword is [pressure washing service], Search is [pressure washing service]
For Phrase Match keywords, you use quotation marks (" "), and for Exact Match keywords, you use brackets ([ ]).
Once you have reviewed all your keyword suggestions from Google Ads, copy all keywords then go to Keyword Match Type Tool. This is one of the tools you can use to help you input the keywords into your chosen keyword match types.
Paste all keywords to the box on the left, then select the match types you want. In this case, we will select "Phrase Match" and "Exact Match" and then click "Make keyword list".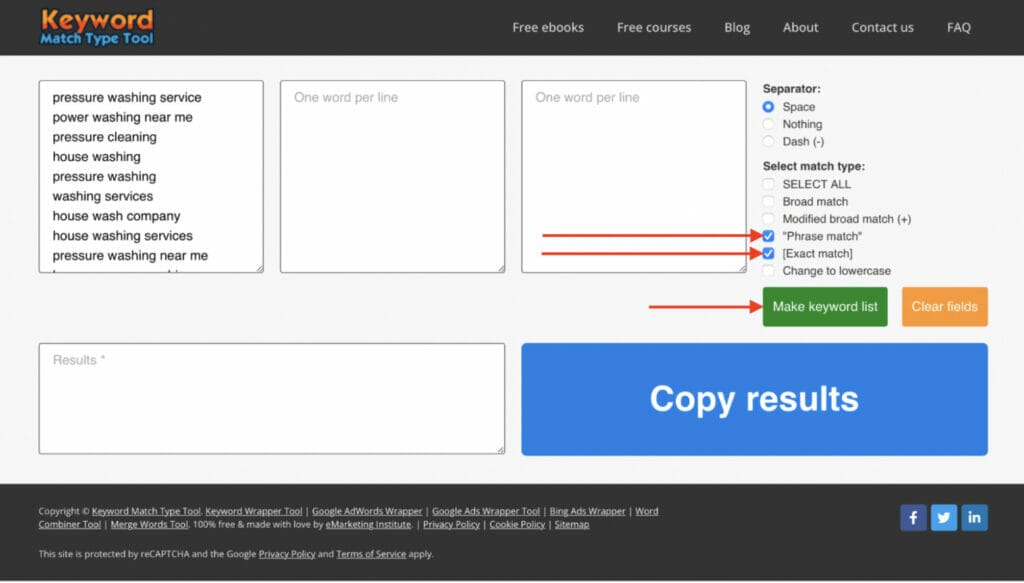 Click "Copy results".
Paste the keyword list under "Enter Keywords". This will allow for a more targeted keyword search, and to avoid wasting money on clicks that may not lead the person to become a customer.
Add the "Final URL" or landing page of the company. This is where people will find the products or services they are looking for. Then type under "display path" keywords that are the most relevant to your ad campaign.
Customise Headlines utilizing keywords in relation to the Google Ads subject that will be seen by people before clicking on the ad.
For example, in the image below, the headline used is "Pressure Washing Experts", "Los Angeles, CA" to highlight the location of the company, and "Residential & Commercial" showcasing that the company is offering services for individuals and organizations.
Type in the description information to increase click-through rate.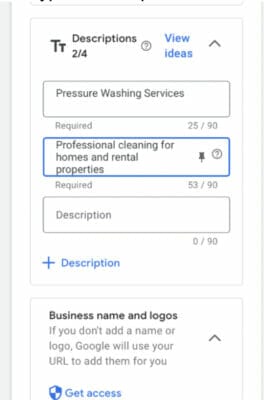 Confused about creating ad groups for your Google Ads? Our friendly team of experts can help you.
4. Ads & Extensions for Pressure Washing Businesses
To maximize your Google Ads Pressure Washing Company or Power Washing Business in converting traffic to leads and sales, utilize the Google Ads feature of Ad Extensions.
Ad extensions are an advanced feature in Google Ads, that provide additional yet specific information which you can show in your ads. These extensions can be links to subpages on your webpage, specific products or services, a call button, and more.
4.1 Sitelink Extensions
A type of Ad Extension you can add to your campaign, to increase click-through rate is "Sitelink Extensions".
Add "sitelink extensions" and make sure to fill in all blanks, such as the Sitelink text, description line 1, description line 2, and the final URL.
Here is an example of a sitelink extension for the Google Ads Pressure Washing Company. Type in the sitelink text (in this case "Commercial") and include description lines that will catch the attention of people. Then, add the Final URL for the specific product or service, then click "Apply".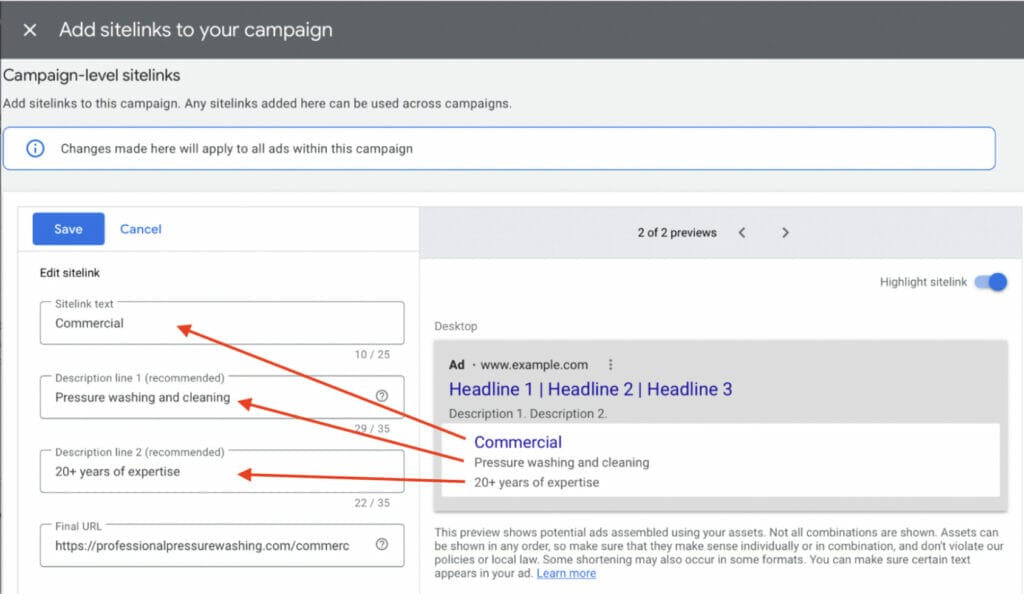 It is strongly recommended to add a total of 4 sitelink extensions to your Google Ads Campaign. This will make your ad look bigger, provide more information, and increase click-through rate.
You can always check on "preview" to see what the ad will look like on both desktop and mobile devices with the sitelinks added.

4.2 Other Types of Ads & Extensions
Different types of Ad Extensions that can be used for your Google Ads campaign for your Pressure Washing Business are the following:
– Call Extensions: These encourage calls from customers directly to your business.
– Structured Snippet Extensions: This highlights a list of features within your Google Ad.
– Location Extensions: Showcases the address of the business and its business hours.
– Image Extension: These can be photos of your products, but not logos.
– Promotion Extensions: These can include limited-time sales and exclusive promotions from your ad.
– App Extensions: These types of extensions allow searchers to directly download an app from your ad.
– Lead Extensions: Allows advertisers to include forms and surveys.
5. Budgeting
Review your budget for the campaign. Google will offer a recommended daily budget amount based on your keywords, but you can adjust this by selecting "Custom Budget" instead, allowing you more freedom and control over the campaign.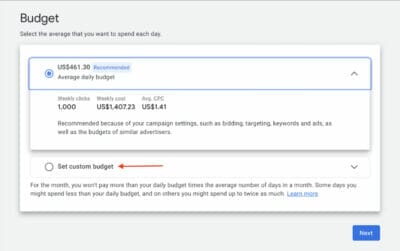 For this campaign, we will input a maximum daily budget of $10 as an example.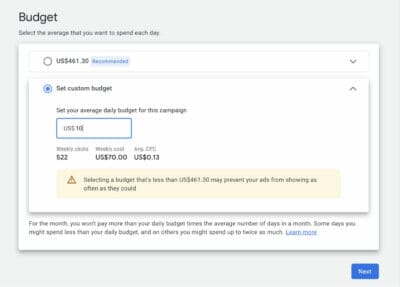 Review your campaign details before publishing. Once you are done reviewing, you can click "Publish Campaign" and you're done!
Once you are back on your Google Ads Dashboard, click "Overview". At the top, on the left side of the page, you can choose to turn off your campaign by changing this from "Enabled" to "Paused". This is important to do until you are done fully setting up your campaign.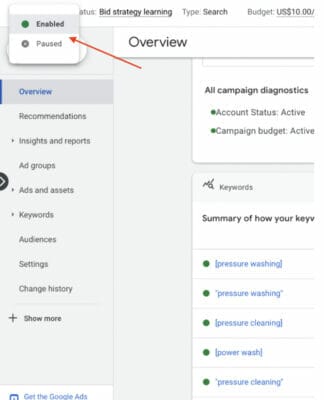 Next, look for "Tools and Settings" at the top right side of your dashboard. Make sure you are on "Expert Mode".
6. Keywords in Google Ads
For your Google Ads campaign to be successful, you need to use keywords that are an essential part of the Google Ads Structure Strategy. A well-researched keyword list will help improve the performance of your ads and provide better results. This can also help you avoid higher prices.
6.1 Keyword Planner
To add specific keywords to your ad, click on "Keyword Planner" from the "Tools and Settings" tab on your dashboard.
 Then, Select "Discover new keywords".
Type in the product or services offered by your pressure washing company for this Google Ad, then click "Get results". Google Ads will help you by providing a list of relative keywords in relation to pressure washing services.
In Keyword Planner, you will see all the relative words people also search for, in relation to the product or service offered by a Pressure Washing Company. Using "Pressure Washing Services" as an example, we can see the keywords that are often searched in relevance to it, how many monthly searches each keyword has, and the average Top of page bid results.
6.2 What are Negative Keywords?
Negative keywords allow you to exclude certain search keywords or phrases that are irrelevant to your Google Ads campaign.

To add a negative keyword to your ad campaign, , you want to go to "Negative keywords" on the left side of your screen, then click on "add negative keywords".
An example of an unrelated keyword to "Pressure Washing Services" is "Jet". For your Pressure Washing Business, you want to exclude keywords of products or services you do not provide. If your power washing company does not offer services to aircrafts, you can include "Jet" or "aircraft" as some of your negative keywords.
You can also include keywords such as "Tools" and "Equipment" for pressure washing in your negative keywords. This is to make sure visitors who click on your ads are customers who are searching for your services, and not customers who are looking to buy tools and equipment for pressure washing. Once you have typed in your negative keywords, click "Save".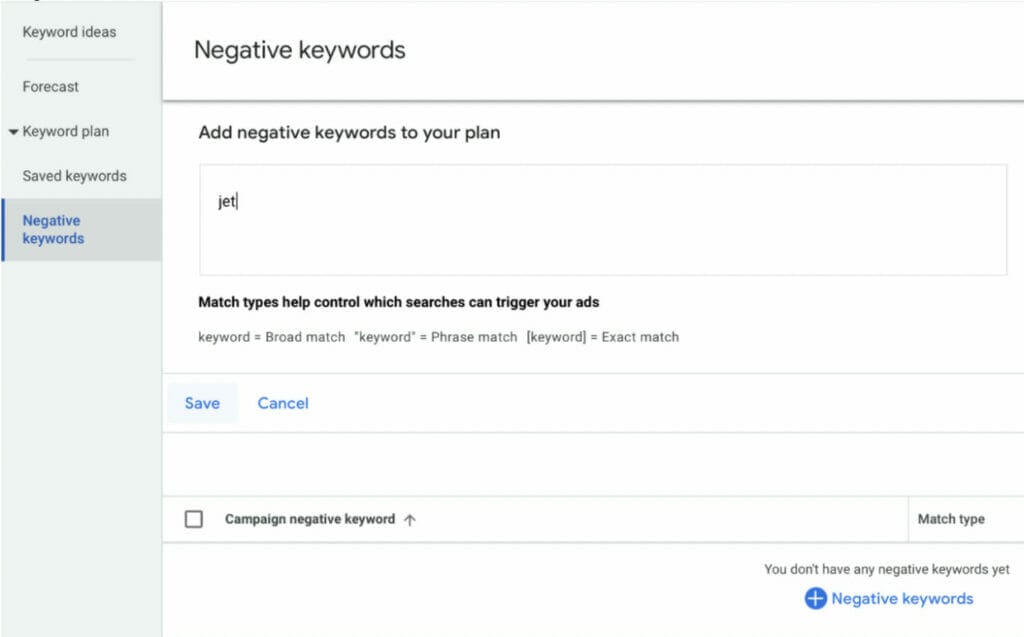 If you are struggling to come up with negative keywords to add to your Google Ads, go to www.negativekeywordpro.com. This is a free tool to generate negative keywords.


Simply type in your keyword in the search bar, in this case "pressure washing", then click "Get Suggestions".
Negative Keyword tools such as Negative Keyword Pro will give you up to 20 results using their free version, but you can always choose to use their full version, or use other negative keyword tools to see all available results from your keyword search.


After clicking "Get Suggestions", you will have a list of negative keywords in relation to your keyword search. Select which negative keywords you want to include to your Google Ads, by checking each box.
For example, you want to include negative keywords such as "uk", "toronto" and other locations where your pressure washing business does not operate, or offer services to.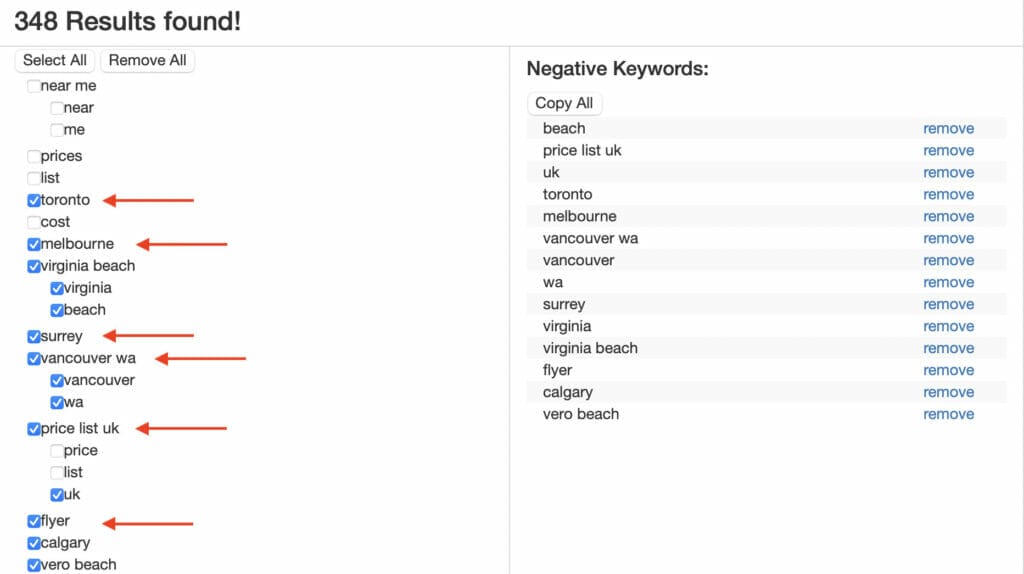 Once you are done selecting your negative keywords, select "Copy All" and paste to Negative Keywords on Google Ads. Click "Save".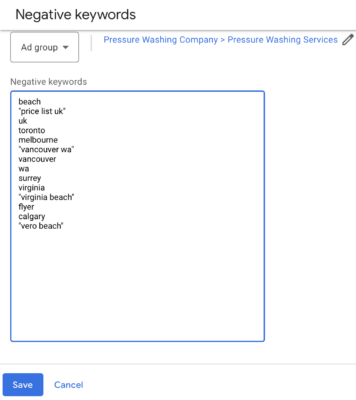 Once you've clicked "Save", you will have added all your selected negative keywords to your Google Ads Pressure Washing campaign. You can also check which Ad group these were added to, and their keyword match type.
Next, you will need to add your payment method to start running your campaign.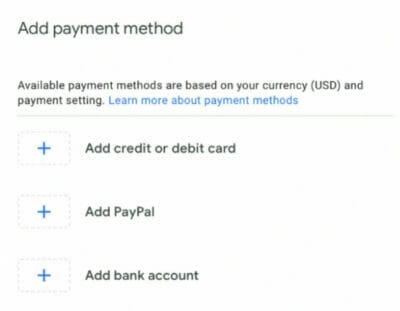 Finally, you can check your campaign optimization score. To do this, go to "Recommendations" on the left side of your Google Ads Dashboard. And you're done!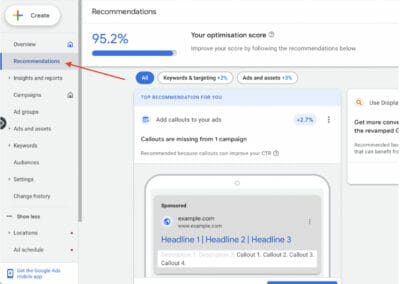 7. What is a landing page?
A landing page is simply a stand-alone page designed for your digital marketing campaign to increase conversion rates. It is essentially a page where a customer "lands" when they click through an email, an ad, or through any other digital link.
How do Landing pages work?
– Landing pages usually have a call to action button to increase conversion and leads.
– Landing pages should have nothing on the page to distract potential customers from converting.
– Your landing page should provide solutions with your service to customer problems.
– Landing pages have clear contact details, such as phone number, email and location for customers to be able to contact you.
– Landing pages are able to clearly communicate their information: Brand Introduction, Trust Indicators, and Highlighting services and offers.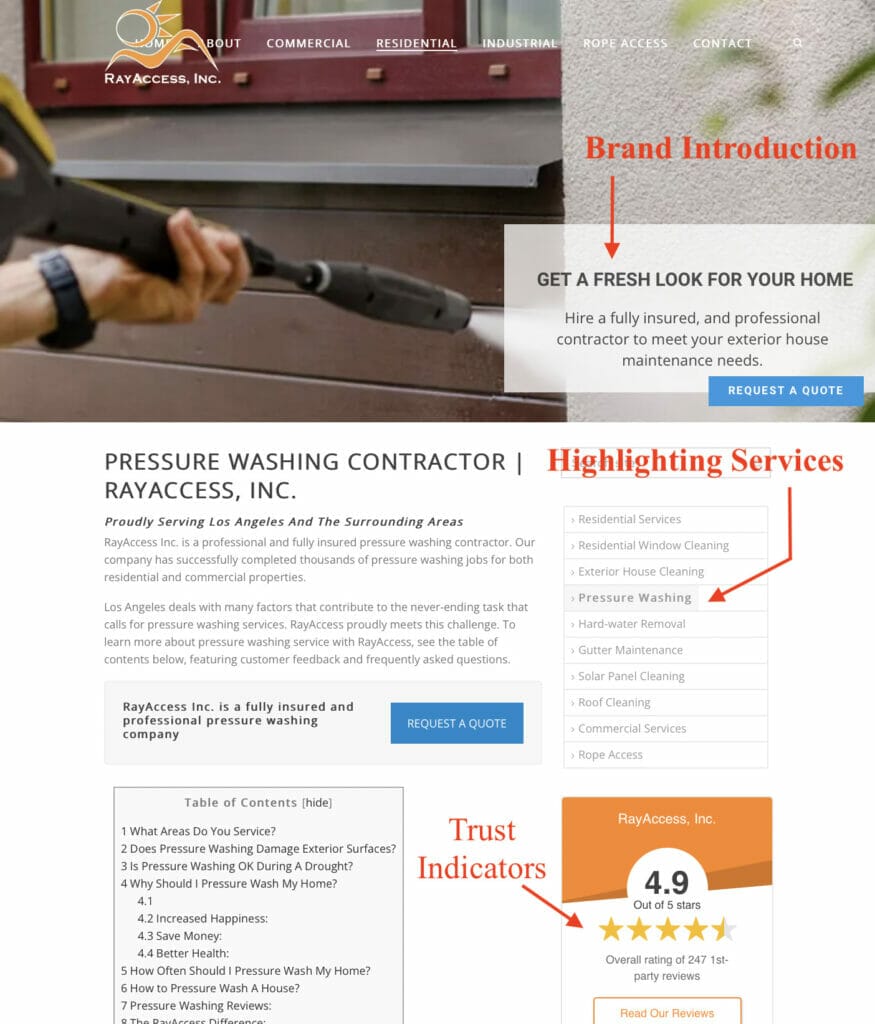 Confused about how to create a good landing page?
Let us help!
8. Grow your Pressure Washing Business with Google Ads
Creating a Google Ads Pressure Washing Company campaign is one of the most effective ways for you to use online advertising to your advantage for your products and services. With the right team, strategy, and management for setting up your Google Ads campaign, drive more traffic to your website. It will give you an increase in leads and sales, and a higher conversion rate allowing your business for further growth and success!
It is also essential for you to know how to effectively use, monitor, and maintain your Google Ads campaign performance to maximize your ROI or Return on Investment.
If you need assistance in creating and managing your Google Ads, feel free to book a free consultation with our experts.