Have you ever heard of email marketing? If you are a plastic surgeon who is looking for ways to step up your email marketing strategy, we'll tell you how effective email marketing is in this digital era along with some email marketing tips for plastic surgeons that will help increase your revenue and patient bookings!
Email Marketing for Plastic Surgeons
Email Marketing is one of the most popular and effective marketing strategies out there. It is used to advertise the latest trends and updates about your surgery clinic to your existing and prospective patients.
Email campaigns are still relevant in today's time because, in this marketing strategy, you can directly communicate with your patients! To create an effective plastic surgery marketing campaign, you must understand first its importance, the types of marketing campaigns you can use, and the content that your email must include.
Advantages of Email Marketing for Plastic Surgeons
Not sure how effective email marketing for plastic surgeons is? We've summed up its advantages below
#1 Cost-effective – Email marketing is one of the best marketing strategies that you can invest in especially if you are just starting out or a little tight on a budget because you don't have to pay extra fees just to be seen by your target audience. Here, you only advertise to people who have become your patients previously and also to those who willingly signed up to stay updated with the latest updates in your plastic surgery practice.
#2 Increased Return on Investment (ROI) – Sending birthday or holiday greetings to your patients makes them feel that you really care about them, knowing that you are sending emails to them on special occasions. The more personalized your mail is, the more likely they become engaged with your brand. Note: Adding your client's first name could be a terrific idea if you want to stand out in their inbox.
#3 It helps in brand awareness – Email marketing is one of the best ways you can do to keep in touch with your previous and new patients. One thing that you must remember especially if not that many people know about your brand, is to stay consistent. The more consistent you are in sending emails about your plastic surgery clinic, the more people will get to remember you. That's why setting a schedule of when to send out emails to your clients is a must in every email marketing campaign.
Consider using Google Ads for Plastic Surgery Practice if you want to have a quick way of attracting more patients. Also, use Google My Business to build up your clinic location's brand credibility.
#4 Improved patient engagement – With the use of updated email designs, a well-written subject line, and a clear call-to-action button, your mail will immediately grab the attention of your patients. Catching the interest of your clients and optimizing it for mobile users are some of the ways you can do to improve patient engagement in your plastic surgery practice.
#5 Results are easily measured – These days, there is a lot of email tracking software that can help you monitor how effective your email marketing campaigns are. They can measure your email's Click Through Rate (CTR), Open rate, Conversion rate, etc. in just a short period of time! Check out our guide to boosting traffic SEO for Plastic Surgeons to learn more.
Interested in email marketing for plastic surgeons but don't have the time and resources?
Email Marketing Ideas for Plastic Surgery Clinics
Welcome emails – This kind of email is usually sent to your new customers or newsletter subscribers. What you want to include here are thank you messages, links to your website, and social media pages (if you have one). Since this is the very first mail that they will be receiving from you, the reader shouldn't be bombarded with the details you want to say to them, just an overview of what they signed up for would be enough.
Remember, setting a good impression sticks to the minds of your prospective patients. So, you really have to carefully plan out what to include in your welcome emails.
Promotional emails – The purpose of sending out deals and promos that can be availed when they schedule a plastic surgery appointment with you, is to persuade your patients to set an appointment.
Here's an example:
Newsletters – In email newsletters, you can send relevant news and updates about your plastic surgery clinic to your patients. It is customizable depending on the message you are aiming to convey to your readers.
Like in this example, the plastic surgery clinic is introducing a new lip filler for their patients: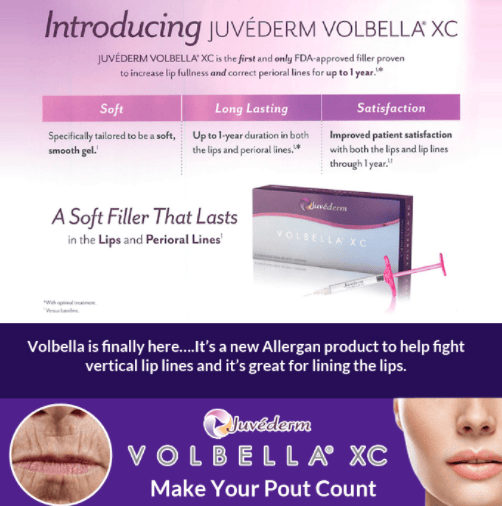 Infographics – With the use of infographics, you can easily snatch the attention of your patients, gain more interaction and increase the number of conversions because it is easier to read when compared to plain text.
Retention emails – This is the kind of email you send to your previous patients to boost engagement, loyalty, and satisfaction. It's like you are maintaining your relationship with your clients through means of encouraging them to return to your plastic surgery clinic.
Transactional emails – Transactional emails are the kind of emails that you get once you have scheduled/booked an appointment with a plastic surgeon. It is where they send you a confirmation email that contains the date and time of your meeting.
Leave a review – You can also use email to ask your previous patients to leave reviews. Just keep in mind that it should be short, and simple, and use words of encouragement that would make them leave a review. Need help managing your online reviews? Read our blog post on review management for plastic surgeons.
Coming up with great email content can be time-consuming for plastic surgeons like you. Our team is here to help.
Email Marketing Tips for Plastic Surgeons
Now that you have several ideas on how to start your plastic surgeon marketing campaign, here are some tips that you can use to step up your email marketing campaign:
List of emails – At the start of every email marketing campaign, this is the first thing that you should have. How to gather a list of emails?

Write blog posts that have call-to-action buttons where they can subscribe to receive emails and updates
Use forms on your website
Directly ask your patients

It should be properly optimized not just for desktop users but also for mobile users – Since 85% of people use their mobile phones in checking their emails, your email campaigns should be mobile-optimized. This way, mobile users won't go through the hassle of zooming in on texts or waiting for a few minutes before the mail has completely loaded.
Focus on one goal at a time – As a plastic surgeon, you may have a long list of goals that you want to achieve in your plastic surgeon email marketing campaign. However, you shouldn't combine all of your goals in one email because this might cause confusion to the recipients of your mail. Setting a clear idea of what you want them to do (i.e. scheduling an appointment, increasing sales, targeting new customers, enhancing customer relationships, and the like) is a good idea because it will be easier to comprehend the message you want to deliver to your patients.
Make it personalized. Personalized emails make your message stand out in your patient's inbox. In fact, there's a 50% open rate if the email is addressed directly to each recipient.
Don't forget to proofread. Since you can no longer edit the content of your email once it is already sent to your patients, you should make time to check every single detail of your mail. Starting from the subject, content, and the texts found in the images. Attention to detail is a must in every message that you send to your patients because if you create a mistake, it might affect the credibility of your plastic surgery clinic.
Use email tracking software. Of course, as a plastic surgeon, you want to know if you are getting results from your email campaigns. Here are some of the best email tracking software that you can use for your plastic surgery marketing strategy:
In Mail track, you'll know if the emails you have sent to your patients have been opened and receive daily reports on the percentage of reading emails along with the percentage of the links that were clicked by your patients,
Another is Mixmax, which allows you to see who opened your email, and what they're reading, and helps you to come up with a follow-up campaign for individuals who aren't showing any action towards your mail.
Streak is another email tracking software that helps you send personalized emails, schedule emails to be sent at the right time, and know instantly whether people see your message or not.
 Need help coming up with an email marketing strategy for your plastic surgery practice?
Key takeaway
Creating a well-thought marketing campaign for plastic surgeons can be hard if you are not using the right tools. Just follow all the email marketing tips for plastic surgeons that we have mentioned earlier and you will surely drive a lot of conversions and traffic to your plastic surgery practice!