Have you recently opened your dental practice or are you thinking of a dental marketing strategy that'll reach not just your online audience but even your offline clients? In this article, we'll tell you why direct mail for dental clinics is worth a try along with some tips on how to achieve a successful dental direct mail campaign!
If you have already tried various forms of digital marketing strategies for your dental office, and still think that you have more to offer in your dental marketing, why don't you go back to the classics where you promote your dental services through direct mail campaigns?
Interested in direct mail marketing for your dental clinic?
What is Direct Mail?
Direct mail for dental clinics is one of the classic ways used by marketing experts to let consumers know about the services offered by dental clinics. This is done by almost every business industry in the past and still continues to be used today. What happens here is that they send a mail that's in any print media format right to your doorstep or mailbox.
Its purpose is to get in touch with potential and existing patients. Direct mail marketing has different formats that you can choose from. But usually, it is delivered in the form of letters, flyers, or postcards.
Need help creating direct mails for your offline audience?
What to consider before choosing a direct mail format that suits your dental practice
The format actually depends on your dental marketing objective, your target market, and most importantly, your budget.
Letter –  If you really want to touch the hearts of your potential patients, a letter format is a way to go. It is suitable for dental clinics that would like to further explain their dental services, and tell a short background on their advocacies, or fundraising events.
Postcard – Dental postcard marketing is the most cost-effective format because it doesn't need extra papers like envelopes that need to be opened. What's usually included in dental postcards that are sent through mailboxes are the following: starting with a bold headline, an image of a person that is smiling (because you're selling dental services), contact details, and promotional offers.
It must contain important information about your dental office that you should never leave out:
name of your dental clinic
address or exact location of your dental clinic
your dental clinic's phone number
your dental clinic's email address
your dental clinic's website
dental fees of each treatment
Insurances covered
Why direct mail for dental clinics?
There are times when digital ads are overlooked by consumers because of the lack of personal touch. In fact, when digital ads are compared to direct mail, the latter has a higher response rate. A lot of people still prefer receiving promotions through their mailboxes because it is more personalized and brings back a nostalgic feeling of physically opening a letter that is meant to be sent to you.
Also, you should not focus solely on one advertising platform, with the use of a direct mailing strategy there's a high possibility that your dental practice will stand out among your competitors. If your dental clinic is new, consider our comprehensive guide on creating a start-up marketing plan.
Things to remember when using direct mails for your dental clinic
Proofread the content – once you have mailed them to your potential customers and existing customers, there's no turning back. You can't edit the content anymore. That's why you really have to consistently check the content of your mail or postcard before sending those out.
Keep the message short but concise – People usually don't have a lot of time to read their emails so you have to say what you want to say in a short yet impactful manner. This way, prospective patients will remember your brand, and who knows, visit your clinic the soonest time possible!
Don't forget to add images – including images on your postcards can give you plus points because it gives potential customers an idea of what their teeth will look like after getting a dental treatment from your clinic. Choosing the right photo also helps!
Direct mail ideas for dental clinics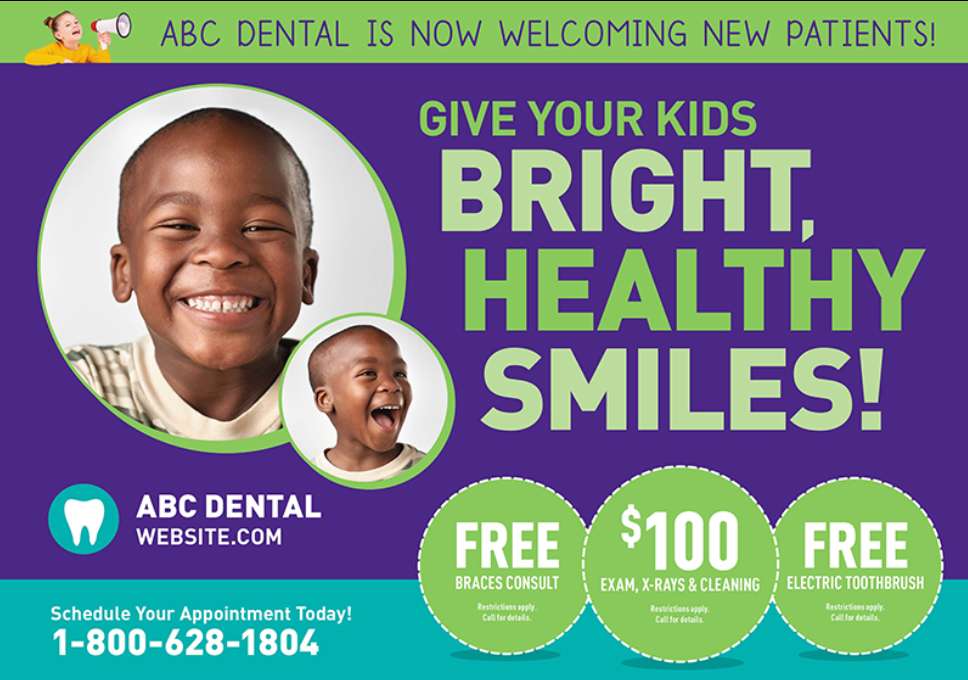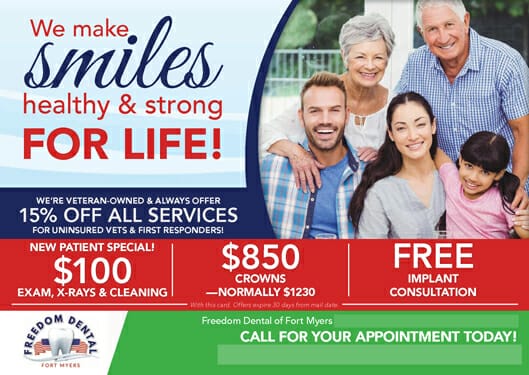 Free online tools for creating postcards
Don't have software to create designs? We got you! Here are some of the free tools that you can use:
Canva
Canva is a free online platform where you can easily create your own postcards, flyers, brochures, etc. They already have ready-to-use templates that'll guide you upon designing if you don't know where to start. This is easy to navigate which makes it beginner-friendly.
Lucidpress
Lucidpress is another web-based platform that is being used by over 6 million individuals. It provides you with a gallery where you can look for design inspirations if you don't yet have an idea for your postcard.
Same as the first one, this is also suitable for those who have no experience in creating direct mail such as postcards, brochures, and flyers because they have a step-by-step guide that you can follow before designing an actual one.
VistaCreate
VistaCreate is another graphic design software that offers 50K+ professional templates, background removal features, and free fonts, backgrounds, and objects that you can choose from! All of these are for free! But if you want to get unlimited access to these packs, you can choose a monthly plan that's worth $10 only.
If you want to know more, here are the Top 5 Free Online Postcard Maker Tools.
More tips and tricks for an effective direct mailing strategy
1. Use a simple yet eye-catching font
This is to attract your potential customers to take the time and read your postcard. People won't waste their time on something that isn't legible or too complicated to read. So, using fonts like Century Gothic, Verdana, and Helvetica are some of the best ones to use for postcards.
2. Include coupon codes
Most dentists use this because aside from getting the attention of future customers, it will also be easier for them to track patients who are calling from your direct mail strategy and which ones come from your digital marketing strategy (i.e. Google Ads, Google My Business, Yelp Ads, etc.).
Note: When creating coupon codes, you could QR codes so that people won't find them complicated to use. Want to know more about how QR codes can help your dental practice? Check out our blog post on QR Codes for dental clinics to learn more.
3. Add a clear call to action
The objective of your direct mail strategy is to get more patients. Just like digital advertising campaigns, you have to emphasize what you want your future patients to do. For example, schedule a dental treatment appointment, like your page on Facebook or follow you on Instagram, etc.)  so that they will be guided on what to do next after reading your postcard.
Want to know how to use call-to-action buttons? Check out our blog post on Dental Call to Action Ideas to learn more.
4. Choose the right colors
Use a color wheel for a guide when choosing the right combination of colors that will be used on your postcard. When using dark fonts, make sure to use light-colored backgrounds and vice versa. So that your dental patients can still see the message you want to portray.
5. Your logo must be visible
 Of course, you want people to know more about your dental clinic. Placing your dental logo in the right places and using the appropriate size are some of the things that you should also consider.
6. Direct to the point
Since you don't have a lot of space to write on (for postcards), you must maximize the use of words to tell your potential customers why they should schedule an appointment with your dental clinic. So, using words like "free," "discounts," "new patient promo," and the like will surely help catch their attention.
7. Use high-quality paper
Once you are done with the design, it's time for printing! Choosing the right kind of paper for your postcards/brochures/letters/flyers also sets an impression on your dental clinic. So, make sure to pick the best ones so that the people whom you send your direct emails will turn into your dental patients.
Optional: if you have an extra budget, you can also add free samples like a toothbrush, mini toothpaste, or anything that goes along with your dental practice. People like freebies!
Conclusion
Direct mail can be a successful dental marketing campaign if done correctly. It's a good investment for dental practices looking to expand their client reach. Using the direct mail strategy may be a time-consuming and labor-intensive process, but it's worth a shot because it can be an additional source of revenue in addition to digital ads.
Are you still thinking if direct mail is the right choice for your dental office?