Did you know that blogging for dental clinics can help grow your dental practice? Blogging can increase traffic to your website and create relationships with new and existing patients. Writing blogs can help reach patients in a fun and educational way.
As a dental clinic, there are many topics that you can write about for your blog to attract new patients and keep existing ones informed. Some content marketing ideas include answering common questions, hygiene tips, and even writing about products that you recommend.
This guide will give you some tips to help you optimize your dental blog webpage, how to write the best blogs, and also provide you with some content ideas to write for your blog.
Why Is Blogging For Dental Clinics Beneficial?
Blogging for dentists is beneficial in growing your practice and bringing new patients to your clinic.
Aside from informing patients about different dental topics and dental hygiene techniques, blogs can help you increase your website traffic. Increasing website traffic means you have a greater chance of reaching new potential patients. It will encourage visitors to call your practice and potentially make an appointment.
Also, blogs are important because by writing blog posts about different dental topics you are showcasing your knowledge, which creates trust between you and your patients.
If your blog content is written well, your patients will create trust with you and your clinic before they even meet you or visit your office. Building trust with patients plays a major role in turning them into actual patients for your dental clinic. Blogging also increases the credibility of you and your practice.
Another key component of why dental blogging is beneficial and important for your dental clinic is that they work to create relationships with patients before they even visit your clinic.
Your blog is a way that new patients to get to know you and your dental clinic. It is also a great way to start building trust between you and your potential new patients. Blogs are also a great way to stay connected with existing patients by keeping them informed and updated about different dental topics.
Optimizing Your Dental Blog
There are certain things that your blogs should have to optimize your posts and website. This will help your clinic rank higher on search engines which means potentially more new patients.
The content in your dental blog should include important keywords to help your article appear relevant to patients. This will also help your article rank higher. The keywords should attract the most interest.
Your content should also include subheadings. This makes your article understandable and easy for visitors to read. Throughout the content of your article, you should also include internal and outbound links.
Relevant Dental Keywords
When writing your content for your blog posts you should do keyword research. Keywords will tell Google that your page is relevant to what a user is looking for.
You should include these keywords throughout your article. These keywords should be keywords that patients may type into Google when searching for dental services like yours and when they do your blog will show up for them. The keywords will help optimize your website so it can rank higher on search engines.
You should include the keywords you researched in your title.
The title is the first thing that patients read when they are looking for an article that will best answer their questions or provide them with the information they are looking for. This is why a title that includes relevant keywords to what a patient is searching for plays a significant role in whether patients choose your article to help them with their needs. The title will also let readers know what they can get out of your article.
You should also include the most relevant and popular keywords in the body of your blog post. Not only will this keep readers interested and engaged but it will help your website rank higher. This will help with SEO and let Google decide that your article is relevant and will help get your website pushed out more and increase your website traffic.
Did you know that Google Ads for Dentists also relies on keyword targeting to help ads reach the most relevant patients? Read our step-by-step guide for more information. There are also formulas for successful dental ad copies.
Not sure if you are using the best keywords in your blog post?
Subheadings
Subheadings are also a great place to include the keywords you researched. Including those keywords in your subheading will help optimize your website. Subheadings let readers and search engines know what the topic of your webpage and blog post is about.
Aside from the page optimization, subheadings make it easy for visitors to read and understand your content. Subheadings are beneficial for readers who skim articles. It will also give them an idea of the different points of a topic you will be talking about.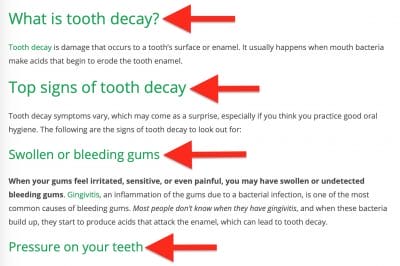 Internal and Outbound Links
Your article should include internal and outbound links. Internal links are links in your blog posts that lead users to a different page on your website. Outbound links are links to other articles or websites. Including these links in your blog posts will increase your reputation on search engines.
Internal links will link certain keywords to certain pages on your website. This will keep people exploring your website and provide them with more information about your practice. This is a great way to add value to other pages on your website.
Outbound links are great for creating a connection to a certain topic or website. Remember, when using outbound links, it is important that you link to reputable and respectable sources. You do not want to be linked to a website that is not respected in the dental industry.
Check out our article SEO for Dentists for a more comprehensive optimization guide for your dental website.
Images & ALT Tags
You should absolutely include photos and/or even videos in your blog post. They play an important role in keeping readers engaged in your content. Visitors do not want to just read now, they also want to see images or videos to ease take a break from all the reading.
You should also include a description of the image in your ALT tag. ALT tags provide context to what your blog post image is showing, which informs search engine crawlers and allows them to index an image correctly. Adding information and a description to the images in your blog post will help with your optimization.
Also, did you know that ALT tags are an accessibility feature? One of the main purposes of ALT tags is for the benefit of individuals who are visually impaired who use screen readers. The screen readers will also read the description in the ALT tag.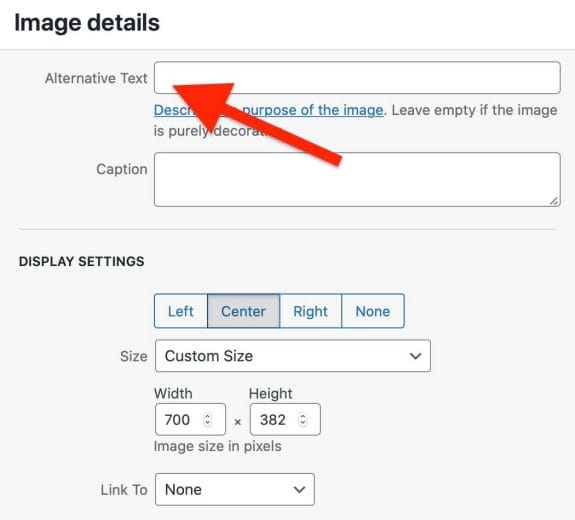 Social Media
Did you know social media can help improve your SEO results? Once you have published your blog post, you should share your blog post link to all your social media accounts including your Facebook, Google My Business, and Instagram. This is a great way to keep people who already know about you up-to-date and connected with your clinic.
It is also a great way to increase traffic to your website. The links you share across all your social media platforms will help generate clicks for your website which will help increase brand exposure while also influencing search engine optimization. Track which platforms bring your business the most leads with dental call tracking.
For example, you can post your blog link post in your Instagram bio.
Read our article Why Dentists Need Social Media to learn about the benefits of social media and the best practices to apply when posting on your accounts.
Want us to help you effectively optimize your dental blog website?
Blog Content Guidelines
When working on writing the content for your blog there are a few guidelines to follow. Following these guidelines and implementing them into your blog will keep users interested and intrigued by your dental blog post. Also, keep in mind, you should be writing at least 2-3 blog posts per week to keep a consistent flow of potential patients visiting your website.
Address the Patient's Problem
When writing your content there are certain things to keep in mind in order to keep the reader engaged in your content.
First, address the patient's problem.
You may notice that all your patients ask a common question when they visit your office. Answer this question in the form of a blog post. If it is a popular question in your office, it will be a popular topic on your blog.
Also when you are writing your blog make sure you are writing to the patient and about the patient. Patients want your blogs to address their problems and what they need to know. Write about what would be interesting to them.
Make your blog post beneficial to them. Your blogs should provide value to the patients to keep them intrigued by your content. If you are writing about a piece of dental equipment or about your dental clinic chances are they will not read your content because it does not benefit them.
Benefits of Your Article
As we mentioned earlier in this article people want to read something that is beneficial to them. Your blog should provide users with value and give them something to take away from it. The information in your article should be useful to them.
This is why your title is so important, as it gives readers an insight into what your article will be about and how they can benefit from the information in your article.
One Dental Topic Per Blog
Another important rule to follow when writing your blog post is to stick to a single subject in each blog post. You do not want to create confusion in your patients because you included too much information in one blog post. Keep your content about one specific topic to ensure that your patients grasp the topic that you are originally trying to inform them about.
You want to provide readers with the most important and accurate information related to what they are searching for. If your blog title is about one topic but you cover two other topics the reader may click off of your blog. For example, if the patient is interested in your content about the best teeth whitening toothpaste that you recommend, but you are also including details about cavity fillings chances are they will click off because it is not the information they are looking for and does not relate to them.
Readability: Clear & Concise Content
When writing your content keep your content neat and clear. Keeping your content clear, concise, and to the point will make it easier for visitors to read and actually learn from your article.
Also, keep the language and wording easy.
Remember, your audience is primarily patients and not other dentists or people within your profession. You do not want to use dental terminology that patients will not understand, this will make them click off your post. It is also important that your content has no typos or errors.
If your content is filled with typos or errors it will make it difficult for readers to understand and actually learn from your article.
A little bit of typos is okay and adds a human element to it. However, too many typos and errors hinder the respect and credibility of your dental office. Too many typos will make patients click off your website and seek information from other sources.
Also, if your content is lagging to get to the main point and giving readers too much information that is not relevant or useful to what they are looking for, they will seek it elsewhere.  Your content should get straight to the point and provide users with the most relevant and helpful information.
Blog Content Ideas for Dentists
As a dental clinic, there are many topics you can write about for your blog. These topics can range from the best toothpaste, proper flossing techniques, or even topics like the best diet for healthy teeth. There are also different kinds of articles that you can write. These include articles like 'how to', 'the best  (dental products), or even articles about different dental procedures.
Frequently Asked Questions
As a dentist, there are probably common questions that you notice all your patients ask you. You should answer these questions in your blog.
If it is a common question that patients are asking the chances are that it will be popular content for your blog. But remember one topic per blog post. Do not answer all your frequently asked questions in one blog post, it will be hard for patients to find the information they are actually interested in.
Symptoms of Common Dental Problems
When patients are feeling any kind of discomfort the first place they turn to for answers is Google.
Patients are looking for answers to their symptoms and what could be the cause of their problems. By writing blog posts explaining the symptoms patients may feel for different dental problems you can help bring new patients to your website. For example, your article can be "Signs and Symptoms of Gum Disease" or "Common Symptoms for Cavities."
Good Hygiene Practices
Writing and posting about preventative measures provides users with helpful information and tips.
You can write these articles in the form of "how-to" blog posts. For example, "How to Floss Better to Avoid Cavities." These articles provide lots of value to patients. They also start building a trusting relationship with the patient and dentist.
Dental Procedures
A blog post about dental procedures lets patients know the steps that will be taken when they themselves are getting a procedure done.
Explaining dental procedures is a great way to ease a patient's nerves. By explaining how you perform a certain dental procedure, patients may feel more comfortable and confident on the day of their own procedure. These procedures can include common procedures like fillings, dental crowns, or tooth extractions. Or you can also write about cosmetic dental procedures like teeth whitening or veneers.
Payment Options
The cost of how much a patient's dental work will cost is an important topic to cover in your blog. While this topic may not be relevant to all your patients it will be extremely helpful to others. Many patients are concerned about how much they will need to pay for their dental work.
Your blog post can talk about payment options and the types of insurance your dental clinic accepts. This is a great way to be open and transparent with new patients.
Options and Tips for Anxious Patients
Did you know that over 75% of adults experience dental anxiety or fear?  Patients may experience anxiety or fear of the dentist for many different reasons including fear of being in pain, past negative dentist experiences, and even feeling embarrassed.
By writing a blog post about tips to help ease anxiety or the different options available to ensure that the patients feel the least amount of pain can help influence the patient to actually schedule an appointment with your office.
For example, you can write about different sedation dentistry and the sedative states available. You can also talk about the different ways the sedatives are administered. This can be by laughing gas, oral sedation, or by injection.
Letting anxious patients know that there are options available to help with their nerves and anxiety may help them feel more comfortable and confident visiting your office.
Want more ideas for blog content for your dental blog website? Read this article for 101 dental blog post ideas.
Conclusion
Blogging for dental clinics is a great way to increase traffic to your website and reach new patients. In fact, blogging can help your webpage rank higher by using popular keywords, internal and outbound links, and also sharing your blog link across all your social media platforms.
There are so many topics to write about for your dental blog that can help you reach patients in need of different dental care. These topics include hygiene tips, dental procedures, and even tips for anxious patients.
So if you are looking to start blogging for your dental clinic but are unsure where to start, we can help you!