Yelp ads for dentists are a great way to promote your business at the top of search engine results on Yelp. Millions of individuals visit yelp daily to help them decide which businesses and services are best for their needs. The reviews users leave on a business's Yelp account are a crucial part of a business's reputation on Yelp. They play a significant role in whether potential customers will help trust your business. Yelp can attract new patients to your dental practice through popular dental keywords like dental fillings, root canals, or dental clinics. They will reach patients looking for exactly what you offer. Follow along with this step-by-step guide to set up your Yelp Ads for Dentists campaign.
What Are Yelp Ads?
Yelp ads are advertisements that appear at the top of the search result pages. The formatting of these kinds of Yelp ads differs depending on the type of information that you have filled out on your business profile. Yelp ads will typically show your business name, the ratings your business rating, reviews, and a call to action. Some of these listings will also give users a rough estimate of how long it takes for the business to respond.
One way that ads appear is when someone is actively searching for a specific service. For example, if the user is searching for dentists then ads for different dental clinics will appear in their search results. This is where you will most likely get a lot of visitors and traction.
Another way that Yelp Ads can appear is on the company profile page for a different business. Your ads can appear as options "You Might Also Consider." For example, if a user is on a page for a coffee shop, they may get ads recommending a bakery or a cafe. They are similar types of businesses and they are sponsored ads which is another way for Yelp for dentists ads can appear.
For example, if a user is on an orthodontist's business page on yelp, there is a possibility that your dental clinic's yelp ads may appear for them. They will show as a dental practice business that the user might also consider.
Below are sponsored Yelp Ads that show up when searching for Dentists in Los Angeles: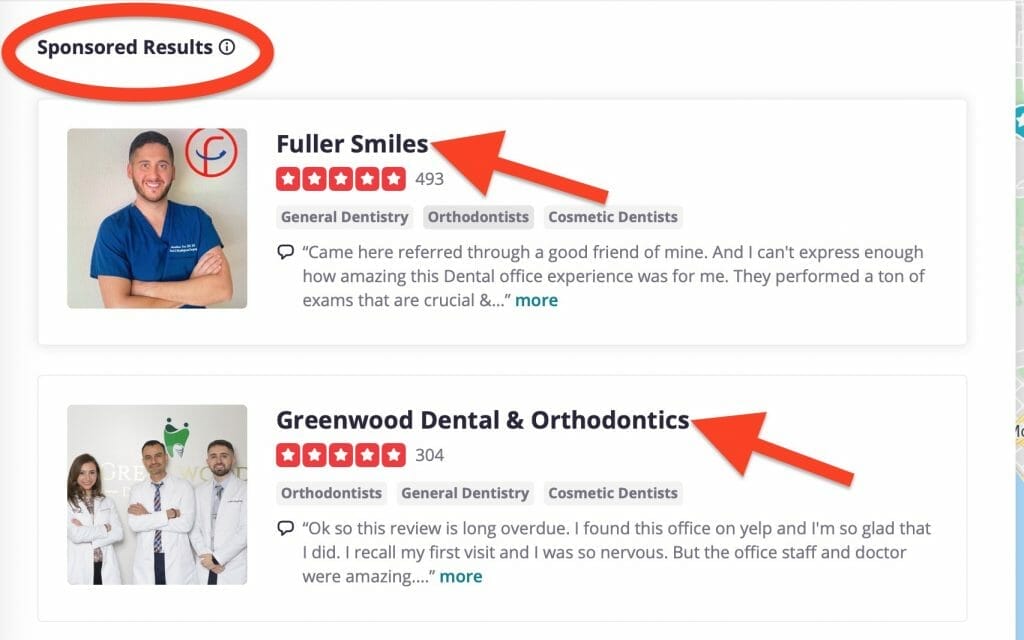 Read about the opportunities you will miss out on if you do not advertise on Yelp in this article.
How To Claim Your Business On Yelp
Before you can run any ads on Yelp you need to claim your business.
First, to run any ads you need to claim your business, you can do so on the Yelp for Business website. This method works if your business has not yet been listed on Yelp. Click on one of the red buttons that say "Manage my free business." Then you can add your business information and claim your business.
If your business has already been listed by a patient on Yelp, then you can claim your dental practice directly on your Business's Yelp page. Under your business's name and reviews, you will see an Unclaimed link. Click on the Unclaimed link and you will be given step-by-step instructions on how to claim your business. You may also see a box on the bottom right-hand corner of your business profile page with a Claim This Business button, this is just another way to do so.
Ways To Claim Your Business
There are a few options you can choose from to claim your business on Yelp.
The first option is: you need to have an email address that is associated with the domain. For example, if your business website is bestdentalsmiles.com then your email must be affiliated with that business. For instance, joe@bestdentalsmiles.com.
The second option: by getting a text at the phone number that is part of the business profile. The text will provide you with the verification code that you need to get started with the claiming process.
The third option: also requires the use of the phone number on the business profile. Instead, this time they will call you with the verification code to start the business claiming process.
Still unsure of how to properly claim your business on Yelp?
Setting Up Your Yelp Ads for Dentists
Now that you have claimed your business on Yelp, you can start creating your Yelp Ads for dentists.
Once on your business profile page, then click on the Yelp Ads tab on the left side of your business dashboard.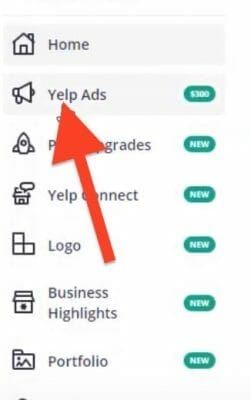 Campaign Goal
Next, select a goal for your ad campaign. 
There are 3 options that you can select for your campaign goals:
Let Yelp Optimize

This is Yelp's default option. This option is recommended if you want to reach more users. This is if you want to send users to your Yelp page, it will keep them on the Yelp platform. This option may not be in line with what you want to use Yelp for.
Get More Phone Call

The second option is if you want to get more people calling your business. To do this Yelp will use a forwarding number. This means that users will not have your actual business's number, instead, they will have Yelp's forwarding number. In terms of branding, many businesses do not want their phone number changed. They want people to have their actual number just in case they ever stop using Yelp ads. Keep in mind, the forwarding number is used for goal tracking purposes.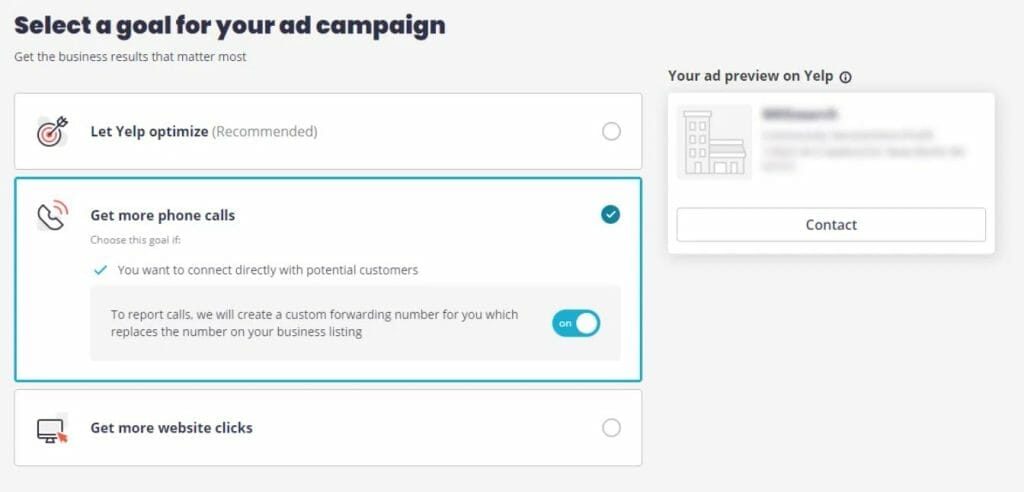 Get More Website Clicks

This option is applicable to most businesses. This is also applicable for any business that does not have a brick-and-mortar location but still has a business profile on Yelp. For this guide, we will be using this option. Keep in mind, there is no goal tracking if you're driving traffic to your website. There are no default built-in conversion tracking options for Yelp. This means you can not track if any visits from your yelp campaign led to a conversion.
Are you looking for a marketing method that is trackable and measurable? Read our Google Ads for Dentists guide. With Google Ads, you can track your ad campaign's results like clicks, calls, website visits, and email sign-ups through dental Google Analytics.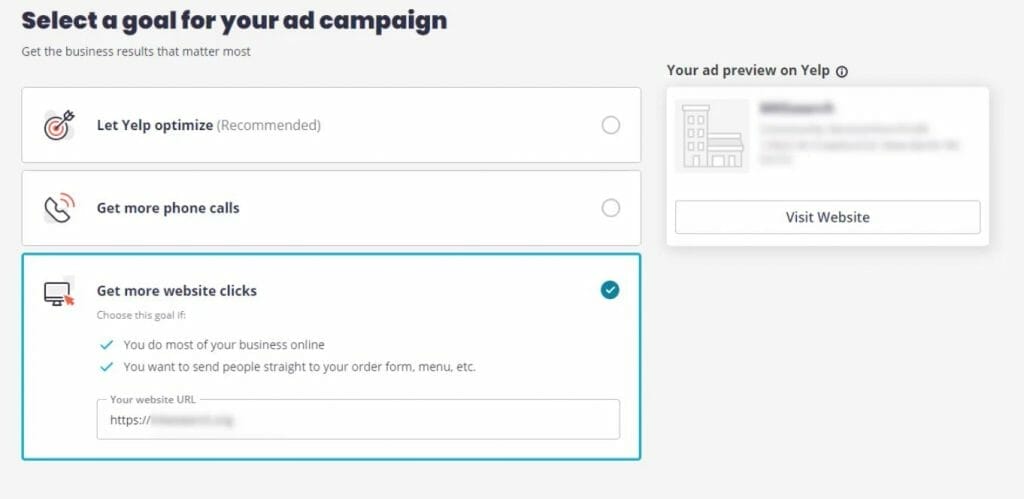 Not sure which goal to choose for your campaign?
Writing Your Yelp Ads Text for Dental Clinics
The next step in creating your Yelp ads is to write your ad text. In this ad text, you get to share with users what is special about your business.
Yelp Ads allows up to 1,500 characters in your ad text. When writing your ad text remember to put your most important value message is at the beginning of your ad text. Your ad text should make your dental clinic stand out from the other sponsored dental clinic Yelp ads and it should make potential patients want to click on your ad.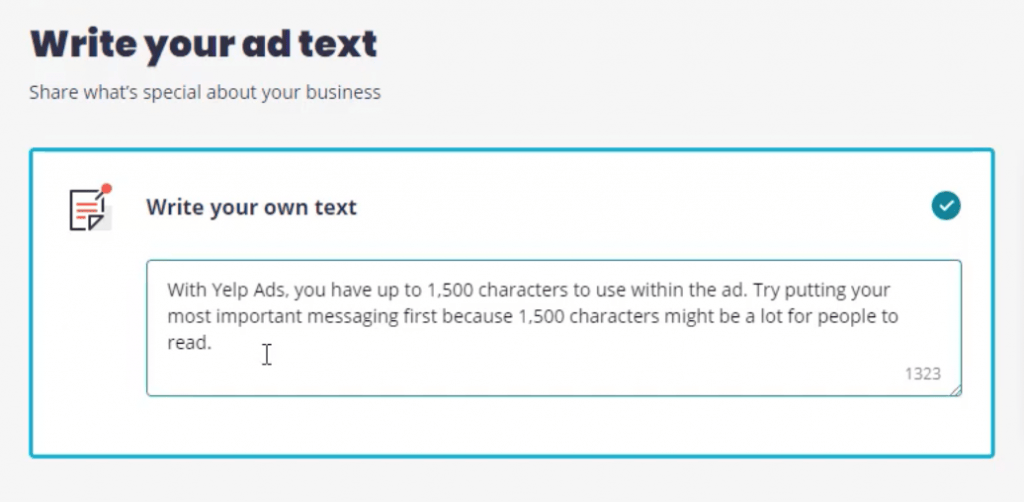 Choosing the Right Dental Keywords for Your Ads
Next, you will need to choose your keyword searches. Yelp will give you keyword and category recommendations based on the information filled out on your business profile. Keywords give you more control over who will see your ads, so your ads only reach customers who are actively looking for the services you offer. Your ads will show up when users search for these keywords and related keywords.
If there are keywords in the list that are not relevant to your business you can move them to your blocked keywords list. Your ads will not show when users search keywords that are in your blocked keywords list. Keep in mind, if you remove a keyword it automatically gets added to the blocked keywords list. You can not remove keywords from your block list because they will just get added back into your targeted keywords list.
For example, as a dental clinic, you may decide to keep keywords like dentists, dental clinic, dental practice, root canals, dental fillings, tooth extractions, and dental crowns. However, you may notice that keywords like orthodontist clinic, orthodontists, braces impressions, and orthodontic adjustments are in your suggested keywords that you want to move to your blocked keywords list.
If the keywords that Yelp is recommending are completely off and unrelated to your business, consider updating your business profile to get better options to target.
Need help choosing the right keywords for your Yelp Ads for Dentists campaign? 
Patient Location Targeting
Next, choose where you want to show your ads. You will need to set up a radius around your dental practice so that your ads are only shown to potential patients who are in range. You can set your radius to as little as 5 miles or as much as 15 miles.
Set Your Daily Budget
In the next step, you will need to choose your dental ad budget. You will only pay for your Yelp Ads when users click on them. You can choose one of the options that Yelp has available or you can set your own budget.
Each budget will give you a rough estimate of how much you will make from your Yelp Ads and how many clicks per month your Yelp Ads will generate.
Want more tips for setting your Yelp Ads budget? Read this article for more information on Yelp Advertising Cost: The Ideal Monthly budget. 
Enter Billing Information
Next, you will need to enter your billing information.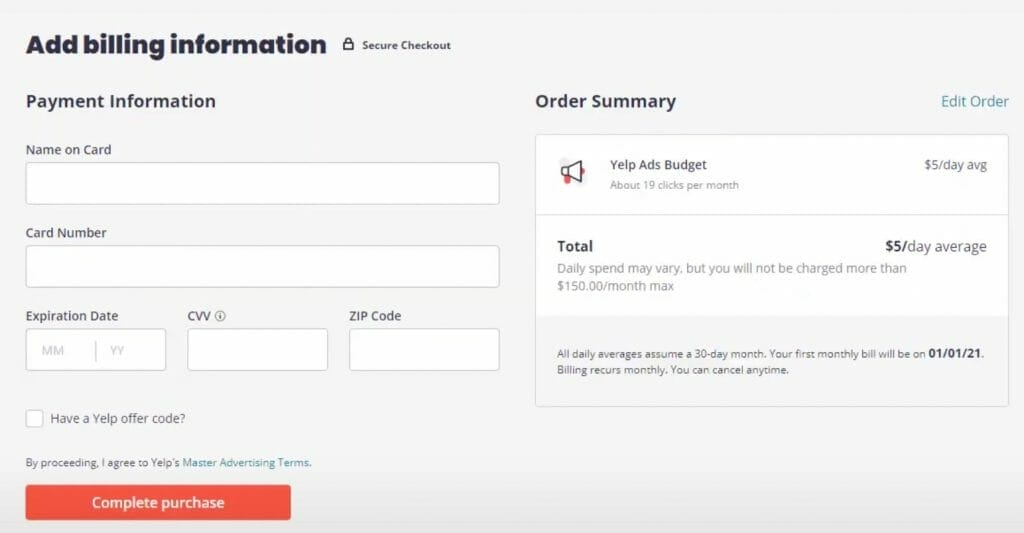 Great, your Yelp ads for Dentists are now live! 
After Your Dental Campaign Has Launched
In the main dashboard on the Yelps Ads page, you will be able to see the different results your ads are generating over the past 30 days. You will see impressions, ad clicks, where your ads are reaching, and how much you are spending on your average CPC.
When you click on one of those categories you will get more detailed information about each one. For example, if you click on your targeting map you will be able to see impressions and ad clicks by specific locations.
Yelp Ads for Dentists Settings
As you continue scrolling through your Yelp Ads dashboard, you will see the option to customize more settings of your dental practice's business profile. You will have the option to upload a photo, edit your targeted keywords, manage your budget, change your ad goal, and fix your ad text. Updating these settings can make your ads better.
You should upload a photo as they are one of the first things users see when looking at your Yelp Ad. Your photo should represent your dental business. Your photo should make you stand out while also portraying the right message so people want to click on your ad. You can add multiple photos to your profile. You also have the option of adding a caption to each photo.
You can choose which photo you want to set as your business profile photo. Also, since patients are allowed to upload photos on your dental practice profile you are allowed to use a patient-uploaded photo. Choose the photo that you think will have the biggest impact on your ad.
Boost Your Dental Practice Yelp profile
There are several upgrades and highlight options to boost your business's Yelp page.
Page Upgrades
On the Page Upgrades tab, there are paid options to make your business profile better. These will help make the experience on your business page better. These upgrades include business highlights, upgrading your slideshow, adding your company logo, paying to have a competitor's ads removed from your Yelp page, updating your call to action, and lastly, you can add portfolios.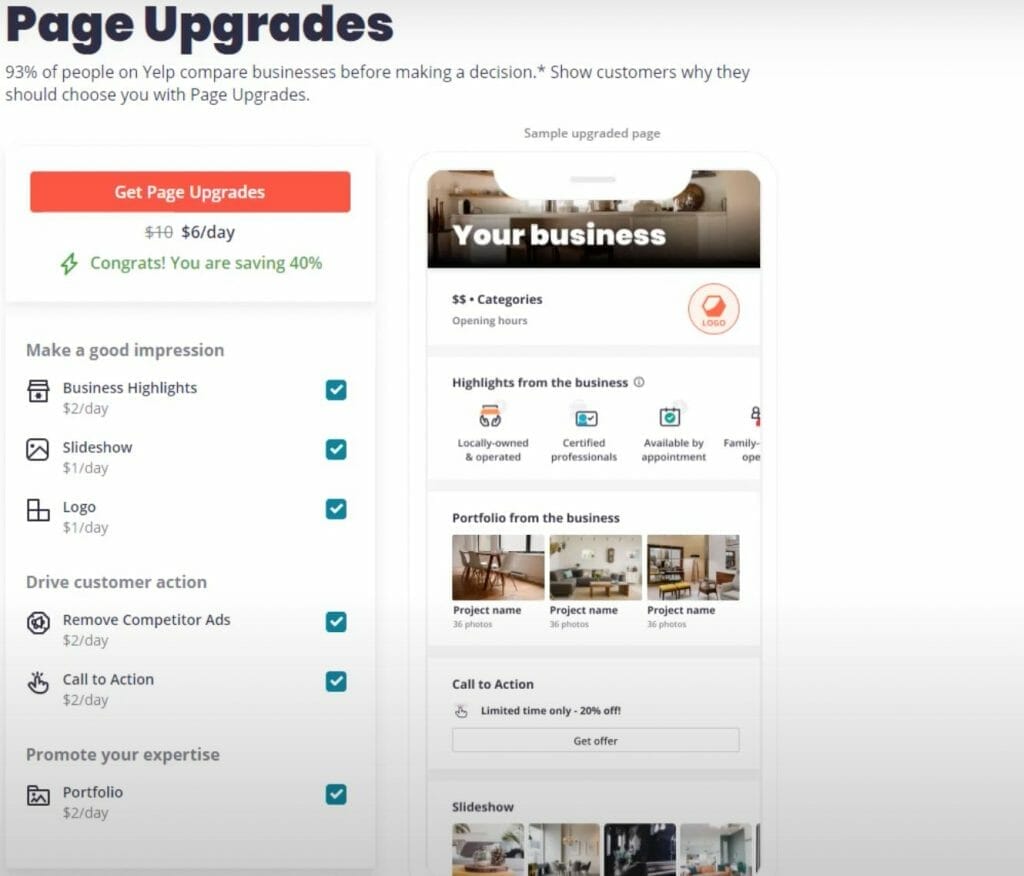 Remove Competitor's Ads
You can pay to have a competitor's ads removed from your Dental Clinic's Yelp page. If you do not do this, a competitor's ads may appear on your business page as options "You Might Also Consider." This can drive potential patients away from your clinic.
Adding Portfolios
Adding portfolios allows you to create specific albums. They can showcase jobs or services you have done in the past. Or as a Dental Clinic, you can create an album of the type of procedures you offer as well as before/after pictures of patients' procedures. This can make it easier for users to see all your business offers.
Yelp Connect
Yelp Connect can take people who have engaged with your page and turn them into "followers" for your business. Yelp will then promote your dental clinic updates and posts to those patients. This can help build trust among patients and nurture any leads to drive more patients to your dental practice.
Pros and Cons of Yelp Ads for Dentists
There are many advantages when it comes to using Yelp Ads to market your dental clinic.
The first advantage of Yelp Ads is that there are hundreds of people in your local area that are looking for the dental services you provide. Another pro is that you have a dedicated profile with your business information on it. This includes your address, phone number, photos, and office hours. This makes it easier for patients to find your business and call your office to book an appointment.
A key component of Yelp Ads and what Yelp is popular for is that patients get to write reviews about your services. The reviews that patients write on your profile can positively impact how your dental clinic is perceived by others.
Read this article to learn 5 tricks to Get More Reviews for Your Dental Practice. 
On the other hand, it is important to recognize and be aware of some of the cons that come along with Yelp Ads. Being aware of some of the disadvantages will help you decide the results you want to get from your campaign.
The first con is that while there are millions of monthly users on Yelp, other platforms have billions of users on their sites. Also, while people get to leave positive reviews, they also are able to leave negative reviews on your dental office's profile. As we mentioned before, this can affect the way others perceive your business in the future. These reviews can be fake and come from your competitors like other dentists. This can deter potential patients from visiting your clinic and making an appointment.
Another con and disadvantage of Yelp ads are that you can track how many people are calling you from yelp. There is no way of knowing who turned into patients for your clinic as a result of your Yelp Ads. Yelp ads are not measurable and you can not keep a record of people coming from Yelp. This also means that there is no way to ensure that the money you are investing in your Yelp campaign is producing a positive return on investment.
Also, Yelp ads are not as effective in generating leads. You do not know any information about the patients calling your clinic like their phone number, email address, and where they live. Consider using direct dental mailing to reach more potential patients.
Conclusion
Yelp Ads for dentists can help you reach local patients in need of the dental services that you offer. Yelp Ads will help push your Dental Clinic to the top of search results when users search for relevant keywords. Your Yelp business page can impact if potential patients decide that your dental clinic is the most suitable to help them with their dental needs.
Are you interested in more ways to market your Dental Clinic? Check out our article, 23 Simple Strategies for Marketing Your Dental Practice. Also if your looking for effective ways to attract new patients, learn more from our article, 13 Ways to Attract New Patients.