Digital marketing is a must for every successful business. Whether your goal is to get more new customers, improve your online presence, or improve the loyalty of your customers, this marketing strategy will help you get ahead of your competition. In this blog, we'll share strategies that will help your mold remediation services stay on top of the minds of your target audience!
What is Digital Marketing?
Digital marketing can be in the form of email marketing campaigns, advertisements, social media posts, or videos. It's one of the effective strategies in helping you get more new customers and making it easier for homeowners to find you. If you haven't established your mold remediation company's online presence yet, then, you're probably missing out on a lot of potential customers!
Does digital marketing sound like a great idea for your mold remediation business?
Digital Marketing for Mold Remediation Services
There are several digital marketing strategies that are effective in driving more new customers to your mold remediation business. Here are 5 effective digital marketing strategies that you should try!
1. Pay-per-click marketing
You'll create an ad about your mold remediation business and attach it to a landing page that contains more info about the services you offer. What's great about PPC marketing is that you only pay when someone clicks on your ad. You can also be flexible in setting the budget that will help you get the results you wanted. Not just that, you can also stay ahead of your competitors by maximizing the use of your targeting options.
Some of the most popular advertising platforms are Instagram Ads, Facebook Ads, Twitter Ads, Pinterest Ads, Bing Ads, Youtube Ads, and more!
Here are a few examples of advertisements from mold remediation businesses:
Instagram ads
TikTok Ads
Facebook ads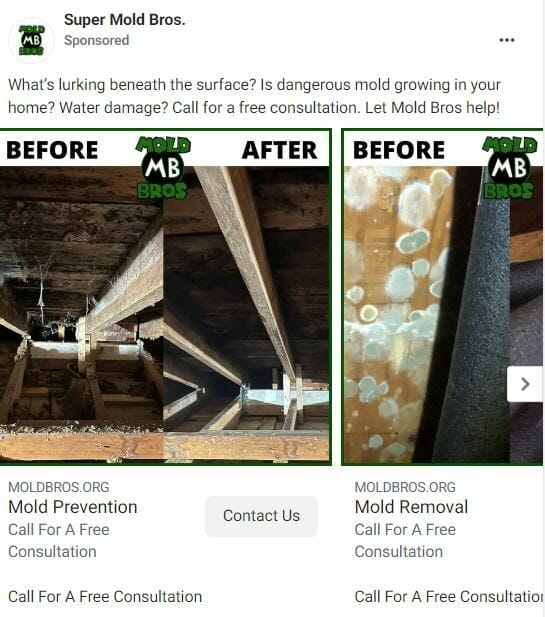 Having a hard time understanding terms that you'll frequently encounter when creating ad campaigns? Check out our blog about Google Ads Glossary to learn more.
2. Social Media Marketing
Social Media Marketing is when you promote your mold removal services on social platforms like Instagram, TikTok, Facebook, and LinkedIn. This strategy works best especially if your goal is to boost web traffic, attract potential customers, and retarget missed customers.
Tips when posting on social media
Use relevant and different types of hashtags

Hashtags are mainly used to help improve the visibility of your posts and increase your engagement rate in the form of likes, comments, and shares. With that, make sure to use different types of hashtags in your posts.

Industry hashtags – very competitive; serve as a general idea about your post; the industry where your business belongs (e.g. #Restoration or #moldrestoration)
Branded hashtags – usually contain the name or tagline of your business (e.g. #MoldRestorationCompany)
Community hashtags – used to connect to a specific community (e.g. #moldexperts)
Location hashtags – used to help your business get found in specific locations (e.g. #moldrestorationmiami)
Celebration hashtags – used to take part in events celebrated by the majority (e.g. #HappyThanksgiving #InternationalWomensDay)

Share different types of posts

In social media marketing, there are different types of posts that you can share with your target audience. You can share posts with plain text, stunning visuals, or short video clips. Here's an overview of the kinds of posts you can share on social media:

Carousel Posts
Polls
Single-image posts
Multiple image posts
Text-only posts
Live videos
Stories
Articles
Reels

Engage with your target audience

Engagement rate is one of the important factors that you should keep an eye on in social media marketing. When these platforms see that your posts are getting tons of likes, comments, or shares, it'll give them the idea that your target audience finds your post relatable which will help them display your posts to individuals who will find your posts interesting.

Be consistent in posting

Content gets easily consumed on social media. Let's say you shared a new post on your profile. A few days later, your audience will forget about it especially if it didn't create that much impact when they see your post. That's why your posts shouldn't take weeks before you post a new one. Share posts at least once a day, so that you'll create an impact with your target audience.

Keep track of the performance of your posts

Most social media platforms have built-in analytics. It's important that you keep track of how well your posts are performing because it will give you an idea of which posts help you get the best results, and which ones don't work for you.
3. Content Marketing
Content marketing works best especially if your goal is to attract, engage, and retain your target audience. This strategy is effective in establishing your expertise in the industry and staying on top of the minds of your potential customers. With content marketing, you can promote your mold remediation services in the form of blog posts, podcasts, infographics, videos, and more!
Take a look at this blog post from a mold remediation business:
This blog post is beneficial, especially for individuals who are in the awareness stage of the buyer's journey. Those who are in this stage are already aware of the problem they have and are currently looking for more information about the issue they are facing such as what causes mold, ways on how to prevent it, and how to remove mold in their houses.
Tips when creating content for your mold remediation business
Conduct a comprehensive keyword research 

Before creating content for your mold remediation business, it's important that you do comprehensive keyword research to make sure that your post will rank high on relevant search queries. There are several ways how you can do keyword research:

Keywords Everywhere

Keywords Everywhere is a browser extension that shows you the estimated monthly search volume for a specific keyword, CPC for Google Ad campaigns, historical monthly trend data for Google, and more!

Google Ads Keyword Planner

You can also find new keywords and get keyword forecasts from Google Ads Keyword Planner. It'll provide you with lots of useful data such as how hard it would be to rank for that keyword, search volume trends, as well as the top of the page bid. You could even refine keyword suggestions based on brands, non-brands, services, resources, and other categories.

Google's autocomplete predictions

Google's autocomplete predictions are mostly based on real searches that are based on where the query came from, the trending interest of a specific query, the language used, as well as your previous searches.

Google's related searches section

The related searches section is based on Google's algorithm which contains keywords that can be useful as you start creating content for your mold remediation business as well as the intent behind a search. This can be found at the bottom part of your search results page.

Write long-form content

Long-form content usually outranks short-form content, especially if it's written comprehensively. Just make sure that when writing long-form content, you use headings so that page visitors can jump directly to the part that caught their interest, add relevant photos in between walls of texts, use active voice, and keep the readability level as Grade 8 or below.
You can use the Hemingway Editor to improve the readability level of your posts.

 Make sure that your content is valuable to your target audience

When creating content, it shouldn't be just about a random topic that you want to write about. It should be something that will catch the interest of your target audience. For example, since you are running a mold remediation company, your posts should be about how molds occur in specific areas of the house, ways how to prevent them, as well as the possible solutions that your target audience will find helpful. To get content ideas and inspiration, you can also look at your competitor's posts.

Create content for each stage of the buyer's journey

You shouldn't just focus on creating content for individuals who are one step closer to becoming potential customers. You have to make sure to create content for each stage of the buyer's journey.

Awareness Stage – blog posts and social media posts that address your potential customer's pain points
Consideration Stage – state how your mold remediation business can help make solve the problems of your potential customers (e.g. case studies, service-specific blog posts, and frequently asked questions (FAQs)
Decision Stage – the stage where you encourage a potential customer to engage with your mold remediation business (e.g. customer reviews and service landing pages)

Proofread content before publishing

Before publishing content, you have to make sure that you proofread to prevent typographical or grammatical errors in your posts. You can create a content checklist and use it every time you write a blog to ensure the quality of your content.

Repurpose old blog posts

If you have lots of old blog posts, you can repurpose them into another format like infographics or short video clips! You just have to be creative in the way you repurpose your old blog posts. For example, if you have relevant data on your blog, you can highlight a specific snippet or quote from that blog and create a visual post about it, then briefly explain the importance of that data to your audience, and share it on Instagram or LinkedIn!
4. Email marketing
If one of your marketing goals is to keep your customers engaged after booking an appointment with your mold remediation services, you can keep them updated in the form of email newsletters, transactional emails, promotional emails, and retention emails.
Email marketing tips
Segment your mailing list

List segmentation is important because it helps you distribute relevant content to the right customers. Since not everyone who subscribed to your monthly newsletter has the same interest, you want to make sure that the content you share with them is relevant to their experience.

Make sure your emails are mobile-friendly

61.9% of emails are opened using mobile devices. With that, you have to make sure that your emails are mobile-responsive. Here are some tips to make your emails mobile-friendly:

The subject line should not exceed more than 30 characters
Avoid clutter in your emails (only include the ones that are very important)
Use a simple yet responsive email design
Links and buttons should be functioning well
Optimize your landing pages
There should be a clear call to action button

A/b test your headlines

Consumers also judge the way subject lines are written. If it's poorly written, they are less likely to open your email. With that, here are some tips that will help you create a subject line that's open-worthy.

There should be a sense of urgency. Use words like "last chance," "limited time only", or "don't miss this offer."
It should ignite the curiosity of your email recipients. Use power words to trigger their emotional response.
Should contain timely and relevant offers.
Personalize your subject lines.
Use emojis to emphasize a thought (not to replace a word).
5. Get listed in online directories
Google My Business and Yelp are two of the widely used online directories where millions of businesses are listed. The reason why you should have your mold removal business listed on these platforms is that it can help improve your online presence, get more new customers, and can be an additional source of traffic!
This is what it looks like when you get listed on Yelp:
And this is what it will look like on Google My Business:
Tips on how you can optimize your business listing
Make sure that all of your details are accurate and updated
Add relevant images to your listing
Respond to customer reviews
Write a compelling business description
Add a link to your website
6. SEO
Search Engine Optimization (SEO) is when you optimize your mold remediation website so that it ranks high on relevant search queries. It's a lengthy process but is considered a good long-term strategy. When done right, it can help you get high-quality traffic, and more new customers!
SEO tips for mold remediation businesses:
optimize your URL slugs, meta descriptions, and title tags
gather lots of good reviews
respond to customer feedback
proper use of alt-tags on your posts
using relevant keywords throughout your content
write guest posts
joining online forums
find and fix cannibalization issues
checking broken links
making sure your site is mobile-friendly
7. Build a compelling website
Another thing that can help you create a meaningful impact on your potential customers is by building a compelling website. Some tips that could be helpful include using an uncluttered layout, choosing a color scheme that represents your business, using relevant images, and having functional elements such as call-to-action buttons, menu buttons, and hyperlinks.
Since your potential customers are more likely to visit your site after hearing about your mold remediation services, you want to make sure that you create a positive impression by providing them with all of the details they are looking for on your website.
Don't have time to optimize your business listing? 
Key takeaway
Digital marketing for mold remediation companies can be overwhelming at first, but as soon as you learn how to use these strategies to your advantage, you will start generating significant returns.
Book an appointment with one of our digital marketing experts to learn more about how we can help with your digital marketing strategy today!