What is a search query? What are the different types of queries and how can they be helpful to me and my business?
It is very important to know the answers to these questions if you want your website pages to rank well on Google.
Too busy with running your business to focus on search queries?
The 3 Types of Search Queries (and How-to Optimize for them)
People talk to search engines in many different ways. Asking it questions, offering descriptions of problems, or even asking for specific brands. All these types of Google searches can be broken down into 3 query categories. Before explaining what is a search query and the 3 types of search queries, it is important to note that these are different from keywords.
Words or phrases taken from a single search query or many search queries
What a person types into the search bar of a search engine (Google, Bing, etc)
They are related, but as you can see there is a distinct difference. Ads pop up for both search queries and direct keyword searches.  The SERP (search engine results page) will be influenced by previous searches/queries done and many other factors. Both of these can be targeted organically through SEO methods or through PPC / advertising like Google Ads.  However, the methods for targeting vary on the type. The 3 types of search queries are:
Navigational search queries = Go searches
Transactional search queries = Know searches
Informational search queries = Do searches
Navigational Search Query
Navigational search query
have very clear search intent. This means that the searcher is searching for something specific.
Typically
, only looking for one answer, with one likely destination for that search.
It is hard to
organically
rank on your competitor's
navigational search queries
. As said before, a navigational search query is to look for a company or product. So it would be very difficult to try and steer the searcher away from what they are searching for.
However
, you can ensure that you show up in the number one spot on the search engine results page (SERP) for this type of search query on your company
. Make sure that your business website has SEO for all industry keywords that can come up in queries. Your website should contain all the relevant content information. As well as your address and services. You can also run a Google PPC ad for a navigational search of your company as well. This can allow you to take up the top ad and organic results, which can increase profits.
Here a Google search for Sweet and Shavery is done. Their website shows up as the first result in search engines, so they are doing a great job with their SEO for their website for navigational searches.
Other navigational search query examples:
Apple Music subscription
Facebook
Canva for Beginners Udemy
Transactional Search Query
Transactional searches are when people intend to complete a transaction or the user has commercial intent.
These searches are the
do query
because the searchers want to do something once they get to their desired destination
. They can be very specific and include brand names, pricing, model names, and even the words "
purchase
," or "buy."
Ex:
Nespresso machine

purchase
Or transactional searches can be something more general:
These types of searches aren't
just
limited to purchases though. It can be for downloading a PDF or registering/signing up for a consultation. As long as it expresses the intent to have some sort of interaction.
A subset of transactional searches is vertical queries. These are when a searcher wants to complete a transaction that is specific to an industry. An example would be "Irvine Seafood restaurants."
You should be trying to rank for these searches as they are the closest to the end of the buyer's funnel. Do all the SEO basics like using keywords from these queries in your website pages. Try and rank
organically for this type of search query
.
As you can see here, Best Buy is ranking for both the top Google ads spot and the organic spot of the SERP. This branded search counts as a transactional one because the searcher is searching up the brand which typically means they are looking to purchase from them.
Informational Searches
Informational search queries are broad searches. This is when people are trying to find information. They can be very general searches like "a cat", or super specific like "why do cats purr?".
Searchers aren't
typically
looking for a specific website or to make a
purchase
. These make up
approximately 80% of searches
in the search engine.
Every single business should be creating SEO content for these kinds of searches and queries. It can be applicable to any goods or services industry. This is the uninformed, but becoming aware phase for searchers. Your business can tap into this and
benefit from
creating content for this type of search query.
In the search of "Why do cats purr?" the content for that query can
easily
become a blog post
. In the above image, Purina (food brand for pets) decided to write a blog answering the query. If writing isn't your thing, a Youtube video would work as well.
Examples of content types for informational query:
Blog post
Downloadable how-to guide
Youtube video
Podcast
Pins on Pinterest
Infographics
It is very important to make sure that your business is not just plugging links to your services or goods constantly in the content. It should be able to answer the users intent and only contain information relevant to it.
New Ways to Search besides Google
1-2 sentence answers. For example, a search on when Princess Diana passed away.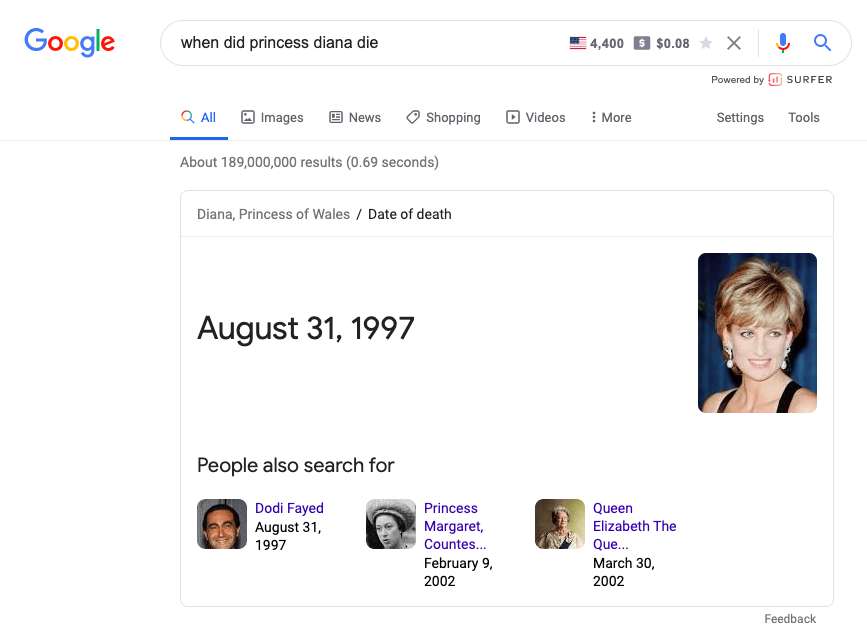 As you can see a date of death section is at the first spot of Google so the searcher does not have to go to a website. Siri and Alexa use the information from Know Simple queries to give their responses.
Clearly
, there are still searches where people want to scroll through articles. The Know Simple queries are to simplify down the ones that can be
easily
answered. Although this is different from a traditional search, there is a way to
optimize for IPAs
. With Amazon's Alexa, you should be part of Amazon's Choice program. Once your products have the badge of approval, Alexa is more likely to recommend your products when people ask her. 
Search queries that happen via Alexa or Siri can make the buyer's funnel a lot longer. It is important to recognize that IPAs are only becoming more popular. Your business should try to optimize for these searches as well.
Conclusion for All types of Search Query
Now that you know and understand the 3 types of search queries, do your research. Continue (or begin) the optimization of your website for the 3 types of search queries. Ensure that you are ranking number one for a navigational search of your business first. Once this
is done
, then move on to the rest of the query types.
To recap:
Navigational, transactional, and informational search queries can all help your business
Your business should be at the top of a navigational search of your company/brand name
Optimize your website pages for all types of searches
Create content to answer informational searches
Is SEO too much work to add-on to current responsibilities?
If organic search results from navigational, transactional, and informational searches are not enough to align with your goals, don't be afraid to use ads
. This information can help you determine keywords you would like your website to show up for in search. 
Overall
, keep in mind the searcher's intent. The optimization you do may go to waste if you don't take this into account. Offer relevant content for informational searches. Relevancy is an important part of SEO, so make sure that it all adds up. Want to know more about utilizing these types of searches to leverage your Google ads? Schedule a
free strategy session
.