The popularity of Korean skincare is driven primarily by the insurgence of Korean media into the Western sphere. From the rising popularity of BTS into the American mainstream media in 2017, to the impressive film of Parasite in 2019, it has become quite clear that Korean media currently has a unique and special place in the West.
Despite the demand for Korean beauty products, it can sometimes be quite difficult to get your hands on such products due to expensive shipping costs and long shipping times. However, sites like Soko Glam and Peach and Lily help to solve the disconnect between the East and West by providing the same products at reasonable prices and dependable shipping rates and delivery.
Soko Glam and Peach and Lily both specialize in selling and distributing Korean skincare products, but does one site reign supreme? Both of these sites have their own skincare blog (Soko Glam has the Klog and Peach and Lily have Pibuu). In this article we will analyze both of the blogs and why we think The Klog's content marketing strategy is most effective.
Soko Glam and The Klog
Soko Glam and The Klog work together in unison quite well. The cohesiveness between both sites creates a pleasurable experience for the audience and engages the viewer to click from one site to another with ease. When on Soko Glam, users would click frequently onto The Klog's website and vice versa.
The pair work well together by keeping audiences engaged to either site. If you wanted to learn more about a particular product that you found on Soko Glam, The Klog was a click away to find answers to all of your concerns. If you stumble upon a persuading and interesting article about a particular cleanser that you wanted to buy, you can quickly navigate over to the Soko Glam website to make a purchase. If you want a more in depth breakdown of The Klog, you can read more about it here.
Of course, this idea of integrating a skincare blog to a website that is dedicated to skincare is not a revolutionary or new idea. But unlike many blog/e-commerce site duos, Soko Glam does exceptionally well in this aspect due to the effectiveness of The Klog's content marketing strategy.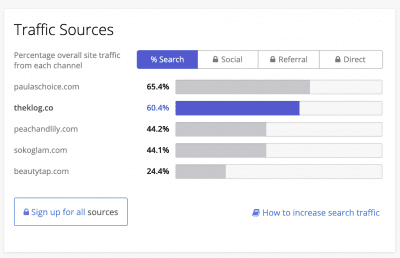 We can see that theklog.co gets exceptionally good overall site traffic. Soko Glam is also effective in directing people from the e-commerce site to The Klog, providing a seamless connection between the two. Paula's Choice, another popular skin care brand, also drives traffic to The Klog, even more so than Soko Glam.
But now that we know an example of an effective blog content marketing strategy, let's take a look at this in comparison to another skincare blog, Pibuu, from Peach and Lily. But first, let's learn a little more about Peach and Lily.
The Beginnings of Peach and Lily
Peach and Lily was founded by Alicia Yoon, a Korean-American woman, in 2012. Born in Seoul, she moved to the states when she was 1 years old and eventually moved back to Korea when she was 12. She attended Columbia University and went on to pursue entrepreneurship after being accepted into Harvard Business School.
To Yoon, skincare had always just been a hobby for her. She would often bring back sheet masks for her friends and family from Korea, and she realized that a lot of people wanted to know more about Korean skincare. Yoon eventually left her full-time consulting job to create Peach and Lily in 2012. What was originally a hobby for Yoon throughout high school and college eventually turned into a successful business venture.
During this time, there was a growing demand for Korean skin care amongst beauty bloggers. It was Yoon's goal to be able to eliminate the divide between the West and Eastern skin care. Although it was initially difficult to get brands to give Yoon the rights to sell on her site, she now actually has exclusive rights to sell those brands. From struggling to find a single brand that would sell through Peach and Lily, Yoon's brand can now be seen being distributed through stores such as Urban Outfitters and Sephora.
What is Pibuu?
Pibuu was launched by the founder of Peach and Lily, Alicia Yoon. Much like the founder of Soko Glam, Charlotte Cho, Yoon is also a licensed aesthetician and founded the blog to give trusted skin care advice. In Korean, "pibu" means skin, so the site was named accordingly to address all skin care needs and concerns.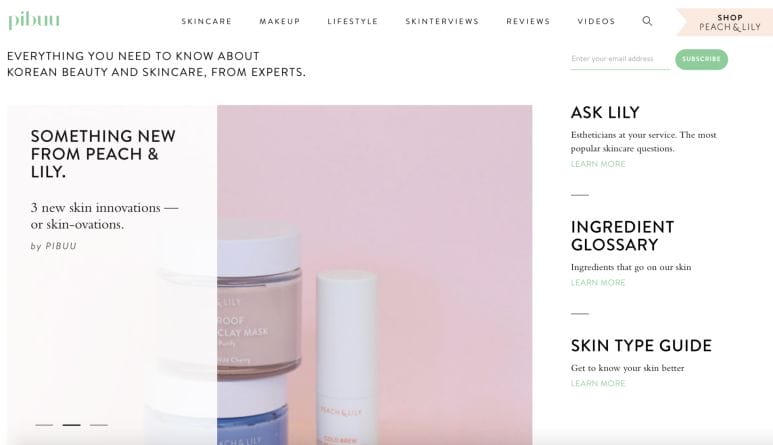 The advice provided on the website are backed up and vetted by professionals, such as licensed aestheticians and dermatologists, as well as information concerning Korean beauty.
Peach and Lily vs. Soko Glam
When comparing both of these websites, it is important to note that Peach and Lily has its own line of skincare products, whereas Soko Glam does not. Soko Glam acts largely as a distributor for skin care products but does not actually have a Soko Glam line of products. However, Soko Glam's founder, Charlotte Cho, does do a lot of collaborations with popular brands and these collaborations are sold on Soko Glam exclusively.
Just analyzing the content of what they sell alone, both the sites sell quite different products. Soko Glam sells a lot of products that are considered "holy grail" products in the skin care community, which are products that many people deem to be a staple in their routine, or a product that they cannot live without. Soko Glam and The Klog are especially helpful to those who are just getting into Korean skincare and want to explore popular products that are loved within the skin care community. This is a great example of why The Klog's content marketing strategy works so well. The Klog often features examples of such popular products and those products are usually listed on Soko Glam for the consumer to buy.
Peach and Lily, on the other hand, seems to focus more heavily on marketing their own products as opposed to other popular brands. I am a person that shops primarily on Soko Glam and I have discovered so many of my own holy grail products through Soko Glam, so I have a good sense of what kind of products are popular through my own research. When I go onto Peach and Lily's website, I do not see many products from notable brands such as CosRx, Neogen, or Missha. These brands have really good products that are loved throughout the skin care community, but what shines above all else is Peach and Lily.
The main difference between both Soko Glam and Peach and Lily is that the latter has its own brand, so of course a main priority for the brand would be to market their own products. It seems like Peach and Lily mainly directs their brand towards people who are familiar with Peach and Lily products, as opposed to people who are looking to try new products.
Soko Glam does a better job at appealing to a wider audience by having a greater variety of products available. Many starters to a beginner Korean skin care routine can be found on Soko Glam as Soko Glam carries more well known brands. As someone who may not know anything about Korean skin care or where to start, they are most likely going to watch video reviews and read forums on what products they should first start trying and buying. For the most part, a lot of those products are going to be found on Soko Glam, as Peach and Lily's reputation as a skin care brand is not as high compared to other established Korean brands, such as CosRx or Innisfree.
The Klog vs. Pibuu
Both Soko Glam and Peach and Lily link their blogs through their main sites and the blogs also have links back to the main sites. However, we can see that The Klog gains a lot of visits through Soko Glam as opposed to Pibuu and Peach and Lily in comparison. The Klog does a much more efficient job in redirecting audiences onto Soko Glam where people can make purchases and Soko Glam has a similar effect with The Klog.
However, there is not much data on the traffic for the site as it is a relatively small site and is not as popular as The Klog. Pibuu does not as effectively direct their customers to Peach and Lily, where customers can learn more about skin care and their products.
In the case of Pibuu, the blog does not have as strong of a relationship with their parent brand in comparison with that of Soko Glam and The Klog. Like The Klog, Pibuu also offers articles that revolve around product reviews and skin care tips. However, I do not feel as if the site is as well designed. The user interface is not as nice as The Klog's in my opinion, and I feel like it is not as engaging. The site, although simplistic, is quite boring in comparison to that of The Klog.
The Klog is also more interactive through the use of hovers, which although minimal, can add to the overall engagement of a website. Overall, The Klog's website markets itself towards people who are still new to Korean skin care and in a sense is more user friendly towards that audience. The Klog clearly knows the audience in which they are marketing their products to, which is another why The Klog's content marketing strategy is so effective. That is not to say that Peach and Lily is not successful in doing the same, but Soko Glam and the Klog are able to reach larger audiences due to the types of products in which they offer.
The Klog bolsters bright and fun colors that catch attention, and that's truly what Korean beauty is all about. Korean beauty products are designed to be eye catching and creative, which sets them apart from Western brands that usually offer a monochromatic design approach. Peach and Lily uses muted colors, if any, as there only seems to be one or two spot colors used throughout the entire site. In an industry that encourages creativity and fun colors, I think that it is important to embrace those principles onto a site that sells such products within that industry. Judging from the website alone, it seems to appeal to perhaps a more older demographic as opposed to a younger audience that is more engaged through color and interactivity.
The Klog embraces the boldness and playfulness of Korean beauty, which is a nice breath of air from what is currently going on in the Western market. Many unique ingredients are used in Korean skin care, which is why it is so innovative, so the innovativeness of the design of the product must also be reflected in the design. The use of color is important in creating an effective branding strategy, and you can read more about brand color psychology here.
Final Thoughts
Both Soko Glam and Peach and Lily are popular and reputable sources to get all things skin care. However, one of the reasons why Soko Glam ranks number one in terms of search results when you google "Korean skin care" is due to its appeal to a range of audiences, as opposed to a niche one that may only be interested in one brand. Soko Glam markets itself as a distributor of products before anything else and has a reputation for carrying many holy grail products that many people live by.
Soko Glam is also much more accessible to people who are newer to the Korean skin care scene and access to The Klog makes learning about it much easier. Both Soko Glam and The Klog do a successful job in linking back to each site, so much so that The Klog has also grown in popularity outside of Soko Glam. If Peach and Lily are able to expand their product selection and be more open to marketing products that are more appealing to an audience that is not familiar with Korean skin care just yet, perhaps they could also see similar results to that of Soko Glam and The Klog.