Are you struggling to write compelling ad copy for your Google text ads? Look no further as we reveal the secrets to creating a successful Google Ads text ad in 2020! Our Google ad copy guidelines will help you improve your conversion rate and lower your ad campaign costs.
How to Create a Successful Google Ads Text Ad in 2023
Creating a captivating ad copy is essential if you want your Google Adwords campaign to be successful. So how can you determine if the ad copy in your advertisement is compelling or not?
To put it simply, good ad copy should compel the user to click your advertisement. The better your ad copy, the more users will click your ad.
I'm about to provide you with some guidelines and examples that will help you write ad copy that is sure to make your user click rate skyrocket! Let's get started.
Understanding the Structure of Google Text Ads
Before you can write attention-grabbing ad copy, you need to have a fundamental understanding of the structure of Google ads. Google text ads appear in search results and are structured differently than other platforms such as Facebook Ads. Below you can find the framework of a Google text ad and how it will appear for a user who is searching.
Headlines 1-3: 30 Characters each. Remember, when writing your headlines, there will be a symbol separating each one, as shown above.
Descriptions 1 & 2: 90 Characters each. Keep in mind when writing both descriptions that usually only one description will appear in the ad at a time. There is a chance that both descriptions can appear, but they almost always don't. View each description as it's own little micro advertisement. Your description one appears the majority of the time, so make sure this is your key selling point. Description one should explain to the user why they should buy from you today. Additional supporting information can go in description 2.
Call Button: This button is optional and should be utilized if the goal of your ad is to attract more calls to your business. The phone number you put here should be the number you want users to call when they click your ad.
Website:  The website you select is where people will go when they click your ad. Make sure to consider what you are advertising and enter the most relevant page of your website. This location can either be your homepage or a more specific page on your website.
When creating your ad copy, you must comply with Google Adword's rules. Failure to abide by the rules can result in the prevention of your advertisement's approval. Here is a list of advertising practices that are restricted when running Google Ads.
Refrain from using all caps. Using title case (capitalizing the first letter of each word) is acceptable.
Cursing is not allowed in any of your ads. Ads about gambling, alcohol, and smoking are also prohibited.
Extra spaces to make your ad standout are not allowed.
No vague calls to action such as "Click Here."
No asterisks or symbols. The exception to this rule is the copyright symbol.
Maximum of 1 exclamation point in your description. No exclamation points in headlines.
A high repetition of words is not allowed.
Don't include phone numbers in the headlines or descriptions.
Best Practices for a Successful Google Ad
Now that you have a good understanding of the structure and restrictions of Google text ads, I'm going to teach you the best practices for Google ad copy.
Highlight What Makes Your Company Unique
This aspect is essential to think about when beginning to write ad copy for your Google ads. You want to showcase what your company's competitive advantage is in your advertisements. Keep in mind that your ads are going to be competing against similar products, and you need to explain why your product is better. It is also essential to show why consumers can trust your product and your company over other companies. Showing you have a superior product is especially important when running remarketing ads to consumers.
 Legitimize Your Company
When it comes to creating a successful google ads text ad, this step is essential. Your ad should proclaim that you have a trustworthy and reputable product and company. Here is an excellent example of a text ad for a free SEO tool that adds legitimacy. By stating in this ad that the software has over 1 million users, the viewer is more likely to trust the company because of the number of users it has.
A great way to legitimize your company is to include a registered symbol or like LLC, or INC, etc. (whichever applies to your company) whenever you can. By showing a registered symbol for your company, you are boosting your credibility. We have found that this added credibility has proven to help increase the CTR (click-through rate) of Google text ads.
Showcase Product Features Instead of Benefits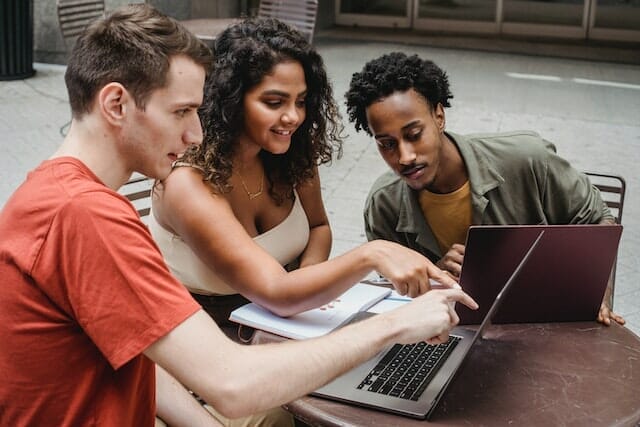 There are two core components when it comes to selling a product, the benefits, and the features. The benefits of a product are usually the emotional, and psychological payoffs of using a product. The features of a product can include color, parts, price, etc.
It's a common misconception that people are only interested in the benefits of a product and what they have to gain from it. Consumers can be more interested in a product's benefits; however, usually only when you are bringing a new product to the market. When using google ads, you are most likely dealing with people who are expressing interest in your product or a similar product already. People who are showing interest in your product most likely know the expected benefits and would instead learn more about your product features.
We have found that showcasing the features of a product instead of the benefits is extraordinarily more effective when running Google Ads. The reason is that consumers are looking for real information about why your product is better than your competitors. Consumers already know the overall benefits of using a product like yours. When you understand and grasp this concept, your Google Ads are likely to be much more successful.
To create an example of this for you, imagine you run a business that sells fans to consumers. If you were to create an ad talking about the benefits of your fan, such as it cooling you and the room down, it wouldn't perform as well. The reason for this is because the consumer who is seeing your ad is most likely searching for a fan and knows it's benefits.
Instead, it's much more effective to talk about the features of your fan that differentiate and make it better than other fans. For example, if your fan has faster rotation, increased battery life, and is more compact than other fans, the consumer is more likely to choose your ad if you showcase those features.
Include price, promotions, sales, or exclusive offers for your product
Utilizing these in your ad copy is an effective way to create urgency for consumers. By emphasizing that your product is available for a low price or limited time offer, you can better capture the consumer's attention.
When you include these aspects in your ad, they must be objective, measurable, and verifiable. We highly recommend that you include the price in your google product ads. Including the price in your ads is a great way to avoid consumers who your price is either too low or expensive.
Understand Your Landing Page
Having a grasp on where your google text ad is sending people is crucial to running successful ads. The landing page that consumers end up at by clicking your ad needs to be an appropriate followup to your ad copy. Your advertisement should be a suitable introduction to the expanded information that is present on your landing page. I can not stress enough how important it is that there is no disconnect between your advertisement and your landing page.
If your landing page does not accurately follow up with what your ad copy is promising, you can run into a couple of problems. The first problem this can cause is a reduced conversion rate for your ads. Failing to have an appropriate landing page can also lower your relevancy and quality score. Having lousy relevancy and quality score will end up causing your advertisement's cost per click to increase, which will decrease the cost efficiency of your ad.
Show Call and Location Extensions On Mobile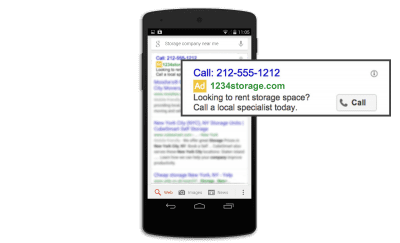 Showing call extensions and location extensions have become increasingly more important for mobile ads. People who view your Google ad on mobile devices usually want to either text message, call, or see the location of the business. If you're a business that allows consumers to call or message you, make sure to enable this feature.
You have to keep in mind that consumers who see your ad on mobile have a different experience than those who see it on a computer. When a person sees an ad on mobile, they may not want to click it due to data usage or slow website load times. Most likely, they would instead just get in touch with you right away. Consumers prefer this much more, especially for ads about events or for local services.
Utilize the Principles of Salesmanship
It is crucial that you know and utilize your principles of salesmanship to create a successful Google Ads text ad. The principles create scarcity, urgency, interest, motivation/triggers for consumers who view your ad. These are all great ways to get consumers to click your ads and buy your products.
You can create scarcity in your ad if you only have a few products left in your inventory. By advertising in this way to consumers, they will feel more inclined to click your ad and buy your products before you run out. Generating urgency is similar and can be done by offering a limited time only sale on your products.
Going back to what we talked about earlier with showing legitimacy, you can showcase interest generated for your products. For example, if you have over 1 million annual users for your product, mention that in your google text ad. Saying this will create a sense of trust in your business from the customer that makes them more comfortable buying your product.
Most Consumers Make Decisions Based on Headlines, NOT the Description
Understanding that most consumers will decide if they click on an ad based on its headlines is critical for creating a successful Google Ads text ad. When consumers are searching and look at ads, they often skim over most of the results. That is why it is so essential that you have impactful headlines in your advertisement. Most consumers aren't going to take the time to read your description. Even the ones that do most likely are going to look at your headlines first. Then they will form an opinion on your product or company.
For example, when you are googling and come across an ad or search result, do you read every word that appears? The answer is most likely no. I want to emphasize that all the key points that we have talked about thus far, you should try to implement in your headlines. Don't wait to showcase your selling point until the description. The headlines are the most critical part of your ad copy.
Often consumers will click ads first and let the landing page do the talking. This has become a more recent trend with consumers as webpage load times have gotten faster. They prefer to digest the information on the landing page instead of the ad's description. By using Google Ads, you are essentially paying for a temporary better SERP position, so don't let your money go to waste by having bad headlines.
Request a Manual Review of Your Ads to Expedite the Approval Process
Now that you understand how to create compelling Google text ads for your business, you need to get your ads approved. I'm going to show you how you can expedite the process of getting your Google Ads text ad approved by requesting a manual review. Once you have saved your edited or new ad into your account, you need to go to the Google Ads Approval Request page.
Here you are going to fill out a request form to have your ad manually reviewed, which will expedite the approval process. First, fill out your name and the email you would like to be contacted by google. Next, you need to put in the account email and customer ID associated with your Google Ads account.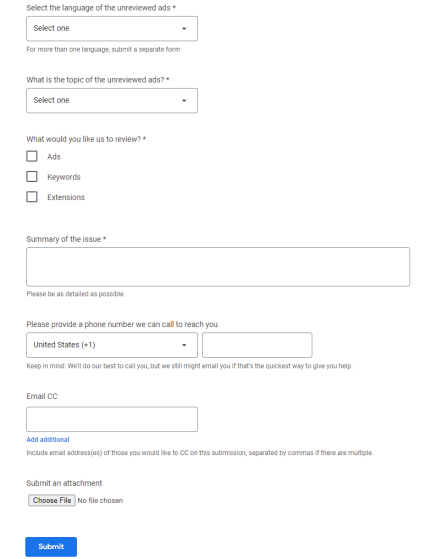 After entering your account information, you answer a couple of questions about the ad you created/edited. Here you will select the language and the topic of your ad. If your ad does not fall into any of the ad topics that they provide you then select other. You can choose to have them review either an ad, keywords, or extensions. When it comes to writing the summary of the issue, we recommend saying something along the lines of:
Hi, we put in some new ads for our business that are important and pretty time-sensitive. We would really appreciate it if you get a chance to approve these ads at the top of your workload. Thanks so much.
After writing your summary, all that's left is to provide a contact phone number, any emails you want to CC, and press submit. Expect to be contacted by Google shortly after you submit the form to confirm your submission. By doing these steps, you will find that the speed at which your ads get approved will go up dramatically.