Why Social Media for Optometrists
Nearly 40% of small businesses are not on social media. If you're one of these business establishments, you have no idea how many customers your optometry clinic is missing out on!
In this blog post, we'll share with you the top three reasons why social media should be included in your marketing strategy along with some tips on how to effectively promote your optometry services.
1. Cost-effective way in attracting new patients
Social media marketing is one of the cost-effective strategies that you could use in promoting your optometry center because from creating accounts to posting relevant content, you can do all of those for free! Knowing that most of your target audience is on social media, promoting your optometry center on these platforms allows you to connect with a massive audience. This is beneficial on your part, as it helps your brand gain more exposure by simply posting on your optometry clinic's profile.
2. Increases customer engagement
Consumers are more likely to engage themselves in a brand that interacts with its audience.
Social media platforms have lots of features that help you boost engagement with your customers. For example, on Twitter, you can create a poll where your followers will choose their preferred option. On Facebook or Instagram, you can share posts that are timely (e.g. Glaucoma Awareness Month, National Eye Care Month, Cataract Awareness Month, etc.), share a patient testimonial, and the list goes on.
Most of your audience is active online and all you have to do is maximize the use of these social media platforms to create and nurture a personal connection with them.
3. Increased traffic
Social media platforms have now become one of the main sources of consumers when it comes to finding more information about a product, service, or business. Not only does it help you gain more page visitors but also has the ability to turn these page visitors into your actual customers.
Aside from Google Ads and online business listings, social media platforms can also give you additional traffic. For example, if a page visitor wants to learn more about how to manage specific eye diseases, they can just click the link in your caption or bio and they'll be redirected to a landing page on your website.
Interested in creating social media accounts for your eye care business but don't have enough time to manage it?
Social media for optometrists
Now that you have an idea of how important social media is effective in driving customers to your optometry clinic, here are the top platforms where you should establish your optometry clinic's presence:
Facebook
With over 200 million businesses that are on this platform, it's a no-brainer that you should also be on Facebook because it makes communication with your target audience a lot easier. It offers a lot of features from sharing the latest updates about your products and services, down to responding to patient queries, gathering reviews, and more!
Facebook marketing ideas for optometrists:
To increase the number of likes, shares, and comments on your optometry center's posts, here's a list of ideas you can try out:
Host a giveaway with a tempting incentive

Hosting a giveaway is a great way to boost customer engagement, broaden your audience reach and generate leads! People are more likely to participate when they get something in return. With that, you have to make sure that the prizes you'll be giving away will be useful for your target audience, which could be a complimentary eye exam, exclusive tickets, or merch from partner brands.

Note: In hosting giveaways, make sure to establish detailed rules and regulations such as the duration of the entry period, who are eligible to join, the selection process, how the winner will be contacted, etc.

Post short but engaging videos

Another thing that patients consider before visiting an eye care clinic is the ambiance. Your prospective patients will always want to know first if you have a comfortable and welcoming atmosphere from your staff to the facilities. Those are a few things to keep in mind if you're planning to create a virtual tour of your clinic.

Share a photo of your team

When people are interested in your brand, they usually want to know the people working behind the scene. This could be your receptionist, fellow optometrists, or the rest of your staff. Having this on your social media pages somehow gives assurance that they're in good hands. Aside from that, it also gives your prospective patients an impression that your team is friendly, approachable, and can address their eye problems.

Community activities

In businesses, whether you're an established optometry clinic or a recently opened one, involving your team in community activities helps create a good reputation for your brand, cultivate trust between your audience, and increase your social networks. So, you have to be updated whenever there are programs where your eye care services can be of great help.

Trivia

Another marketing strategy idea is by sharing relevant trivia in optometry. People love trivia because it's entertaining and at the same time, surprises them with additional knowledge.
Take a look at this example. If you'll notice the optometry clinic started their post with a short trivia and smoothly transitioned to promote their eye product (contact lens).
Best practices when posting on Facebook for optometrists
Maximize the use of the pinned post feature

If you have an ongoing promo, hosting an event, or giveaway, placing your post on top will help page visitors learn about it. Simply posting it on your timeline is not enough because it might get buried by other posts.

Find the best time to post

According to Hootsuite, the best time to post on Facebook is between 6:15 a.m. to 12:00 pm PST because that's when most people are available on social media. These are the time when people are catching up on the posts they might've missed throughout the day. However, it still depends on the location of your target audience. So, make sure to test which ones work for you.

Share content created by your patients (relevant ones)

Noticed that some of your patients have mentioned you on their vlogs, stories, or posts?  You could re-post it on your newsfeed. This gesture will give your patients an impression that you appreciate their effort and in return will help foster meaningful relationships with your customers.
Need help with your optometry clinic's Facebook marketing strategy?
Schedule A Free Strategy Session!
Instagram
50% of people mainly use Instagram as a discovery tool to learn more about a certain brand or product. For business owners like you, it's a platform where you can promote your eye-care products and services in various formats such as reels, single photos, videos, carousels, etc.
To give you some ideas, check out these marketing posts from an optometry clinic on Instagram:
Patient testimonials
Eye-care services
Reminder
Participation in conferences
Even though Instagram is more of a visual sharing platform, there are various ways to promote your eye-care products and services just like the example above.
Best practices for businesses on Instagram:
To make Instagram marketing work for your optometry center, here are the best practices for you:
Optimize your profile

To make the most of your Instagram marketing strategy, you have to make sure to optimize your Instagram profile. Here are a few tips on how to do it:

make sure your profile is set as a professional account
update your business hours and contact info
add your optometry clinic's location
attach the link to your website
Repost feedback from your patients

Since Instagram doesn't have a feature where your patients can go to a tab and leave a review, you have to be attentive whenever someone mentions or tags you in their post. Here, you'll get an idea of whether your patients are satisfied with your eye-care services or if there are areas that need to be improved.
You could also turn patient testimonials into an Instagram post.

Re-share stories and create highlights

Another way of engaging your patients on Instagram is by creating a highlight where all of the reviews from your patients can be seen by whoever visited your profile. This makes it easier for your new profile visitors to know essential information about your brand.

Hashtags

Hashtags help your brand get discovered and increase customer engagement. If you have no idea what hashtag to use on your posts, try checking out what your competitors are using. You could also follow the branded hashtag that you're using so you'll have a closer look at how your audience is using it.
Bonus tip: To find relevant hashtags to your optometry practice, use Instagram's related hashtags feature.

Choose your visual aesthetic

Instagram focuses on visual content. To have an aesthetic feed, you have to choose a theme that suits your brand's personality so it will be easy for you to plan the content to post in the future. Canva is one of the graphic-designing tools that have lots of templates and features that you can use for free.

Stick to a regular posting schedule

Aside from being consistent on the type of post you share, you also have to be consistent when it comes to posting on Instagram. Since there are tons of content that are shared on this platform, you have to make sure that you regularly show up on your follower's Instagram feed.
To do that, you should have a social media calendar. Not only does it help you save time organizing your ideas but will also help improve your posting consistency.

Partner with influencers

If you have resources and connections, you could also step up your Instagram marketing by partnering with social media influencers. This is another way to help increase your brand's exposure, target a new audience (the ones who haven't heard from you before), and who knows, drive conversions, too.
Stay updated with the latest algorithm

According to an experiment conducted by Hootsuite, Instagram reels get a higher engagement rate compared to regular Instagram videos.
But, from time to time, Instagram changes its algorithm. Whenever that happens, you'll notice a sudden drop in your post's visibility or engagement. To prevent your brand from being affected by these changes, you have to stay in tune with the algorithm changes so you can come up with a strategy that will outsmart these changes.
Pinterest
Pinterest is another image-based website where people get ideas about a certain product, brand, or anything that captures a person's interest. It is considered one of the most effective marketing tools because it helps businesses like yours to get recognized by their target audience and drive more traffic to your optometry center's website.
Pinterest marketing ideas:
Let's take a look at a dental clinic's marketing strategy on Pinterest: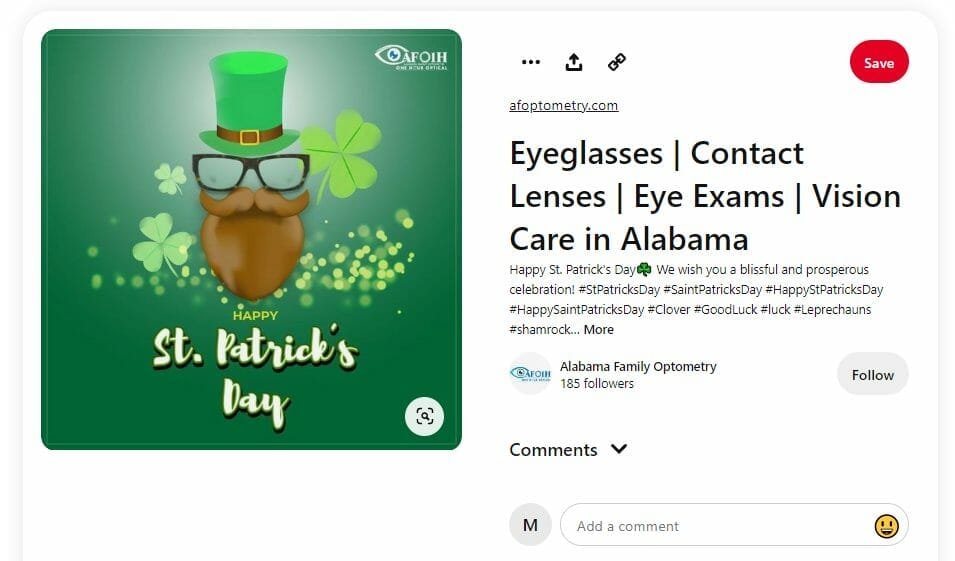 You'll notice that they created variations of content for their audience. Not only do they have posts for those who are in the awareness stage, but also for those who are in the consideration, and decision stage. Having a deep understanding of how your customer's buyer journey works are essential in making an effective marketing campaign.
Best practices for Pinterest marketing:
Use vertical images

According to Pinterest, the best image and video format that works best are images/videos that are in the vertical format. This is good, especially for mobile users.

Add text over images

Using text overlays on your images or videos encourages users to click on your pin because it leads them to take an action. Like in this example:
Individuals that are curious to know the answer are more likely to click on your pin. So, don't forget to add a CTA either in the caption or on the image itself.

Make sure links are working

Another thing you should always check is the links you add to your posts. When users want to know more about your post, they'll click on the attached links. So, you have to make sure that when they click on it, it'll redirect them to a page that's working, or else, you'll lose your potential patients.

Add your logo but keep it subtle

Adding a watermark of your optometry center's logo on your posts is a must because it prevents your photos from being stolen or altered without permission.

For videos, choose an eye-catchy cover image
LinkedIn
LinkedIn is one of the most trusted social media platforms in today's time. It's more than just a networking platform for professionals. It can also be used as a marketing platform for advertisers. With over 830 million users, across the world, creating a LinkedIn company page is a must for every optometrist out there. Not only does it make your brand more credible, but it also expands your business opportunities to a bigger audience.
LinkedIn post ideas:
Facts about common eye problems– You could share information (could be a paragraph from your blog) about common eye problems and attach a link to your blog so that it won't appear too wordy on your post.
Answer frequently asked questions – Since LinkedIn has now become one of the reliable sources of information, you can grab this opportunity to answer the questions that your optometrists are more likely to get. Like this:
Tips from experts- Another way to establish your expertise in this platform are by sharing tips on how to properly care for one's eyes. This could be done through an infographic, a video, or a simple post with a relevant image below it.
Join the trending hashtag with your team– Want to know that your team is one of the friendliest eye-care doctors in your area? Join trending hashtags on social media. Like in this example, a group of optometrists posted their entry for the #NationalSelfieDay.
LinkedIn Best Practices:
Regularly post high-quality content

One of the ways to stand out on LinkedIn is by making sure that your details and posts are updated. The more frequently you post on LinkedIn, the higher the engagement your posts receive. So make sure you have a social media calendar to keep all of your content organized and don't miss out on a week posting relevant content to your audience.

Use relevant keywords on your "About Us" section

To increase the chances of your brand show-up on search terms that are relevant to your optometry practice, use keywords that are related to your practice. Like this:

Customize your URL

If you notice, the default URL of your LinkedIn profile consists of random numbers and letters. To make it easier for your prospective patients to find you and boost your optometry clinic's credibility, it's a good idea that you customize it where your professional brand name shows up.

Use a professional profile picture and cover photo 

When choosing a profile picture, it's best to use your optometry clinic's logo. The cover photo could be an image of your clinic or your best-performing eye doctors. Also, make sure to use the same profile picture that you use on other social media platforms so that when people look for you on other platforms, they know that it's your brand's page.
7 Tips in doing social media marketing for optometrists
Now that you have an idea of what kinds of posts to share on social media, here are 7 tips that will help you get the most out of your optometrist marketing strategy:
1. Analyze your competitors
Before crafting your marketing campaign, check and analyze what your competitors are doing. This will give you a better understanding of their strength, and weak points. Not just that, by doing a comprehensive competitor analysis, you'll also have an idea of which strategies to use for your brand.
2. Use relevant hashtags
Never underestimate the power of hashtags because it has the ability to help your optometry clinic get easily found on relevant searches and increase engagement on social media platforms. However, you shouldn't stuff your post with too many hashtags as it will look spammy and people will not have a clear idea of what you're trying to say.
The number of recommended hashtags used varies. For Facebook, 2-3 hashtags get more interactions. While for Twitter 1-2 and for Instagram
According to later.com, there are 5 types of hashtags:
Industry

Industry hashtags focus on individuals you want to reach (e.g. #EyeWear, #EyeDoctor, #Optometrist)

Branded

Branded hashtags are the ones you created for your brand. This can be the name of your optometry clinic or the products and services you offer (e.g. #TheEyeClinic, #TheEyeClinicLenses)

Community

Community-focused hashtags are used to bring a community together. (e.g. #NationalEyeHealthWeek, #WorldSightDay #LoveYourEyes)

Location-based 

Location-based hashtags like #EyeClinicLA #OptometryClinicSanJose.

Descriptive

Descriptive hashtags describe the content of your post (e.g. #EyeWearFashion #EyeCare)
Tips for using hashtags:
Only use hashtags that are relevant to your practice
Keep them short but specific
Use the same hashtags on different platforms (e.g. Facebook, Instagram, Twitter)
Make it easy to understand by using Capital letters (only when needed)
Track and analyze results
3. Optimize your profile
Having an optimized optometrist profile is one of the essentials in your social media marketing strategy. This help increases your brand's visibility and shows up on relevant search terms.
Tips for optimizing your profile:
Use keywords that are relevant to your eye-care services
Your profile picture should either be your brand's logo or a portrait of your lead optometrist.
Add links to your website and other social media profiles
Accomplish your bio or "About Us" section
Use a call-to-action button
4. Come up with a content strategy
This involves the planning stage, creation, and how you'll distribute your posts on social media platforms. It is important to have a content strategy because it makes sure that your marketing efforts are aligned with your goals. Your content strategy should answer the following questions:
Who is your target audience?
What goal do you want to achieve?
Who are the ones assigned in creating your content?
What type of content do you want to share with your audience?
Where will you publish your content?
How will you promote your published content?
How will your target audience find your content?
5. Engage with your audience
Engaging with your audience on social media is one of the effective ways to foster brand loyalty and awareness. Remember, you shouldn't focus too much on posting promotional content but also make time to interact with your patients. This could be through Live videos, Q&A sessions, giveaways, responding to patient reviews, etc.
6. Be consistent in posting
Consistency is very important in marketing. Not only does it help build trust and loyalty in your target audience but it also plays a role in driving traffic to your site.
So, if you want your audience to remember your optometry clinic in case they need it in the future, you have to allot time to establish your online presence. Having a social media calendar can help you with that. It will help you keep organized, stay in touch with your customers, post various content, and prevents you from missing out on the latest trends in the industry.
7. Keep track of your performance
Once you've published your posts on social media, the next thing to do is monitor the results. This is important because it lets you know which parts of your marketing efforts are doing well and which need a few adjustments. All of the social media platforms already have built-in analytics so it'll be much easier to keep track of your performance.
Social Media Performance Metrics
Tracking the progress of your social media is one of the things you should be doing once you've already started posting on your optometry center's page. In this section, we'll discuss the Key Performance Indicators that you should always keep an eye on.
1. Engagement rate
This refers to how active your audience is towards your brand. It could be through likes, comments, mentions, shared posts, etc. Having a high engagement rate, means the contents of your posts are relatable, entertaining, and useful to your audience.
2. Number of impressions
Impressions refer to the number of times people have seen your posts.
3. Conversion rate
This refers to the percentage of customers who performed an action on your site. It is calculated by taking the number of conversions and dividing it by the total number of page visitors. This shows you how effective your landing pages are when it comes to turning leads into customers.
4. Follower count
This refers to the number of people who liked or followed your optometry center's social media page. It is usually found below the name of your social media profile.
5.  Likes
Likes determine the reaction of your audience towards your posts. The way people can react to a post varies depending on the platform. For example, on Facebook, people are given more options to express their reactions to a post. It includes Like, Care, Haha, Wow, Sad, and Angry reactions.

While LinkedIn has Like, Celebrate, Support, Funny, Love, Insightful, and Curious.
6. Comments
This refers to the thoughts and opinions of your audience towards your posts. Here, there are possibilities that you'll get a mix of positive and negative comments from other people. It's a place that will give you an idea of how people think about your product and services. So, you have to make sure to monitor the comments you get on every post on your optometry center's page.
7. Social media shares
Another KPI metric is the number of social media shares your optometry center gets. People share posts that are entertaining, useful, and add value to their lives. The more shares your posts get, the more people notice your brand. In addition to that, you should also consider posting during the hours when most of your audience is online.
Want to learn more about how these KPIs affect your brand?
Key takeaway
Social media is one of the best platforms to promote your eye-care products and services.  If you haven't established your social media presence yet, now's the time for you to start working on your marketing campaigns. Just follow the optometry marketing strategies we've mentioned above, and you'll see results in the long run!