People who need urgent care usually don't have a lot of time to search for the best clinic in their area. As someone who owns a care clinic, you want to be the first thing that people see on search results whenever they seek immediate care.
In this article, we'll share with you the steps on how to find top-performing SEO keywords for urgent care centers that will help increase your brand's visibility!
But first, here's a short background about SEO.
What is SEO?
Search Engine Optimization (SEO) consists of online marketing strategies that individuals do to improve a website's ranking on search engines. This includes regularly posting on your urgent care website, building links, making your site mobile-friendly, using keywords in the right places, and more.
Interested in doing keyword research for your care clinic's website?
Schedule A Free Strategy Session!
Why is SEO important for Urgent Care Clinics?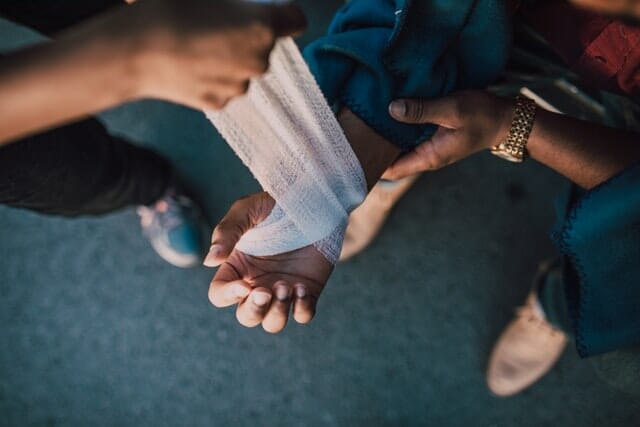 You might be wondering, is SEO really THAT important for your walk-in clinic? Absolutely! In fact, it is one of the most efficient digital marketing strategies aside from Google Ads.
Moving forward, here are the reasons you should do Urgent Care SEO:
It makes your urgent care clinic easy to find.

Since people who are looking for urgent care centers are usually in a hurry, they have no time to visit the other pages aside from page 1 of Google's Search Results Page. One thing that using the right keywords does to your urgent care center is that it increases your site ranking. The more relevant and optimized your published content is, the higher your rank on Google.
Want to know your website's rank on Google? Read our blog post on How To Use Serprobot to learn more.

It boosts traffic.

The more relevant keywords you use on digital platforms (e.g. your urgent care website, Google My Business profile, and social media pages) the higher the chance of bringing in more traffic to your site.
Businesses that can be found on top of Google's Search Engine Results Page have higher chances of getting tons of traffic especially if it has all of the details that a patient is looking for.
If you need help setting up your Google My Business Profile, check out our blog post on Google My Business for Urgent Care Centers.

Increases credibility.

People are more likely to trust websites that appear on the first page of Google's Search Results Page. So, if your urgent care website appears on the top three SERP results, you have a higher chance of getting more clicks and organic traffic! Not only that, but it also creates a better image of your brand.
Want to optimize your site but don't have enough time?
How to find SEO Keywords for Urgent Care Centers
1. Identify your niche
To save time thinking about the topics you want to discuss on your website, you could start by writing a list of all the things you know about your urgent care clinic. From the treatments, you provide down to the most common issues that your patients frequently experience. Knowing your niche helps you rank on specific terms and get focused traffic to your site.
How do you know if the niche you chose is worth pursuing? When you see the Google SERP results of the keyword mostly show low-quality pages, this means that the competition of your chosen keyword isn't that intimidating and is worth a shot!
2. Use keyword research tools
If you want to start doing keyword research by yourself, you'll get tons of ideas by using keyword research tools. This will not only help you save time, but it will also give you in-depth details about a specific search query. Here are some of the tools that we recommend you to use when doing keyword research for urgent care centers:
Google Keyword Planner
In your Google Ads account, you can get keyword ideas and suggestions in just a few minutes! Keyword Planner is a free tool that gives you suggested bid estimates and creates a plan out of the list you're about to create.
Here's a guide on how to use it:
Step 1: From your Google Ads account, go to "Tools & Settings"

Step 2: Under "Planning" select "Keywords planner"
Step 3: You'll be given two options which will either give you keyword ideas or get search volume forecasts.
Step 4: Clicking "Discover new keywords" will prompt you to this page. You'll have to enter services that are offered by your urgent care clinic or enter your website to filter keywords that are irrelevant to your field. Then, click "Get results"
In this example, we used "urgent care."
Step 5: After typing in the services offered by your urgent care clinic,  you'll see a table showing all of the relevant keywords along with the average monthly searches, level of competition, top page bid (low range), and low page bid (high range).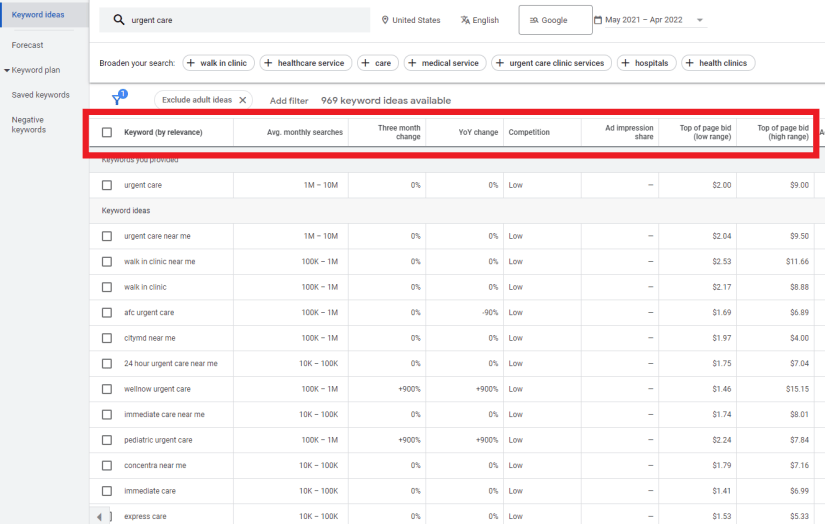 You can even filter the urgent care keyword ideas you got by checking or unchecking the box that corresponds to the type of keyword you don't want to show up to. For example, if you are not affiliated with any healthcare insurance company, unchecking the box beside "health care company" will remove urgent care-related keywords that might usually go along with the names of health care companies.
Or if you think keywords that were shown aren't enough, you can broaden it by adding more keywords based on the suggestions.
By clicking "Get Search Volume Forecasts" you'll have to enter the phrases you want to include per line or separate it using a comma in between.
In this example, we separated the keywords we are going for by adding them line by line. Then, click "Get started"
Then, it'll show you the volume forecast of the phrases you entered earlier.

Haven't set up your Google Ads account? Read our step-by-step guide on How to Create Google Ads for Urgent Care Centers to learn more.
Google Sheets
Keyword research can get complicated sometimes, one way to compile all of your keyword researched ideas is by using G Sheets. Here, you can categorize your keywords list by creating designated columns for each topic. You can find lots of keyword research templates on sites like Backlinko or create your own!
Keyword Surfer 
Keyword Surfer is a browser extension that helps you do in-depth keyword research for urgent care-related search terms. By using this extension, you'll directly see the average monthly searches as well as the Cost Per Click (CPC) for Google Ads campaigns in the search box.
Here's what it looks like:
Answer The Public 
Answer The Public is another keyword tool that helps you discover relevant topics based on people's search terms. It will show you a visualization of the 5 Ws (Who, What, When, Where, Why) along with the "which", "are", "will", "can", and "how" phrases that people frequently use when looking for an urgent care clinic.
Here's what it looks like:
3. Look at search intent
You'll get lots of information just by looking at your customer's search intent because these are the type of keywords they use when they're on the verge of buying a service.
You can see the search intent based on the search results of a keyword. It has 4 types which can be navigational, informational, transactional, or commercial.

For example, if someone is looking for at-home remedies for first degree burns, they'll be searching for "how to treat first degree burns" or "first aid for minor burns"

But if it's a second-degree burn or higher, commercial keywords like "urgent care for burns" are more likely to be used.
4. Use long-tail keywords
Narrow your keywords as much as you can. Although it might not get high traffic, the more specific your urgent care keywords are, the higher the chance it is to rank. Not just that, you'll get more focused traffic because people who will be visiting your page are potential patients.
It should include a head keyword. For example, if your head keyword is "urgent care." Keywords like "when to seek urgent care," "urgent care services," and "urgent care near me" could be some of the phrases you can use.
From your list, brainstorm all of the relevant topics that can be covered by your keywords. It will usually have a low search volume, however, it has the ability to bring in more focused traffic to your urgent care website.
Keyword Ideas for Urgent Care Centers
Here's are some of the urgent care keywords that you should try in your marketing campaigns:
urgent care near me
urgent care + name of your city
urgent care + name of the county
urgent care + healthcare insurance company
24-hour urgent care near me
Additional tips in doing keyword research for Urgent Care Centers:
Use location-based keywords

By targeting location-based keywords, you'll be able to drive more patients to your urgent care clinic. For example, let's say you're located in Los Angeles. An example of location-based keywords that you can use are "Urgent Care in Los Angeles" or "Urgent Care LA"

Find out what people are actually looking for

To get an idea of what people are looking for when it comes to urgent care clinics, check out the "People also ask" section or scroll down to the bottom part of Google's Search Engine Results page to see more of the related searches.
Finding the right SEO keywords for Urgent Care Centers can be an overwhelming task. Our team is here to help.
Key takeaway
Keyword research is one of the first steps you should do if you want to be discovered by your prospective patients.  Although it may take several months before you see its full potential, it will be worth it especially if you are using the right tools and strategies.