This ultimate guide on SEO for Plastic Surgeons will bless you with all the knowledge you need to know to acquire new patients using search engine optimization.
Using this guide you will learn innovative ways to increase more traffic while ranking closer and closer to #1 on Google search results.
Improving your plastic surgery SEO not only reaches new patients but also builds the trust that they need when choosing a facility. So, if your website is not one of the first results to appear on Google, then future patients will likely choose a competitor's private practice.
Now, to rank #1 on Google search engine, you need to follow a couple of easy steps.
Find the keywords that are performing great but not too competitive.
Why are other websites ranking higher than yours? Do a competitor analysis.
Optimize your site where it needs some improvements.
We will go further in-depth with these topics in this ultimate SEO guide. So, follow along as we will explore the many ways to optimize your site with SEO while still providing critical care to your patients.
1. SEO for Plastic Surgeons
SEO stands for search engine optimization which is the methodology of improving a website to rank higher on search engines. Eventually, this will result in several organic visitors viewing the website, creating new and more patients.
Google's high-tech algorithms are made to provide users with the best answers. This is why ranking is very important to SEO and everyone is striving to rank number 1. With the ranking system of SEO changing every day, marketers have to stay on top of the frequent updates to not risk missing out on potential patients.
Understand that you need to use Google's algorithm to your advantage. Make sure that Google knows what your website is about, so it can create visibility for your audience.
There are two main factors you need to consider when using SEO strategies: patience and consistency. Now, as you may know, using successful SEO does not guarantee the final result overnight. This can be an exhausting process but the work pays off in the long run.
Good plastic surgery SEO starts with outstanding content. You want your patients to find your content so valuable that they are inclined to share it with others. By providing good content and experience you are increasing your traffic which in the long run will create more revenue for your company.
If you are ever interested in expanding your company's brand using Google Ads or Facebook Ads, you can check out one of our following articles. These articles will run you through step-to-step guidelines on how to advertise your clinic using these digital platforms.
Some Key Questions That We Will Touch On Throughout This SEO Strategy Guide:
How to create a convincing website?—- So people will book an appointment with your clinic.
What is good content?—- This will eventually create more traffic.
Do you need to have both good content and a convincing website?—- This will increase your website ranking towards #1.
To draw out your competition you need a good plastic surgery SEO foundation.
1.1 Why is SEO Important to Medical Marketers
All medical practices want the same goal, which is to have a constant flow of patients booking appointments.
Of all the search engines on the market, Google makes up more than 90% of them. That means within that 90% margin over a million users are browsing Google in search of their answers.
As a medical marketer, you need to grasp the right SEO tactics to raise your company's website towards the top of the Google search engine. By increasing your website ranking you will increase the number of visitors to your website.
It's important to do research not just on what your patients typically search for but also on your competition. You are essentially competing against other practices to see who can drive the most traffic to one's clinic.
Some Topics That Your Future Patients Might Search For Are:
Types of services that plastic surgery clinics offer.
Plastic surgery clinic near me.
Recover time of certain plastic surgery procedures.
Non-invasive vs invasive plastic surgery procedures.
One quality of appearing #1 on the search engine result page is that you can provide reassurance to your patients. People tend to click on the first website that pops up on the results page since they believe it's the most credible and reliable site presented.
Based on the SEO used per website, Google makes the ultimate decision in picking which will appear first on the search engine results page. As a marketer, you can use SEO to your advantage so you can use Google's algorithm against itself to rank your site #1.
Ranking #1 will give you credibility and confidence, so your customers will never think twice before selecting your facility as their number one choice.
Want to rank number #1? We can help you!
2. Keyword Research for Plastic Surgeons
On browsers, people use keywords to search for specific content. Keywords are one of the main stepping stones for creating good content and high traffic volume.
Keywords can come in various forms. Using different types of keywords and phrases in your web content will increase your chance of getting more traffic to your site. More traffic means more appointment bookings which will lead to more revenue for the company.
So, what kind of keywords should you use? It's a trial and error process that every marketer has to endure. You need to research what keywords best fit and understand how your patients search when looking for types of services and resources.
Questions That Might Come Up When Keyword Researching:
What are the consumers' intent for searching?
What is the consumers' objective?
How many people are searching for the same topic?
What attracts the customers?
2.1 Short-Tail Keywords
Short-tail keywords are search terms that are made up of one to three words. They cover broader topics and are known to be the "head keyword". These keywords are quite competitive and have a lot of search volume. This is why there are many nicknames for short-tail keywords such as focus keywords, seed keyword, and even head terms.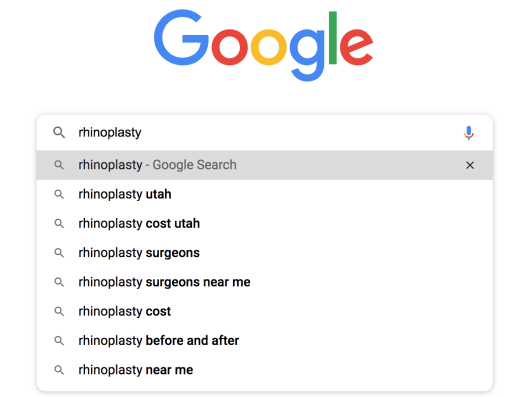 In the example above, you can see how "rhinoplasty" (a single term) does not cover too much content. Having keywords such as this can pose a threat to your website since it does not specify the overall search too well.
Google is not sure exactly what the user is looking for concerning "rhinoplasty".
The average cost of rhinoplasty?
Surgeons, that do rhinoplasty procedures?
Before and after photos of this service?
If you use only short-tail keywords for your content then how will you separate from the competition?
Using only short-tail keywords can lead to unwanted traffic such as individuals searching for rhinoplasty costs rather than surgeons that offer this type of service.
Have a balance between short and long-tail keywords since just having short-tail keywords can cause problems in people's search intents.
2.2 Long-Tail Keywords
Long-tail keywords carry more than three words aka making them longer keywords. More than 70% of keywords are long-tailed since they fall into a specific category. Users most likely use them when they are certain that they will purchase an item or a type of service.
Let's continue with the rhinoplasty example from earlier. If a customer is wanting to do some work on their nose, they will most likely search for "plastic surgeons in [a city that you live in]" to narrow down the search results. Customers will use specific keywords and phrases to try to get the results they are looking for.
The take-home message here is that once your patients have decided to get a certain procedure done, they will most likely use very specific long-tail keywords to find the answer to their questions. Include these types of keywords to narrow down your visitors' search intent.
2.3 SEO Ranking Tools
With keywords being the foundation of SEO, we need some way of tracking them.
Software has been invented such as  Keyword.com to help monitor a large group of keywords. Keyword.com is a paid software that analyzes and ranks your keywords. This tool analyses your visitors' behaviors and shows you exactly what they are doing on your site. With this kind of knowledge, you can optimize your website so you can bring in more visitors.
Keyword.com is highly recommended to healthcare marketers that are just started. This tool only requires $24 a month for the "starter" plan. It has cool features such as its daily automatic Google rank checker. It compares your keywords with others and ranks them based on the competition.
Using this tool you can input as many domains as you would like. Along with its analytical section, you can even monitor and compare your competition!
Another SEO tool that has given some uprise in the digital realm is called Moz. This tool allows marketers to analyze all organic performance of a website along with doing a full examination of each competitor they would like to analyze. Moz offers keyword rank tracking and an opportunity for linking building. We will go into further detail about link building in section 3.4.
First-time users of Moz are guaranteed a 30-day free trial on one of their best plans. This tool allows up to 800 keywords to research and up to 5,000 keyword search queries per month. Using their premium plan, you unlock a feature called "speed crawl". This feature allows crawlers to view your internal link structure of the website you want to be crawled. After they analyze your website, it gives feedback on how your site is performing and what can be further improved.
Need help starting your SEO campaign? 
3. On-Page Optimization of Your Plastic Surgery Site
Just like medical school, SEO requires a lot of hard work and dedication. To become a very successful SEO physician, it requires you to optimize several factors. These factors might include on-page optimization which covers generally four different areas: title tag, content, meta description, and internal link building.
In this section, you will learn how to reach your ideal candidate and optimal performance by maximizing your on-page SEO.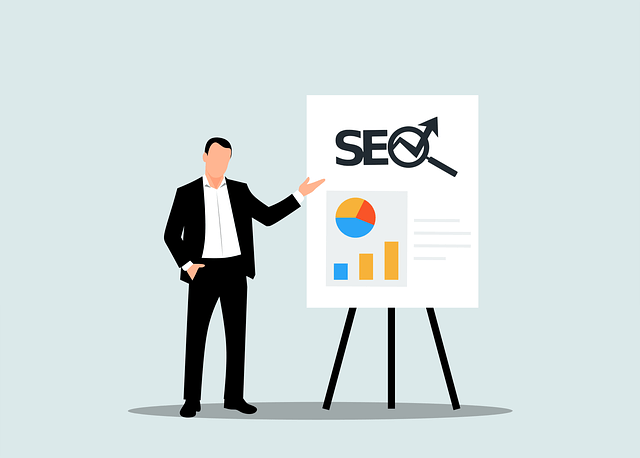 3.1 Title Tag
The Title Tag is the main centerpiece of on-page optimization since it gives search engines an overview of what your website will be about. It's the element of HTML that specifies the webpage title. The title tag is important because it's the first thing your visitors see when entering a search query.
To compel your audience is visiting your website, you first have to come up with a crafty title tag. They must have a general idea of what your site is about so they can have a positive experience. This also avoids them from bouncing out of your site and causing your bounce rates to increase (bounce = these tend to be people that land on your site but did not find a value to it and immediately leave).
Items to Follow When Creating Your Title Tag:
Title Length—- Should be 55-60 characters long.
Be Creative—- Give your title a catchy or unique name.
Positive Message—- Always be positive when conveying your message.
Don't over- Optimize—- Avoid titles with too many keywords.
3.2 Content
Content is a way of providing information to consumers and the web. Search engines need this information to better understand what your website is about so it can rank it. Having well-structured and descriptive content leads most sites to obtain more traffic.
Good content starts with having some kind of organization set. There has to be a formula or a logical way of navigating your website. In the long run, this will help your visitors so they can find other relatively related information.
By the end of the day, you want to make a positive impact on your visitors so they will most likely come back.
Some Helpful Tip For Making Your Content #1:
Identify the patient's search intent…how will your product or service solve their problem?
Use numbers, symbols, and facts to draw your readers in.
Make your content super valuable and helpful to your audience.
Stay on top of your competition…be unique compared to your competitors.
3.3 Meta Description
Just like your title tag from earlier, your Meta Description is also an HTML element that provides a summary of your website content…in a descriptive manner. It provides a layout of what your pages are going to look like and will often appear on the search engine results page (SERP). By optimizing your meta description you could increase your click-through rate (CTR).
Within the meta description, you can write up to 160 characters. Staying between 155-160 can potentially drive your click rates. It's a good idea to add targeted keywords such as the types of services you provide at your clinic, so you can attract the patients that are in search of a specific service.
The HTML Code of a Meta Description:
<head>  <meta name="description" content="This is an example of a meta description.  This will often show up in search results."></head>
3.4 Internal Link Building
Internal Links are links from one specific page (one of your plastic surgery pages such as "home page") to another (let's say "types of services" on a different page of your website). Search engines use these internal links to further explore your website so it can correctly rank is based on the information provided.
The Importance of Internal Links:
Better equip your visitors to scroll through the website.
Establish a hierarchy of the site.
Spread link quality through the website.
Once you feel comfortable, you can probably try to add some internal links to further assist your audience and to better your SEO.
Don't worry if you still feel a bit uneasy about this process we can show you how by Booking a Free Strategy Session w/ Us Today.
4. Off-Page Optimization of Your Healthcare Site
In this section, we will touch on a few areas of how to optimize your website when you and others are away from it.
Top 3 Components For Driving Awareness:
Encourage positive interactions w/ your audience.
Spread brand awareness with irresistible offers.
Obtain as many backlinks as possible.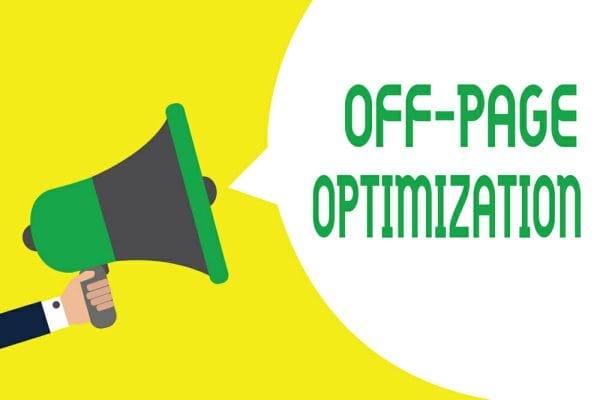 4.1 Competitive Offer
You want to have an irresistible offer that the public can not resist. This can be a specific deal or sale on a selected service at your clinic. These types of offers aren't necessarily required for SEO but it could be the thing that could change your website ranking. You want to find ways and tactics to increase traffic to your site, eventually leading to potential patients.
Some Examples of Competitive Offers:
Free yearly clinical checks.
Get 15% off your first visit.
Free consultation
People like facilities that offer unique deals. You don't need to offer something that could lead your company to go bankrupt, but it's not a bad idea to offer something worth losing in trade for more customers.
Want to learn how to manage your patient reviews? Read our review management guide for plastic surgeons.
4.2 Audience/ Backlinks
It's important to know who your audience is. Interaction with them can encourage more traffic to your website.
Try to target a specific group of people, you don't want unnecessary traffic coming to your website if it only leads to them bouncing right off.
Aside from targeting the right audience, there is something called external link building, further known as backlinks. These backlinks are as important since you are gaining a reputation from credible sites. By earning a backlink from let's say WebMD, they can basically refer you within one of their articles creating any traffic going from their website to yours.
You can think of backlinks as a form of "vote". The more votes (aka backlinks) you have, the more reputable your site becomes to others.
How to Get High-Quality Backlinks:
Search within relevant articles like another clinic or healthcare facility.
Follow other guest bloggers.
Towards the bottom of the article page, there should be a guest post option.
Outreach by sending an email.
Example of Email Layout:
Subj: "I'd Love To Write For Your Site!"
Hi [Insert Name],
My name is Dr. [Your Name], I'm a plastic surgeon.
I was reading one of your articles when  I noticed you accept guest posts
If you still do, please let me know – I'd love to put together a draft for you to review!
Thanks,
Dr. [Your Name]
[include link to your website]
5. Researching Your Fellow Competitors' SEO
Just like applying to medical school or a residency program, you aren't the only one who wants to run their medical practice. You need to stay on top of your competition by examining their SEO.
The beauty of competition is that you can learn from your competitors. By analyzing their strategies and tactics you can see what their biggest weakness is to outrank them. You want to steal their traffic and redirect them to your site by performing better SEO than them.
Areas to Keep Tabs on When Tracking Your Competitors' SEO:
Your competitors' content—- you want to stay on top of key topics they are covering.
Examine their page structure—- where links and images are located on their website.
What are their targeted keywords?
Want to get an edge over your competitors? Our services can help you!
5.1 What is SERP
A search engine results page better known as SERP, are the pages you see after inputting your search query. These search results are often combined with other types of content such as paid ads, organic text, and even "rich answers" like Quick Answers.
You want to rank high on SERP, the more search traffic you gain, the chances you will end up on the first page of SERP. Most individuals don't look past page 1 of the search results. 75.1% of all clicks are usually towards the first three search results. To rank well you need to do a combination of on and off-page optimization.
There Are Two Types of Organic Searches That Most Individuals Make:
Informational
Navigational
Informational queries are those that individuals make when they want to learn a specific topic such as the cost of the rhinoplasty procedure. These searchers aren't usually wanting to purchase something, but if it leads to the right content it can often drive a person to make a purchase or even booking an appointment to learn more about a particular topic or item.
Navigational searches are those that individuals make when looking for a particular website but do not type in the full URL. This type of search can be difficult for users to land on your site since there has to be a very specific keyword that your audience can use to land on your site. For instance, people that want to go onto Facebook can just write "Facebook" and immediately URL forms to complete this search.
Both of these organic searches work very well but, the one that your audience will likely use will be an informational search. Your plastic surgery website will serve as a guide to your visitors when searching for the service that best fits their needs.
6. The Value of SEO Towards Plastic Surgeons
Before online and digital marketing there were TV, newspaper, and even radio ads advertising healthcare facilities. With the world of business changing, it's important to get ahead and use SEO strategies to improve your medical business. Using SEO tactics gets the results you want but over time. You need to start as soon as possible so you can weed out your competition.
Reasons to Use SEO in Your Plastic Surgery Site:
Increase new patients (traffic) to your site.
Improves online presence.
Creates exposure to the right people based on keywords
Even if the competition is not too high right now, it will be as more and more medical marketers catch on to SEO strategies and their beneficial outcomes. Use this guide to market your services and attract the right demographic to your website and practice.
If you ever get stuck on a certain aspect of your website, don't worry we are more than happy to help. Just Book a Free Strategy Session with us so we can continue growing your medical practice.