This is the essential SEO guide for occupational therapists (also applies to pediatric occupational therapists).
If you are researching SEO for your occupational therapy clinic, then you already understand the importance of having a search engine friendly website.
In the past, people have used the yellow pages to find businesses, but now we have the internet. People will look up therapists on Google rather than solely rely on insurance networks or doctor referrals.
SEO is important for your business because if a potential client searches up "occupational therapy near me", you want your website to show up as one of the top searches.  Being the top three results or at least on the front page of Google is something every business wants.  By being easily searchable, your website will generate tons of traffic and will create clients for your business.  This shows that your business is reputable.
Understanding the basics will put you leagues ahead of the competition.  Continuing to grow, learn, and adapt will ensure that your business stays relevant in the digital age.
SEO for Occupational Therapists and Pediatric Occupational Therapists
When it comes to SEO, your loss is your competition's gain.  SEO is not something you can let sit.  It is a continuous process that needs constant refining and care.  What is working for you currently may not in the coming weeks.  Actively building strategies and being on top of the game will keep you competitive and ranking high.  The truth of the matter is that the majority of searchers never go beyond the first page of google.
The second page of Google has even gone so far to become a joke that it is forbidden territory.  There is so much content that google searches for, the majority of it will never be seen.  For example, when you search something google shows you how many results there are, but you will likely only look at the first 7-10 results.  So how can you develop a google search-friendly strategy?



It starts with having a strong website.
Having a professional website that is friendly on all platforms is important for ranking for google, and converting clients.  Your online presence conveys your brand, professionalism, and reputation.  Your website is essentially a constant form of marketing.  It never stops working to promote your business, but you are in charge of how well it does so.  People visit your website to learn more about what you have to offer.  Making this the best possible experience for potential clients is what makes good web design important.
Making your services clear as an occupational therapist will lock in potential business and better fit into Google's algorithm to rank high.
All this of course, is dependent on your optimization and research.  Ideally, search engine optimized web design and user-friendly interface should make you rank high in google, however, there are hundreds of factors that go into google's ranking algorithm.
To break down how you should be doing SEO for your business' website, you should focus on:
Keyword research
Competitor research
On-page optimization
Off-page optimization
Keyword Research For Occupational Therapy and Pediatric OT
Keyword research is crucial for SEO.  So what does it mean to do SEO for occupational therapy? In short, SEO helps you be found in the digital age.  It's the process of optimizing your online presence for your OT website to increase your chances of being found through the organic search results by increasing your rankings for particular keywords.   When potential clients are searching for occupational therapy services in your area, SEO is what drives them to your business.
You will need to get an understanding of what people are searching for and begin to rank for them.  The value of keyword research will help bring in new clients.  Not doing your due diligence of keyword research will be a waste of time because you are ranking for words that nobody is using or searching for.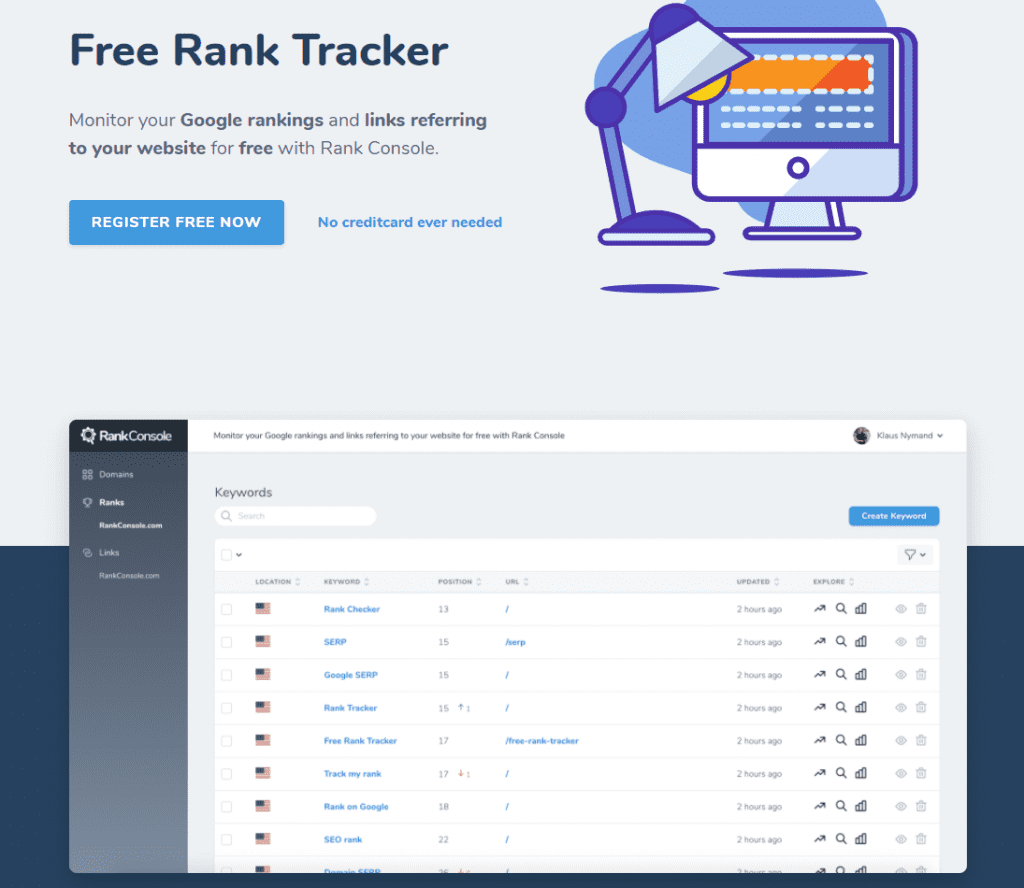 Let's say you are a pediatric occupational therapist and you want to rank for "feeding therapy near me". So you spend all your time seo optimizing and creating a page for that keyword. But in your area nobody is searching for that specific service you then have just wasted your time and resources ranking for something that nobody is searching for.
So knowing your location's demographic and the amount of searches that happen for each keyword is key to prioritizing what keywords you want to rank for. It's also great for determining what services are in demand in your area and what services you should provide.
Start with what you think people are searching for when it comes to their needs.  In this case, what are people looking for when searching for an occupational therapist.
You want to rank for keywords like: "occupational therapist near me", "occupational therapist in [city]", "occupational therapist [zip code]", "occupational therapist [specific service], "pediatric occupational therapy".  Keeping your keywords relevant will help people find you and keep Google prioritizing you.


Keyword research allows you to figure out what service pages and blog posts to create.  Keyword implementation can be used everywhere on your website.  Aside from putting them into your website, you should add them to your google meta description for them to show up in bold.  You should also change the title tag, the words that appear on each tab, to match for keywords.

The meta description is the brief preview of your website that Google provides.  You can modify what appears here to match the keywords people are searching for.  Notice how some of the words are bolded.

Creating a list of all the services you do and giving each its own landing page will also help rank higher for SEO.  You can set the title of each landing page to better match keywords.  Title tags are the descriptions that show up on each tab.  Title tags help people with their search to find an occupational therapy clinic for them.
Competitor Research
Having the insight into what your competition is up to will also give you an edge when ranking for SEO.  There are different techniques you can implement depending on how high the competition is.  If your research shows that there is very little competition, backlinks may not be absolutely necessary and you can focus your efforts on improving the user experience of your website.
Using tools to check your ranking as well as competitors is important in order to make the correct changes to rank higher.  Moz Toolbar is an essential tool to do this.  Using Moz Toolbar you can track rankings for keywords you want to rank for.  It also gives you a better perspective of what consumers are searching for so you better choose keywords to rank use.


Moz Toolbar allows you to check your own page authority as well as your competition's.  Page authority is a predictive measure that rates how strong or reliable a specific page of a website is.  Domain authority measures the overall strength of your website.  Knowing where you rank and where your competition rank can help you understand what direction you want to take your SEO.
Tracking Your Rank Over Time with Serp Tools
There are multiple SERP tools that track your ranking on Google. These are useful tools when keeping track of your personal SEO as well as the competitions.  Using these tools to your advantage will give you the edge over the competition and provide a grander perspective of how rankings work.
Here's an example of us taking a site from rank 10 to rank 2 over time:


Without a SERP tracker software like Keyword.com, you would never be able to see and chart the ranks over time. You wouldn't be able to tell if what you did is working or not.
To further scope out the competition and progress your SEO, check out more tools that will improve your SEO and get ahead of the competition.
On-Page Optimization 
When doing SEO for your website, understand that Google acknowledges and values the overall experience users have on your site.  Your goal should be to make it relevant to potential clients, easy to use, and of high quality.
Being relevant means that your website or blog needs to have a strong correlation with what people are searching for.  You can do this by making specific references in relation to where you operate.  Location and keywords like "near me" or "[city/county]" are more likely to be searched when people are looking for a new service.  Being specific about what your clinic does is crucial otherwise Google will be unable to pick that up, and you will miss out on potential business.
Your website should include high-quality content that potential clients can use to better commit to their decision.  The more effective you can answer a researcher's question through your site, the more likely Google will prioritize your content.  This means investing resources to add an FAQ section, and giving a detailed rundown of what services your Occupational Therapy clinic offers.


Having your website provide detailed information and save people the hassle of having to call to clear something up will play to your benefit.  Your site will become more reputable and researchers will be more inclined to become clients.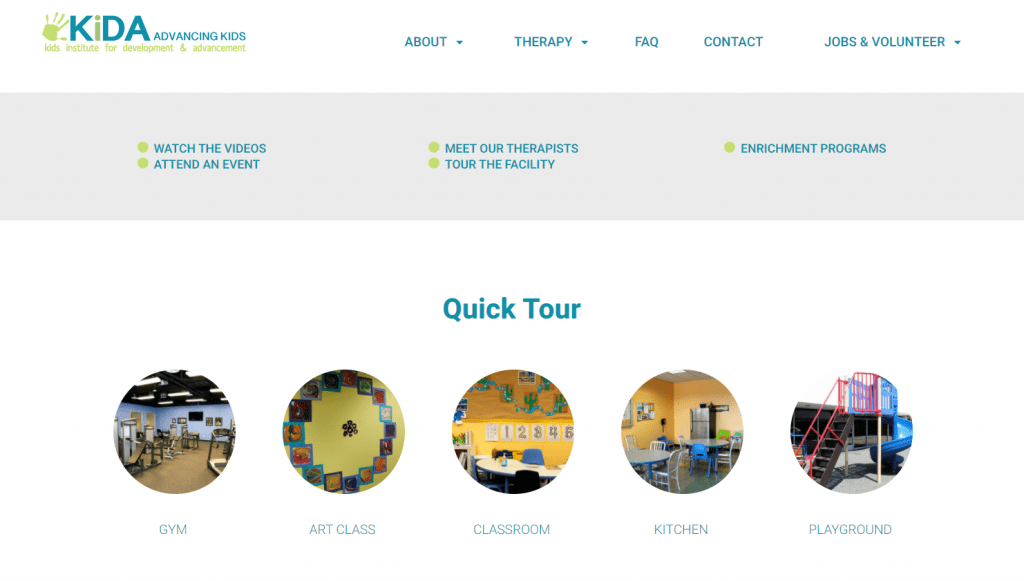 Setting up your website or blog for SEO is not difficult.  If you are using WordPress, plugins will give you a quick checklist on how to achieve a high SEO score.  WordPress also has great plugins to help further optimize and guide you. Plugins such as Yoast SEO or Rank Math will help cater your title and meta tags on to all your pages.  It will make including geographic keywords a lot easier.  Make sure to put the exact keywords you want to rank for in the first paragraph and meta description.

Compressing Images
Having images on your page is important, but compressing them so they are loaded quickly will increase the user experience.  Large images load slower, and people with slower connections will click out and get frustrated, lowering your SEO.  You can compress your images by using TinyJPG or manually crop them to keep the file size down.
Alt-tags
Google also crawls through your image's alt-tags.  So making sure you add a description to each of your images with relevant keywords can help boost your SEO.  Alt-tags are helpful when searchers cannot load images so the text that shows up instead can provide a brief description.
Meta Description
As mentioned before, meta descriptions are important for researchers in the digital age.  Often times, people will simply read the brief text that Google shows to make decisions or click onto your web page.  Making sure to keep your meta description relevant with keywords that people are searching for will help people with finding what they want.
Word count
Multiple studies have been done that show longer content generally ranks higher. For local businesses like yours, aim for 1,000 to 1,300 words for each of your service pages.
Once you have achieved a high SEO score, you can continue to add more content and words to play into Google's algorithm.  Pages with higher word count, when indexed by Google, tend to perform better in rankings.  More content means more content that Google can crawl.
This occupational therapy clinic has multiple landing pages where searchers can click to see what services they offer.  This increases the word count for Google to look through and provides relevant information for potential clients.


Your business's website should also have multiple pages if you have multiple locations.  By doing this, it will make it more clear cut when Google crawls your site, increasing your SEO.
Optimizing your website for mobile is essential in today's market.  As more and more people are relying solely on their phones, making a mobile-friendly experience will increase potential customers and your SEO.  Google now favors websites that are friendly toward mobile devices and getting your website spruced up will definitely be advantageous.
Other things to consider when doing on-page optimization is placing relevant keywords into your headers, alt tags, and URL.  All these factors add up to better rank your website.  If applicable, embed a google map with your business marked.  The map will increase the user experience and improves compatibility with your website and Google.


Using tools like keyword.com to track rankings accurately will give you a better understanding of what is and it not working for your occupational therapy clinic.  Tools like this chart your rank progress as it goes up or down.  It prevents you from doing SEO blindly.  If you aren't tracking your ranks, you are not doing SEO.
Off-Page Optimization
The first thing you should do when starting to build your SEO strategy is to claim your free Google My Business Account.  Keeping your business information up to date on your account is crucial for Google's search engine to index.  You want to include as much relevant information as you can so that when people are researching, they can find your business along with useful information to better let them make a decision.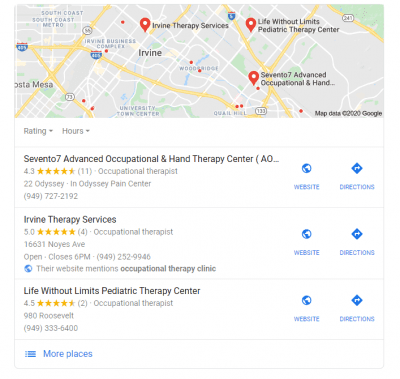 Things to remember include choosing the right business category, professional photos, local numbers, address, and hours of operation.
Local reviews have a large influence when it comes to your Google ranking.  Real customers leaving 5-star reviews and positive testaments can optimize any business.  Google's algorithm pushes highly praised businesses to the front page.
Focusing on getting backlinks will make up a sizable portion of your SEO budget.  Receiving backlinks from reputable websites will greatly improve your Google ranking.  Establishing your business on the internet by collecting backlinks means that your Google trusts your website.  With Google holding your website in high regard, the better it is for your ranking.  It can be tough getting starting with backlinks, but once you get the ball rolling, the process becomes self-sufficient and will feed itself.
Aside from backlinks, you should aim to get your occupational therapy clinic on local directories as well.  This includes Yelp, Thumbtack, and Yellow Pages.  Getting mentions on directories like those will develop trust with Google's ranking algorithm.  Getting on Pinterest and Reddit is the most common way of acquiring backlinks.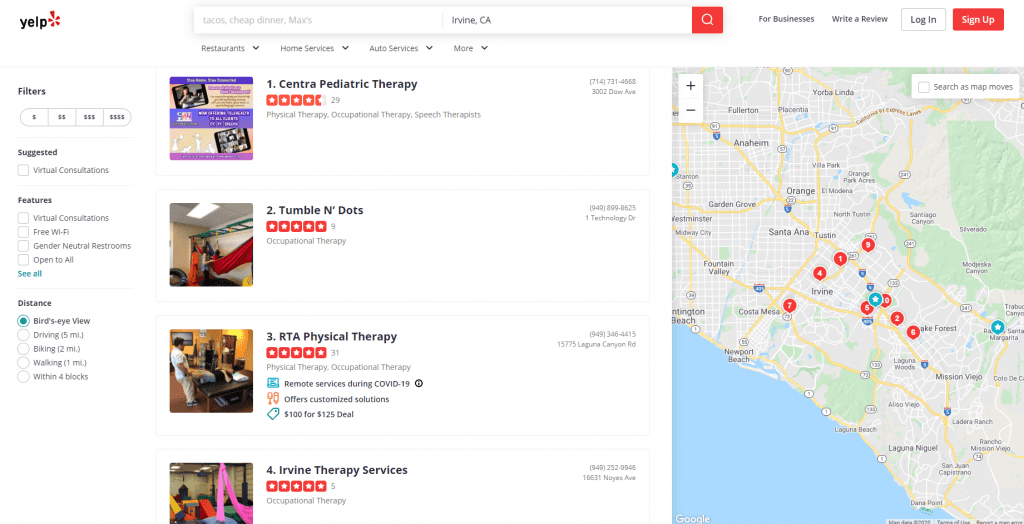 Local directories are a good way to build a link trail for citations.  A citation for you business means that your name, address, and phone number (NAP) is listed online somewhere.  Building these citations will also your SEO ranking and overall exposure.  You can start building citations through your interpersonal network.  From there, you can use Moz's toolbar to see what backlinks your competitors have and adapt.
Value of SEO for Occupational Therapists
Having a budget to continuously be on top of the SEO game is actually highly beneficial and worth it in the long run.  For occupational therapy, the average patient is ~$200/visit and will have multiple visits.  If your website reaches 500 people and 20 of them become clients, the value of those potential patients is highly worth it.  Investing in SEO is a no brainer.
In business there is a concept of average Customer Lifetime Value (CLTV), it's basically how much money does a customer spends over it's lifetime.
So let's say your average customer spends ~$200/session and has 10 sessions. That means your average customer lifetime value is $200 x 10 = $2,000.
This is important because to know how much you should spend on advertising per customer, you should know how much revenue you'll make per customer.
Especially in pediatric occupational therapy, budgeting for SEO is extremely valuable.  As you know most parents are willing to spend a lot of money when it comes to their children's health. What goes into your SEO budget is mainly paying for paying people to write blog posts, rebuilding your website, and getting backlinks.
If you want someone to work on your SEO for you, we're here to help: book a free strategy session.