Do you ever wonder how Instagram accounts get blown up fast? More importantly, how can you boost awareness on Instagram for dentists?
Facebook and Instagram, though the same parent company, are separate in their purpose and work a bit differently. The two social media platforms appeal to different age demographics, to say the least.
In this guide, I'll be discussing the best marketing guide for dental private practices.
Want professional marketing tips tailored for your dental clinic's Instagram?
1. Be strategic with Instagram content for your dentistry.
The main goal of utilizing the Instagram social media platform is to be personable with your community. To achieve this connection you must first determine who your targeted followers will be. Many businesses target followers based on demographics of age, value, or lifestyle. Generally, followers within similar age ranges are mutual in values or lifestyles.
Whether your content is sharing dental education or highlighting new products that came in, you want to keep it relevant and in line with the focus of your practice. Show your audience what the dentists represent through your posts. Use the dental marketing funnel to determine what type of content will attract your potential patients.
After you have understood who your targeted followers will be and their tastes and preferences, you can develop better-focused Instagram content, whether it be stories or posts, for your dental practice.
Next, you want to figure out the purpose behind your dental Instagram account posts. Do you want to post educative, informative, entertaining, or all of the above?
The best dental Instagram posts typically include testimonies, inspirational quotes, and before and after photos. Visual tip: If you use photos of your client's teeth, make sure the picture is not too graphic so that your post does not get flagged. 
Ultimately, the best dental practice Instagram accounts will be the ones that create an online persona for themselves.
For an in-depth discussion on social media marketing strategies, check out our other blog.
2. Take advantage of Instagram's features for a dental products report.
Instagram provides great features that allow users to be more personal and connected with their followers. Utilizing the Instagram social media platform features like stories and highlights will help prospective followers get to know your dental clinic and the products you recommend better.
This is a great chance to show new services or products to your patients. By highlighting recommended products, you encourage your patients to take care of their oral health outside of the clinic while establishing your status as an expert in the field.
Get on Instagram live and show off products you think your patients might benefit from.
It's also a great way to receive more specific feedback than the basic like on a post.
You can even go live with your clinic's dentists and talk with your followers.
On Instagram stories, you can include interactive polls and questionnaires. You can use the polling feature for example: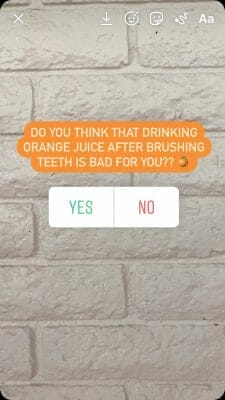 A great aspect of Instagram stories is that it allows you to see who has looked at your story and interacted with the poll.
Need help making your dental Instagram more interactive? 
3. Plan when to post according to your followers.
Make your dental Instagram active when your followers are on Instagram. Posting stories and other content during the times that your followers are using Instagram will help your dentist content get noticed.
Luckily, a lot of research has been conducted on this platform.
According to the "Project Instagram" poll by Ipsos, the rate of people on Instagram per day is:
18-24 years old: 67%
25-34 years old: 60%
35-44 years old: 49%
45-54 years old: 43%
55+ years old: 31%
These statistics imply that the largest age demographics on Instagram per day are 18-24 years old and 25-34 years old. The 35-44 years old category is not that far behind as they spend almost half of their day on Instagram as well.
Dental Instagrams can benefit from these findings as many of their consumers are within these three active age ranges.
In other research, Sprout Social found that the time when most people were active on Instagram were Wednesdays at 11 a.m. and Fridays from 10 a.m. to 11 a.m. Sprout Social also found that consistent Instagram activity was Monday through Friday from 9 a.m. to 4 p.m.
Additionally, Sprout Social's research found Saturdays and Sundays to be the worst days to post on Instagram for health businesses.
Collectively, these statistics are important factors to incorporate into your dental marketing strategies. Understanding when your followers are most active will help your dental Instagram posts gain more awareness. What's the point in posting an Instagram story if your followers won't be able to see it before expiring? The goal here is to maximize the number of people who view your Instagram content. To achieve this you must be present when your followers are active.
In sum, do not post when no one is there to like it.
Make sure to post consistently! The more you are active on Instagram, such as frequently posting, the better your chances will be to come upon more people's explorer pages.
If you want further in-depth suggestions on creating and managing your dental social media calendar, check out this guide.
Don't have time to plan out a calendar for your dental private practice?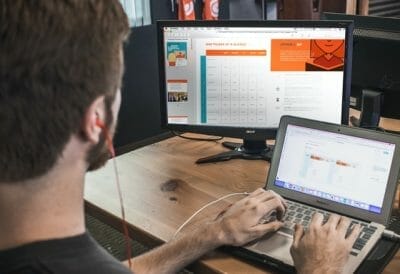 4. Don't forget to pay attention to your captions.
For each Instagram post, it is important to pay close attention to the details of your caption. First, the content within your caption should be tailored to your targeted followers. As a dental clinic, you will probably be looking for age demographics who are 18 years and older, also known as the Millennial segment. Additionally, you are most likely looking for demographics who are looking for dental services for their current or future reference.
Even though your work can be viewed in the United States and abroad, you still want to keep it tailored to true potential patients. Cookies only help so much with targeting future patients.
Use language that your targeted followers can relate to and easily read. Don't use heavy jargon or anything that can be misinterpreted. Keep it to simple language. Also, don't be afraid to incorporate emojis. Emojis are a fun alternative to certain words and can add more personality to your dental Instagram. Inserting emojis could help better communicate to your audience your tone as well. However, keep in mind that dentists do need to keep it somewhat professional and appropriate.
Try to have consistent wording or copy in your posts as well.
Also, don't write too much within your caption. People generally skim or don't read posts that have a long caption. Think about it from the perspective of your followers, would you want to read a long paragraph? Putting spaces in between different topics or ideas within your caption could help make reading easier and quicker.
Make sure the reader is hooked on your post and more likely to like it.
An important part of your Instagram caption is to include hashtags. This is a part that you won't want to miss as it increases the chances of people encountering your dental post. Hashtags help improve your search engine optimization (SEO) and allow people to find you easier. Typically, many people on Instagram include on average about three to five lines of hashtags at the end of their caption.
Start with creating and committing to a couple of main hashtags for your dental clinic. For instance, your hashtag line could be "#name of your dental clinic #another name for your dental practice". After putting the first few hashtags as those specified to your dental practice, start including more generic words that relate to your dentistry. Examples would be your dentist's location #irvine #oc, or you could do #dentist #smile #teeth #dr.
Keep a basic set of hashtags saved to use consistently on all of your posts.
If you're more interested in capturing your audience's attention through captions, come check this blog out!
Or, would you rather get tailored marketing suggestions for your dentistry? 
5. Write about your dental clinic in your biography.
Make sure to write a brief description in your bio. This is the first thing a potential patient will see when visiting your profile.
This description should be no more than two sentences but doesn't even have to be limited to sentence format. Get creative. Include emojis to represent certain words. For example, a commonly used emoji by businesses is the pin drop in which indicates the company's location.
Even though it isn't a personal account, you can still make it interesting and fun.
Be sure to add basic contact information such as other social media handles that the dentist clinic has, your email, phone number, and website. Including this information will help people know that 1) your business is legitimate and 2) where to find your practice. Not including basic information about your practice might be the determining factor in whether or not a follower becomes a patient.
You don't have to add a lot to your biography, just keep it short and simple. Having a lengthy or extensive biography will not increase the chances of more people hitting your 'Follow' button. Depending on how you create your biography could have an impact on prospective followers. It could convey what kind of character the dental practice is like collectively. Therefore, be considerate in constructing your biography.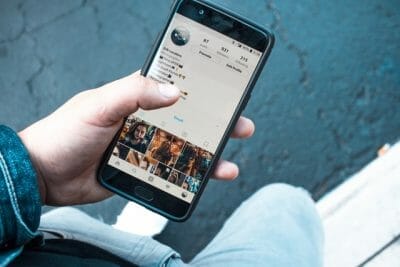 If you're still unsure of how to market on Instagram for dentists, let us help!
Do you need any ideas on how to improve the patient experience at your clinic? Read our guide here.
6. Utilize Instagram's built-in metrics.
Take advantage of Instagram's metric features such as Insights. To utilize this tool, you must switch your dentist account to a business account. Don't worry this doesn't require you to make a whole new Instagram account. This can easily be found on your account settings page under profile.
The two main components of Instagram Insights are reach and impressions.
Reach refers to how many people have seen your post or story. This aspect will help you understand who has looked at your content. Reach count serves as a benchmark for how effective your method of outreach is within your content.
The impression feature indicates the number of times people have seen your story. For instance, the impression will let you know who has replayed your story. Knowing this metric will help you understand the effectiveness of your story. It could help you narrow down which specific aspects proved to be better perceived or liked.
You want to monitor the success of your posts to see if you should make adjustments to improve engagement.
The best thing about Instagram Insights is that you don't need to purchase or download anything. Its built-in feature allows any business account user to easily utilize the tool without having extensive marketing knowledge.
Other Instagram metrics tools that are easy to use are Keyhole, Iconosquare, and SocialFox to name a few.
Unsure of which Instagram metric will better suit your dental marketing? 
7. Be considerate of your follower count as a dentist.
The most popular methods of boosting Instagram follower count primarily consist of a few different ways.
The first method that many Instagram users do is to follow numerous other accounts in hopes that some follow back. This method works, there is a small percentage of users who will follow your account back. Many businesses share a mutual issue that people on Instagram favor accounts that have higher followers.
How can your dental practice gain more Instagram followers?
Many businesses consider the second method in which they purchase their followers. This combats the issue of not looking attractive enough because of a lack of followers, but it also loses out on the authenticity of its followers. It is best advised to use this method sparingly. If a follower finds out that a business Instagram account has fake followers, the follower may feel that the credibility of the company has been reduced from their perspective. Also, fake followers mean less % of your followers are engaging in your content. Instagram sees this lack of engagement and will lower the chances of showing your posts to other people.
Overall, it is best to build a genuine follower base to get genuine patients. People don't buy products or services that bots recommend and like.
Be careful not to get too swept-up in gaining the highest amount of followers for your dental Instagram. Remember, the main purpose of content creation on Instagram is to connect with your community.
A small loyal following has more business value than a large one with low engagement. Also, consider dental Facebook Ads as a method of using social media to attract more patients to your clinic.
8. Be visually appealing.
As the popular saying goes, 'a picture is worth a thousand words.'
Instagram is all about trendy or aesthetic graphic, photo, and video content. It is the biggest component of your Instagram account and is a make-or-break for some explorers on Instagram.
Be strategic with the factors that go into your graphics such as your font, colors, symmetry, and cohesiveness. Make sure to also follow your dentistry's brand book in your posts when applicable.
Visual appeal helps increase the number of prospective followers interested in your dental practice. Some people make decisions in half a second on whether they want to keep reading your caption based on the photos or video posted.
Do keep in mind your status as an Instagram page for dentistry. You want to focus on highlighting the products, services, and before and afters.
Keep your content in line with the purpose of your page.
A marketing tip on creating visually appealing graphics for your posts is to choose an appropriate color palette for your dentist's clinic. These colors should represent your dental practice and should be considerately chosen.
Another great marketing tip is to stick with two to three different fonts. It is best to have the least amount of clutter so that it is easier perceived. Having too many fonts on a graphic could convey an unintended message about your clinic.
Summary
Overall, to build up a successful Instagram for dentists, you need to get in control of your search engine optimization. Instagram provides many ways to improve your search rates such as content creation, hashtags, metrics, and numerous more. However, the key is being focused on what community you want to be connected with.
For more guides, tips, and information on dental marketing strategies, check out our other blogs!
Don't have time to manage your dental Instagram account?