Indie developers today are creating online communities for their customers, as part of a process called community management. This helps their community grow and in term helps organically market their games. Indie Game Community Management can provide people with a place to belong and a network of other people they can connect with based on their love of your game.
That's why Developers can build communities and implement community management at the company level, building authentic relationships among their audience. When Developers Create a community, they transition from a random indie game studio to a club for their fans. The users will care deeply about the game and will support the indie developers.
Here's how to build an indie game community.
Step 1:  Choose a social media channel.
The first thing you'll want to do is figure out what are the top social media channels for your community. For an indie game developer, Reddit, Tumblr, and Discord are the most popular social media for your audience. Other platforms you might build on and help to manage your community include Facebook, Youtube, and Instagram.
For this guide, we will mainly focus on Discord and Reddit.  Registered Reddit users can create their own subreddits after participating on the site for 30 days having a positive "karma"  rating.
Founders and leaders of a subreddit should have the experience to identify and promote quality content. Knowledgeable leadership brings the community participation that becomes a healthy subreddit's bread and butter. A Discord is a way for the fans of your game to chat with each other, share tips, and make parties to play the game with each other.  Discord is a powerful tool that has found uses in many areas of the business as described here.
Step 2. Identify your audience and build your community.
Now identify your audience on that platform. For example, Let's say that you are building an open world sandbox game. You have to find where your audience hangs out and the best way to reach them. We can figure out what communities your audience is already present in and cross-post or link your community to build traction. On Reddit, you may find that in r/sandboxgame.
You may look for pages dedicated to sandbox games and figure out what type of content the community may want. This will help your team tailor the content to your target audience and your chosen platform. Targeted PPC ads may be an effective way to build your community If you want to learn more about how to write an effective text ad click here.
As noted, there are 1.2 million subreddits active on Reddit. If a new subreddit copies an existing community, it will not draw users away from the original. As an indie game developer you will not have this problem if your game is unique.
You may find that each of your different platforms has a unique audience. Let's have a look at Brawllhalla, both their discord and Reddit have different audiences. The discord is based more on E-sports and hardcore game interactions. While the Reddit is more general for the average player. This is a great way to formulate your indie game community management strategy. Since a Reddit typically has a much larger  userbase then a discord or twitch channel, it makes sense that a Reddit will be less niche than either of the two previous platforms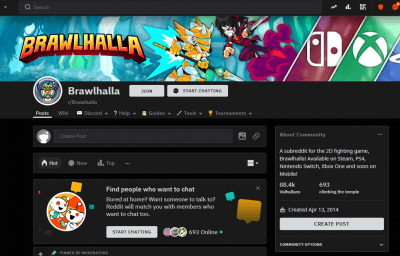 Lastly for Reddit, be sincere, Reddit's voting structure and user-created content create a community that is democratic in nature, being perceived as manipulative may harm you more on the Reddit platform than on other social media. If your company does have an agenda, you'll be better off being up-front and honest about it. Build the Reddit and let the people come from crossposting and fan interactions.
Don't be worried about what is on your front page. The content of each subreddit's front page is based on an algorithm based on votes with the time of posting. \ community-endorsed content will be visible to all while allowing new content to be seen amongst the sea of favorites. Vote manipulation will be met with attacks. Redditors try to keep their communities' democratic ideals under any circumstances. The voting algorithm allows the content users want to see on your indie game Reddit is promoted.
Step 3. Set Rules and guidelines
An online indie game community, like any other community, has to have rules and regulations in order to keep order. Figuring out what type of ruleset will fit your indie game community will be instrumental in building your brand online. in Indie game community management it is almost a lifeline in which all must follow. If it's a family-friendly game, swearing and NSFW may be banned on discord and Reddit. If it's an indie game that has mature themes then you may want to go with a very limited rule set and allow your user to figure out what acceptable.
Trying to control the indie game community's behavior will backfire on Reddit, user's control over content means that anyone trying to control the community( Even the indie game developer) will be quickly called out. Let's look at kerbal space program's rules for Reddit.
1.Please remain kind and civil at all times
"Many Redditors consider this subreddit to be one of the friendliest subreddits. We're very proud of that, and would like things to stay that way. While browsing this subreddit, please keep in mind that Kerbal Space Program is just a game we play for fun. It's not about politics, it's not a competition, it's just a game. Also, there are many kids who play Kerbal Space Program. If you've got a problem with somebody on the subreddit, please just contact the moderators."
In this post, The community managers do two important things. The first set the standard of which they hold their community and set the audience and type of behavior that will be a cornerstone of it in the Reddit community.
2.No memes/image macros. No posts unrelated to KSP
"To keep the quality of the sub a bit in control, we do not allow memes, image macros or posts unrelated to KSP. Even posts related to NASA/ESA will not be allowed. Many people think that a post is okay because people who play Kerbal Space Program will like it, and they might, but not here. If people want to see things unrelated to Kerbal Space Program, they'd be able to visit other subreddits."
This is important as it prevents people from farming, by reducing the amount that they can spam on the right. This also allows discussion about the game to take the forefront of the community as the indie game community managers intended.
3.No real life disasters that resulted in fatality
"Space travel is not without risk. On this subreddit we would like you to stay respectful to those who lost their lives."
This is both a way to keep the community peaceful and safe for work. When people are looking at a game community they do not want to be reminded of the horrors in the real world.
4. No mirrors or torrents of any version of KSP.
"Squad puts a lot of effort into Kerbal Space Program. They've been working on this game for several years now, and we really appreciate all the time and effort they put into it. We think it is more than reasonable to ask people to not discuss any mirrors or torrents of Kerbal Space Program. The game is easily worth the cost, and if you want to try it out, there is a free demo available."
Self-explanatory, the game developers do not want to lose money
5. No low-effort content
"See this page for more info"
This reduces the amount of "bad content" on the subreddit. This is community approve since they ran a poll to decide,
6.Leave moderation to the moderators"To keep the subreddit nice and friendly, we ask you to not post comments saying that a post violates a rule. Instead, please use the 'report' button, or send the moderators a PM. We are able to discuss things with the original poster a lot more discreetly."
This is a way of making the community members feel welcome and keeping some people who may be vigilantes from taking justice upon themselves.
7.Tag spoilers/Easter eggs as spoilers
"A lot of new players might want to discover anomalies for themselves. To help them with that, if you post any content that involves any Easter eggs, press the 'spoiler' button (NSFW button if CSS is disabled, or you are on mobile) to tag your post."
This is a way of preserving value in a game. Your audience may not want to play if they ruined
Step 4. Determine how you'll identify your success.
How should your company define your success? If you are able to look at your company from an objective angle you will surely find out what your company needs to focus on in the long run.
Some examples of success metrics to :
Boost in audience members/ increase in followers
Number of conversation participants in a live chat or discussion
Amount of content shared or liked by your followers
Overall engagement (likes, shares, mentions, hashtags, messages, comments)
Increase in brand awareness
Increase in customer satisfaction and retention
Traffic that's directed to your website
Boost in your sales and conversions
A large number of followers is not what is needed in the grand scheme of things, an active small community may be more important than a larger community that has no activity.
Step 5. Post regularly and engage with your audience.
Having consistency in terms of your frequency of posts and engagement is important in the grand scheme of indie game community management. Determining how often your indie game team is going to post on social media is crucial to building a good fan relationship.
Social media is one of the best ways to develop bonds and relationships with your indie game community. Show your fans they aren't just a number and they are an important part of your community. Promote the posts of your fans in other subreddits and help your discord grow and be creative.
You can figure out ways to gain traction just by communicating with your fans
No matter how you choose to interact and engage with your followers, remember to be authentic and address each person as an individual. Social media isn't a forum, so there shouldn't be any canned responses you use for your social followers.
By maintaining an authentic voice and presence on social media, your brand will have a unique element behind that feels trustworthy and personal to customers and community members.  Also please be encouraging to other members and anyone who wants to make a sister Reddit or discord.
One way to drive user engagement on your twitch channel is to host members in your community! SkullGirl's Twitch is almost always hosting a fan playing their game. This allows members to feel like they are apart of something bigger and will drive your audience closer to your indie community.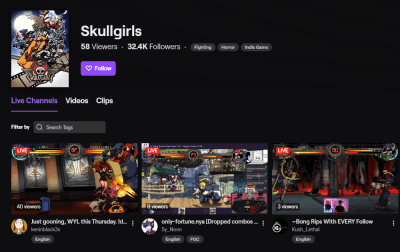 Step 6. Measure the results of your Indie Game Community Management.
Now it's time to measure the results of your hard work. Remember,  measuring your success on social is subjective, the quantitative data may not truly reflect what is going on — numbers don't always reflect all the effort you placed your Indie Game Community Management or the activity metrics of your community members. Additionally, you rarely see immediate results when it comes to your social media efforts — identifying your target audience, building a following, and learning how to reach your customers on a specific platform takes time.
To measure your results, decide on the method that works best for your needs, goals, and company. Here are a few ways to do this.
Social listening: Social listening is a process that is key to success for Indie Game Community Management. The process of monitoring your social media accounts to keep track mentions, customer feedback, keywords, and discussions related to your brand, products, services, and customers (even your competitors, too). You then take a deeper look at all of these things to analyze them and gain insight into what's working for your customers and followers, and what should be modified.
Platform analytics: Depending on the social platform you chose for your community management strategy, there might be a built-in analytics tool for you to measure your success in terms of variables specific to that platform. Examples include Twitter Analytics, Instagram Insights, and Facebook Analytics.
Analytics tools: If your platform of choice does not have an analytics tool included in its software library, or if you're looking for a deeper look into the data, you might want to incorporate more tools or platforms to help you measure your data. Examples include Google Analytics, Sprout Social, and HubSpot.
For more info on how social media and engagement can shape your career look at this article about Michelle Pham here.