The first thing patients usually do before visiting an urgent care clinic is look for the nearest one in their area. Aside from the location, they also look at the ratings as well as the reviews to make sure that they are in the right hands.
In this article, we'll share with you how to get reviews for urgent care centers that'll surely help you gain more exposure and customers to your care clinic!
Why urgent care centers need reviews
Patient reviews play a role in an individual's decision-making process especially when it comes to choosing a place to get treated in case of emergencies. If you're wondering why urgent care centers need reviews we've summed up the reasons below:
1. It helps you stand out among your competitors.
People are more likely to trust and notice a brand if it has high ratings or reviews. This is because a brand that has a lot of good reviews seems to be more trustworthy than a brand that doesn't have a review yet. So, whether you are just starting out or already known in the healthcare industry, other than paid ads, reviews can help your brand stand out among your competitors.
2. It sets an impression about your urgent care center.
As the saying goes, "First impressions last."  You don't know if your page visitors will become your patients in the future so, you have to leave a good impression by showing them positive reviews from your existing patients in your urgent care profile or website.
3. It makes your urgent care center credible.
Since people who searched for you on the internet probably haven't heard from you in the past, they need to have a basis to know if they are making the right decision. With the help of reviews from your previous patients, it gives your prospective patients an idea that your urgent care center is existing and is reliable in times of emergency.
Interested in setting up a profile for your urgent care center but don't have time?
Top review sites for urgent care centers
The first step in getting a lot of reviews from your patients is by setting up a profile on review sites. This way, it'll be easier for your patients to leave a review whenever they look for you on search engines. Here are some of the go-to-sites for individuals who wanted to seek urgent care:
1. Yelp
97% of people look at Yelp reviews before actually visiting a business establishment. That is because Yelp is one of the leading platforms that allow businesses to be discovered and lets customers share their experiences from a place or business establishment they just recently visited.
With Yelp, you can manage your listing, connect with millions of people, and help people to get to know more about your urgent care center. If you are worried about getting troll reviews, Yelp has this feature that filters fake reviews and even a flag button that allows you to personally report reviews that you think didn't come from your previous patients.
They also offer Yelp Ads if you want to advertise your urgent care center on the platform.
2. Google My Business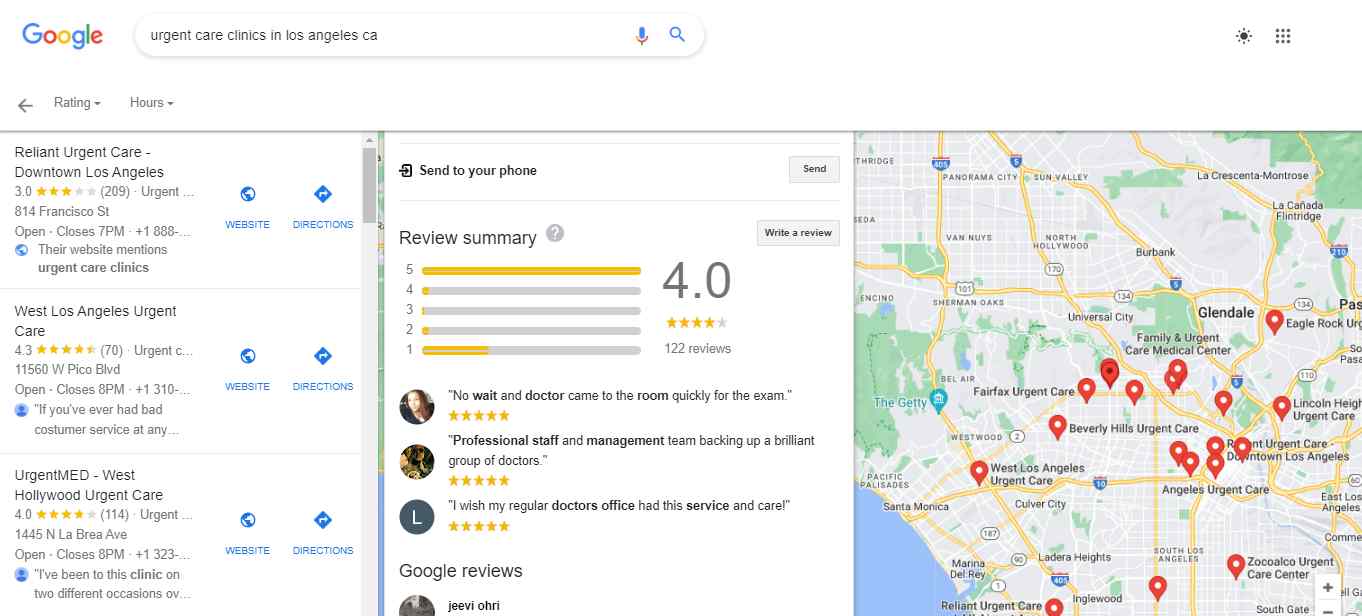 Google My Business, on the other hand, allows your business to appear on Google's Search Engine Results Page whenever someone looks up your urgent care center on Google for free! You just have to make sure that you fill out all the important details about your care clinic so the chances of it appearing on top of search results would be high.
People who view your Google My Business profile are more likely to visit your website, request directions, or call you. So, make sure that all of the important details are indicated on your profile to help your page visitors out.
Haven't listed your Urgent Care Center on Google My Business? Read our step-by-step guide to creating Google My Business for Urgent Care Centers to learn more.
3. Healthgrades
Healthgrades is another platform that provides you with all of the details that will be needed when looking for an urgent care doctor. It has around 1.1 million physicians with patient ratings that will surely guide your potential patients in choosing the right healthcare provider.
4. ZocDoc
ZocDoc works almost the same as Healthgrades. It tells you the basic information about the physician, the insurance coverage, patient reviews, and the frequently asked questions by potential patients.
5. Vitals
Vitals has the largest database where you can find reviews and other information about a physician based on their specialties and accepted insurance plans and also provides educational guides if you want to learn more about a specific medical condition.
Don't know where to start listing your urgent care clinic?
How to get reviews for urgent care centers
Getting reviews for your urgent care center helps you gain credibility and earns the trust of your prospective patients. Since you already know websites where you should be listing your urgent care center, we'll introduce to you the steps on how to get reviews:
1. Provide high-quality service to your patients
Before you proceed with the other steps in gaining reviews for your urgent care center, you should make sure that you are providing the finest urgent care services to your patients. Nothing beats a satisfied customer's feedback. The more highly satisfied your patients get, the more likely they become your loyal customers and leave positive reviews about your urgent care services.
2. Ask them personally
Some of your patients don't really know how reviews can impact your urgent care center's growth in the healthcare industry, you can simply ask your patients to leave a review by sharing a link that'll make the task easier or scan a code that'll redirect them to the review site. This way they can leave a review right before they leave your urgent care center.
3. Keep in touch with your patients
If it's been a while and your previous patients haven't left a review on review sites, they might've forgotten to leave a review, or maybe been too busy. What you can do is try sending them an email or a text message containing the link to the site that'll directly send them to the review site for your urgent care center.
3. Create a link that directly sends your patients to a review site
Lengthy links may only cause confusion or increase the chances of getting mistaken if the patient has to manually input the link where they can leave a review for your urgent care clinic.
For your patient's convenience, try shortening the length of your URL with the help of free software that can be used free such as Bitly and Tiny URL, people won't find it hard to leave a review for your urgent care center.
4. Share reviews on your website or social media posts
Sharing positive feedback from your patients is one way of letting your audience know that you really care about meeting your patient's expectations. As a physician who works at an urgent care clinic, you should see to it that patients are satisfied with the healthcare services that they're getting because that's another factor that encourages them to leave a review about your urgent care clinic.
Getting reviews can be challenging at first. Our friendly team is here to help.
Schedule A Free Strategy Session
If you're already getting reviews from your urgent care center, here are some reminders for managing your online reviews:
Always monitor the reviews you're getting because there are chances that you'll be getting negative reviews and you have to immediately address the concern of that patient so that it won't affect your reputation.
Make time to respond to your patients whether it's a good or bad review so that other patients will also be encouraged to leave a review.
Looking for a guide that will help you create ad campaigns got your care clinic? Check out our blog about Google Ads for Urgent Care Centers to learn more.
Key takeaway
Getting reviews would be impossible to achieve if you are not using the right strategies in doing so. By following the tips that we've mentioned earlier, you'll get tons of great reviews from your urgent care clinic.