Online reviews play a crucial role not just for customers but also for business owners like you. Aside from improving your brand's visibility, high-quality reviews can also help you get more new customers! In this blog, we'll share tips on how to get reviews for HVAC Companies along with some examples that you can use when responding to customer reviews!
Importance of reviews for HVAC companies
Most consumers evaluate a business based on what they read from the reviews section. In fact, 49% of consumers trust online reviews as much as they trust personal recommendations. It's because the reviews you get from your customers serve as social proof of how efficient you are as an HVAC contractor.
Another reason why reviews matter is that it invites more customers to your HVAC company. 64% of global consumers would prefer engaging themselves with businesses that immediately respond to customer reviews than those that don't. This is because it gives them an idea that your number one priority is providing top-notch services to your customers and at the same time, it adds confidence to potential customers who are in the decision-making process of the buyer's journey.
Lastly, gathering lots of reviews can help you rank high on the local search results page. Since 0nly 0.78% of consumers click on the second page of SERP, ranking on the first page of relevant search queries will surely give your HVAC company improved visibility. The more visible your business is to potential customers, the more likely you're going to get higher click-through rates.
Need help ranking high on Google's Search Results Page?
Schedule A Free Strategy Session!
Tips on How to Get Reviews for HVAC Companies
The reviews you get from your customers serve as a reflection of how satisfied your customers are with your HVAC services. Now that you have an idea of how important reviews are, here are some tips on how to genuine feedback from your customers.
1. Personally ask your customers for a review
Before you resort to other options, the first thing that you can do to gather reviews is to directly ask your customers to give their feedback (preferably right after you have completed the service or before you leave). Especially if you can see in their faces that you really have helped them fix their HVAC concerns, that's the best time for you to ask them.
You can start by establishing a rapport after the service is done and say things like "Hey, it would mean a lot to us if you leave a review about your experience with us." or "We're so glad to hear how satisfied you are with our service. If you leave us a Google review, it would definitely help other people with the same concern to find us."
Then, you can guide them throughout the process of leaving a review or provide them with easy-to-follow instructions.
2. Get listed on review sites
Getting reviews would be impossible if you haven't yet listed your HVAC business in online directories. To make it easy for your potential customer to find you here are the top three platforms that you should have your HVAC company listed on (1) Google My Business, (2) Yelp, and (3) Facebook.
Here are some of its best features:
Google My Business 
Google My Business is one of the most used online directories by businesses. Not only will it show your HVAC company on the search results page, but also on Google Maps! This makes it easier for you to be found by potential customers within your service areas.
Yelp
Another online directory where you can get listed is Yelp. Here, your customers can request a quote based on when they need the service, details they would like to share with your HVAC company (e.g. issue with their air ducts), along with their exact location. This will make your transaction a lot easier because you'll have a background of an HVAC-related problem that a potential customer is facing.
Facebook
Last but not least is Facebook. In this social media platform, previous customers can like your page to stay updated with changes in your business and recommend you to their friends (which will give your HVAC company additional exposure on your customer's timeline, and if you got several recommendations, it will also show up on your Facebook page).
Like this one:

[Source]
Aside from getting recommendations from your customers, they can also rate your business up to 5 stars along with a short review about their experience with your HVAC company. On Facebook, when you search for "HVAC near me" it'll show you pages of HVAC businesses in your area.
Need help optimizing Google My Business for your HVAC company?
3. Create a post to remind your customers
Aside from posting promotional and other types of content on your HVAC company's page, you can also use this platform to ask your customers to leave a review about their experience. You just have to phrase it in a way that's engaging in the eyes of your audience.
Like in the example below, you can see that the HVAC company used a customer's review as an intro for their post about asking previous customers who haven't left a review yet. They attached links to different review sites to make it easier for their customers to submit their reviews.
4. Send review requests through email
Another way of gathering reviews from your customers is through sending emails. If the preferred communication channel of your customer is through emails, then you should definitely send review requests through this platform. You just have to write your subject line in a way that your email recipients can't resist clicking at.
47% of email recipients open an email based on how the subject lines are written. Because of that, you have to make sure that you test which subject lines get the most open rates, this way you increase the chances of getting those reviews you deserve. You can use emotional trigger words.
Subject lines that you can try are the following:
Get a 5% discount for giving us your valuable suggestions!
How can we make out HVAC services work for you?
Your feedback matters.
Got a minute to spare your feedback about our HVAC services?
Additional tips when sending review request emails to your customers:
Keep it short and simple. Your email doesn't have to be a lengthy one.
Consider these three factors when writing your subject lines: urgency, timeliness, incentivization
Make sure you are asking for reviews in a polite way. Your customers will be doing you a favor.
Personalize your emails. Your customers are more inclined to give your HVAC company feedback if you tell them how much their review means to your business.
Re-assure them that (the review process) won't take long.
5. Simplify the process
If you already have a Business Profile for your HVAC company, you can make it easier for your customers to leave a review by providing shortened links. Here are the steps on how to do it:
Go to your Home tab and scroll down until you see "Share review form."
Then, you'll see a link that you can copy and send to your customers when you ask them to leave a review. There are other buttons that allow you to directly share the review link on Facebook, WhatsApp, and through email.
Another way of simplifying the process of leaving a review is through QR codes.
QR codes are one of the most convenient ways of generating online reviews. All they (your customers) have to do is scan your code using their phones and they'll be redirected to your HVAC profile's review page.
Looking for platforms where you can get customized QR codes? Check out QR Code Generator. It'll provide you with lots of ideas on how you can be creative in crafting your codes (e.g. adding it on business cards, flyers, brochures, and other marketing materials).
6. Create a review page on your HVAC website
You can also create a page on your website where you can give your customers several options on where they would like to leave a review on your site. Like in the example below, the customers can leave a review either on the HVAC company's Facebook page, or Google My Business profile.
They also provided a way for how unsatisfied customers can reach out to them (which can be done by filling out a form so that the company can make arrangements on how to make it up to the customer).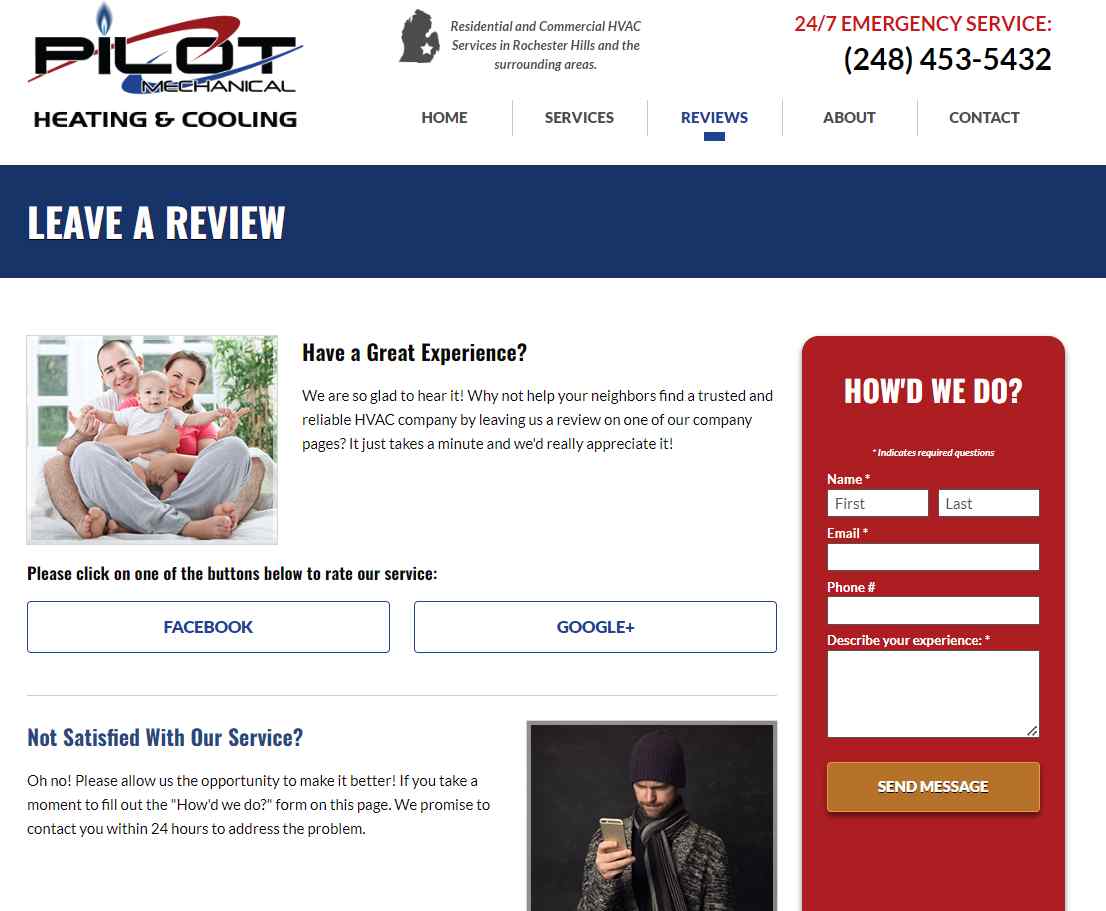 [Source]
7. Showcase Google reviews on your HVAC website or share them on social media
Did you know that you can also use reviews to get more new customers for your HVAC company? If you have enough reviews from your customers, you can share them on your HVAC website or social media pages. This will serve as proof of how dedicated you are when it comes to providing high-quality services to your customers.
Like in this example, the HVAC company displayed their Google reviews on their website so that potential customers who haven't seen them yet on other review sites will have an idea of their credibility.
[Source]
You could also share it on other social media platforms like in the example below. The HVAC company shared a short background about their experience with a customer (to add more context behind the review that was given to them by a previous customer).
[Source]
Or if you want to be more creative in posting customer feedback, there are tons of templates that you can customize using Canva for free!
8. Provide review cards
If you want to go classic, you can use cards to gather reviews from your customers. All you have to do is look for someone who can make a design based on your preference or choose a design that's available on Zazzle and have it customized. Then, you can give it to your customers right after the HVAC service has been completed.
9. Respond to customer reviews
Customers expect business owners to respond to their online reviews within 7 days. In fact, responding to customer reviews can help you attract more customers, improve your reputation as an HVAC company, and boost your customer retention rates!
It's understandable that you will get a mix of positive and negative reviews. However, it's best that you know how to properly handle each of these.
How to respond with positive reviews
Positive reviews are considered compliments you got from satisfied customers. Because of that, you should never miss the opportunity to acknowledge this kind of review because not only does it encourage previous customers to leave a review but it also highlights your HVAC company's strengths.
Here are some tips on how to respond to positive reviews:
Respond as soon as you get the notification

Don't take the positive reviews from your customer for granted. Make sure that you thank the customer who left a review as soon as you get a chance.

Personalize your response

Customers find it "appealing" when companies reach out to them on a personal level. With every review that you get, make sure to mention their name because it gives them the idea that you remember all of the customers you've recently dealt with.

Express gratitude

Say things like "Thank you so much for taking the time to leave a review" or "It means the world to us."

Use relevant keywords when responding to reviews

Mentioning the service you provided to the customer who left a review or indicating the name of your HVAC company as a signature as you end a response is another good idea when responding to positive reviews.

Invite them to do business with you in the future

Lastly, don't forget to use the opportunity to engage with your business in the future (in case they encounter HVAC problems or if they know someone who needs help in fixing their HVAC system). You can say something like "In case you have HVAC concerns, we're just one call away."
How to deal with negative reviews
Getting negative reviews from your customers can be frustrating. However, this kind of issue should be fixed right away to prevent it from escalating.
If you think it's a negative review, here's what you can do:
Flag fake reviews

If it's a fake or misleading review, you can flag it to be removed. Just click the three dots on the right side of the review and click "Report review." Then, you'll choose among the options of what violation is all about.
If it's a negative review because you made a mistake, here are some tips on how to deal with it:
Let them know that you appreciate the feedback

Negative reviews can also serve as a basis for the areas in your HVAC services that need improvement. As you respond to this type of review, make sure to appreciate their effort of letting you know about the issue they've experienced.

Handle the issue professionally.

Retaliating to an angry customer will only damage your reputation and worsen the problem. Instead, what you can do is make them feel heard. Show them empathy and make it up to that customer. Take appropriate actions if needed (e.g. discount vouchers, coupons to earn a second chance).
If it's a negative review despite doing your best, here's what you can do:
Getting a negative review despite giving the best HVAC services you can provide seems unfair. Aside from that, it's something that's difficult to address. One way to make this right is to give your contact details to that customer (e.g. your contact number or email address) and talk about the issue offline (when handled properly, it could turn a negative review into a positive one).
To ensure that your reputation as an HVAC contractor isn't put at stake, make sure to have all of the notifications for new reviews switched on. Also, make it a habit to regularly check reviews. It only takes several minutes to go through it.
10. SMS
With an open rate of 98%, asking for reviews via SMS is another option that you can try for your HVAC company. Not only does it have a personal approach, but it also gives you allows your customers to submit photos and short clips about what they like most about your HVAC services.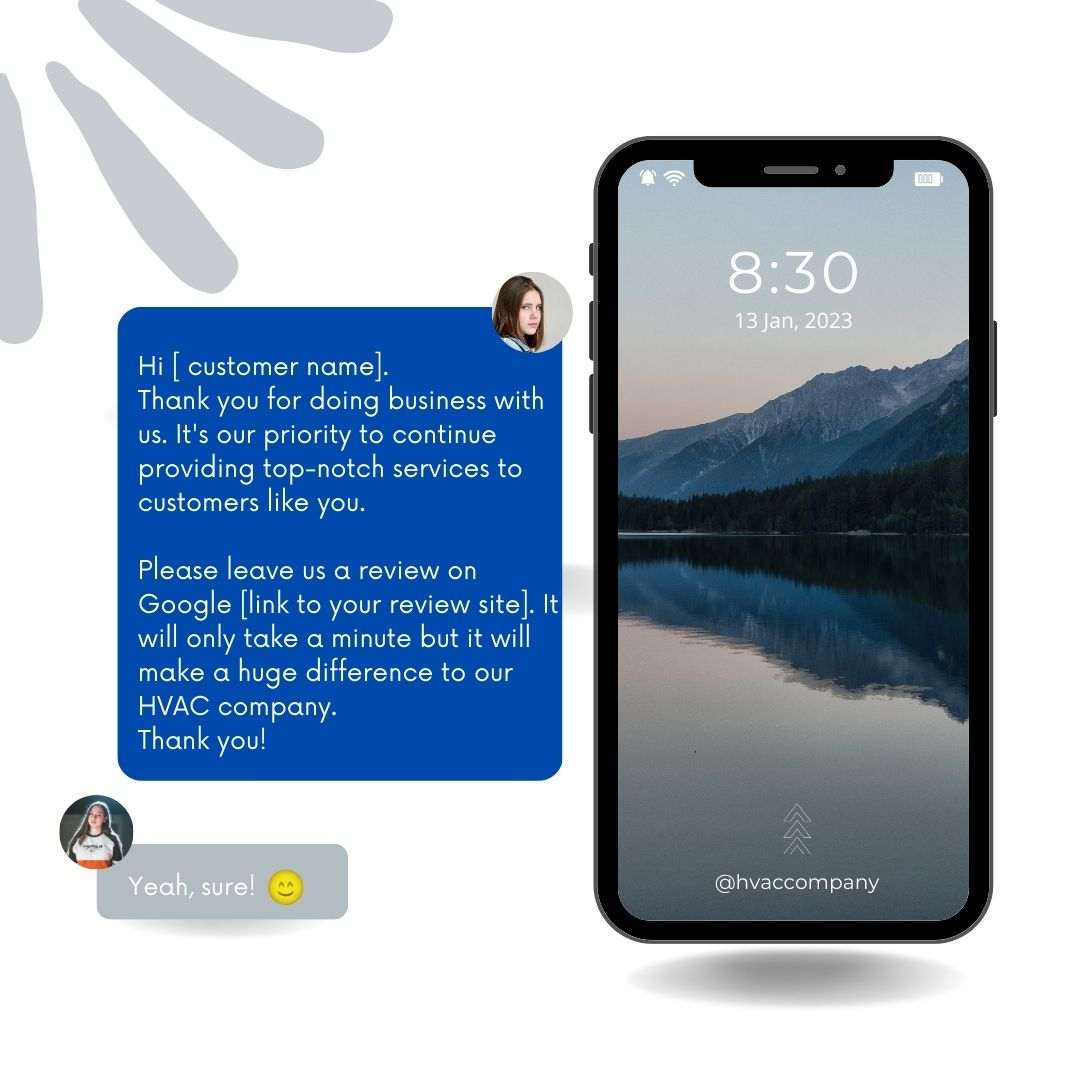 Don't have time to ask your customers for reviews? Here are some of the best customer review software that you might want to consider using for your HVAC company are the following:
Podium
Podium is one of the best review software that helps business owners to double the number of reviews they have within 60 days! They also have a dashboard that allows you to see the reviews you got across all platforms, which makes you save time and focus on other marketing tasks for your HVAC company! Plans start at $249 USD.
Birdeye
The next review software that you could also try is Birdeye. Aside from collecting reviews, it can also help you get more referrals and boosts your HVAC company's reputation with over 200 websites! Their pricing depends on the number of locations your business has.
Want to learn how to set up ad campaigns for your HVAC business? Check out our blog about Google Ads for HVAC Companies to learn more.
Need help building your HVAC website?
Key takeaway
Most of your customers are willing to leave a review for your HVAC company, you just have to consistently ask them. However, keep in mind that positive reviews need to be earned. Just keep on providing excellent services to your customers and don't forget to follow the tips we've mentioned earlier and eventually, you'll see tons of reviews coming your way!