Create Google Ads Account
Step 1: To create a Google Ads account, go to Google Ads website and click "Start Now".
Step 2: You will be asked to sign in using your existing Google/Gmail account, you can also use your business email or whichever Gmail address you want to use for your Google Ads account.
Note: If you are already signed in to one specific Gmail account, this part will be skipped and you will be automatically redirected to the next page.
Step 3: Once you have signed in, you should be redirected to this page. You need to click "Switch to Expert Mode" which can be seen below the page.
Step 4: Input your business name and your business website URL, then click "Create an account without a campaign". We'll update the URL to the custom landing pages URL once we finish designing them.
Step 5: Then on the next page, choose your "Billing Country", "Time zone" that your business is located in for your ads, and then "Currency". Then click "Submit".
Step 6: On this page, click "Explore your account".
Step 7: You should now see your entire Google Ads dashboard. Now you need to set up your billing or how you are going to pay for the ad spend monthly. Click on "Tools and Settings" in the upper right of the page.
Set Up Billing
Step 8: Once you click on the "Tools and Settings" icon, you should see all options for settings. Click on "Settings" which can be found under "Billing".
Step 9: Now you should be able to set up your billing on this page and input your credit card/PayPal/bank account information. Once you're done, click "Submit".
Send Admin Access To Agency
Step 10: Now you need to give admin access to your marketing agency, just go again to "Tools and Settings", then click "Access and security".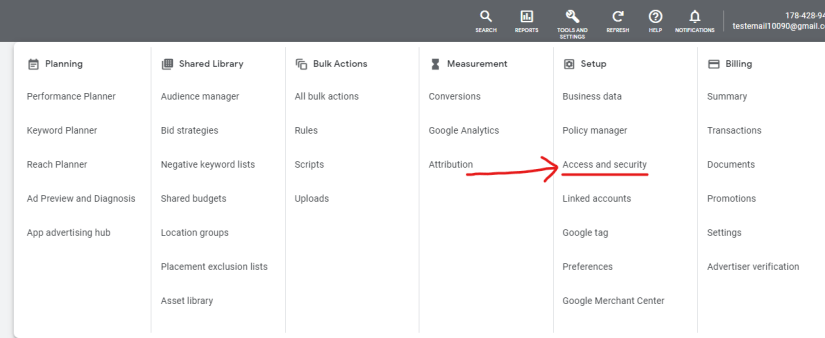 Step 11: Click on the blue plus button.
Step 12: Copy "access@yoyofumedia.com" and paste it into the email text box. Then on the account access level, click on "Admin". Then click "Send invitation".

Once you're done, you should see this under "Account permissions".
If you are stuck on anything, screenshot the entire window of exactly where you are stuck and send the screenshot to access@yoyofumedia.com along with your question and we can help you 😀