We'll explain in depth on doing SEO for your Shopify product page. You might be wondering what is SEO? How will it help grow my Shopify account? Well, today we will talk about the process of optimizing your Shopify Platform to gain traffic to your website.
First, let's talk about the basics you will need to know before optimizing your product page on Shopify. It is key to understand these terms to know why optimizing your site is important to your business.
What is SEO?
Search Engine Optimization also known as SEO is increasing the traffic of your website engine by organization or unpaid search engine results.
What is Shopify SEO?
If you are a new business owner and haven't created a Shopify account, follow these steps to set up your Shopify Store.
Here is a link for a free trial of Shopify.
We also made an all-comprehensive overview guide for Shopify SEO here. Keep reading to find out specific strategies to increase your Shopify Product Page's SEO.
Duplicated Content
Duplicated content occurs when the content of two separate URLs occurs. Not only does this disturb traffic for SEO but it creates issues for businesses that are optimizing their sites. So be mindful of what content you post on your website and create unique content for each product page.
How to make SEO a key strategy for your business?
We will be focusing on the key strategies that you are able to use to optimize your Shopify product page. Learn more about creating a Shopify partner account. 
Now that you have gotten familiar with some of the main key terms. Let's take a look in detail on How to optimize your Product Page.
How to Optimize Product Titles
Shopify allows you to optimize key elements like meta descriptions, URLs, and title tags. In these sections, you should be using your target keywords. To edit these elements, you need to scroll down to "Search Engine Listing Preview" on Shopify. Then fill out the following information for your webpage.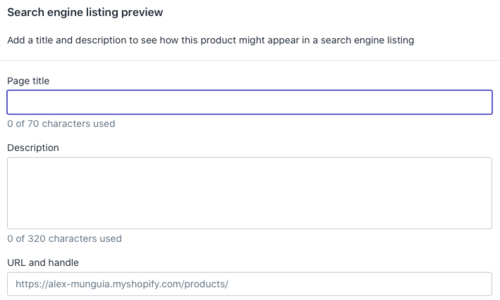 Naming and Product Titling
Write a niche title tag. When doing this include your target keyword. This will create better search results for your product.
For example, if you are selling lounge chairs you would not list the product title as "Lounge Chair". It would never get to the top percent of search engine results on Google as the term is too competitive for your new Shopify site. So use the name and color of the chair such as "Blue Chaise Lounge Chair".
As you can see from the example above, when you google "Blue Chaise Lounge Chair" it comes up the top results. You specified what color and style customers might look into in Google's search.
Optimizing Product Titles: Name Things How People Search For It
The biggest mistake people make is titling. They name things that sound good but are not searchable.
Naming products that have no volume will result in no organic traffic. You must name your products how people will search for them. Naming a product "Majestic Sunset Top" instead of "Orange Top" isn't valuable because no one searches for "Majestic Sunset Top". Look at the search volume on Google Trends:
See how "Majestic Sunset Top" has no search results whereas "Orange Top" does?
Don't be cute and artsy with your product titling. You will not rank for the keywords people are actually searching for and people will not find you.
If you name things in a way that are search terms with no volume then you should not be surprised when you get no organic traffic.
Pretty basic, but you'll be surprised at how many people do this and wonder "Hmm, why don't I get any traffic?".
People love using Technical Jargon or they just copy the name straight from the Manufacturer instead of what customers actually search or call it by. Technical jargon has way fewer searches because that's not what people know the item by.
Example
Everyone knows what "Men's Footwear" is but they do not search for this phrase. Instead, they search using the term"Men's Shoe". Name your products using keywords that people actually search for!
Plural vs Non-Plural
On some keywords, the plural version of the keyword is searched more. On others, the singular version is.
See how "t-shirts" are searched for less than "T-shirts".
Whereas the term "Google Ads" beats "Google Ad"
There is no rule of thumb for this, you'll just have to find out by looking at Google Trends when doing your keyword research.
Term Usage Changes over time.
That's what happens naturally in the English language. For example, it used to be "Google Adwords" was searched more than "Google Ads". Now because of Google's rebrand, "Google Ads' is searched more than "Google Adwords".
You need to keep up with the trends in your keywords.
Product Page
A product page must have words and descriptions.
The more words in the description you have the better because this means you can put in more synonyms, LSIs, and secondary keywords without it being too dense.
You will find more examples of a product page further in the article.
Also, the longer people stay on the website, the higher it'll rank. And if you have more words and information on the site, people will stay on the site longer.
Did you know that key Google rank factors for on-page time on site? This will let you know how long people spend on the page. YouTube creators are able to see the watch time of how many minutes people stay on their videos. It's similar for websites as well. YouTube's algorithm favors 8-10+ minute videos which are why you see all these big YouTube doing 10+minute videos. Analogous to YouTube, the same thing applies to content on websites.
Keywords In The Product Description
Let's talk about keywords. Did you know that having your "Product Name" over and over many times in a row will not work? The reason is Google checks the density of pages. This allows them to see if the page is stuffing keywords. How to fix this? To have more keywords but not increase the density of keywords, you MUST write more.
Let's say you want to have the keyword "Orange top" 10 times in your product description. However, if your paragraph only has 50 words, that means you have 1 keyword for every 10 words. That's keyword stuffing and it's obvious to Google.
You fix this by writing more words so you can put in more keywords without it being too dense. For example, you write 1,500 words in the product description and have the keyword "Orange Top" 10 times. Now it looks natural.
Collection Pages
People underrate the collections page. On Google, you will notice that for certain search terms, it will show collection pages only. Whereas, in other search terms it will only show product pages. This is called Search Intent. Google knows the certain keywords people are going to search for.
You might ask what do I mean by that? When people are searching for "Samsung TVs" they aren't looking for just 1 thing. They are looking for a collection vs. when people are searching for "Samsung TV q70″ they are looking for a specific product.
So when people search for Samsung TVs", Google shows them a collection page of Samsung TVs. And when people search for "Samsung TV q70" Google shows them a specific product page of that product.
Samsung TV Example

Do not combine Categories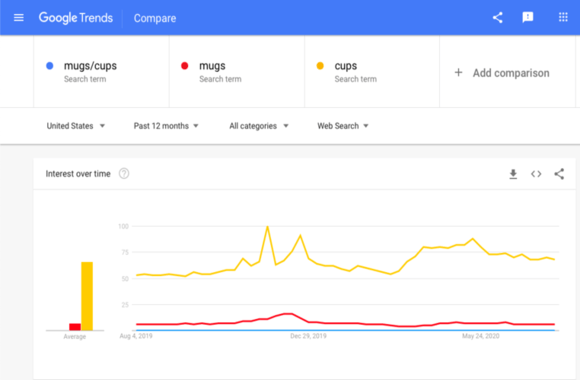 See how people don't search into Google like this "Mugs/Cups", they search for the keywords each individually "mugs" and then "cups". Trying to rank all keywords at once will result in losing out on ranking the exact match. It will not be searchable and your page will not be relevant to Google.
So, no you should not combine categories.
E-commerce store owners often ask us "But what if my category is too small, there are only 1 or 2 items in there?".
Shoppers DO NOT CARE if a category is small.
They don't care if you only have 1 or 2 items in the category. Break up your items into two categories, 1. "Mugs", 2. "Cups". Instead of "Mugs & Cups" as one category.
If you are concerned about having too many categories making your navigation too long, switch to three-tier navigation!
Blog Post Keywords
We further examine other keywords that only show blog posts. For example, "How do I select my Smart TV" or "Best Smart TV on the market". You can only rank for those keywords with blogs. Google knows that people are searching for a phrase that is their search intent. This allows Google to present long-form blogs based on the keyword search.
When there is an article reviewing or helping people decide on products they will backlink the products back to the shop. When people backlink to your page, it is tricking people into linking your product.
Google loves fresh and informative content and they will give your site a higher ranking in exchange. It is key to update your blog posts because it is more effective than creating new ones.
Editing Title Tags on your Shopify
Meta titles
How to further optimize your titles is by adding meta tags. There are many meta tags we can focus on. In this part, we will focus on the Meta Titles.
You are probably wondering what are meta tags. Meta Tags are snippets of code that tells the search engine information about your web page. Now, what is a meta title? A meta title is a page title that search engines show in search results. Overall, keep the title tag descriptive and concise.
Here is an example of a meta title:
As you can see, where the arrow is displayed is what I entered in Google's search engine. The first-page title that google shows and many search engine results show as well. The specific keywords are what make customers want to click on your site.
Alt Tagging Images
Did you know that Google Images is the second-largest search engine in the world? Well, now you know and I'm going to tell you why it's important to add alt text to your images.
What is alt text? Alt Text is an alternative text that describes an image and it will help google or another search engine understand what your image is. Adding alt text to your images can gain traffic from Google to your images. This strategy goes a long way in optimizing your Shopify account.
Here's how to add alt text in Shopify:
First, go to upload an image, then click edit alt text.
When creating a focus for your alt text choose rich content that uses keywords. Don't fill alt attributes with keywords that create a negative experience for users. For example, if you are a business that sells shoes use the shoe name and color as the alt text.
Keyword Research
Keyword research plays a huge part in optimizing your website. So, you need to dig deep for keywords that work best on your site. It is important to combine the research of what your customers like on your site.
See what your competitors are doing for their keywords. This will help see what kind of traffic they are gaining to their site.
Let's say that you're a company that you are most known for your Running shoes. A brand that is popular for its running shoes is Nike. Here are the search engine results under "Nike Running Shoes".
It is best to use a keyword that is trending to get better traffic.
Meta Description
Meta description summarizes the page's content. It's often used as a snippet in a search result. Take into consideration that Google doesn't always display the meta description. They might show a different snippet from your page.
Meta description tags should inform and interest users with what the page is about. This is their pitch to convince users to click on their page.
So how do we practice writing a good meta description? We want to summarize the content accurately and avoid generic descriptions. We want to avoid using clickbait and create something click-worthy instead. Keep the meta description under 160 words and try to include your target keyword where it makes sense.
A common mistake in meta descriptions is that they are too long or too short. Keep the meta-description under 160 words because Google only shows 160 words.
Another common mistake is that Shopify owners forget to do a meta description for each of their keywords. You have to make sure every page on your site has one and do not duplicate descriptions for different pages. This will cause problems with search results.
Content on the Product Page
Customers want your products to do something for them such as making them feel better, helping their business, or improving their life in some way. Your product page should display how your products can improve their lives in a positive way.
Page design
How things are arranged and placed on your product page will have a huge impact on the consumer's decision-making and conversions. Learn more about page design on Shopify's Partner Academy. 
Here is a good example of page designs that will have an impact on consumer decision-making.
Example of Good Page Design: PEScience
Here is a brand called "PEScience" that focus on nutritional products. As seen below, this is their product page and what includes on this page is a detailed description of what the product holds. such as the top ingredients, formula, flavors, and protein that is used which makes it Vegan.
As you can see, the images are taken with good lighting and have a clear background. The company provides a well-described description of the products. Both of these key factors give you an idea of what the product "Feels" and Tastes" like. This is great for increasing conversion rate (CRO) and for SEO.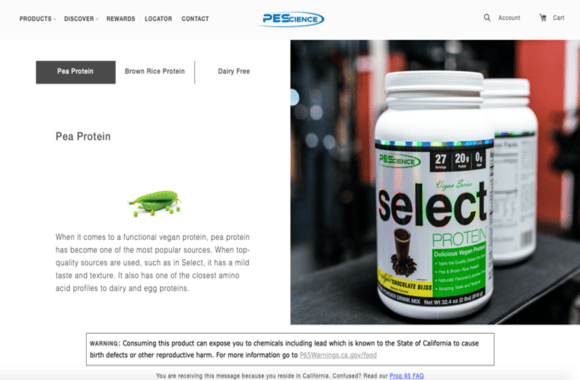 To see more about the company click here PEScience
Photography
Product photography is an important part of product pages. The impact of a good product shot goes a long way for brands. You have to sell your products to customers through images. Your customers can't feel, touch, or try your products in real life yet so it's extra important to add details to your product images.
So are you still wondering about investing in your photos? I will show you a few brands that make their product shots look amazing.
Urban Outfitters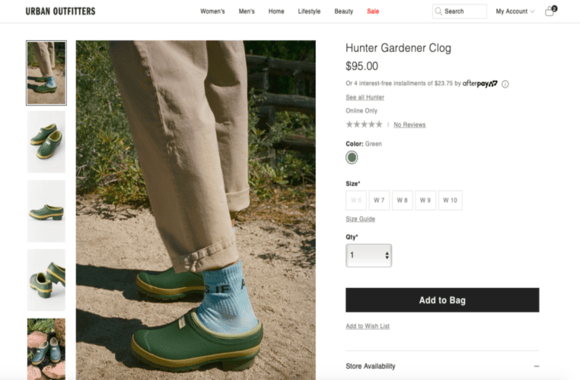 Urban Outfitters is one brand that takes time on its product images. They displayed a place where the shoes can be worn and provided high-quality product shots. This shows the intricate details of the shoes and textures in action.
Fenty Beauty
Fenty Beauty is a brand that shows how the product will look to its customers. The product shots displayed are clean and sharp. It has its main focus on the Lip and Mini Eye Set. It's the next best thing to letting their customers try out their product in-store.
Price Justification
Listing your detailed materials used on a product that is higher in price point is important. If you are selling higher-end products you will need a detailed description to back up that price. This will help consumers understand the value behind your product. As well, if you're a small business having more information on your product pages that answer customers' questions will limit the confusion on your pricing points.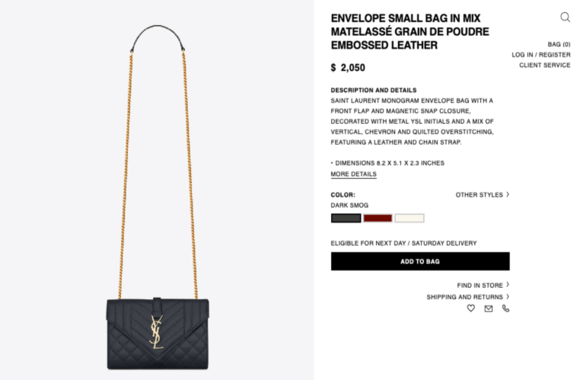 Credibility And Social Proof
Add social proof! It is important to have a review section on your product page this allows customers to let their voices be heard by other consumers. Adding this social proof creates credibility and builds consumer trust.
Here is an example of a review section on a pair of jeans from the company Urban Outfitters. It is simple and straight to the point.
Brand
Create a brand identity for your business that will allow customers to think of your brand when they see certain elements such as design, colors, or your logo. Let's use a popular brand as an example such as Pepsi. When you think of Pepsi you remember their logo colors are blue, red, and white. You can also remember its minimalistic name on the front of the can.
It is important to have these attributes on your product page because if it's a new consumer it's possible they have never seen your brand before. So branding your page will help access your product page.
Well-Branded Product Page
As we know it is important to have a brand image and logo all over your social media platforms. It is also important to know what your brand stands for. Every brand should take into consideration that many customers will never see your Home Page because they are often linked from other sources.
Here is a brand called impressions Vanity and their brand focuses on selling High-End Hollywood Vanity Mirrors. As you can see where the arrow is displayed, the brand creates an overview of the brand and what the product entails. This is a good example of a well-branded product page.
I hoped you learned more about optimizing your product page for your current or future business. Leave a comment if this has helped you in any way and let me know what you think about my recommendations. I wish you luck in Implementing these new strategies.
Bonus points
Pay-per-click also known as PPC is internet marketing where advertisers pay a fee each time their ads are clicked. Many businesses use this because it is a way of buying visits to your site rather than getting organic visits.
Brand Searches
Do you want to increase your branded traffic? You will have to start with a branded search of keywords, implement local SEO, publish content on a quality webpage, and measure branded search traffic.
We will first start off with a branded search. This is a search that includes any name your brand, business, or company is associated with. Always compare your branded keywords with your competitors. This will show how they are navigating their brand's traffic.
Publish Content on Quality Website
Post your creative thoughts and ideas on high-quality websites to build brand awareness increase traffic, and reach a new target market. For example, guest posting on credible blogs can drive more traffic and build your brand's products.
Measure Branded Search Traffic
Measure the percentage of your branded traffic that will give you an idea of what is working for your brand and what is not. You can use a platform like Google Analytics to track traffic. This platform allows you to monitor the number of people on your landing pages.
Email Strategy
Using Email as a marketing strategy will help give the business a direct channel to communicate brand promotion to its consumers. Implementing SEO into your email marketing can improve your SEO results.
An email campaign can drive traffic to your site. Tailor the email newsletter and content to the consumer's interest. You can do this by allowing customers to pick what newsletter they want to subscribe to based on your products. For example, if you sell men's and women's clothing they would want product updates based on their preference for clothing.
Other Shopify Resources from YoYoFuMedia
Other SEO Resources from YoYoFuMedia