How do you attract new dental patients?
This is a commonly asked question from dentists that find that their practice is not bringing in as many patients as they would like. They have tried different strategies to attract new patients but haven't had much success. They are looking for new marketing strategies that will bring more patients to their office.
As a dentist, acquiring new patients is a critical part of the success of your business. You want to hear phone calls from potential customers and see your office chairs filled. As with any successful business, marketing plays a vital role in reaching a wider audience and getting your business in front of as many eyes as possible.
In this guide, we will discuss 13 dental marketing ways to increase your patient base.
If you want an expert opinion on your strategies, feel free to contact us.
Here are 13 ways to answer "How do you attract new dental patients?":
1. Create a Good First Impression
Similar to social situations, in business, initial impressions are crucial. Making a positive impression can mean the difference between gaining or losing a prospective dental patient. The first impressions will establish the tone for your future relationship and be used to determine your professionalism and credibility.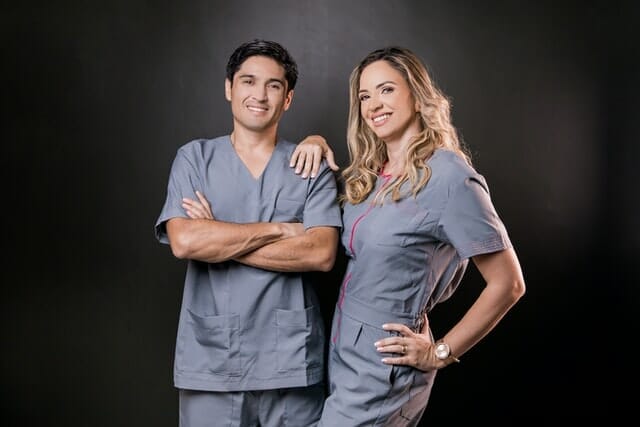 However, there are many practices you can take to ensure a great first impression. The #1 reason dentists get bad reviews is because of their front desk.
Just go take a look at a random sample of dentists on Yelp and you'll see many 1-star reviews that actually love the dentist but hate their front desk. Either because their front desk lost their files or because their front desk made an unacceptable mistake.
Most dentists aren't trained MBAs and were never taught how to manage people; they had to learn it all on their own. As a result, many have poorly run front desks that aren't monitored or kept accountable for their mistakes.
Worse of all, because their front desk is not monitored or managed, the dentists themselves often do not even realize their front desk makes constant mistakes.
Install call tracking software that records the front desk calls which allow you to monitor your receptionists and keep them accountable.
We can't count the number of times our agency has found out our clients' receptionists were either ignoring phone calls or hanging up on potential patients after we install call tracking for our clients. And the clients had no clue their receptionists were not picking up calls before we showed them the recordings.
Monitor your front desk and audit their recordings.
It's such an easy way to increase your revenue that any dentist must do. Training the front desk to be friendly and efficient is great but they won't keep up that habit without proper monitoring. That's just human nature. Having consistent proper office etiquette will make patients feel like they are treated with respect and care.
Too busy to monitor and audit the front desk calls? We can do that for you.
2. Design an Engaging Website
No one likes a bad website. This can be that a site is too slow, unresponsive, or not up to date. This will also leave a bad first impression. You want to avoid this at all costs.
Aim to create a website that is user-friendly and interactive for visitors coming on to your site. Here are 5 ways to enhance your website.
The first way is to make it easy to navigate through and find necessary information. You want to include your phone number, address, and any other important information on every page of your site. By providing the most essential information to users, you are saving time for them. They don't have to put in extra effort to find this basic information.
The second way is to make sure your website is mobile-friendly. With a majority of website traffic coming from mobile devices, you must optimize the experience for mobile users. Luckily, Google has a test to make sure that your dental website contains mobile responsiveness.
The third way is to increase the loading speed of your website. A slow page can dissuade users from staying on your site. With everything at our fingertips, we have been conditioned to get what we want immediately.
This holds true for finding information on websites. Fortunately, there are simple methods you can use to maximize your site loading speed.
They are:
Use an SEO-friendly site theme
Reduce the number of site plugins
Compress images
HubSpot provides multiple SEO-friendly site themes that you can use. Limiting the number of plugins will prevent site crashes and poor speed performance. Compressing images means that your site will take less time to download those images.
The fourth way is to ensure that your site is secured. Especially in dentistry, trust is important when private information is shared between dentists and patients. You should add multiple layers of security and protection so that patients feel safe and comfortable on your site.
The last way to improve your dental site is to focus on on-page SEO. The top-ranking dentist websites are properly optimized with keywords that increase visibility. They often attract new patients because their dental practice is easily found on search result pages.
3. Build an Online Presence
As a local business owner, you want to verify your business on all directories such as Google My Business and Facebook to maximize your local visibility. According to Moz, creating a Google My Business profile is the top factor to get in the map pack.
What is the map pack?
The map pack is the 3 searches that appear when a user performs a local search. You probably have seen it but never knew the term.
Luckily, the process to verify your dental practice does not require a lot of work or time. This is a simple and easy way to attract new dental patients. By getting your dental office into the map pack, you are significantly increasing your online presence.
4. Identify Your Target Audience
As with any business, it is important to select your target audience. With a limited amount of resources and time, it is impossible to cater to every audience group. That makes it even more crucial to find an audience group with enough potential for you to succeed.
In dentistry, you want to analyze your current patients and see what they have in common. What do they value most in your dental practice? Do they share a similar demographic?
Also, you want to identify who is responsible for making the dental purchasing decisions. If you notice that women are more likely to make healthcare decisions for their families, you can adjust and adapt your marketing strategy accordingly.
5. Create a Social Media Presence
With more than 3.5 billion online social media users, you can leverage this to get your dental practice in front of millions of people. Not only will you get more brand awareness, but you will build your reputation and develop meaningful relationships with patients.
Actively engaging, posting original content, and replying to comments will only boost your presence. This serves as social proof that encourages your followers to become potential patients. This is a great opportunity to build trust and connect with them.
Here is an example of a content post you can publish on your Facebook or Instagram dental page. Another example is to post before and after photos of dental procedures like braces and dental fillings.
For best results, stay consistent with your postings and create valuable content worth sharing. If you want to make social media a core part of your marketing strategy, check out our guide where we specifically cover social media for dentists.
If you don't have the time to invest in social media marketing, let us help you.
6. Look into Email Marketing
Email marketing is a highly effective marketing channel that competes with social media marketing. It has a return on investment of 3,800%. With this, you can be confident that every dollar you put in will yield the best results possible.
This is also an opportunity for you to develop a stronger connection with patients. As with any long-lasting relationship, building trust with your patients is the first step.
Some email examples you can send out are:
Best practices for healthy teeth
Appointment reminders
Exclusive offers/deals
Community updates
Patient review requests
If you are curious to learn more about email marketing for dentists, read our comprehensive guide here.
7. Have a Competitive Offer
With the increasing competitiveness in dentistry, you need to figure out how to differentiate yourself from other dentists.
What unique proposition does your dental practice offer? Why would a patient specifically come to your dental office? These are a few questions to consider when thinking about standing out from the competition.
If a competing dentist offers a teeth whitening procedure at a lower cost than yours, make sure you craft a deal that patients can't ignore. In other words, find a unique quality of service that separates you from the competitors.
Some examples can include emphasizing your practice's reputation, offering 24/7 care, or having the best dental equipment available.
8. Run Facebook Ads
To attract patients to your dental office, you want to capitalize on all marketing channels. Although paid advertising costs money, it can be an effective way to gain exposure. With this, you can set a monthly budget and adjust based on your ad performance.
On Facebook, there are billions of users with different demographics and interests. With Facebook Ads, you can specifically target a certain group of people based on location, age, and other factors. This means that you can get your dental message in front of the right eyes at the right time.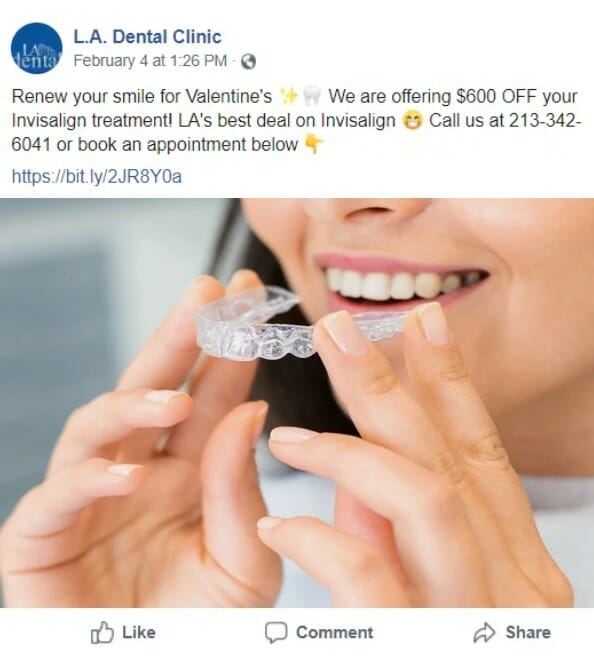 Besides the large audience size that Facebook offers, it also gives dentists the ability to publish personalized content. The content will be tailored to a specific group of individuals. Thus, you are maximizing your conversion rate to get them to book a dental appointment with your office.
Facebook Ads will display when users are scrolling through their feed. This is a great space to incorporate your dental blogs because you are further cementing yourself as a knowledgeable figure in the dental field. Check out our guide to learn more about Facebook Ads for dentists.
Want to learn more about advertising on the largest social media site?
9. Run Google Ads
Google Ads is another form of paid advertising. Previously known as Adwords, Google Ads uses a pay-per-click model, where you pay when someone clicks on your ad. This means that you don't have much to lose because if your ad doesn't get clicked on, you will not be charged.
This type of paid advertising focuses on keywords that are commonly searched on Google. Understanding what keywords your target audience is searching for will drastically increase your reach and conversion rate. With this, you can get your dental practice to the top of Google search results.
For Google Ads, you have the option to select from different ad types such as display and search. Your ads will appear on the top of search results, making it easy for potential patients to find your dental practice. If you want to learn more about Google Ads, here is our comprehensive guide for dentists.
Considering if you should implement Google Ads in your marketing strategy?
10. Start a Patient Referral Program
One way to get more patients is to have current patients refer someone to you. Having someone testify your practice is an excellent business increases the likelihood of converting people into patients. Essentially, this is a thumbs up saying that your practice provides the best care.
Patient referrals are an effective way to increase patient volume. Your existing patients serve as a voice to help spread the word about your dental practice. Thus, creating a patient referral program with incentives will maximize your word-of-mouth marketing.
[Source]
For example, in your referral bonus program, for every person a patient refers, they get a special discount on their next dental procedure. You can create referral cards and simply give them to patients at the end of their appointment.
This is a win-win situation for both you and your patients. If done properly, talks about your dental practice will spread like wildfire.
Would you like to discuss refining your patient referral program?
11. Start a Dental Blog
Creating a blog will take your dental practice to the next level. People are always searching on Google based on their questions and concerns. As a dental professional, you can write articles that answer their questions.
This will improve your credibility. People will see you as a figure of authority in dentistry. Your expertise will make it easy for patients to trust you.
Also, SEO-optimized content will help you rank higher on search results. Providing valuable information online will bring in more traffic. Make sure to post blogs consistently to boost your search rankings and highlight your expertise.
Here are some blog ideas you can start with:
Common dental procedures explained
Daily practices to keep your teeth healthy
Common dental myths debunked
Top dentist-recommended mouthwashes
Here is a complete guide on how to promote your dental practice.
12. Ask Your Patients for Reviews
Patient reviews are important in building a positive reputation for your dental practice. They represent social proof that your office is trustworthy and credible. With most people looking at reviews before purchasing a product or service, it is important to have positive reviews.
When potential patients are choosing between you and another dentist, your reviews will drastically influence their decision. Having numerous positive reviews means that patients are more likely to trust you and less likely to look elsewhere. Learn more about the ways to get reviews for your dental practice.
The best time to ask for a review is after a dental appointment. Don't be afraid to ask them to leave a 5-star review on Google or share their experience.
13. Get Involved in Your Local Community
The last way to attract new patients to your dental practice is to be active in your local community. It is essential to have a positive community image to maintain your reputation.
You can do this by volunteering at a local soup kitchen or sponsoring the youth sports team. Another example is to hold an educational school event teaching students about the proper way to brush their teeth. The main goal is to build brand awareness and recognition.
Making an impact in the community you serve will benefit your dental practice in the long run. This is also the perfect opportunity for you to engage in direct marketing.
Recap of "How do you attract new dental patients?"
Now that you have made it to the end, I hope you can take some of these ideas and implement them into your marketing plan. Although you may not see any progress immediately, remember to stay consistent and results will naturally come.
Test out the various methods and see which one is most effective in increasing your dental patient size. In a few months, you may find your dental appointments completely booked.
Do you want more dental marketing strategies?