Why Google My Business for Towing Companies?
Google My Business (GMB) is a free business listing tool that allows business owners like you to get easily found on search engines and Google Maps. Some of the advantages of using Google My Business for Towing Companies are the following: it improves your brand's visibility, makes your brand more credible, and makes it easier for your customers to engage with your brand.
Improved visibility
Apart from Google Ads, another way to help your towing company get easily found by your target audience is through Google My Business. In fact, 64% of consumers use this to find the contact details and location of a local business. You just have to use the right strategies (which we'll be discussing in a bit) and a complete profile to outrank your competitors.
Faster communication with your potential customers
Google My Business provides you with lots of features that will be helpful in engaging with your potential customers. This includes a question and answer section, a review section, call buttons, and website directions. These features not only limit you to engaging with customers who have done business with your towing company but even with those who are in different stages of the buying journey (e.g. consideration and decision stage).
Improves your towing company's credibility
Another thing about Google My Business is that if customers see that your towing company has a business listing along with some good reviews, it gives them the idea that you are reliable when it comes to providing services to your customers. In addition with that, 70% of these individuals who have seen your complete profile are more likely to visit your office.
What's a Local map pack?
A local map pack consists of the top three businesses that match a specific search term (e.g. "towing services near me"). Sometimes, it appears along with an advertisement in the same industry like in the example below.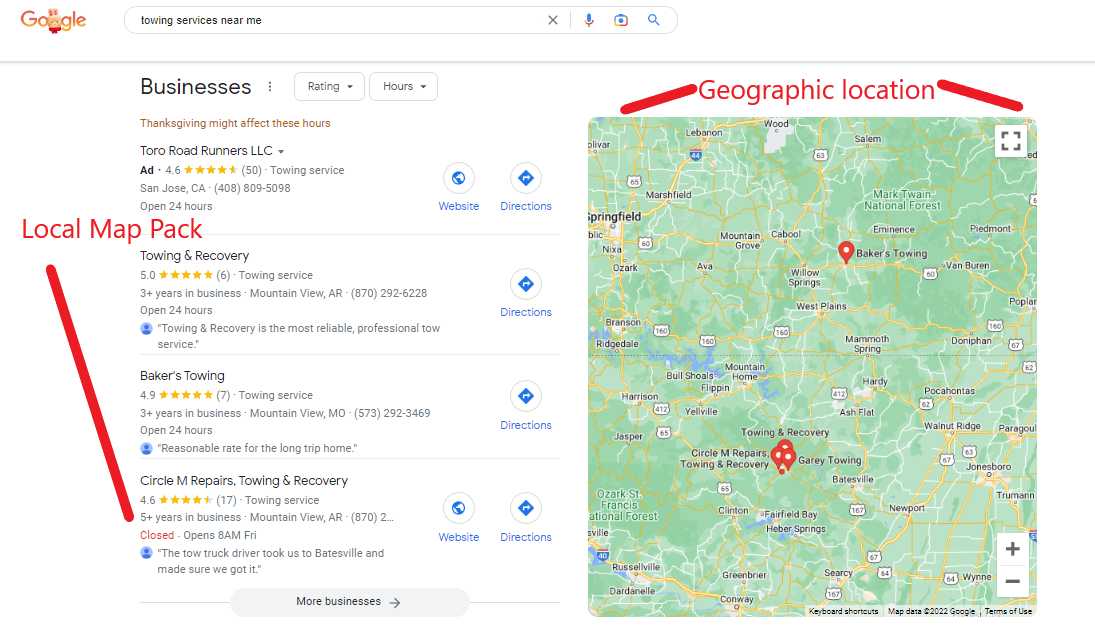 Why does it matter to rank on Google's Map Pack?
It's important that you rank high in the Map Pack because it gives your towing company a competitive advantage and helps you get more calls, and gets a high click-through rate.
These are the factors that determine the businesses that are qualified to show up on Google's local map pack:
Distance –  refers to how far your towing company is from a potential customer.
Relevance – refers to how relevant a search query is to your towing business.
Prominence –  refers to how popular your towing company is to the users.
Want to learn how to start creating your ad campaigns? Check out our blog post on Google Ads for Towing Companies to learn more.
Interested in Google My Business but don't have time to create your listing?
How to Setup Google My Business for Towing Companies
The first thing you have to do is sign in using your towing company's Gmail account. Then, go to https://www.google.com/business/.
Once the homepage loads, click "manage now."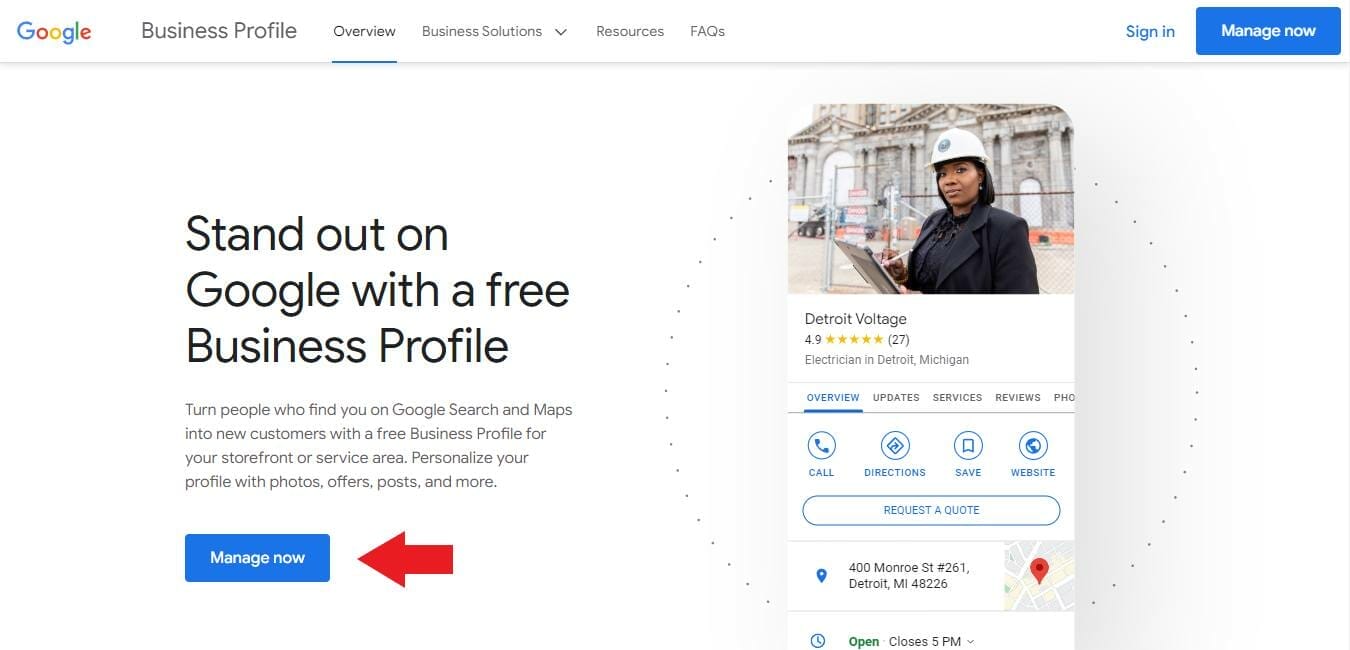 To start building your business profile, enter your towing company's name and choose "towing service" as the primary business category. Then, click "next."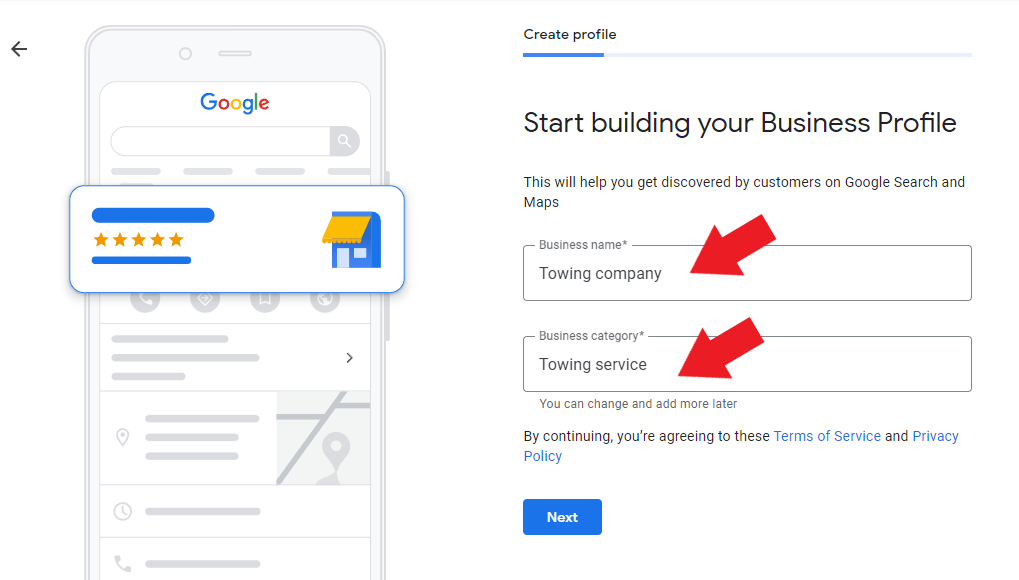 Select the option that suits your towing company. If you have an office where they can drop by, clicking "Yes" will help you show up on Google Maps whenever someone is looking for nearby towing services. To proceed, click 'next."
Now, you're going to add the exact location of your towing business office. Enter your street address, city, state, as well as zip code. Then, click "next."
A list of existing businesses like yours will show up. If the name of your towing company doesn't appear, click "none of these" followed by the "next" button.
Then, you'll be asked to pin the exact location of your office on Google Maps. This has to be accurate because it's where your potential customers will be visiting. When you're done, click "next."
Since you'll be delivering towing services to your customers, click "yes." Followed by clicking the "next" button.
If you already have your target location in mind, you can add them here so that your potential customers have an idea of whether you can provide towing services to their area or not. You could also make changes to this later.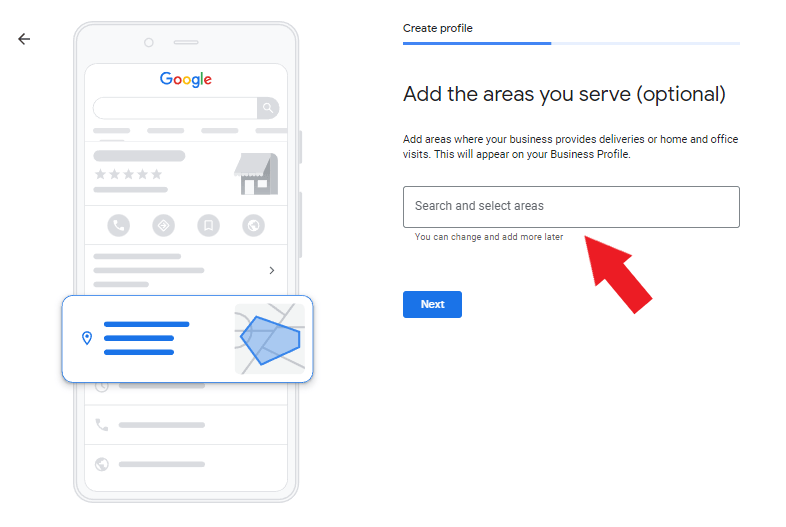 Enter your towing company's primary contact number and website. If you don't yet have a website, you can check the "I don't have a website" box and add it once you have created your website. Then, click "next."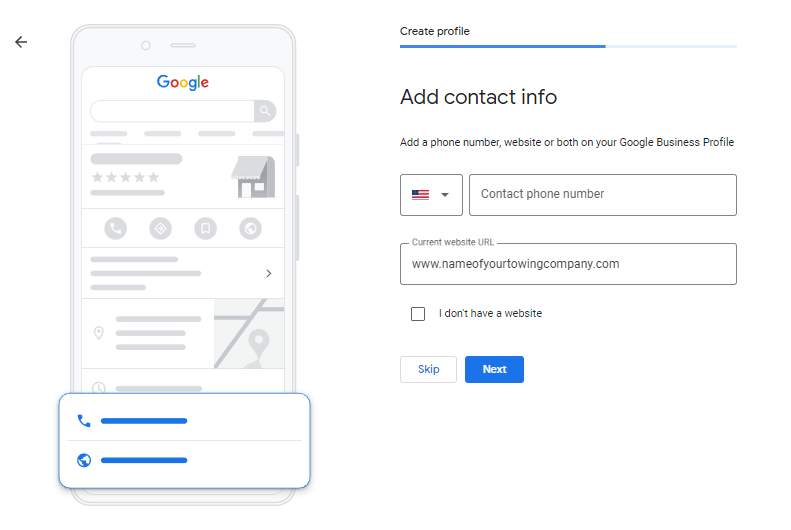 Choose a way to verify your towing company's business listing. The verification method includes text, email, video recording, live video calls, or through a postcard. Once your Business profile gets verified, you can now update your business info and connect to your potential customers.
Then, select the services from the suggested list. If you don't see it from the options, you can add a custom service below. Once done, click "next."
After that, you'll be setting your business hours. You can also make changes to your business hours later once verified.
To receive messages directly from your Business profile, toggle the button to accept messages.
Then, write your towing company's business description.
After that, start adding photos of your towing business.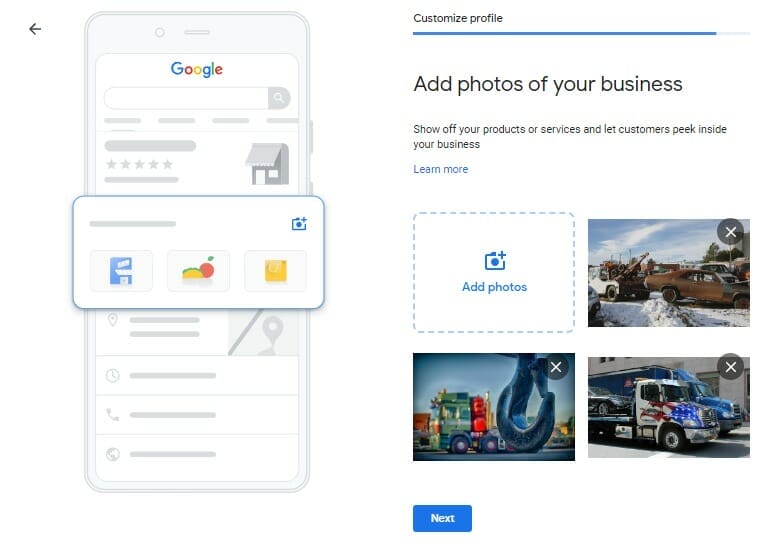 If you haven't yet created your towing company's Ad campaign, there's a $500 free advertising credit that you can claim once you get started with Google Ads.
You can skip this step if you don't want to set up Google Ads campaign for your towing company.
You can also get a customized domain name for your towing company.
Just click the "Continue" button to get your edits visible once your Business Profile gets verified.
Great! You just finished setting up your towing company's Google My Business profile. You just have to follow the steps that will be sent through your chosen verification method and you can now start communicating with your potential customers.
Need help setting up your towing company's business listing?
Tips on How to Optimize Google My Business for Your Tow-truck Business
Your task doesn't end with creating a Business profile for your Tow-truck company. To make the most out of its features, here are some tips on how to optimize Google My Business for towing services.
1. Complete every section of your Google My Business Profile
Before you proceed with the other optimization tips, you first have to make sure that all of the section in your GMB profile is filled out accurately. Having a completed profile makes you stand out among your competitors because all of the information that your potential customers will be looking for can be found in your business listing. It also gives you greater chance of ranking higher and ranking for more keywords.
For example, let's say you haven't set your towing company's business hours. From your potential customer's perspective, they might hesitate to call your business for help in towing their car in the middle of the night. Since it's an emergency and they need to get home ASAP, they'll not waste time calling your number to check if you're open or not and instead, look at other towing companies on search results that states their business hours.
See how having an incomplete Google My Business profile cost you to lose a potential customer? So, whenever there are changes to your towing company's contact number, location, and business hours, always make sure to keep your profile updated to prevent losing your potential customers.
To help you have a complete profile, there's a gauge that will give you an idea of which sections need to be filled out. Something that looks like this:
2. Write a compelling business description
In your business description, you have to clearly state the services that your towing company offers. To increase the chances of showing up on relevant searches, make sure to strategically use keywords that are related to your business.
Like in this example, you can see that the towing company mentioned keywords that go along with the services they're offering. This includes "flat tire change", "car battery jump start", "empty gas tank solutions", "long-distance towing", "roadside assistance" and "certified mechanics."
Best practices when writing a business description
Briefly describe your towing company's values and goals.
Mention who your target audience is.
Provide a brief overview of the services provided by your towing company.
If you're not sure where to start, check out the business description of your competitors (you'll get ideas from there).
3. Choose the most suitable category for your business
Next is by choosing the categories that suit your towing company. If aside from towing services, you're also offering auto-repair services to your customers, you can also add those as your secondary category. Like in the example above, you can see that aside from towing services, they also added other categories that define their business which include "roadside assistance" and "auto repair services."
4. Add actual photos of your towing business
According to Google, a Business Profile that has actual photos of the business gets more clicks, views, and direction queries. Some of the photos you can upload on your Business Profile include the logo of your towing company, documentation of your previous towing services, a 360 view of your towing office, and a photo of your team working.
Best practices when uploading photos on Google My Business:
The recommended photo resolution is 720 x 720
Photos should not be overly edited/ use too many filters
Should follow Google's content policy
Should be in JPG or PNG format
5. Gather tons of good reviews
90% of consumers consider reading reviews first before engaging themselves with a brand. It's because reviews serve as proof of how fast and reliable your company is when it comes to providing towing services. So, in every successful towing service that you provide to your customers, don't forget to ask them to leave a review on your business profile, this way, you get to build a good reputation for your towing company and at the same time, build the confidence of potential customers who are looking for towing services in their area.
6. Make it a habit to respond to customer reviews
Responding to customer reviews (whether it's good or bad) gives your potential clients an idea of how you deal with your customers. Handling it properly shows that you really care about meeting the expectations of your customers and how they perceive your brand.
In the example below, you can see that the owner of the towing company responded to the customer review in a nice way. They personalized their reply by mentioning the first name of the customer, their towing company's name, and making sure that the services they provide are aligned with their goal which is providing the best service to their customers.
Best practices when responding to customer reviews
Here are some of the best practices that will guide you in responding to the reviews on your towing company's Google My Business profile:
For positive reviews:
Personalize your response when showing appreciation to the customer who left a review.

Adding a personal touch to your replies humanizes your brand. For example, "Thank you (customer name) for your wonderful review!"

Add a brief marketing plug.

If the customer is happy with the services they got from your towing company, don't lose the opportunity to invite them to do business with you in the future. For example, "Whenever you need road assistance, our team is always here to help. We're open 24/7."
For negative reviews:
Thank them for letting you know about their concern.

Positive reviews are not the only ones that you should be thanking your customers for. You should also show appreciation to customers who leave a negative review because it shows that you can handle criticism to provide better customer service. For example, "Thank  you for bringing this concern to our attention."

Let them feel heard.

Next is that you should show empathy to customers who are not satisfied with the experience they got from your towing company. For example, "We understand how you feel about…"

Even if it's not your fault.

Even if it's not your fault, replying to unsatisfied customers shows that you really care about their experience with your brand. You can say something like "We are deeply sorry to hear that we did not satisfy your expectations."

Make it up to that customer.

You can give that customer a discount or voucher that they can use in the future whenever they encounter another roadside assistance. Although it doesn't work for all, it's still worth a try because it may help change a review from a negative to a positive one.
7. Answer questions raised by potential customers
Everyone who has a Google account can raise and answer questions that are posted on your towing company's Business profile. Because of that, you want to be the first one to answer, this way you don't miss the opportunity to convert a potential customer into your actual customer and at the same time, you prevent other people who are not affiliated with your towing business to answer questions that you should be answering.
Best practices when responding to questions on Google My Business:
Keep your notifications for new questions switched on.

This way, you get first dibs when it comes to answering newly-raised questions.

Report inappropriate questions. 

If you receive questions that are offensive or unrelated to your brand, you can submit a report, and Google will investigate and take appropriate action about it.

Use relevant keywords for your towing company.

This will help you get found by customers who are looking for towing services and let them know about the other useful information that they might be looking for.
8. Regularly post on Google
Another tip when optimizing your towing company's business profile is to regularly create posts about the latest updates in your tow-truck business. By using this feature, it helps you provide timely posts to your target audience (e.g. seasonal promos), increase web traffic, and help with your SEO efforts.
Here's what Google posts look like when shown on your Business profile:
And when you click on it, it will expand which will give you a full view of what your post contains. Like this:
Best practices when posting on your Google My Business Profile:
Do keyword research.
Use various types of calls to action (e.g. "Learn more", "Call Now", "Book", etc.)
Don't write lengthy posts. People go through your Business profile because they want to immediately get the information they want. Keep the character count under 350 characters so that your potential customers won't feel bombarded with too many words on your post.
Publish posts at least once a week. This way, you're giving potential customers an assurance that your towing company's info is up-to-date.
 Add a relevant photo to your posts. It will make your post look more attractive.
Optimize your landing pages. Make sure that the page where your customers will land is relevant to what's on your post. This way, they won't be frustrated landing on an irrelevant page.
Make sure to proofread before publishing. You don't want your posts to have typographical or grammar errors as it will leave a negative impression on your potential customers.
If you want to learn more about Google Posts, check out our blog post on How To Post On Google.
Key Takeaway
Google My Business is one of the easiest and most effective tools that bring in tons of benefits to your towing business. Not only does it help improve your brand's visibility but it'll also help you get quality leads! Just follow the optimization tips that we've mentioned above, and you'll start getting calls from your potential clients!