If you are looking for timely and effective Google Adwords for Real Estate businesses to receive high-converting leads. You're in the right place. If you stick with me until the end of this guide, I guarantee you'll be able to run your first Google Ads for real estate in 2023. I'll guide you through every step of the process so you can start your Google AdWords campaign.
Does Google Ads Work for Real Estate Business?
Google Ads works for the Real Estate Business. The real estate industry is becoming more competitive than ever, hence finding sellers/buyers could be difficult for real estate agent. If you want to reach potential sellers/buyers in a specific area, you'll need an advertising strategy that focuses on presence and visibility by showing the appropriate listings to the right people at the right time.
Google Ads PPC is a great online advertising platform that can help real estate agent generate high-converting leads. But it can also be a financial nightmare if you do not know how to set up properly optimized Google Advertising pay-per-click (Google PPC).
To give you an idea of how powerful the Google Search engine is in targeting the right potential buyers, consider the following scenario:
A potential buyer looking for a house for sale in Los Angeles:

Google Search Engine Result Page (SERPS) will show up the most relevant and helpful information – organic and paid results based on search intent by a user.
Understanding Local SEO vs. Google Advertising for Real Estate Business
Local Search Engine Optimization and Google Ads are two different marketing channels, but they both have one thing in common: they both appear in google search results, drive more traffic, and attract more google local services leads.
If they are nearly identical? Which is more appropriate for my Real Estate niche?
SEO does not produce instant results. It is an ongoing process that aims for long-term success by improving your website content, user experience, and relevancy to get higher organic search results when a person searches for a topic related to your content. It usually takes 4-6 months to start seeing significant results.
Google Ads PPC may be ideal for you if you want instant results and the freedom to select particular keywords to a specified geographic region and niche buyers to show up as a paid search result when a person searches for a query online.
Confused about which Marketing Channel is better for you? Schedule a Free Strategy Session!
Talk to our Experts
1. Getting Started with Google Advertising PPC for Real Estate
Click the "Get Started" or "Sign in" Buttons on the Google Ads Page. It will redirect you to "sign in to your Gmail account" if you have an active account, or "create account" if you want to create a new Google Ads account.
2. Steps on How to Create Google Ads PPC for Real Estate Business
2.1. Selecting Google Advertising Goal and Creating Campaign Type
All new Google Ads accounts begin in Smart-Assisted mode, by default. Google starts by asking you about your advertising goals and suggesting the best techniques and campaign types for achieving them. However, in this tutorial, I will walk you through the steps of Switching to Expert Mode to have full control over Google Ads functionality and campaign types based on your needs and objectives.
Next is to select an advertising goal that best fits your advertising objective.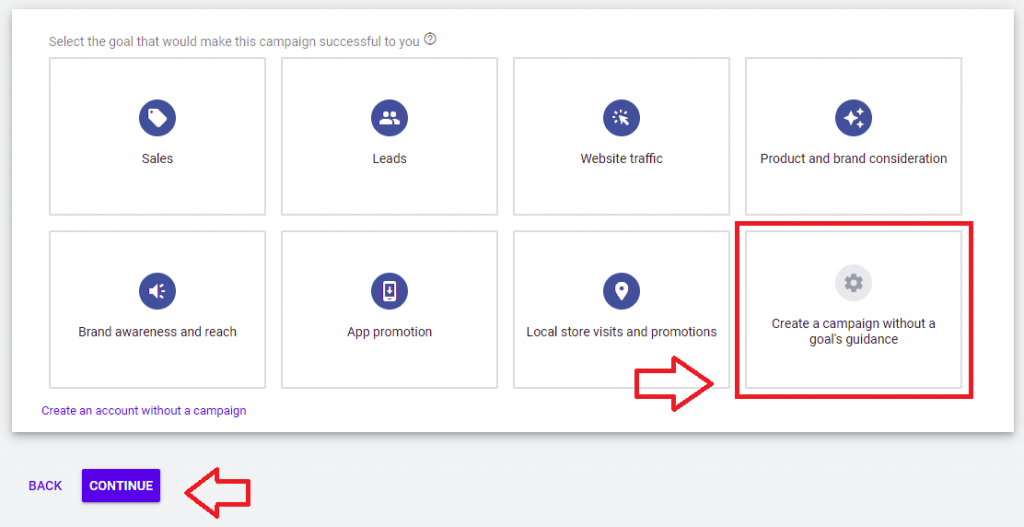 If you are unsure about which goal to prioritize and want to have total control over your advertising campaign, click in the lower-left corner – Create a campaign without goal guidance.
If you plan to start a google ad campaign right away, you may do so by selecting the type of campaign goal you want to achieve. If you have chosen which advertising goal to focus on: click – "Continue" button on the lower-right side.
To select a campaign type – click "Search" to show your products and services on google as Text Ads. Then, select "Website visits" if you want to create an ad to optimize Website visits to increase leads.
Pro Tip:
Selecting "Search" and "Website visits" will help you reach out to your potential leads when they are searching on Google for a product or service that you offer. It will be helpful for you to generate leads and increase brand presence on your website by displaying your advertisement to people who are actively looking for your products and services.
There are other campaign types you can choose from aside from Google search ads:

Google Display Network Ads – that runs different types of ads across the web
Google Video Ads – that aims to reach and engage with viewers in YouTube and across the web.
Google App Campaign/Ads – that drives app promotions across Google's network.
Google Smart Campaign/Ads – that reach your business goals through the automated campaign and google ads across the web.
Google Shopping Ads – that promote products with shopping ads
Google Local Service Ads – that drive more customers to a physical location
Google Discovery – that runs ads on Youtube, Gmail, Discover, and more

Does this sound interesting, but you don't have a website/landing page?
Learn More From Our Experts
2.2 Creating Google Ad Campaign Name and Networks
Pro Tip:
Naming Campaign is internal. It doesn't appear as part of your Google Ads pay-per-click (PPC) information in google search results. When naming your campaign. It's important to specify the type of campaign you're about to launch, such as "House for Sale in LA," "Apartment for Sale in LA," "Condominium for Sale in LA," and so on. It's also a good idea to include a date or version number following the name to make it easier to monitor beneficial changes during the campaign.
When choosing Networks. It's best to uncheck the Display Network and Select Search Network as a beginner if:
You want to appear on the Google Search results page for the real estate keywords you are targeting only.
You are looking to capture the attention of potential leads that has the same  "search intent" as your real estate keywords or products and services you are offering.
You want to focus on the leads who have the "intent to buy" or people who are actively searching for your keywords. It means they are in the market for realtor services you are offering, rather than remarket your products and services to a user who "might buy" based on the site and apps they are visiting.
Stuck on how to set up your Ad Network for your Business?
We're Here to Help!
2.3 Optimizing Geotargeting in Google AdWords for Real Estate Business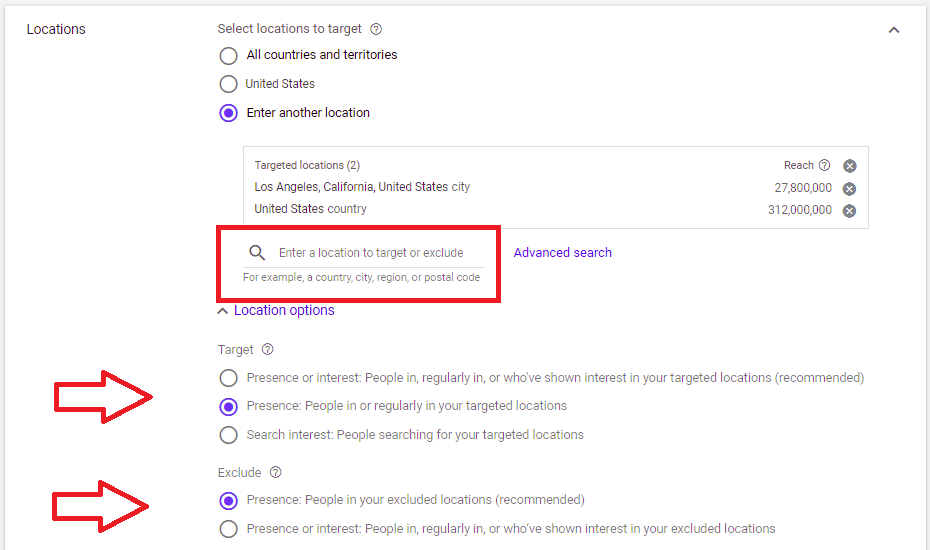 Geographic Targeting is important for Real Estate Business. if you want to succeed in getting high-converting leads. Begin by Selecting your Local Services Ad for your targeted Locations on which you want to focus your advertising.
Pro Tip:
When selecting a Targeted Locations, Real Estate Agents and Owners should consider the reach for a particular segment. e.g. You are in the business of buying and selling properties in Los Angeles only – select "Los Angeles," but if you are looking forward to focusing on broader reach outside Los Angeles, select "United States."
To target potential Leads: Focus on selecting the behaviour or presence of your "potential leads." To target potential Leads who might be living inside or outside Los Angeles but might be interested in a property in LA – select recommended presence. But if you want to target only potential leads within LA that may be interested in a property in LA – select the second bullet.
To optimize Geotargeting, exclude people outside the selected location – select the recommended one.
Along with selecting Geographic Targeting, you have to add the language of the Target Audience you are trying to reach. In this case, it's "English."
Pro Tip:
If you want to select a language be sure to add just 1, even if you are trying to reach an audience with multiple languages. Create a new Google Ad Campaign for a different language. Be sure to create a specific, clear, and relevant campaign for your potential leads.
2.4 Audience Segmentation and Setting your Ad and Bidding Budget
Similar to Geotargeting, you also need to segment the audience based on what they are actively searching for, such as; "Residential Properties (For Sale)" or "Houses (For Rent)."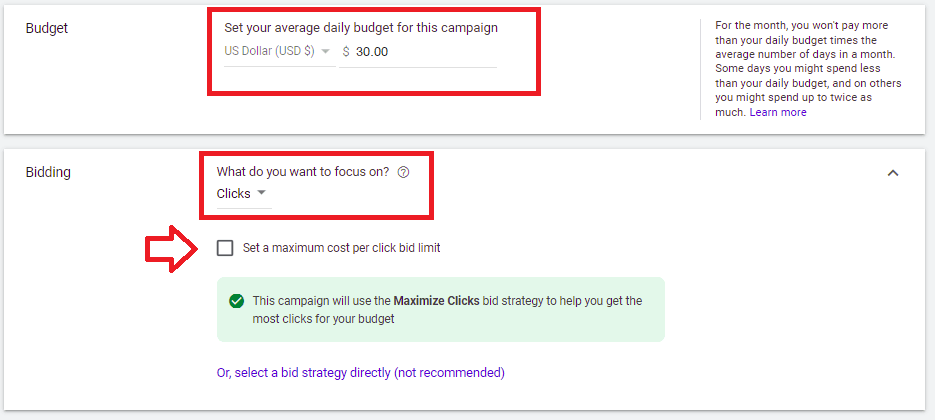 Pro Tip:
To set up Ad Budget and Bidding Strategy, start by selecting the Currency you wish to pay google with your Ad. An example is when you want to allot $900 in a month for a specific ad with a $30 average daily budget.
There are instances when Google will spend more than the average daily budget, but it will not be more than your S900 monthly budget.
If the campaign is going well, you can always increase your average daily budget based.
After setting up the budget, you have the option to set a maximum cost-per-click bid limit.
2.6 Setting-up Ad Extension to Get Higher CTR on Google Ads
According to Google, there is a 10-15% CTR increase when Ad Extension is properly optimized.
There are many benefits in using Ad Extensions to optimize and increase ad visibility and clicks.
Maximized Ad Text details – before a user clicks on your ad, they might want to know details such as; Phone Number, Location, Your Services, and so on.
Attract more Qualified Leads by providing them up-front information to convince them to click your ad.
Bigger SERP Space – using Ad Extensions means bigger ad size. It helps you increase ad visibility and presence to users.
3. Setting-up Ad Groups for your Google Ads Campaign (PPC For Real Estate)
Creating Ad group is the most important part of pay-per-click marketing. Creating well-effective Ad Groups will help you reach a greater audience. An ad group consists of one or more advertisements as well as related keywords. To achieve the greatest results, aim to concentrate all of the advertisements and keywords in an ad group for a single product or service.
3.1 Understanding Google Ads Keywords
Choosing real estate keywords to target and bid is one of the important parts of creating PPC advertisements. Effective keywords appear as match or relevant results when a user searches for something on google. To start with creating Ad groups, you need to understand what type of keyword you will bid on and what's worth bidding. Let's head on and understand the different types of Google Ads keyword match types.
Broad Match Type – is Google AdWords default match type. This match type allows wider reach and is best for lead generation but with the least relevancy. You need to keep close attention to avoid irrelevant clicks that may add up to your ad spend and may not even convert.

Phrase Match Modifier – When a user search for exact or close variation phrases that include your keyword, your ad will be displayed. Added terms in the query can come before or after your keyword, but not in the between.

Exact Match Modifier – The most targeted match type of the four is an exact match. Use brackets on your real estate keywords to indicate an exact match. Only if the user types that exact word will your ad show. For example, if your keyword is "Homes for Sale" the user query must include the exact "Homes for Sale" for your ad to appear.
Pro Tip:
It is recommended to choose "Single Keyword Ad Group" or SKAG – 1 Keyword per Ad Group per Campaign to keep your ads tightly relevant and focused. You can use all keyword match types to achieve well-effective and relevant ads. Google will also provide you daily estimates per click per budget.

3.2 Use Negative Keywords to Avoid Irrelevant Exposures
To avoid irrelevant clicks, you need to filter out irrelevant exposures. When you add negative keywords basically you are telling Google to avoid exposure of your ads when users search for that keywords. To add negative keywords:
Go to your Google Ads Account > Keywords on the left side menu > Select Negative Keywords
Add all keywords you wish to exclude your ad exposures. For example: When a user searches for Home for sale in Zillow. You don't want your ad to show and waste irrelevant clicks, right?
Need Assistance With Setting-up Target Keywords?
4. Creating your Google Search Ads for your Real Estate Business
After setting-up relevant Ad groups, it's time to create your Google Text or Search ads. There is 4 important structure in Google Text/Search Ads.

4.1 Headline
Your headline is the first thing that a user will see. It's important to deliver the right message at the right time. That's why creating compelling and relevant headlines is a great start to catch attention and qualified clicks. In creating headlines you must consider the following tips:
Create Ads Headlines or messages that focus on benefits.
Be concise but precise. Users seek the most relevant information for their search intent/need.
4.2 Display Path
The display URL informs potential buyers about the webpage they'll reach after clicking your ad, thus your path text should represent your ad's landing page.
4.3 Description
When writing your Ad description, you will be given a maximum of 90 characters to include relevant messaging and brand or ad purpose. Be sure to create direct and benefit-focused descriptions. Do not forget to include "Call to Action" buttons to urge users to click your ad.
4.4 Final URL
It is the final URL of your Landing Page where users will be redirected after they click your ad.
If you're still unsure how to create successful Google Text Ads. Here's our in-depth guide on how to create successful Google Text Ads, that you shouldn't miss.
5. Creating Personalized Ad Experience with High-Quality Landing Pages for Google PPC Real Estate Lead Generation
Your Google Ads Landing Page is the last resort to convince users to convert as a lead. To optimize conversion rates, you need a high-quality landing page and a personalized landing page experience.
The most important part of a highly optimized Google Ads landing page is – relevancy. You need to only include relevant text and information to your keyword. The page should be personalized – it should include the brand and ad promise and what benefit the user will get upon converting as a generating lead. Landing Page with High Relevancy Score gets higher Ad Rank. And will show up on top of Google Ads result for that keyword.
To maximize landing page, make sure to include embed Google map in your landing page, that links to your Google My Business profilewhere clients can hover over ad check location proximity. Aside from the google maps platform, make sure that your NAP or Name, Address and Phone number displayed on your page is accurate and is reachable. You wouldn't want to waste prospects with the wrong NAP. You aim your information to be easy to find and share. Homesearch makes looking for real estate easier with Google Maps Platform. 
5.1 How to Create a Highly-Optimized Google Ads Landing Page for Lead Generation?
Aside from relevancy, what exactly makes a landing page highly optimized?
Easy and Responsive – A highly optimized landing page should first be easy to navigate and responsive. According to a study conducted by Google: 50% of consumers are smartphone users and 34% are Computer/Tablet users. This study summarizes how important it is to have a responsive ad that will provide a great ad experience to a Smartphone and Desktop users after they click the ad. You wouldn't want to miss a potential lead with a bad user experience right?
Designed with Conversion in Mind – Landing pages should include relevant "Call to Actions" buttons that are visible and definitely working! A highly optimized landing page "Call to Action" button should be placed where it is visibly calling the users attention to engage with you.
Conversion Tracking – Aside from having a visible call to action buttons, conversion tracking should be installed to track the progress and effectiveness of your ads. For example, You got 120 Clicks and 5 leads. If a lot of user clicks your ads but few convert as leads, you might need little changes on your landing page.
Looking For Assistance in Crafting Effective Landing Pages for Your Real Estate Business?
Schedule A Free Strategy Session!
6. Tracking Ad Conversion and Results
Running an Ad means having an end goal. In the case of Real Estate marketing, it is to convert high-generating leads. Conversion tracking is a useful feature in Google Ads that allows you to determine how effective your google ad copy and the overall campaign are in generating leads, sign-ups, sales, email, and other important business engagement.
6.1 What we Measure
To determine whether your ad copy/campaign was effective and successful in generating high converting real estate ppc leads. The following metrics should be considered:
Click-Through-Rate (CTR) – Google AdWords will give you the exact result of your Ads CTR. Anything beyond 10% is doing well and converting with 5% as the average. But if your conversion rate is less than 5%, you should rethink redesigning your ad to make it more effective.
Traffic To Lead Ratio – Determine the ratio of users visiting your ads and user who are engaging with you. Let's say you got 350 clicks for a month-long Ads and 18 leads. It means you have a 5.14% conversion ratio from traffic to leads. Not Bad! Because The National Association of Realtors® disclosed that the rate is actually closer to 0.4% – 1.2%. but not all funnels work and generate the same results.  If you are still hesitant,  you can check our Case Study Realtor: 50 Leads in two Weeks for a different marketing funnel yet of the same great result.
Lead to Client Ratio – This is the most important ratio you should be tracking. How many of your leads convert to an actual closed deal client.
Looking For Help in Generating High Converting Real Estate Leads?
Schedule A Strategy Session Now!
7. Why Invest in Google Ads Services for Real Estate Business?
There is a lot of online marketing platform, why should I consider Google Ads for Real Estate in 2022?
"Google has dominated the search engine market, maintaining an 92.47 percent market share as of June 2021." – Statista.com
Google Ads tops all other digital marketing platforms as the world's largest and most popular PPC marketing platform.
Google has Dynamic Geo-Targeting that is perfect for Realtors who is seeking to dominate the Local Market through local services ad.
Great Tool for Lead Generation – Google offers many tools and extensions you can use to easily track conversion rates.
Does Google Ad For Your Real Estate Business Sound Interesting to you?
Check out this related case study we created for one of our clients: Realtor: 50 Leads In 2 Weeks