Google Ads for Property Managers  is a powerful tool to connect with a wider audience and stay competitive in the market. It offers precise targeting, cost control, and measurable results.
This article will explain how having Google Ads for property managers and property management companies can help them maximize growth, reach a wider audience, and expand their clientele and business.
Benefits of Google Ads for Property Managers and Property Management Companies
Property managers and property management firms have much to gain by incorporating Google Ads into their advertising strategy. Let's examine the main benefits:
Delivering highly targeted advertising is one of Google Ads' most notable features. Property managers and property management companies can choose specific keywords and demographics to ensure their ads reach the right audience. Whether it's property owners in a particular city or area, Google Ads allows you to pinpoint your audience with accuracy.
Any business must have a well-defined budget, and Google Ads gives you the freedom to manage your advertising costs. You can set daily or monthly budgets and even adjust your bids to match your financial goals. This means you'll never overspend on advertising, making it a cost-effective choice for property managers and business owners.
Immediate visibility is very important in the fast-paced digital world. Google Ads can make your property management company and services stand out by placing your ads at the top of search results. As soon as you set up your campaign, you'll start gaining visibility, increasing the chances of potential clients discovering your services.
You can track the effectiveness of your campaigns with the real-time analytics offered by Google Ads. To optimize your ads, you can track clicks, impressions, and conversions. This gives you the data you need to make informed decisions. This data-driven approach can lead to more efficient advertising and better results.
Key Strategies for Success on Google Ads for Property Managers
Here are key strategies for success when using Google Ads:
Local targeting
Property management is often a local business. With Google Ads, you can target particular geographic areas to make sure that people in your service area see your ads. This local focus can significantly improve the quality of leads generated by your ads.
Ad Extensions
Ad extensions are a valuable feature of Google Ads. They allow you to provide additional information such as contact details, location, and links to specific property listings. This makes it easier for potential clients to get in touch with you or explore your available properties.
Competitive Advantage
Google Ads levels the playing field. Property management companies can compete effectively with larger players in the industry by bidding on relevant keywords. This means you can appear alongside established businesses in search results , increasing visibility and credibility.
Retargeting
Retargeting is a powerful strategy to convert leads into clients. With Google Ads, you can reach users who have previously visited your website but didn't take action. By displaying tailored ads to these potential clients, you can bring them back into the conversion funnel.
Ad Customization
Google Ads offers various ad formats, including text ads, display ads, and video ads. This flexibility allows you to customize your ad content to match your audience's preferences and needs.
Ad Scheduling
Timing matters in advertising. Google Ads allows you to schedule your ads to appear at specific times when your target audience is most active. This strategic scheduling can significantly boost your conversion rates.
Do you need helping starting your Google Ads?
Understanding Google Ads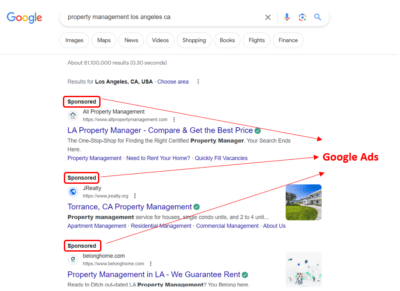 Google developed Google Ads, an online advertising platform that enables businesses and advertisers to create and display various types of advertisements across Google's network. This advertisement can appear on Google's search engine as well as on other websites, apps, and platforms within the Google Display Network and Google's partner network. Here's a breakdown of what Google Ads is and how it works.
Ad Types
Google Ads provides a variety of ad formats or types to assist advertisers in reaching their target audience across multiple platforms and devices. Here are some of the most common ad formats offered by Google Ads:
Search Ads:
Text ads: the most common format within Google Ads. They appear at the top and bottom of relevant Google search results when relevant queries are entered. Text ads comprise a headline, description lines, and display URL.
Display Ads: 
Image Ads: These visually enticing advertisements use images or graphics to attract users' attention. They are displayed on Google Display Network (GDN) websites.
Responsive Display Ads: These automatically adjust their size, appearance, and format to suit ad spaces on GDN websites. Google's algorithm generates ads optimized for various placements based on text, images, and other assets provided by advertisers.
Gmail Ads: These ads are displayed in the Promotions pane of Gmail inboxes. For engagement, they can include images, text, and calls to action.
Video Ads: These are video advertisements that appear before or during YouTube videos or on the Google Display Network. Advertisers can choose to target specific demographics and interests.
Shopping Ads: E-commerce businesses use these ads to promote their products. They consist of product images, titles, prices, and the name of the store. They frequently appear at the top of Google search results for product queries.
App Ads: 
App Install Ads: These ads are designed to encourage users to download and install mobile apps. They can appear on Google Search, the Google Display Network, YouTube, and the Google Play Store.
App Engagement Ads: The ads seek to re-engage users who have previously downloaded an app. They entice users to activate the app and perform certain actions, such as making a purchase.
Local Search Ads: These ads are displayed in Google Maps and Google Search results to promote tangible store locations. Frequently, they include store hours, location, and directions.
Responsive Search Ads: These ads enable advertisers to create multiple variations of headlines and descriptions. Google's machine learning algorithms evaluate various combinations to determine the most effective advertisement for each user.
Call-Only Ads: These ads are optimized for mobile devices and encourage users to contact the advertiser by clicking on the phone number displayed in the ad.
Discovery Ads: These visually appealing ads appear in the Discover feeds, YouTube home feeds, and Promotions tab of Gmail. It includes an image, a headline, and a description.
Smart Campaigns: These are automated ad campaigns designed for small enterprises. Google's machine learning algorithms optimize ad performance while requiring minimal management.
Each ad format or types serves specific advertising objectives and may be more effective for certain industries or target demographics. Advertisers can create effective Google Ads campaigns by selecting the most appropriate ad formats based on their objectives, budget, and target audience.
Ad Auction
When a user performs a Google search or visits a website within the Google Display Network, an auction takes place in real-time. Advertisers bid on keywords or ad placements, and Google determines which ads to display based on bid amounts, ad quality, and relevance
Targeting
Advertisers can target their ads to specific audiences based on factors like keywords, location, demographics, interests, and browsing behavior. This precision helps ensure that ads reach the most relevant potential customers.
Budget Control
Advertisers set daily or monthly budgets to control their advertising costs. Google Ads will not exceed these budget limits, giving businesses control over their spending.
Pay-Per-Click (PPC) Model
With Google Ads, advertisers typically pay on a "pay-per-click" basis. This means they are charged only when a user clicks on their ad. Advertisers  can also choose to pay for other actions, such as conversions or video views, depending on their campaign goals.
Performance Tracking
Google Ads provides detailed performance metrics and analytics, allowing advertisers to monitor the effectiveness of their campaigns . This data includes click-through rates (CTR), conversion rates, and return on investment (ROI).
Ad Extensions
Advertisers can enhance their ads with extensions that provide additional information, such as location details, phone numbers, and links to specific pages on their websites.
Geographic Targeting
Businesses can target their ads to specific geographic areas, ensuring that they reach users in their desired locations.
Overall, Google Ads is a powerful advertising platform that helps businesses promote their products and services to a wide and targeted audience online. It offers flexibility, control, and the ability to track and optimize campaigns for better results.
Need help to start with Google Ads
Google Ads 101: Starting Google Ads for Property Managers
Visit Google Ads Website
Open browser and go to the Google Ads website at https://ads.google.com
Sign In or Sign Up
If you already have a Google account (such as Gmail), click on Sign In and enter your existing Google account credentials (email and password).
If you don't have a Google account, click Start and create account to set up a new Google account. Follow the prompts to provide your name, desired email address, password, and other required information.
Start Creating Your Google Ads Account
Once you're signed in with your Google account, you'll be directed to the Google Ads dashboard, or Create Your First Campaign Page.
Click Skip Campaign Creation to be directed to the Google Ads dashboard.
Before directing you to the Google Ads Dashboard, it will prompt you to confirm your business information. Fill in the details and click Continue.
You will now be directed to the Google Ads dashboard. You may click + New campaign or Set Up a Campaign.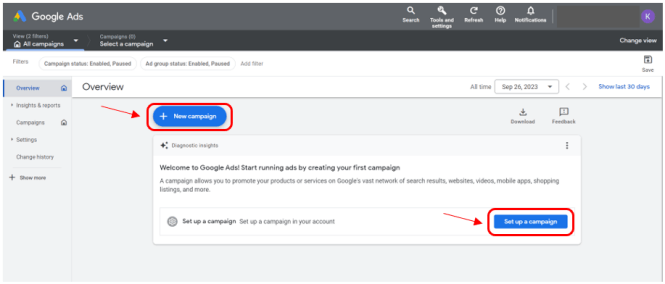 Setting Up Your First Google Ads for Property Managers Ad Campaign 
Google Ads will ask you for your campaign objective. Click Create a campaign without a goal's guidance.
You'll need to choose your campaign type. For now, let's choose Search, as you would want to be at the top of the search list.
Enter a name for your first Google Ads for Property Managers campaign.
Set Your Bidding Strategy
Choose your bidding strategy based on your advertising goals. Find out what your industry's typical cost per click (CPC) is. Here's a good reference to understand the average cost per click (CPC) to determine your budget for your maximum cost per click bid limit.
Choose Clicks, and Click on Set a Maximum Cost per Click Bid Limit
Enter you maximum cost per click bid limit.
Set Your Campaign Settings for Google Ads for Property Managers
Under Networks, unclick Include Google search partners and Include Google Display Network as you would want your ad to be searched only on Google.
Choose Your Geographic Targeting
Under Location, specify the location/s where you want your ads to appear.
You can target specific countries, regions, cities, or even radius targeting around your business location.
Click Advance Search to target a specific location or radius.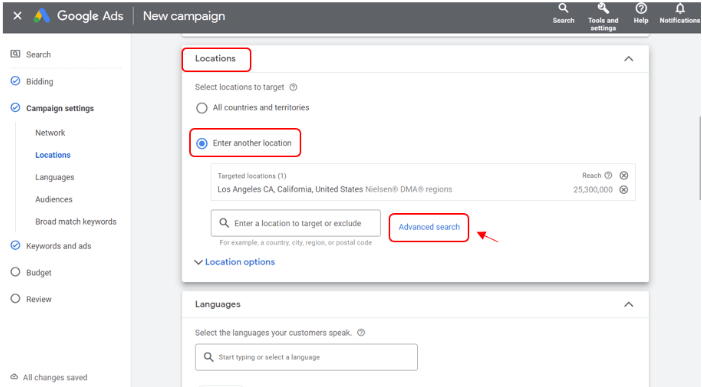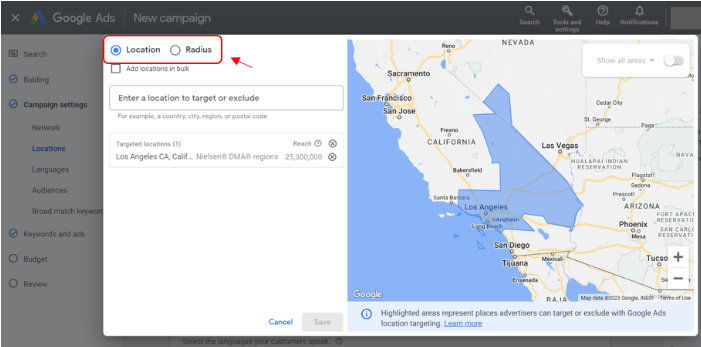 Under Location Options, you would like to click Presence to target people in your location.
Under Language, you would like to choose the language of your target audience.
Choose your Target Audience – Google Ads for Property Managers
You can target your audience based on their characteristics or behaviors with specific advertising campaigns. This allows you to tailor your ads to reach the right people at the right time.
For now, let's skip Audience Segments
Click More Settings
Click Do not optimize under Ad rotation. This will drive the same amount of traffic to all of your running ads, and you will be able to view the data and decide which ones to stop running and which to keep running.
Cick Do not optimize under Ad rotation. This will drive the same amount of traffic to all of your running ads, and you will be able to view the data and decide which ones to stop running and which to keep running.
Click More Settings
Once you have set your start and end dates, Click Ad Schedule and specify the days and times you would like them to show up.
As for the Campaign URL options and Brand Restrictions, you may skip them for now.

Ad Groups and Ads
Organize your Google Ads for property managers campaign by creating ad groups. Each ad group should focus on a specific theme or set of keywords.
Type in the name of your Ad.
Enter a competitor's URL to discover the keywords they use, or enter the products or services you offer.
Click Get keyword suggestions.
A list of suggested keywords will show up inside the box; then, click View to get more keyword suggestions.
Click Apply to include the additional suggested keywords.
Click Learn More  to get an idea regarding Keyword Match Types.
What are Keyword Match Type?
As per Google, Words or phrases known as keywords are used to match ads to terms that users are looking for. How closely the term must match the user's search query depends on the keyword match types before the ad is eligible for the auction. To target particular user searches, you could use exact match, or you might use broad match to deliver your ad on a larger range of user searches.
There are three types of Keyword Match Types in Google Ads
Broad Match
Phrase Match
Exact Match
For a better understanding, here's an infographic from Google Ads Support.
You may use a Keyword Match Type Tool to quickly edit the keywords to your chosen keyword match type tool format.
Let's now move to Ads. Enter your business webpage or campaign ad landing page under Final URL. For Display Path, you may enter terms related to your product or services.
For Headlines, enter keywords appropriate to your products or services. This is essential, as this is what will show up on your ad. Hover to
If you would want to set your headline's position you may hover over each headline box to make a pin appear. The same way goes with Descriptions.
For the Descriptions, this is where you can add relevant key phrases describing your business, products, and services to increase your click through rate (CTR).
Click Site Links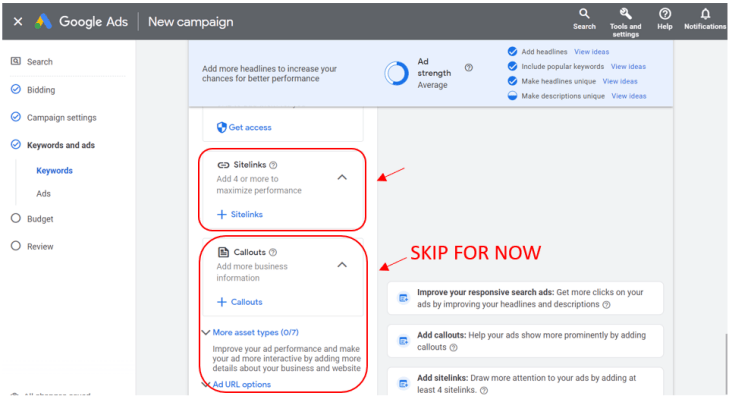 What are Site Links?
This enables advertisers to have additional clickable links shown in search engine results underneath their main ad. The purpose of these sitelinks is to provide users more options and a direct link to landing pages or sections of the advertiser's website.
What are Landing Pages?
In Google Ads, a landing page is a particular website to which users are directed after clicking on a link. The purpose of this page is to provide relevant information and encourage visitors to do desired actions, such as making a purchase or filing out a contact form. Here's an example of a great landing page with key elements such as Headline, Supporting Copy, Call to Action, Hero Video and Trust Indicators. To learn more check Neil Patel's best landing page examples.
As for More Asset Types, you may skip this part for now.
Set a Budget  – Google Ads for Property Managers and Property Management Companies
Research to determine your daily or monthly budget for the campaign. It is advisable to  begin with a $40 USD daily budget but this depends in your area or location and competitors. You may also decide to set aside a larger budget if you want more clicks in order to collect data and optimize your ad more quickly.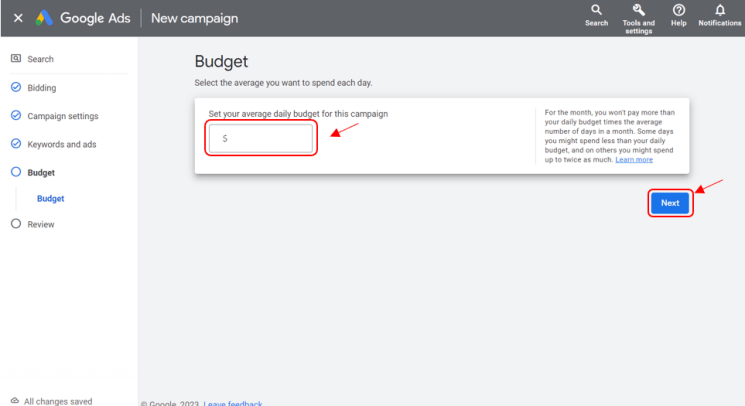 Review and Launch 
Carefully review all the details of your first Google Ads for property managers campaign, including settings, targeting, and ads.
Once you're satisfied, click Launch campaign to activate your Google Ads campaign.
Add Billing Information
You'll be prompted to enter billing information to pay for your advertising costs. Google Ads charges you based on clicks or other defined actions, and you can choose your preferred payment method.
As soon as your Google Ads for Property Managers campaign goes live, keep an eye on its progress using the Google Ads dashboard on a regular basis. To optimize your campaigns for better results, make the necessary adjustments to the settings, keywords, and ads.
That's it! You have successfully created a Google Ads account and initiated your first Google Ads for Property Managers campaign. Always keep in mind that managing your ads effectively and continuously refining your strategy is essential for your Google Ads success.
Google Ads for Property Managers Practical Tips
Set Clear Goals
Determine your advertising objectives before you begin your Google Ads for property manager and property management campaign. Are you trying to attract property owners, establish a connection with tenants, or generate more leads for property management services? Having specific goals will enable you to develop campaigns that are targeted.
Start Small and Scale
When starting with Google Ads, start small and increase your budget gradually as you gain experience using the platform. With this method, you can improve your tactics without going over budget.
Thorough Keyword Research
Invest time in comprehensive keyword research to identify the terms and phrases potential clients might use when searching for property management services. Search for relevant keywords by using tools such as Google Keyword Planner.
Craft Compelling Ad Copy
Create compelling advertising copy that accentuates your unique selling points (USPs) and motivates viewers to act. Be clear about what sets your property management services apart from the competition.
Landing Page Optimization
Make sure the landing pages for your ads encourage users to provide useful and relevant information. The landing page should have a clear call to action and load quickly on both desktop and mobile devices.
Quality Score Improvement
Aim to improve your Quality Scores by creating highly relevant ads and landing pages. Higher Quality Scores can lead to better ad positions and lower costs.
Competitive Analysis
Keep an eye on your competitors. Analyze their ads and strategies to identify opportunities or gaps in the market that you can leverage.
Want best results for your Google Ads
Final Thoughts on Google Ads For Property Managers
Google Ads for Property Managers stands out as a powerful success catalyst. It is essential to the growth strategy of any property manager or property management company. Its array of benefits, from precise targeting and cost control to immediate visibility and measurable results, make it an indispensable tool.
Now is the time for property managers and  property management companies to embrace the limitless potential of Google Ads. You hold the keys to growth and success in this competitive industry. By leveraging the power of Google Ads, you can connect with property owners, attract tenants, and expand your reach to an unprecedented level.
Take Action Today!
If you want us to run Google ads for your business, schedule a free strategy session with us.