TikTok Ads for plastic surgeons is the answer you are looking for if you want your business to have a stronger online presence on social media to create engagement, stand out from local competitors, and overall gain more quality leads and new clients.
In this article, we will guide you step-by-step on how to create your first TikTok Ads and the best practices you can implement in your campaign for best results.
1. What are TikTok Ads?
TikTok is a video-sharing app and it is one of the most popular social media platforms to date, due to its addictive quality and high levels of engagement. Because of this, TikTok now offers brands and businesses the option to run ads on the platform, making this the perfect social media platform to market your plastic surgery practice, reach a wider audience, and attract potential new customers.
When creating TikTok Ads for Plastic Surgeons, consider these three main components to understand your ad better. The TikTok Ad is the advertisement that will be seen on the social media platform to promote your products, services, or a TikTok offer. Your TikTok ad will then contain one or plenty of Ad Groups focusing on certain objectives, such as placements, target audience, budget, scheduling, bidding method, or delivery type. Lastly, your TikTok Ad will have a TikTok Campaign where all your ad groups will be organized.
2. Different Types of TikTok Ads
Now that we understand the main components of a TikTok Ad, it's important to know the different types of TikTok Ads you can choose from when creating TikTok Ads for your Plastic Surgery Clinic.
In Feed Ads – This can be created using TikTok Ads Manager.
Spark Ads – These work by boosting organic content, and they don't disappear once you stop paying to promote them.
TikTok Image Ads – These are still images that will include your brand name and the ad text. Take note that these won't be available worldwide.
Playable Ads – These are simple mini-games that are great for engagement.
Shopping Ads – These are the newest ad types available on TikTok as of spring 2023. Its main functions include elements of video shopping ads, catalog listing ads, and live shopping ads.
Topview Ads – This is similar to PPC (Pay Per Click), and one of its features is appearing as a full-screen video ad takeover for 5 to 60 seconds when a user opens the TikTok app. Keep in mind that topview ads are only available when managed by brands and a TikTok sales representative.
3. Why TikTok Ads for Plastic Surgeons?
Advertising on TikTok is one of the most affordable ways to advertise online. You can customize your ads to create engagement with your target audience, and advertising on this social media platform isn't a complicated process. In addition, you can increase brand awareness and engagement through collaborations with TikTok content creators, and drive sales by posting plastic surgery-related videos from your practice. A quality that your plastic surgery can also benefit from is that TikTok will categorize your videos, therefore it will continue to show your videos to any user that has shown interest in plastic surgery topics.
It's important to understand that despite the many advantages of advertising through TikTok ads, it will require a longer sales and follow-up process in comparison to other advertising platforms. This is because of the extra effort needed to convert and motivate these potential new clients since your TikTok ads will be "interrupting" them as they scroll on the app. This also means that you will need to make an impression on your target audience with your TikTok ads, to increase the chances of conversion.
4. The Importance of CRM for TikTok Ads for Plastic Surgeons
It is imperative that your plastic surgery clinic has a Customer Relationship Management or CRM process where your sales or front desk are tracked and audited on how fast they call back leads. These calls will need to be managed by listening to them and holding the sales/front desk accountable every day (just like a sales manager would to their cold sales team) because 99% of front desks are not used to doing what it takes to call and convert basically cold leads who are currently browsing TikTok. Without a CRM process, your TikTok ads will likely be less effective for your plastic surgery business.
If you don't already have a CRM process that can support your TikTok Ads efforts, we recommend using Google Ads for your plastic surgery practice instead. Google Ads focuses on targeting high-intent keyword searches, therefore your potential new patients will be people who are actively searching for your services. To learn more about Google ads, check out how Google Ads for Plastic Surgery Practice can help you.
5. Examples of TikTok Videos for Plastic Surgeons
6. How To Make a Good TikTok Video Ad
Creating a good TikTok video for your TikTok ad is key to attracting and retaining your target audience. It has to be engaging, visually entertaining, informative, provide a solution and overall stand out from your local competitors.
Features you can include on your TikTok video ads are trending sounds, adding text, using voiceovers to make your videos relatable and approachable, and using video editing styles to capture the attention of your target audience within a matter of seconds.
When creating your TikTok Ad Videos, you will need footage (either your own or stock) showcasing the product or service your plastic surgery clinic offers. You can consider including a new patient offer like a 25% discount for a smaller-scale procedure to catch the attention of your target audience and use a voice narration to support this. The voice-over or narration could be done by you or someone who works in your plastic surgery clinic, or you could use AI instead.
Do you want to use TikTok Ads as part of your advertising strategy but don't know where to start? We make it easy for our clients!
7. Creating your TikTok Business Account
You will first need to create a TikTok account before creating your TikTok ads for plastic surgeons. Download the TikTok app from Apple Store for iOS or from Google Play Store for Androids. You can also create an account through TikTok's desktop website. If you already have a TikTok Account, simply "log in".
Next, switch to a "Business Account".
Next, you will need to use TikTok Ads Manager to create your TikTok Ads.
Click "Get Started", then log in with your TikTok account.
Authorize your Tiktok account for TikTok for business.
Select "Confirm" to link your TikTok account.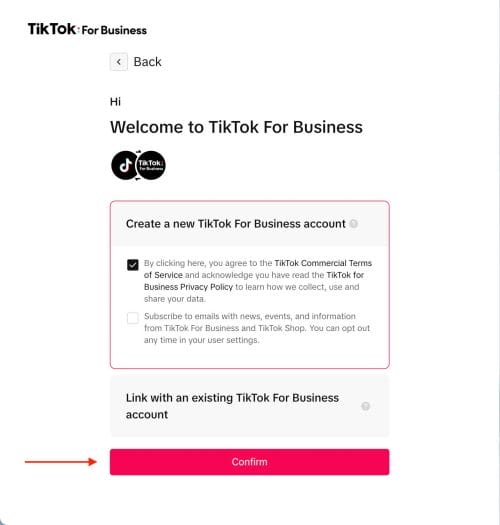 Enter your plastic surgery business details, then make sure you tick the box to agree to the terms and conditions.
Set up your billing information. For your TikTok ads for plastic surgeons, select "Manual Payment".
Don't have the time to set up your TikTok account or TikTok Ads? We can take it from here!
8. Creating TikTok Ads for Plastic Surgeons
Once you are done with the previous steps, TikTok will redirect you to the Ads Manager dashboard where we can create your first TikTok ad campaign.
Click on "Campaign", then select "Create".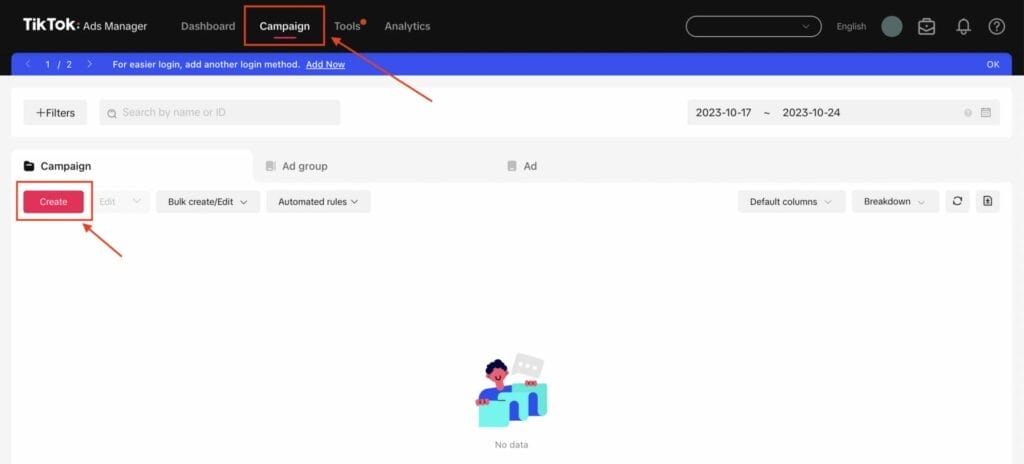 Select "Custom mode" as your ad settings. This will give you more control over your TikTok ads, such as customizing your targeting settings in comparison to choosing "Simplified mode".

8.1 Campaign Settings
We want to use TikTok's platform to bring your plastic surgery clinic more potential new clients, so you will want to select "Lead generation" as your advertising objective for your TikTok ad campaign.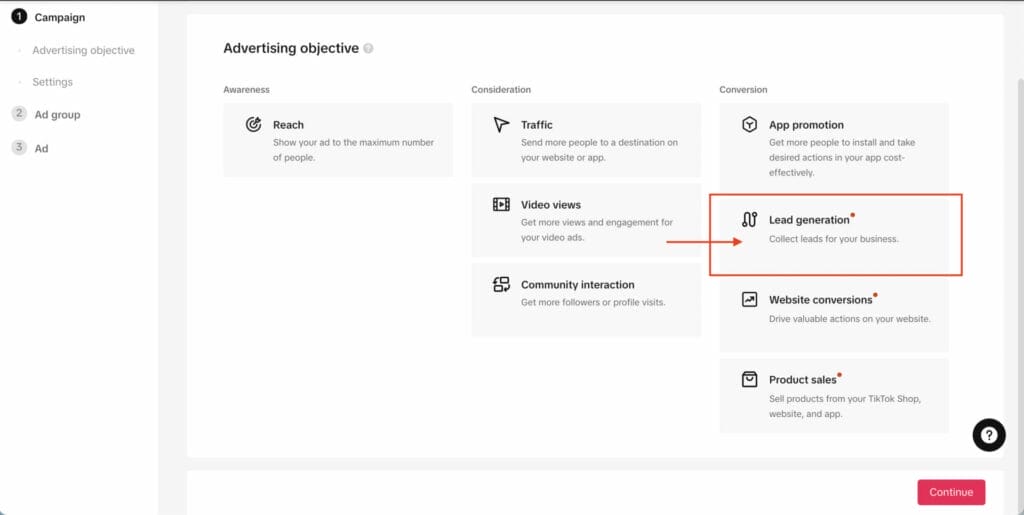 Enter your campaign name. For this example, we will use "Plastic Surgery Campaign".
Next, enter your ad group name. For this example, we will name our first ad group "Plastic Surgeon Cosmetic Surgery". When you create multiple ads for this ad group, you can organize all your TikTok ads for cosmetic surgeries in this ad group.

TikTok users likely prefer to have everything accessible within the app, so select "Instant Form" instead of "Website" so that TikTok viewers don't have to leave the app to get more information or send an inquiry about your plastic surgery services. This will ensure that you don't risk losing any potential leads.

Click on "Bulk upload" and choose the locations you want to specifically target.
For your placement settings, ensure all options are selected just like in the example below. Enabling User comment, Video download, and Video sharing will encourage more impressions and conversions for your plastic surgery clinic.
Skip the saved audience section in your audience targeting settings and focus on the demographic settings instead. When a user searches "plastic surgery near me", your ad will show up to those within your target demographics, increasing the click-through rate.
Select the language you want your TikTok ads for plastic surgeons to appear in. In this case, we will select "English" and then skip the other settings in this section.
Make sure your device settings are selected as "All". This ensures that users of both Androids and iOS will see your TikTok ads for plastic surgeons.
Do you want to focus on website conversions or app promotions instead? 
Get On A Call With Our Experts!
8.2 Budget and Schedule
As you set up your budget and schedule settings for your TikTok campaign, we recommend starting with a daily budget of $30 for your plastic surgery clinic. Avoid starting with a budget amount that is too low or you risk not getting enough leads from your TikTok ads.
Note: With your daily budget amount for your TikTok ads, you don't have to worry about spending more than the amount you entered per day.
It's also important to understand that when you start reviewing the available data from the performance of your TikTok campaign, you will most likely see different budget spending per day.
On some days your TikTok ads will spend more than the daily allocated budget, and on other days it will spend less than the daily budget. You don't have to worry about this because your TikTok ads will never go over the maximum amount of your daily budget within a calendar week.
8.3 Bidding and Optimization
Select "Maximum delivery" as your bidding strategy. Choosing this setting will help your TikTok ads for plastic surgeons prioritize getting leads rather than keeping your average cost lower than your bid.
8.4 Creating Your Ad Text for Plastic Surgeons
Now that you are done with the campaign settings, you can start creating the creative part of your ad campaign.
Start by entering the ad name of your campaign, for example, "Best Rhinoplasty in LA"
Next, create a custom identity. This is what viewers on TikTok will see and identify from your TikTok ads. We recommend using the name of your plastic surgery clinic, a creative username that viewers will remember you by, or even using "@Dr" at the beginning of your custom identity.
For this example, we will use "@LosAngelesPlasticSurgeon".
If you already have a video filmed and edited for your TikTok ads, add your video by selecting "+Upload" or "+From library".
If you don't have a video ready for your TikTok ads, you can select "+Create" instead, and film your video ad then and there, but we strongly recommend having footage or a video already edited and ready for posting, so you can apply the key features and elements we mentioned earlier, to make your TikTok ads more effective.
After uploading your video, enter your ad text. You can only enter a maximum of 100 characters for the text, so use keywords that will grab the attention of the user. You can also enter keywords that address your target audience's fears and solutions, whilst encouraging the viewer to take some form of action.
In this example, we used "Plastic Surgery for Rhinoplasty" but you can also explore more text options by using something like "Improve your breathing with Rhinoplasty" or "Achieve the nose of your dreams with the best Rhinoplasty in LA". Skip the "Smart Text" setting since it's suggestions aren't always accurate.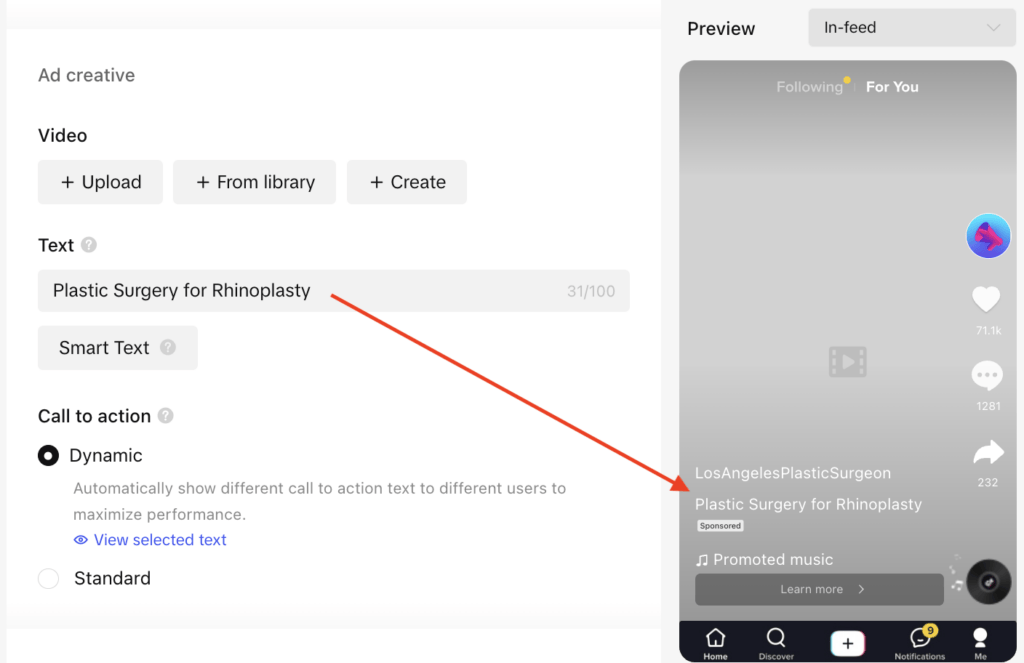 Need help creating your TikTok Video Ads? 
8.5 Call To Action Settings
As we mentioned earlier, TikTok ads will require extra effort to nurture leads because it takes a longer sales and follow-up process, therefore you want to reinforce the ad text you just did by adding CTA or Call To Action settings.
The "Dynamic" settings for your call-to-action will automatically show a different CTA text for each user.
If you choose the "Dynamic CTA", only choose the text options that are applicable to your plastic surgery clinic, such as "Learn more", "Get quote" and "Book now".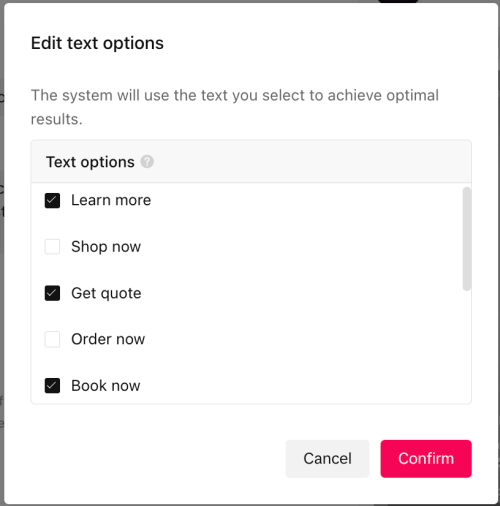 If you want to use the "Standard CTA" instead, you will only get one CTA option. If you choose "Contact Us"  as the main CTA for your TikTok ads, it is critical that your plastic surgery clinic can contact that lead within the minute they take that action, especially if it's a call lead. Failure to do so = lost lead.
Interactive add-ons
You want to include interactive add-ons in your TikTok ads for plastic surgeons because it allows you to include cards in your ads to highlight important messages, drive traffic to your site, and share exclusive offers.
To add interactive add-ons, select "+ Create", then select the display card of your choice. You can also choose to add your own customized image as the display card.
In your display card settings, you can choose to offer a discount amount or percentage. For this example, we will select to offer a TikTok exclusive discount of 15% off, and you want to reinforce this with a description, such as "Limited Time Only".
Once you are done setting up your interactive add-ons, select confirm.
8.6 Instant Form Settings
This TikTok Ads feature allows your potential new clients to share their personal content information with you. It allows them to learn more about your plastic surgery clinic and it also allows them to schedule an appointment with you. When creating your first-ever instant form page, select "Classic Form". 
Enter the name of the form, its language, and its form type. We strongly recommend selecting More Volume as the form type, so you can get more new potential clients by prioritizing the volume of leads you can get from your TikTok ads for plastic surgeons.
If you want to prioritize Higher Intent, we recommend using a different marketing tool such as Google Ads for Plastic surgeons, to target higher intent searches.
Uncheck the Introduction settings.

Enter the purpose statement of why you're collecting the user's information, and include personal information questions such as name, email, and phone number.
Next, choose how to want to collect potential new client's personal information from the following options:

You also have the option to create custom questions, for instance, providing a short multiple-choice questionnaire or even setting up an appointment schedule to find out when and what time they would like to visit your plastic surgery clinic for their initial consultation.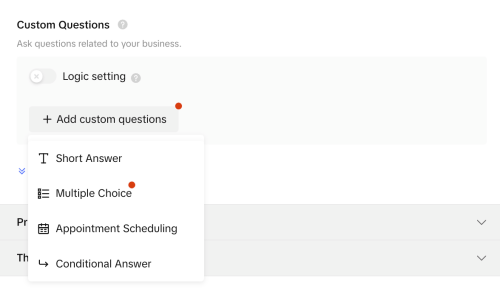 Want to add multiple custom questions and increase the chances of conversion?
Next, enter your company name, the link text to your company's privacy policy, and the privacy policy link.
And finally, include a thank you screen at the end of your instant form. You can enter a "Thanks for your response" headline, and make sure you include a description, a button text, and your website URL.
Include a reinforcing sentence in your description to encourage the user to click on your CTA button, for example, "Tap the button below to claim your "Free Initial Consultation" with the Los Angeles Plastic Surgeon!"
Using the headline and description above, your button text could be "Free Initial Consultation". Your Website URL should be the landing page for the free consultation page.
When you are done setting up your interactive add-ons, select complete.
Check that you successfully added your instant form to your TikTok ads campaign.
We recommend adding multiple points of interaction in your TikTok ads for plastic surgeons. Consider offering visual promotions for your plastic surgery clinic, so that more people will be encouraged to click on your ad.
Need help adding multiple ad groups with effective CTAs to ensure high-quality leads?
8.7 Payment Settings
We are almost done setting up your TikTok ads for plastic surgeons campaign. When running TikTok Ads using the manual payment option, you will need to enter a balance amount for your TikTok account.

Select your choice of payment for your TikTok ads and enter additional details. Then select "Make Payment".
Not sure what your starting daily budget should be based on your niche or industry?
Lastly, enter your plastic surgery business registration information, and you are done!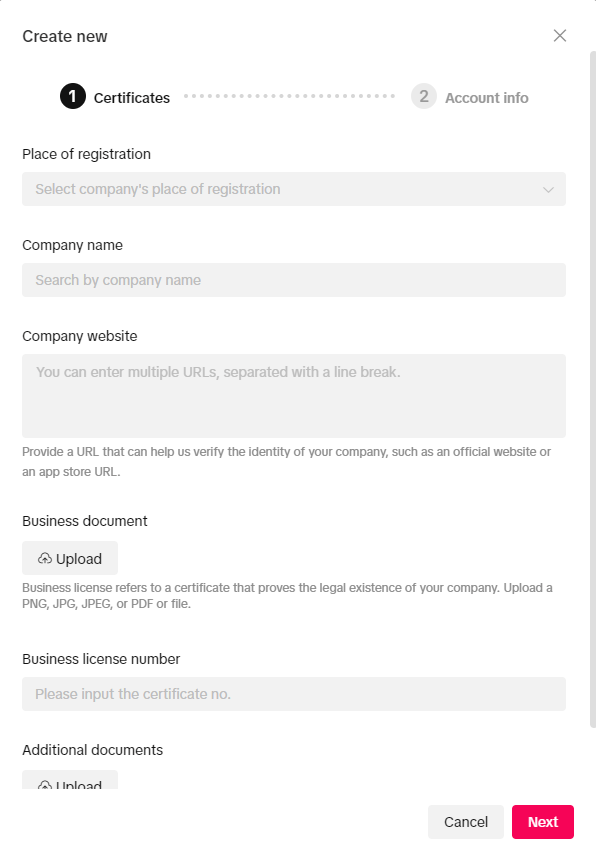 9. Best Practices for TikTok Ads for Plastic Surgeons
9.1 Email Sequence
Email sequencing is one of the best practices you can use to nurture your leads from your TikTok ads for plastic surgeons. Creating an automated series of emails will also help promote and increase sales, and an effective email sequence can increase your customer retention and engagement. You can include email sequencing in your TikTok ads when you set up instant forms in your campaign. You can also choose to offer discounts through email sequences to bring your target audience back to your plastic surgery site and finish the conversion process.
Here are the different types of email sequences you can include as part of your marketing strategy:
Abandoned cart email sequence: A popular option for e-commerce businesses. Use the first email to remind the customer that they have items waiting in their cart, and follow up with a second email offering a discount for coming back if they don't checkout after the first email.
Welcome email sequence: Directly communicate with new subscribers, and introduce your plastic surgery business and the products or services you offer.
Re-engagement email sequence: Focuses on attracting customers back to your website.
Upsell & cross-sell email sequence: Ideal for your plastic surgery practice if you want to market similar or more expensive products or services to a client, by including product recommendations, prices, key benefits, and features.
Lead nurturing email sequence: Helps convert leads into paying customers with the help of automation. It targets your audience based on where they are in their customer journey and focuses on leading them to a specific conversion path. This is an ideal email sequence for your plastic surgery clinic if you want to build relationships with your clients before they commit to a product or service.
Onboarding email sequence: These emails provide additional information to your clients about your business and the services you offer after sending your welcome email.
Feedback email sequence: Encourages customer reviews and feedback from previous and current clients, with the objective to help improve your plastic surgery business.
9.2 Ad Groups
As we mentioned earlier, ad groups are part of your TikTok ads campaign, and creating different ad groups that have different objectives will help your plastic surgery clinic reach more people and drive more traffic.
Each ad group can have either one single ad or multiple ads. We recommend having multiple ads so that you can reach your target goals based on specific ad placements, audiences, demographics, campaign budgets, the schedule of your ad, optimization goals, and target bids. Having multiple ads with different target goals will help you analyze which ads are performing better than others, and it will enable you to optimize your ads and measure each performance to help drive better results.
9.3 Creatives
When creating your TikTok ads for plastic surgeons, you want to plan ahead with the target goal of creating creative, engaging content. It is imperative to understand that your TikTok ads need to grab the attention of your target audience within 3 seconds, or else you risk the viewer losing interest and being scrolled down.
Focus on making your TikTok video ads relatable, and use keywords in your video scripts that are engaging but informative. You will want to use different hooks at the beginning of each video, and it should trigger a personal response from the viewer. This increases the chances of the user/viewer making an action, such as inquiring for more information or booking an appointment through your TikTok Ad.
9.4 Video Footage and Editing
Because TikTok Video ads need to grab the attention of your target audience within a matter of seconds, there are a few elements you should consider on top of the factors we mentioned earlier on how to make a good TikTok video ad.
Your videos for your TikTok ads don't necessarily need to be filmed by professionals but you want to make sure your videos are authentic, and they should be of good enough quality. You can simply use your phone camera to record video footage and ensure that it isn't blurred. If you are going to add voice-overs or voice narration to your videos, it should be clear and understandable, and not of poor audio quality. You can also write up your script and ensure you are targeting the right keywords on your video through generated captions, text, hashtags, and the title of the video.
Focus on showcasing what your plastic surgery clinic offers, such as your expertise, your credentials, or even before and after results from previous patients. Use editing techniques, music, and text to help grab and retain the attention of your audience.
Take note that you want to drive ad memorability with your TikTok ads for plastic surgeons. You want to leave an impression on your target audience so that potential new clients will keep coming back to your TikTok ad videos. As a result, it will increase the chance of these becoming leads, bringing you more new clients for your plastic surgery clinic.
Want to optimize your TikTok Ads but don't know how?
10. Key Takeaways
TikTok ads for your plastic surgery clinic are the more affordable digital marketing strategy that will bring you more new clients. Although it may require more effort to nurture, convert, and motivate your leads, it will drive more sales to your practice, and you will reach a much wider target audience with this platform, contributing to the further growth and success of your plastic surgery clinic.
If you need assistance with your TikTok Ads campaign, our friendly team of experts can help you create and manage your TikTok ads for plastic surgeons, which will surely drive more leads for your business.