What is Email Marketing?
Email marketing is considered one of the most powerful strategies that can help you retain, engage, and re-activate your previous customers. It's a platform where you can educate your patients and subscribers about the latest trends in your dermatology practice. You can also soft sell your skincare products and services through emails.
Why Email Marketing for Dermatologists?
Patient retention
Sending emails that are relevant to your dermatology patients helps them keep engaged and stay connected to your brand especially if it's personalized, relevant, and contains exclusive offers and discounts. In fact, over 80% of businesses are using email marketing to stay in touch with their previous and current customers. So, if you're looking for a way how to retain the current patients you have in your practice, you should definitely try email marketing.
It helps you stay on top of the minds of your patients
With email marketing, your patients and subscribers can check your email marketing campaigns whenever they're free. Since these are the ones who willingly provided their emails to receive the latest updates in your dermatology clinic, it means that they're already interested in the products and services you're offering. You just have to keep on providing valuable resources and send them in a timely manner so that you stay on top of the minds of your patients.
It drives conversions
Email marketing remains unmatched when it comes to driving conversions to your practice. It's because your emails are delivered directly to your subscriber's inbox. In addition with that, your emails are more likely to be seen by 90% of your subscribers compared to posting your marketing campaigns on social media platforms like Facebook, wherein only 2% of your page followers can see it on their Newsfeed.
So, if one of your goals is to improve your dermatology clinic's conversion rate, email marketing is the way to go!
Types of Emails You Should Be Sending to Your Dermatology Patients
Before you start creating your email marketing campaigns, it's important for you to know the different types of email campaigns that you can send to your patients. Here's a list of email types along with some examples for you to better understand how to use it.
1. Welcome emails
Welcome emails are the ones that you send to your new subscribers. It serves as the very first email that you send to a subscriber who wants to engage with your dermatology practice. Your welcome email should include the following: (1) a thank you message for joining your list (2) a welcoming message from your dermatology practice (3) tell them what they should expect to receive from your emails.
Here's what a welcome email looks like:
Welcome emails give you an opportunity to provide an introductory offer to your new subscribers. Like in the example above, you can see that they personalized the email by mentioning the first name of the subscriber, a brief background of what the subscriber will be receiving in the future, and also included $50 off on any aesthetic service worth $200 or more.
2. Newsletters
Newsletters consist of the latest news and updates about your dermatology practice. Its purpose is to improve brand awareness, boost web traffic, and nurture relationships with your patients.
Here's what it looks like:
Since Thanksgiving is around the corner, the dermatology practice sent a timely email that educates their subscribers on how to make healthy choices during the holiday season. They also included relevant articles on how to become photo ready with the treatment options that their clinic provides.
3. Re-engagement emails
Re-engagement emails are the ones you send to inactive subscribers or previous patients who haven't engaged with your dermatology practice for quite a while now. Its purpose is to win back those subscribers, turn them into one your patients once again, and get them to open your emails.
Here are the possible reasons why people stop engaging with your emails:
You might be sending too many emails
They are no longer interested
They no longer find your content useful
They got busy and had no time to open your emails
They are probably bombarded with too many emails from so many brands
To prevent your patients/subscribers from losing their interest in your brand, here's a list of what you can do:
Create a tempting offer (could be a discount or voucher)
Highlight the benefits that they will receive
Let them feel the FOMO (Fear Of Missing Out)
Trigger their emotions (e.g. Duolingo's technique when users stop using their app for a day)
Here's an example of a re-engagement email:
[Source]
In the template above, you can see that they emphasized the phrase "It's been a while" followed by "Come see what's new." Phrasing your re-engagement emails like this shows that you're still looking out for your subscribers and with that, you want to keep them updated on the things that they might've missed from your dermatology practice.
4. Transactional emails
These are the type of emails that you send to your patients and subscribers after they take action toward your dermatology website/clinic. It could be a password reset request, schedule or order confirmation, cart abandonment, or form submissions.
Here's an example of a transactional email:

[Source]
In the transaction email template above, you can see that there's an order summary along with the important details (i.e. delivery address and shipping address) in shipping the product to the customer. There's also a discount offered to encourage the customer to engage with their brand in the future.
5. Milestone emails
To add a "community vibe" to your marketing strategy, one way of doing that is by sharing your dermatology clinic's milestones with your email recipients. Some examples are milestones achieved by your clinic, the anniversary of a patient's first purchase or appointment, your patient's birthday, etc.
Here's what a milestone email looks like:
[Source]
The template above is a good example of a milestone email because they were able to personalize it and thank their patients for being part of their 10th anniversary. Since it's a celebration of how long the business is operating, they also added a timeline to give their subscribers an idea of what they've accomplished in the past 10 years.
6. Promotional emails
Promotional emails are all about promoting your dermatology clinic. This could be about the products that you've recently launched or the latest deals offered in your practice.
Something that looks like this: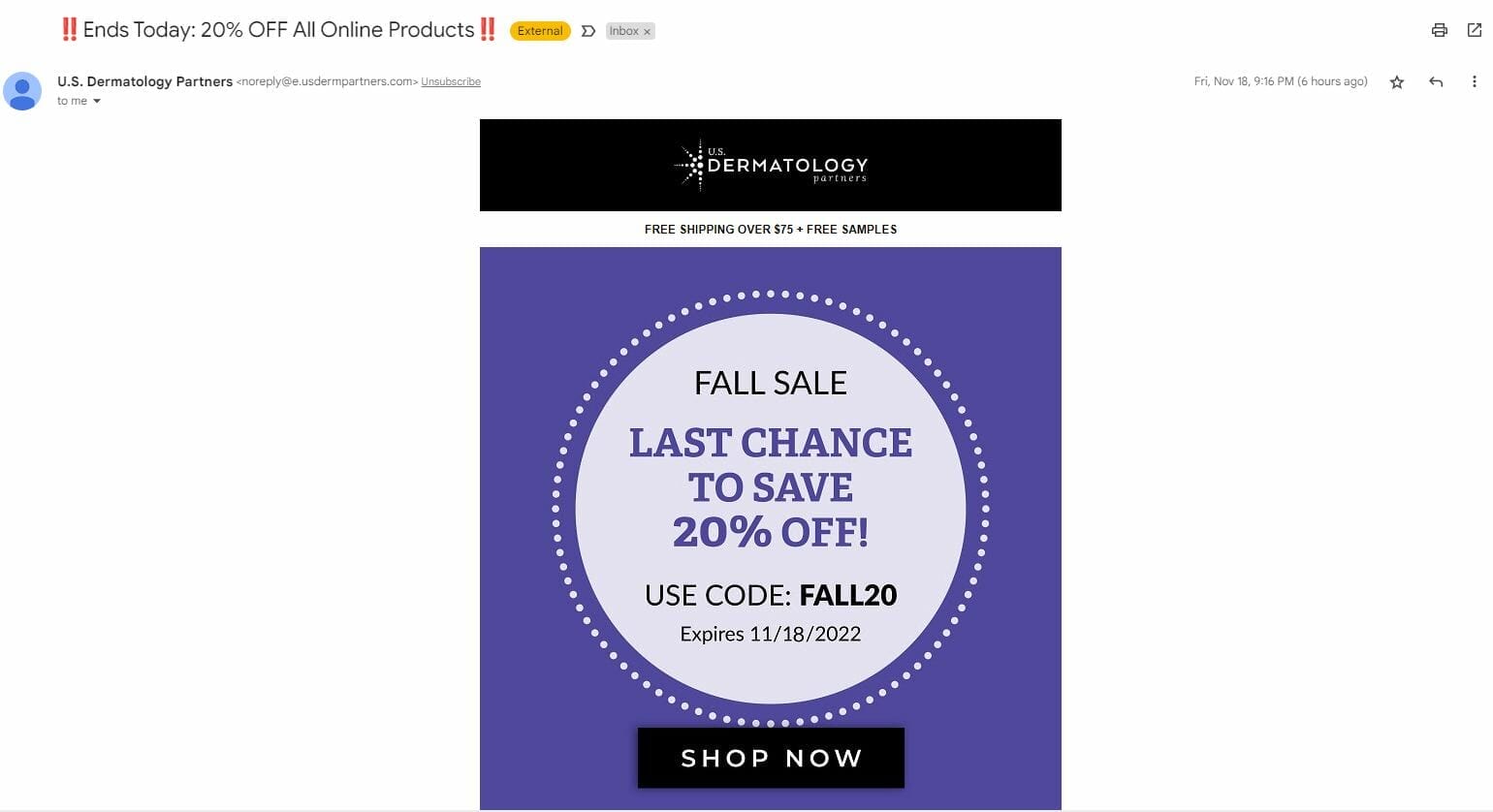 Since it's already fall season, the dermatology practice is offering 20% off on all of their skincare products. They've created a coupon code so that they can track how effective their promotion is during the fall season. There's also an expiration date on how long their subscribers can use the code to create a sense of urgency that they should use it before the promo ends.
At YoYoFuMedia, we help dermatologists like you to get more patients to your clinic.
Schedule A Free Strategy Session
How to build your dermatology practice's email list
Now that you have an idea of the types of email you can send to your subscribers/ patients, here are some tips on what you can do to start building your email list:
Never buy an email list
Buying an email list will give you instant contacts to send your emails. However, your brand is more likely to suffer instead of gaining something from it. To give you a heads-up, here's a list of what's going to happen if you choose to buy an email list:
Since these emails didn't consent to submit their emails and probably don't know anything about your brand, they are less likely to open the emails that you will send to them. This will result in a low engagement rate.
Another reason why purchasing an email list is never a good idea for dermatologists like you is that it will negatively impact your brand's email reputation. These people to whom you are sending your promotional emails probably haven't heard about you before and the chances of them being interested in your brand is really slim.
Email sender reputation refers to the score that Internet Service Providers assign to every organization that sends emails. Having a poor reputation will not only affect your entire email marketing strategy but also your dermatology clinic's domain will get blacklisted which means it's very likely to make all your emails go into spam.
If you want to know the performance of your email marketing campaigns, like how many spam reports or delivery errors took place, check out Postmaster Tools. You can also check your sender's reputation score and get insights on how to improve it through Sender Score.
So, instead of buying an email list, why don't you try to acquire emails from individuals who are actually interested in what your brand is offering?
Here are a few ways how to do it:
Have a section on your website where your page visitors can easily submit their emails to receive monthly newsletters aka embedded forms. What's good about this is that it's not intrusive, and page visitors can freely navigate your site without being distracted. Something like this:
Use exit pop-ups

Exit pop-ups appear when a user is about to leave your website without taking action. Its purpose is to draw them back and make them stay longer on your site.

Utilize loyalty programs

Another strategy that will help you gather emails from your patients is loyalty programs. In the example below, you can see that the dermatology clinic stated that they will award their patients who sign up for a loyalty card offering a treatment that's equivalent to the value of 10% of their total expenditure. All they have to do is enter their name, email address, and phone number.

Need help creating pages like these on your dermatology practice's website?
Email Marketing Best Practices for Dermatologists
For best results, you have to make sure that you're using the right tools and strategies. In this section, you'll learn how to make the most of your email marketing campaigns.
1. Write catchy subject lines
47% of email recipients open an email based on how the subject line is written. Meaning, if they don't find it valuable at first glance, then they're more likely to ignore your emails. Since it plays a crucial role in the success of your email marketing campaign, here are some tips on how to create an effective subject line to increase the open rates of your emails:
Write your subject lines in a compelling manner.
Keep it short but descriptive.
Use emojis ONLY to emphasize a word/phrase, not to replace it.
Avoid using too many punctuation marks.
Do an a/b test to see which works perform best.
2. Personalize your emails
Personalized emails make your recipients feel that the message was personally made for them. In fact, personalized emails are proven to increase open rates by 760% because it gives an impression that your mail has something that's valuable to your recipients.
Aside from that, when people receive personalized emails, it also influences their buying decisions. This is an important strategy because not only does it help build a personal connection between you and your subscribers/ patients, but it also helps you stand out in your recipient's inbox.
Here are some tips on how to personalize your emails:
Talk to them using their name
Use your patient's purchase history
Remember their birthdays
Add optional questions in the signup process for monthly newsletters. This way, you'll have an idea of what really suits the interest of your subscribers.
Suggest relevant educational materials or products
3. Plan ahead
You also want to make sure that you send your email campaigns in a timely manner. This way, you don't miss out on the chance to soft sell your skincare products and services to your email recipients. To start off, you can create a list of the dates when you want to send your emails (e.g. holidays, clinic anniversaries, and special events).
Here's a quick guide that will help you plan the emails to send:
Identify who are you trying to send your emails to

New subscribers
Previous patients
Inactive subscribers

What type of emails do you want to send them?

Welcome emails
Customized newsletters
Promotional emails
Re-engagement emails
Special offers

Why are you sending this email to your recipients?

To improve the engagement rate
To re-engage inactive subscribers
To keep them updated
To remind them of your clinic's promo

How often are you planning to send emails?

Sending too many emails might annoy your email recipients while sending too few emails will make them forget about your brand. Because of that, you'll want to send emails 2-4x a month (or depending on the offers you will be promoting).
By planning ahead of time, it'll be easier for you to do the task yourself without feeling too much pressure from missing the deadline of sending emails.
4. Utilize email marketing software
Email marketing will consume much of your time as a dermatologist. But, with the help of email marketing software like Mailchimp the task becomes a lot bearable. Some of its best features include expertly designed-email templates, automation tools, Analytics that tell you the performance of your email marketing campaigns, and more!
5. Segment your mailing list
Not all of your email subscribers have the same intention of subscribing to your monthly newsletter. Some wanted to stay informed whenever your clinic offers deals and promos of your skincare products while some just wanted to learn more about dermatology and just wanted to receive relevant and educational articles. The main purpose of segmenting your email list is that it helps you create more personalized content that your email recipients.
Since you want your email recipients to open your emails, you have to categorize your email list based on the following factors:
Demographics – this includes gender, age, occupation, location, etc.
Consumer behavior – previous purchase (if you're also offering skin-care products), re-engagement, etc.
Interests – products and services offered in your dermatology clinic
6. Use CTA
Call to action is mainly used to guide your subscribers/patients into taking an action toward your brand. It can be displayed in the form of CTA buttons or hyperlink texts. Take a look at this email from a dermatology clinic.
Here are some of the things we've noticed from this email. The call-to-action that was used has enough white space around it, making it easier to be distinguished by their email recipients. They also used provided a customized code (MOBILE10) followed by a short sentence to encourage them to use the discount code to purchase skincare products.
Best Practices when using call-to-action:
Use contrasting colors so that it doesn't get buried in your email's background
Add enough space around your CTA
Use first person point of view (e.g. "I", "me", "my")
Add a sentence before your CTA
Should contain a sense of urgency (e.g "limited time only", " today only", or "last chance")
Make your offer exclusive (e.g. "Members only", "Subscribers only". "Pre-register", or "Pre-order")
Keep it above the fold so they don't miss out
Make sure buttons and links are working
7. Optimize your landing pages
Since there will be links attached to your emails, you have to make sure that your landing pages will directly bring your email recipients where they want to go to. For example, if there's a call-to-action button on your email that says "shop now" it should redirect them to a page on your dermatology clinic's website where they can see all of the products offered along with the description and pricing.
Tips on how to optimize your landing pages that drive conversions:
Keep it simple. Avoid clutter so that your patients will not get confused about what action to take.
Use powerful words and emotional words in your headlines
Your CTA should create a sense of urgency
Should be mobile-friendly
Should match the message in your email
Add social proof
Need help crafting effective landing pages for your dermatology clinic's email marketing campaign?
8. Provide valuable content
Before a person opens an email, the first thing that comes to their mind is "What will I get from this?" So, to increase the chances of having your emails opened by your subscribers/patients, you have to make it clear what's in it for them.
Let's start with the subject line since it's the first thing that they'll notice once they receive your mail.  If you take a look at the example above, you can see that they've used exclamation emojis to emphasize the promo that the dermatology clinic is offering.
Next is the Preview Text. This includes a brief description of what your email is all about. Here are some of the best practices that will help improve your brand's open rates:
should add value to your email recipients
should go along with your subject line
should be written in a way that will draw the attention of your email recipients
should sum up what your email is all about
test variations of your preview texts to see which works best
Some of the few things you can do to keep your subscribers/patients engaged with your emails are by providing educational content which includes short articles or links to blog posts that are relevant to their interests.
If you're not that sure of what suits the interests of your subscribers, you can create a survey and have them answer it so you can provide more meaningful relationships with them.
9. Make it mobile-friendly
Aside from scrolling on social media, watching trending videos, and receiving calls, people are also using their phones to check their emails. Because of that, you want to make sure that your emails are compatible not just with desktop users but also with mobile devices.
Here's what you can do:
Test your emails across all devices before sending them to your email recipients.
Keep in mind the length of the subject line varies depending on the device used. So, put the most important details in the first 30 characters. Make it short but concise.
Use a simple layout.
Use a responsive design.
Optimize image file size.
Use readable font size, color, and style.
10. Keep track of your email marketing efforts
After sending your email, make sure to give it some time to gather enough data for you to analyze what's going on with your campaigns. This will help you identify which email marketing tactics worked for your audience, and which one needs to be improved.
Here are some of the important key metrics that will help you keep track of  your email marketing efforts:
Conversion rate – This refers to the percentage of email recipients who have successfully performed an action from your email campaigns.
Click-Through Rate (CTR) – This metric refers to the percentage of email recipients who have clicked a link from your email.
Bounce rate – This metric refers to the percentage of email recipients who have not successfully received the emails you've sent them.
Open rate – This metric shows you the percentage of email recipients who have opened the email you sent.
Return On Investment (ROI)- This metric refers to how profitable your email marketing campaigns are.
Unsubscribe rate – This metric refers to the percentage of your email recipients who choose to opt-out of receiving emails from your clinic.
Want to know how Ad campaigns work? Check out our blog post on Google Ads for Dermatologists to learn more.
Key takeaway
Email marketing when done right, can effectively build loyal customers and improve the revenue of your dermatology clinic. Although it can be time-consuming, the use of automation tools will help make the task a lot easier. Just follow the tips we've mentioned earlier, and you will see a boost in your retention and conversion rate!