Google Ads for Escape Rooms is an effective way to bring in customers to your Escape Room Center. This marketing method is a great way to make your adventurous and exciting business known to individuals who are looking for a social, thrilling, and fun adventure. This article will provide you a step-by-step guide on creating Google Advertising for your Escape Room. This will help generate more bookings, get new customers, and grow your business.
What Are Google Ads?
Google Ads is an effective way that you can reach specific audiences and get new customers that are interested in booking your business for products or services that you offer.
Businesses can pay to have their advertisements be at the top spot of Google's search results page, these ads are called Google Ads. With Google businesses target specific keywords that users may use when interested in that product or service.  When users search for those keywords the advertisements are displayed on their result page.
Businesses only pay for Google's PPC ads when they generate results like when users click on them, call your business, or visit your website. With Google marketing, you can specify a daily budget that you want to spend on the campaign that allows you to control how much you are spending on your marketing.
Why Google Ads for Escape Rooms?
Google Ads is a great way to create a consistent flow of local guests to your Escape Room Center.
Google Ads is a great way to target a customer in your local area who is searching for the product or services you are offering, right when they look for it. Google Ads for Escape Rooms allows you to directly reach guests in the location of your Escape Room Center by using keywords like "Escape Rooms in Los Angeles" or "The Best LA Escape Rooms."
Furthermore, Google advertising is measurable. This allows you to compare how much you are spending on your advertising and how much you are profiting. The moment your ads start running you can start tracking their results.
Learn more about the benefits of investing in Google Ads.
So if you have an Escape Room Center and you are looking for ways to attract new local customers and grow your company, then Google is the way to go!
How to Create An Account for Escape Room advertising?
To start your Google Ads for Escape Rooms, you must first be signed in to a Gmail account. If you do not have one, you can create one at ads.google.com.
Once you are logged into an account click on the blue "Start Now" button.
On the next screen, select "Switch to Expert Mode" (at the bottom of the screen), instead of selecting from the options provided. If you do not select "Expert Mode" you will create your advertisements through a simplified version of Google Adwords.
By switching to Expert Mode you will have more control over the settings of your Campaigns.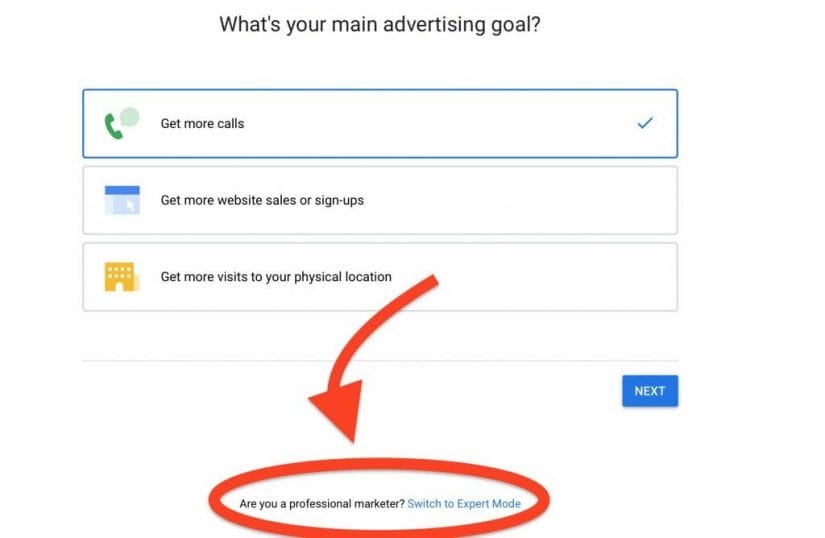 On the next screen select "Create an account without a campaign". This will allow you to just create your account.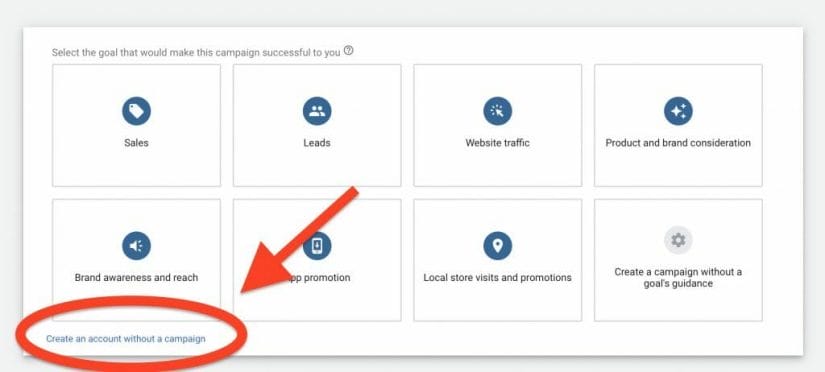 Next, you will need to confirm the information about your business.
After you are done confirming your business' information, your account is created. You can now start on your escape games campaign.
Before we start the creation of your ad campaign, let's talk about landing pages.
Landing Page Websites for Your Customers
Landing pages are where customers who click on your ads get directed to. If someone is looking for a specific detail, keyword, or service, the person who clicks on your ad should be redirected to a specific page on your website that talks about the specific topic they were interested in.
For example, if someone is on the hunt for "Party Packages Escape Rooms" then your ad should direct them to a page on your website specifically talking about party packages. The page should include details about your party package services, discounts that are offered for parties, and/or prices of the packages that you offer.
If you do not send your clicks to a page on your website about the service they desire, chances are they will click off your website. This will then turn into a wasted click.
You should also include a call to action on your landing page. This can be where individuals leave their names, phone numbers, and emails if they are interested in the service your Escape Room Center offers.
Check out Elementor's Free Landing Page Builder.
Starting Your Escape Room Marketing Campaign
Goal
Select, "Create a campaign without a goal's guidance".
Campaign Type
Select "Search" as the campaign type.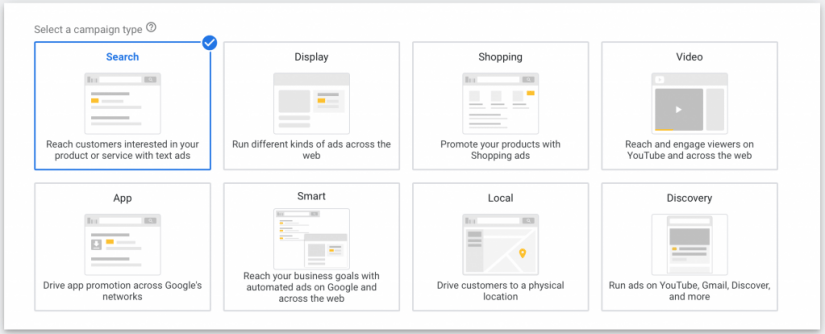 Results You Want From Your Campaigns
For the next part, choose the results you wish to gain from this digital marketing campaign. If your Escape Room has an app available for guests all three, website visits, phone calls, and app downloads can be used to measure the success of your campaign.
Campaign Name & Network
Now, you need to create a Campaign Name for your exit games.
In the Networks section, only have "Search Network" select. Deselect Display Network.
Ad Schedule
Next, you can manage your schedule. You can specify the dates you want your advertisements to run. You will also be able to choose the times you want them to run.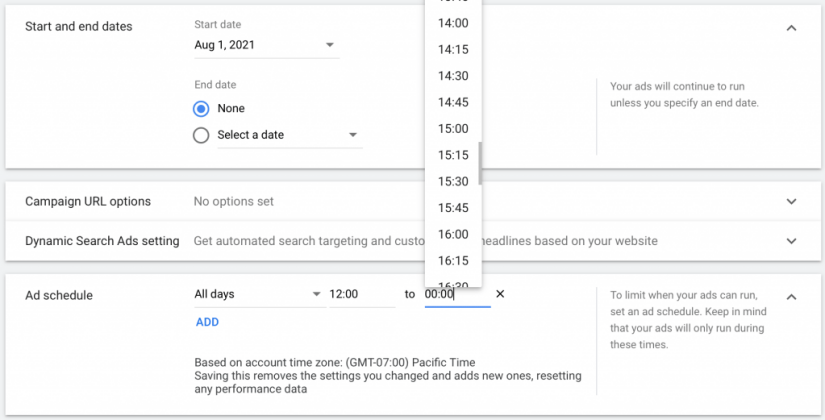 Location & Languages of Customers
In the next section, you must distinguish the location and language you want to target. Locations help you target the right people who are located in, regularly in or have shown interest in, a certain location. Keep in mind the distance individuals who are not local may have to travel.
Audience
Do not adjust the Audience Section.
Marketing Budget & Bidding
Now it is time to set your marketing budget and bidding strategy for your Escape Room marketing campaign. You must set how much you want to spend and your average daily budget for your campaign.
When deciding on a budget for your campaign it is highly recommended that you invest at least 70% of your marketing budget on your Google Ads Campaign. This is because this is where all the direct traffic comes from in most areas. People directly use keywords like "escape rooms in my city", "things to do near me", "kid escape room bookings," or "escape rooms for kids" when they are looking for social things to do.
Conversion Tracking
If you would like to enable conversion tracking on your website you can do so at this part of your settings.  Conversion Tracking can help monitor and track data on how your Google Ads for Escape Rooms campaign is performing. It shows you what a customer does after they have clicked on your ad. For instance, it tracks data including if a customer purchased a product, signed up for your email lists, called your business, or even if they downloaded your app.
Tracking your ads data is a great way to ensure that you are receiving a positive return on investment for your marketing.
Rotation
For Ad Rotation, switch the default selection to "Do not optimize. Rotate ads indefinitely". This means that Google will rotate your ads without pushing the better-performing ads to users when looking for your specific keywords. After you feel you have collected enough data from each of your ads you can always adjust your settings.
Extensions
Next, you will be able to include any Ad Extensions that you want to include in your advertisements. As an Escape Room business, you should consider ad extensions like Sitelink extensions. Sitelink extensions are great because send users to specific pages on your website.
For example, if your escape room center offers different kinds of room adventures, you may want to include a Sitelink extension "15 Different Escape Rooms". This Sitelink will direct them to a page on your website of all the different room adventures you offer. This can include horror, mystery, and/or prison room excursion.
You may also want to include a Call Extension. A Call Extension lets you share your phone number and display it on your ad. This will make it easier for potential guests to contact your Escape Room Center without having to go through the hassle of searching for your number. A call button will also make your number readily available to guests and easier for them to schedule bookings with your business.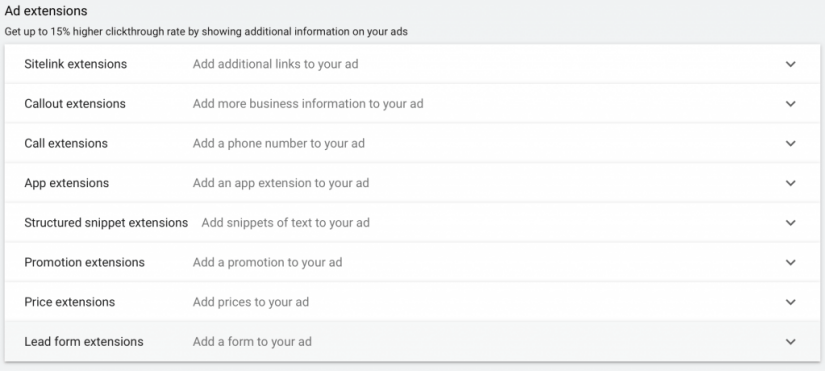 Ad Group Name & Keywords for Escape Games
In the next part, you will create an Ad Group Name and set the desired keywords you want your ads to target. Your ad group name should match with the keywords you want to target in the ad.
The keywords are the phrases that users will type into Google that will trigger your ad to be shown to them.
For example, if your Escape Room has a room that is Horror based and for adults only you may want to target keywords like "escape room bookings for adults", adult horror escape rooms", and/or " scary escape rooms".
Check out how to create different advertising groups for your Google Ads for Escape Rooms campaign here.
Keyword Planner
When trying to decide on keywords to include in your ad group you can also use the Keyword Planner tool. This is a great tool that Google offers to help you discover new keywords to target that are related to your business and the experience you offer.
To use this tool, select "Tools and Settings."
Under Planning select, "Keyword Planner".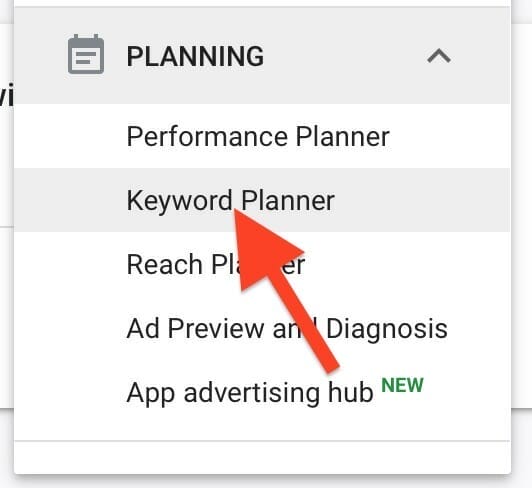 Next, select the "Discover New Keywords" box.
Enter the keyword you want to target and the domain of your website and select "Get Results".
This will show you similar keywords that customers are also googling that are related to the product or service you offer. It will also give you ideas of keywords to target.
Need help choosing the right Keywords for your Ad Group?
Creating Your Business Advertisements
Great! Now that you have selected your marketing campaign settings, you can start creating the actual Google Ads for your campaign that will be shown to users.
Final URL & Display Path
To begin, you will need to enter your Final URL and create your Display Path. The Final URL is where your clicks will be redirected to when they click on your ads. The Display Path is the URL that will be shown but will not be the link that users will land on when they click on your ad.
You can increase your quality score by adding keywords and at least one path to your URLs.
A high-quality score means that Google is going to show your ad often your ad will rank on top.

Escape Room Ad Headlines
Next, you will need to create captivating Headlines. Google allows you to enter up to 15 headlines but will only show 3.
Headlines are extremely important because chances are people who are reading the content in your headlines will most likely not read the content in your description. Always prioritize headlines and make sure that all of the most valuable information is put in there.
To stand out you must highlight your novelty. This could be something that you have that your competitors don't have. For example, if you are the only escape room that offers a Horror Escape Room highlight that in your headlines.
Your content should also include prices, discounts, and promotions. Including promotions or discounts gives users an incentive to click on your ad. Being open with your price, lets a potential customer know the price points of your product or service.
Remember, you want to stand out against competitors.

Not sure if your Ad Headlines are strong enough to generate clicks?
Ad Descriptions for Escape Games
You should use credentials in your ad description content if you have any. This will give any potential customer a larger incentive to trust your ad and brand. For example, "5,000 Happy Participants."
The content in your ad description should also include important keywords related to Escape Rooms including scavenger hunts, team building, solve puzzles and discover clues.

Advertisement Preview
After you are done adding and editing the content in your ad and the components of your ad, Google will show you a preview of what your advertisement posts will look like on a Desktop and Mobile device.
Desktop:

Mobile: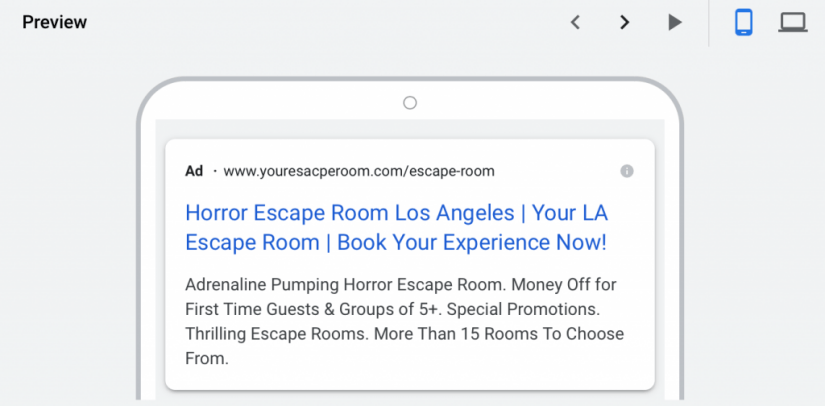 After solidifying the components of your ad, you can publish them. Google will need to approve your ads before the ads begin to run and show to users.
Want us to run your Google ads for Escape Rooms Campaign?
Negative Keywords Report
When using Google Ads you make sure you are consistently checking in on how your campaign is performing.
Google Ads shows you the searchterms that your ads have been shown for. If you see any keywords or terms that you want to block your ad from showing up for, you can add them to your negative keyword list.
A negative keyword list is a list of keywords that your ad will be blocked from showing up for. You should create this list before your campaign and continue to add to it throughout your campaign. This will ensure that you are only generating intentional clicks while also saving money.
Before Campaign
It is a great idea to create a list of keywords that you already know you don't want your ad to show up for. This is an effective way to reach a high-intent customer the moment you start your campaign.
This list can include the names of your competitors in your local area. Also, if your escape rooms are for adults only you may want to avoid words like "escape rooms for kids", "best escape room for kids", and/or "kids birthday party escape rooms".
During Campaign
Since your advertising has been up and running for some time, you can go into your Google Ads account and check on the keywords and terms your exit game ads have popped up for. If you notice any undesirable keywords you wish to block, you can add them to your negative keywords list.
Since you are looking to bring in local participants to your Escape Room Center having your ad show up for virtual gaming is not beneficial for your business. Add those keywords to your Negative Keyword List.
For example, you may notice that your ads have shown up for "virtual escape rooms", "online scary escape room games", or "computer exit games." These keywords make your advertisement display, to avoid that add them into your negative keywords list.
Adding Negative Keywords to Your list
On Google Ads select the "Keywords" tab on the left side.
Then select "Search Terms". Here, you will see all the terms that make your ads have shown up for. If you decide that you want to block your ads from showing up for certain search terms you can add them to your negative keywords list.
Constantly adding to your negative keywords list is a great way to ensure that your escape room business is reaching the appropriate audience.
To do so, select "Negative Keywords" on the left bar.
Then click on the blue plus sign.
Next, in the box provided make sure to add all the keywords you want to block your ad from showing up for.
Make sure that you are proactive with your Negative Keywords List can as this can help your business save money. This will also help your ads generate more intentional clicks from people who are actually in search of the storytelling experience you are offering.
Google Ads for Escape Rooms is a great and effective way for you to reach a specific audience of individuals looking for a social experience that involves discovering clues, problem-solving, scavenger hunts, and team building. By determining the most effective keywords, implementing a strong bid strategy, and creating intriguing headlines you can grow your Escape Room business.
Learn more about the Services We Offer and how our experts can help you grow your business.